Perez-Somarriba Falls in NCAA Final
ORLANDO, Fla. – Estela Perez-Somarriba of the University of Miami women's tennis team came up one match short of a repeat NCAA Singles Championship title.
In a showdown of ACC players ranked top-three, Perez-Somarriba dropped a 3-6, 1-6 decision to Virginia's Emma Navarro in the national final Friday afternoon at the USTA National Campus.
"I think Emma played a great match. She started off a little bit slow. She played Stela really smart," Miami head coach Paige Yaroshuk-Tews said. "Stela's timing was just out of sorts and she wasn't able to lock in and find it. Emma's ball, she was driving, she was lifting. The balls coming at you were kind of looking the same, but they were very different. She did a great job using her forehand and Stela didn't make the adjustments that needed to be made. If you don't [do that] against a player like that, you're going to come up short."
Perez-Somarriba, the top-ranked player in the country and the second overall seed in the tournament, jumped out to a 2-0 lead in the opening set after winning a pair of games at deuce.
Navarro, both ranked and seeded third, countered with three straight wins and then broke at deuce to go in front, 4-2. After Perez-Somarriba broke back to pull within a game, the Virginia freshman won the next two to take the opening set, 6-3.
Navarro, who checks in at No. 384 in the WTA rankings, broke to open the second set, but Perez-Somarriba broke back at deuce to even it at 1-1. Navarro responded by winning the next two games and then breaking at deuce herself to make it a 4-1 edge.
That proved to be too much for Perez-Somarriba to overcome, as Navarro closed out the match with a hold at love and then a break, sealing a 6-3, 6-1 decision to claim the national title.
The result snapped a 20-match singles winning streak for Perez-Somarriba, who finished 24-3 on the season, including 13-3 against top-50 foes. It also served as the first singles setback of her career at the USTA National Campus, where she was previously 18-0.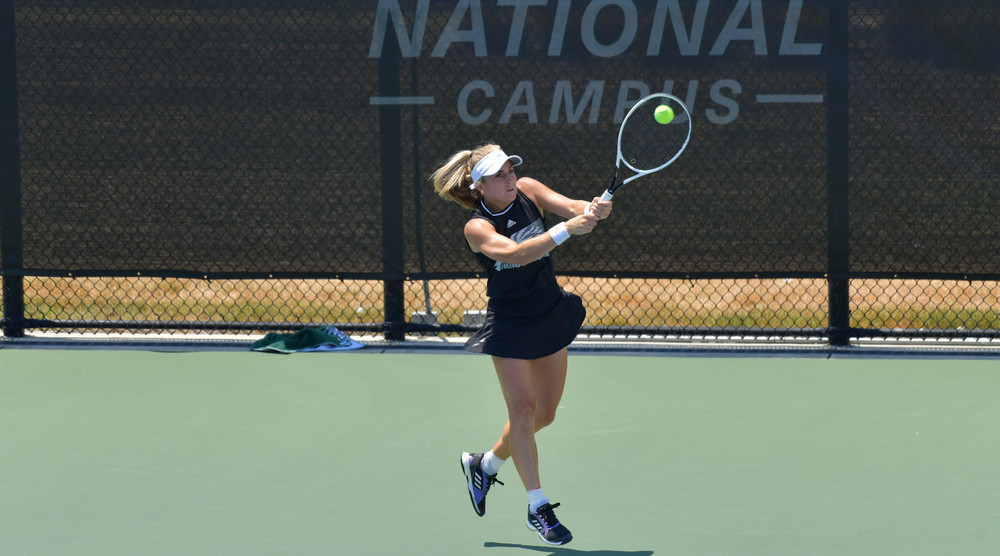 For Navarro, the victory avenged her only singles loss of the year, as she previously dropped a 6-1, 4-6, 3-6 decision to Perez-Somarriba in their prior meeting, April 4 in Coral Gables, Fla.
Although Perez-Somarriba did not duplicate the victory this time, she still ends her career with a triumph over 14 of the 24 players who defeated her in singles as a collegian. She went 165-26 during her illustrious career, shattering the Miami record for victories by 31 and finishing second all-time in the ACC.
Additionally, Perez-Somarriba's 239 combined singles and doubles wins put her second all-time at Miami, trailing only the 241 Bianca Eichkorn recorded from 2007-11. She went 86-19 against ranked singles players, including 57-13 against top-50 opponents and 18-6 versus top-10 individuals.
"Just super, super honored to have been her coach and to be the one that has kind of been by her side for the last five years. I'm so proud of her," Yaroshuk-Tews said. "I've learned so much from her. Today was more than just playing for a national title, it was the end of a career. Win or lose that match, this kid's a winner. In my mind, she goes out on top. She's one of the best that has ever walked through these doors. Quite honestly, I don't know if we'll ever see another one [like her]. So, we've got to walk out of here with our heads up, heads high and smiles on our faces because it's a pretty incredible career."
A two-time ACC Player of the Year and soon-to-be five-time ITA All-American, Perez-Somarriba went 17-3 in NCAA Singles Championship play as a Hurricane. That mark ties Baylor's Zuzana Zemenova (17-3 from 2005-08), Stanford's Sandra Birch (17-2 from 1987-91) and Stanford's Patty Fendick (17-2 from 1984-87) for the most victories all-time.
Perez-Somarriba and Zemenova are the only players in NCAA Singles Championship history with four Sweet 16 berths, three Final Four appearances, two championship bids and a national title.
For more information on the NCAA championships, including final brackets, visit the tournament homepage HERE.
To keep up with the University of Miami women's tennis team on social media, follow @CanesWTennis on Twitter, Instagram and Facebook.
FRIDAY RESULT
NCAA Singles Championship Final
No. 3 [3] Emma Navarro (VA) def. No. 1 [2] Estela Perez-Somarriba (UM), 6-3, 6-1
NOTE: Cover photo is courtesy of USTA/NCAA