Perez-Somarriba Makes History in Reaching Fourth Sweet 16
ORLANDO, Fla. – Estela Perez-Somarriba of the University of Miami women's tennis team is headed to the Round of 16 at the NCAA Singles Championship yet again.
The fifth-year senior, ranked first nationally and seeded second overall, posted a straight-set victory Tuesday over No. 37 Peyton Stearns of Texas, 6-2, 6-4, to log the fourth such appearance of her career. In doing so, she became just the 11th player in NCAA history—and second from the ACC—to reach the Sweet 16 four times.
Facing the Most Outstanding Player of the NCAA Team Championship, Perez-Somarriba lost just one service game against Stearns at the USTA National Campus.
After the Madrid native raced out to a 3-1 lead in the opening set, Stearns held at deuce to pull within a game. Perez-Somarriba, however, won the next two games at deuce and then tacked on another hold to claim the opening set.
The reigning national champion, Perez-Somarriba again took 2-0 and 3-1 leads in set two, but this time Stearns clawed back to pull even at 3-3. The two-time ACC Player of the Year countered with a break after Stearns' lone such result and followed with a hold at deuce to take a 5-3 lead.
After Stearns logged a hold of her own, Perez-Somarriba clinched the match by holding at deuce, wrapping up the 6-2, 6-4 decision. It marked the second day in a row a Hurricane took down a player from Texas, the 2021 national champion.
"Listen, we knew going into the match that [Stearns is] tough. She had a really good season, plays big tennis," Yaroshuk-Tews said. "We knew that she was going to be tough and she was as good as we thought she was going to be. I think Stela stepped up, played some good tennis and exposed some weaknesses that we needed to expose. Looking forward to another match tomorrow."
Perez-Somarriba passed Duke's Vanessa Webb, the 1998 national champion, for second place on the ACC's all-time singles wins list with the victory, as she upped her career mark to a staggering 162-25.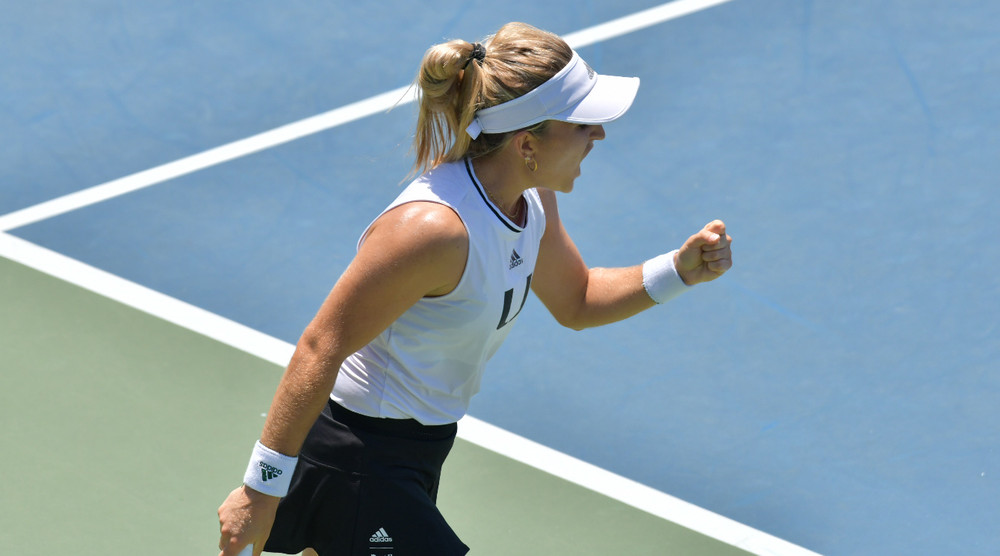 In addition, she notched her 236th total win—singles or doubles—to tie Laura Vallverdu (2006-10) for second place on Miami's all-time leaderboard, as well as improved to 14-2 in the NCAA Singles Championship and to 15-0 in singles action at the USTA National Campus.
The only other players in NCAA history to earn four Sweet 16 berths are UCLA's Robin Anderson (2012-15), Cal's Jana Juricova (2009-12), Northwestern's Maria Mosolova (2008-11), Baylor's Zuzana Zemenova (2005-08), USC's Jewel Peterson (2000-03), San Diego's Zuzana Lesenarova (1997-2000), the aforementioned Webb (1996-99), Ole Miss' Paloma Collantes (1996-99), Florida's Nicole Arendt (1988-91) and Stanford's Lisa Green (1987-90). She is one of five among that group—alongside Juricova, Lesenarova, Webb and Zemenova—to also own a singles national title.
While Perez-Somarriba's victory led the way, she was not the lone Hurricane to compete on the second day of the NCAA individual championships.
Freshman Isabella Pfennig, ranked No. 10 and seeded No. 9-16, also took the court in the NCAA Singles Championship Round of 32. A day after dropping the first set and winning in three, she won the first set and fell in three, this time to No. 43 Christina Rosca of Vanderbilt.
Pfennig won the final five games of the opening set, in which she held in all four of her service games, to take it in commanding fashion. Rosca, a three-time First Team All-SEC performer, jumped out to a 2-0 lead in the second set, but Pfennig pulled to within 2-3. The Commodore fifth-year senior, however, won each of the final three games to force a decisive set.
The two players exchanged holds through the first five games until Rosca broke in the sixth game to go in front, 4-2. She then held for a 5-2 lead, after which Pfennig got back on the board to slice her deficit to two games, but Rosca closed it out on serve for a 2-6, 6-2, 6-3 victory.
Pfennig ended her superb freshman season with an 18-6 ledger that included six top-50 victories and five top-35 triumphs. The Second Team All-ACC honoree is set to earn ITA All-America distinction.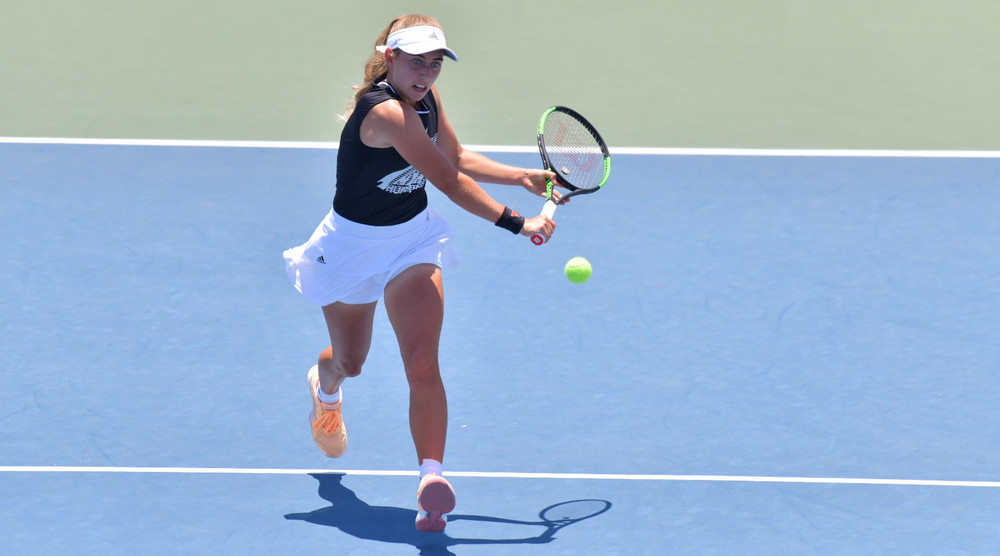 "I think Bella has proven that she is ready to compete at the highest levels in college tennis. Rosca is a veteran player from Vandy; she has played on a national [runner-up] team," Yaroshuk-Tews said. "She … did the right things today. She made some right moves. She was able to come in and make some key volleys in key moments and expose a little bit of Bella's weakness, which we need to work on over the summer. But, listen, I'm super proud of Bella. I'm super proud of where she got this season. I know she's a little upset she came up short today, but [it was a] pretty darn good season for a freshman."
With singles play complete for the day, Miami turned its attention to the NCAA Doubles Championship, in which it had two participants for the first time since 2007. However, both duos suffered straight-set defeats to end their seasons.
First, second-year freshmen Diana Khodan and Maya Tahan, ranked No. 14, took the court against Texas A&M's No. 20-ranked duo of Jacyi Goldsmith and Tatiana Makarova, falling in 1-6, 4-6 fashion.
The Hurricanes won the first game of the match at deuce, but the Aggies won each of the next six to take the opening set. Goldsmith and Makarova then took the opening game of set two, before Khodan and Tahan stopped their skid with a hold.
After Goldsmith, a third-year sophomore, and Makarova, a fourth-year junior, took a 3-1 lead, Khodan and Tahan logged their first break, doing so at deuce, and then consolidated it with a hold to make it 3-3. Texas A&M, though, countered with a hold and a break at deuce to go in front, 5-3.
Miami fought off three match points in the ninth game to break and staved off another match point in the next game, but could not fend off a fifth, as Goldsmith and Makarova broke at deuce to win the match, 6-1, 6-4.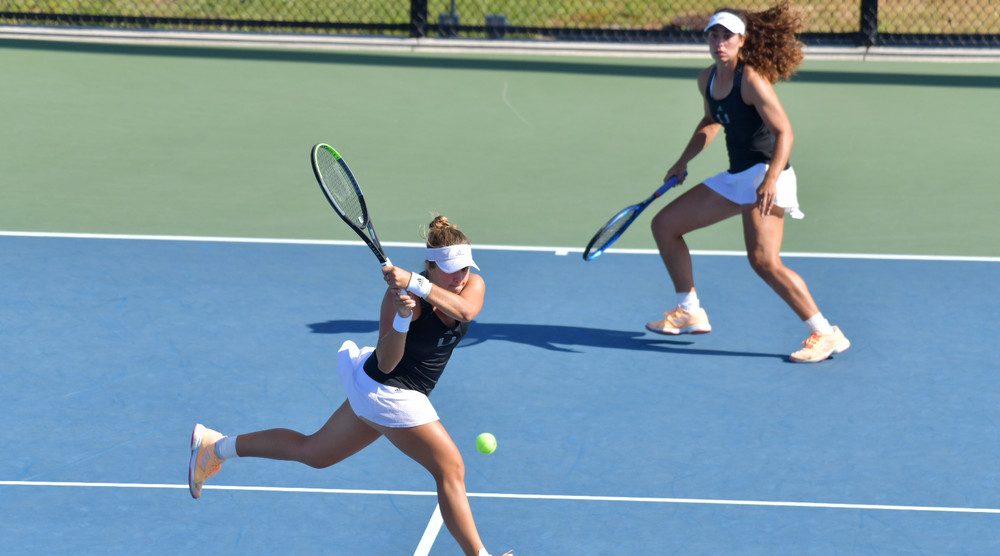 For Khodan and Tahan, they end their first full collegiate season having twice achieved a top-15 ranking and tallying three top-10 victories. They also became the first all-freshman duo to compete in the NCAA Doubles Championship in Yaroshuk-Tews' 20 years at the helm.
Perez-Somarriba and Pfennig, ranked No. 22 together, also competed in the doubles tournament, but dropped a 3-6, 3-6 decision to No. 59 Elysia Bolton and Jada Hart of UCLA, the Pac-12 automatic qualifier.
The two tandems split the first six games, but UCLA won each of the next three—ending with back-to-back wins at deuce—to take the opening set. Miami then held to open set two, but the Bruins responded with five straight wins to take a commanding 5-1 lead.
Perez-Somarriba and Pfennig continued to keep their hopes alive with a hold and a break, battling off a match point at deuce in the latter. They then built a 30-0 lead in the ninth game, but Bolton, a third-year sophomore, and Hart, a sixth-year redshirt senior, stormed back to seal a 6-3, 6-3 result.
The Miami tandem garnered a top-25 ranking six times this season, as well as teamed up to defeat four top-25 opponents. Perez-Somarriba and Pfennig went 10-7 overall as a pair, despite playing 18 matches—four were left unfinished—atop the lineup.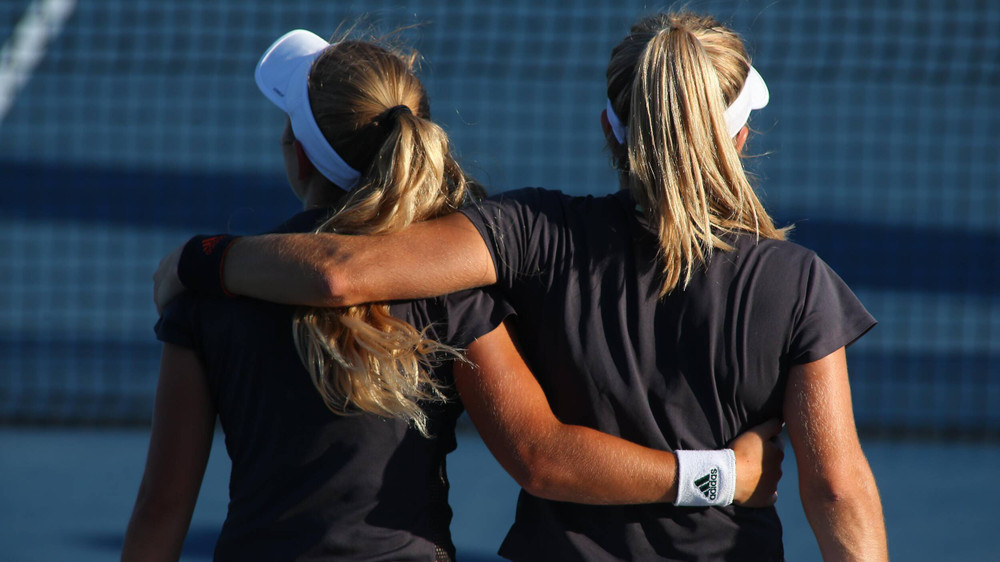 "I'm proud of both our doubles teams being represented in the doubles tournaments," Yaroshuk-Tews said. "They had successful seasons. Unfortunately, those came to a quick end today, but we have a lot to build upon for next season."
The lone remaining Hurricane left in the event, Perez-Somarriba will be back in action Tuesday in the NCAA Singles Championship Round of 16. She is set to face No. 41 Alexa Graham of North Carolina at 1:30 p.m.
For more information on the NCAA championships, including schedules, brackets and live stats, visit the tournament homepage HERE.
To keep up with the University of Miami women's tennis team on social media, follow @CanesWTennis on Twitter, Instagram and Facebook.
MONDAY RESULTS
NCAA Singles Championship Second Round
No. 1 [2] Estela Perez-Somarriba (UM) def. No. 37 Peyton Stearns (TX), 6-2, 6-4
No. 43 Christina Rosca (VU) def. No. 10 [9-16] Isabella Pfennig (UM), 2-6, 6-2, 6-3
NCAA Doubles Championship First Round
No. 20 Jayci Goldsmith/Tatiana Makarova (TAM) def. No. 14 Diana Khodan/Maya Tahan (UM), 6-1, 6-4
No. 59 Elysia Bolton/Jada Hart (UCLA) def. No. 22 Estela Perez-Somarriba/Isabella Pfennig (UM), 6-3, 6-3
TUESDAY SCHEDULE
NCAA Singles Championship Round of 16
1:30 p.m.: No. 1 [2] Estela Perez-Somarriba (UM) vs. No. 41 Alexa Graham (NC)