Perez-Somarriba, Pfennig Advance to NCAA Round of 32
ORLANDO, Fla. – For the ninth time in program history and first since 2015, two members of the University of Miami women's tennis team are headed to the second round of the NCAA Singles Championship.
Fifth-year Estela Perez-Somarriba, the nation's top-ranked player and the tournament's second overall seed, posted a straight-set victory over No. 42 Salma Ewing of USC Monday at the USTA National Campus.
Freshman Isabella Pfennig, ranked No. 10 and seeded No. 9-16, then turned in a 3-6, 6-1, 6-2 comeback victory against No. 35 Anna Turati of Texas, joining her veteran teammate in the Round of 32.
"These two girls are mature, talented, disciplined kids. I've told them that I think there are very few players in college tennis that play every single point," Miami head coach Paige Yaroshuk-Tews said. "I think Turati is one of them; I think Turati plays every single point. I think Stela is one of them and I think Bella is one of them. There are some more out there, but you get great results when you show up and you play every single point, mentally and physically. That's what they did today and I think it just says a lot about their preparation and where their mindset is. We're looking to get some more tomorrow."
Perez-Somarriba, the reigning national champion, took the first four games of the match against Ewing, who was formerly the top-ranked recruit in the class of 2018. After the junior countered with a hold and a break to slice her deficit in half, Perez-Somarriba responded with a break and a hold of her own to take the opening set.
Ewing took leads of 2-1 and 3-2 in set two, but Perez-Somarriba held at deuce in the sixth game to pull even. She then broke at love and, again, held at deuce to take a 5-3 lead. The Madrid native closed the match with a break, recording the 6-2, 6-3 victory.
With the win, Perez-Somarriba improved 13-2 in NCAA Singles Championship play in her career, the latter mark extending her lead atop the Miami leaderboard. Additionally, she became the second player in program history to win a match in four separate NCAA singles tournaments, joining Ronni Reis, who did so from 1985-88.
"She was really focused and really calm [in the] first round. That's where I want her to be; that's what I like to see," Yaroshuk-Tews said. "Playing a kid that plays number one in the Pac-12, had a solid year, is very athletic [and has a] big forehand, I think Stela handled the situation well and played good tennis."
Perez-Somarriba also logged the 161st singles triumph of her career, tying Duke's Vanessa Webb, the 1998 NCAA champion, for second place in ACC history.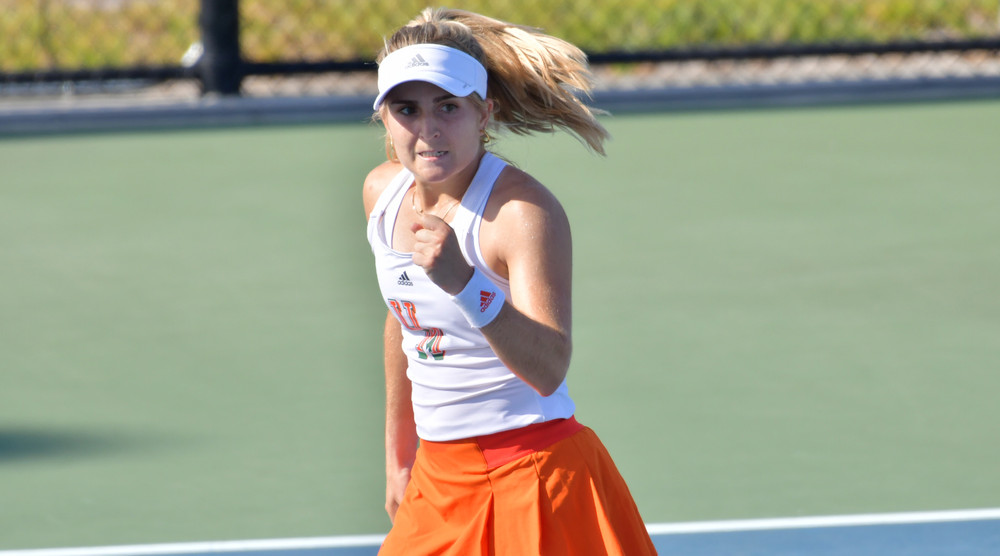 Additionally, the victory over Ewing also served as Perez-Somarriba's 100th completed singles match against a ranked player. She improved to 82-18 in such affairs, including 57-6 in straight sets and 53-12 versus top-50 foes.
About 80 minutes after Perez-Somarriba improved her career singles record at the USTA National Campus to 14-0, Pfennig notched her first win at the venue to secure her spot in the NCAA Round of 32. And she did so against a player formerly ranked top-five in the nation this spring.
Turati took 2-0 and 4-2 leads in the opening set, on her way to a 6-3 victory. Pfennig, however, controlled the match the rest of the way. She won 12 of the final 15 games, including taking five of six deuce points, with five of them earning breaks.
Pfennig needed five match points to seal the decision, but closed it out with a hold at deuce to pick up her first comeback win since Feb. 20.
"I think she just started taking more chances. That was kind of the game plan going in; we knew that's what she needed to do," Yaroshuk-Tews said of what Pfennig did to change the match after the first set. "…Overall, I just think she started playing more aggressively. She started moving better. She started taking more chances. To be able to do that and take that girl down, first round, coming off of [winning a team national title] yesterday [is very impressive]. That's one of the top five competitors, I'd say, in college tennis. So, that says a lot about Bella and where she is right now."
Pfennig is the fourth Miami freshman in the last eight NCAA Singles Championships to earn at least one win, joining Perez-Somarriba (2017), Sinead Lohan (2015) and Stephanie Wagner (2013).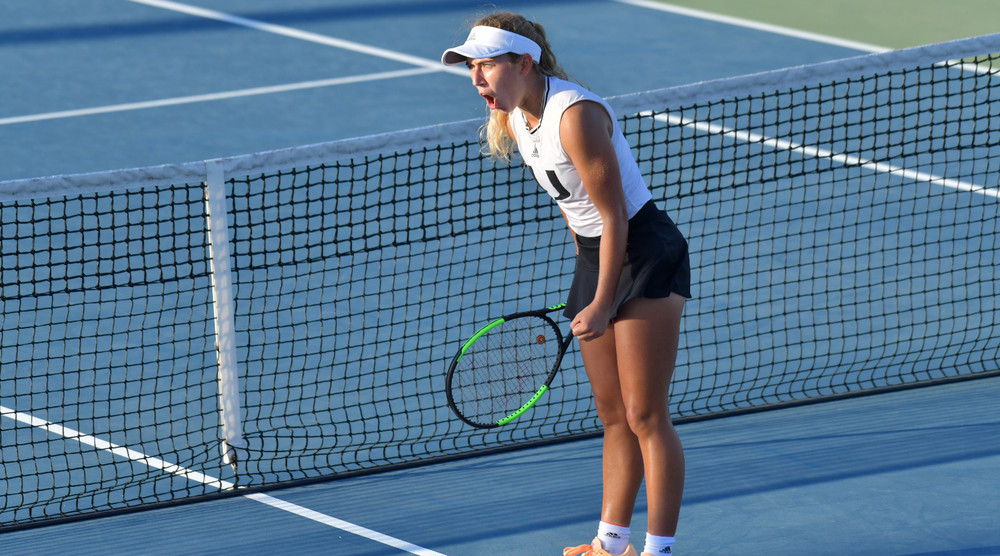 Miami is one of five schools with multiple players advancing to the Round of 32, alongside a trio of fellow ACC programs—Duke, North Carolina and Virginia—as well as Georgia. The prior times multiple Hurricanes have reached the second round of the tournament were 2015, 2010, 2009, 2007, 1991, 1987, 1985 and 1984.
Perez-Somarriba will seek her fourth NCAA Sweet 16 berth Monday when she takes on No. 37 Peyton Stearns of Texas at 11:30 a.m. Pfennig is scheduled to face No. 43 Christina Rosca of Vanderbilt at 1 p.m.
The two, ranked No. 22 as a pair, are also set to begin NCAA Doubles Championship competition at 5 p.m. with an outing against No. 59 Elysia Bolton and Jada Hart of UCLA. Thirty minutes prior to that, Miami's No. 14-ranked duo of Diana Khodan and Maya Tahan, both second-year freshmen, will face Texas A&M's Jayci Goldsmith and Tatiana Makarova, ranked No. 20.
For more information on the NCAA championships, including schedules, brackets and live stats, visit the tournament homepage HERE.
To keep up with the University of Miami women's tennis team on social media, follow @CanesWTennis on Twitter, Instagram and Facebook.
SUNDAY RESULTS
NCAA Singles Championship First Round
No. 1 [2] Estela Perez-Somarriba (UM) def. No. 42 Salma Ewing (SC), 6-2, 6-3
No. 10 [9-16] Isabella Pfennig (UM) def. No. 35 Anna Turati (TX), 3-6, 6-1, 6-2
MONDAY SCHEDULE
NCAA Singles Championship Second Round
11:30 a.m.: No. 1 [2] Estela Perez-Somarriba (UM) vs. No. 37 Peyton Stearns (TX)
1 p.m.: No. 10 [9-16] Isabella Pfennig (UM) vs. No. 43 Christina Rosca (VAN)
NCAA Doubles Championship First Round
4:30 p.m.: No. 14 Diana Khodan/Maya Tahan (UM) vs. No. 20 Jayci Goldsmith/Tatiana Makarova (TAM)
5 p.m.: No. 22 Estela Perez-Somarriba/Isabella Pfennig (UM) vs. No. 59 Elysia Bolton/Jada Hart (UCLA)