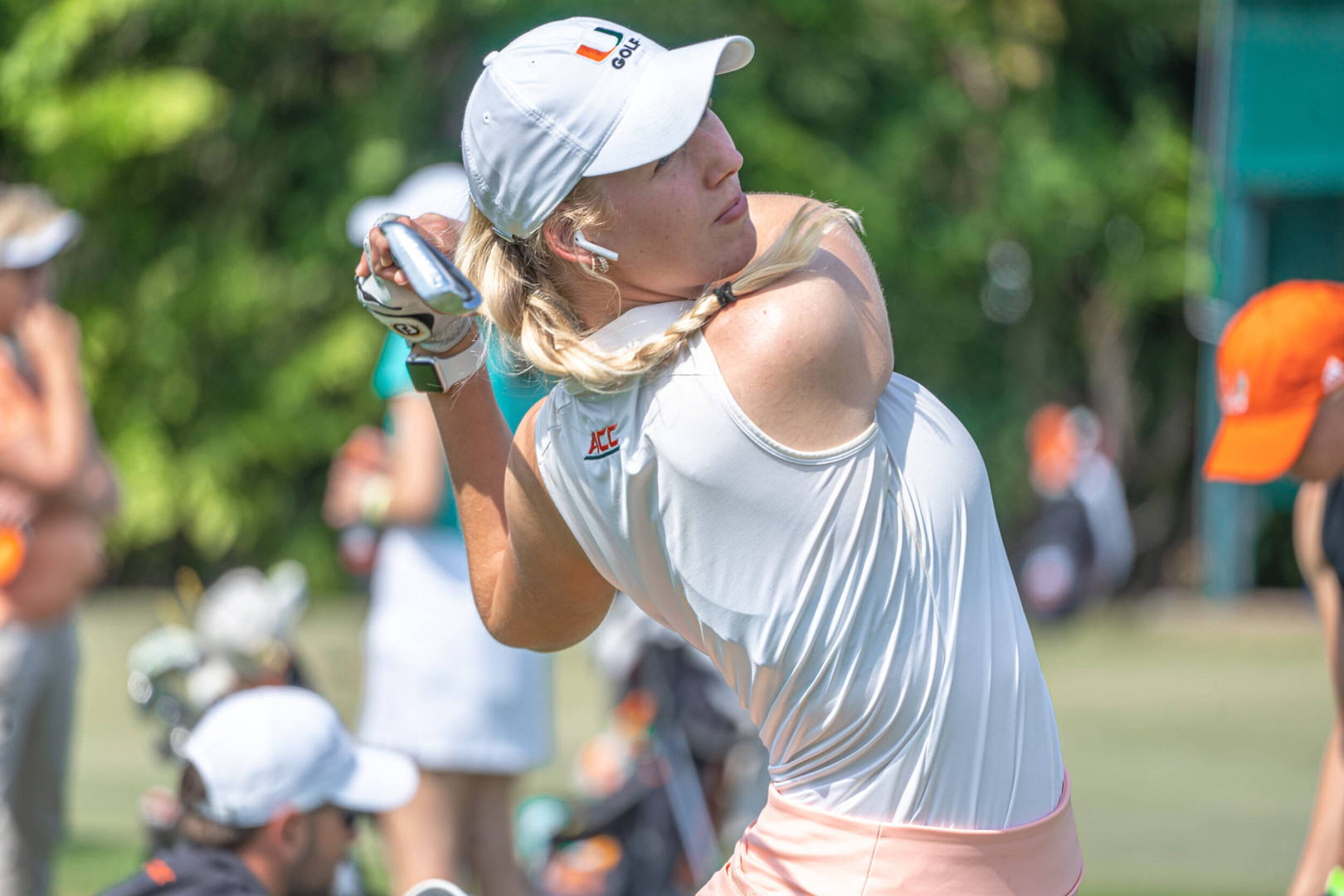 ARGYLE, Texas – Fifty-four.
The number of holes separating the University of Miami golf team from postseason action is just 54, as the 16th-ranked Hurricanes have one final dress rehearsal before heading to Greensboro, N.C., for the ACC Championship on April 15.
Hosted by North Texas, the Hurricanes will take part in The Bruzzy Challenge at the par-72, 6,421-yard Lantana Golf Club.
The opening 36 holes will be played continuously on Sunday, with a shotgun start scheduled for 9:30 a.m. ET.
Overall, Miami will take on 15 programs in Argyle, Texas, – No. 38 North Texas, No. 42 TCU, SMU, No. 33 Oklahoma, No. 21 Texas, No. 7 Oklahoma State, No. 17 Houston, No. 30 Texas Tech, UTSA, Kansas State, Tulane, Missouri, No. 29 Iowa State, Colorado and San Diego State – with live stats accessible HERE.
Making the trip for the Hurricanes will be fourth-year junior Kristyna Frydlova, third-year sophomore Anna Backman, second-year freshman Franziska Sliper and freshmen Sara Byrne and Nataliya Guseva.
The Hurricanes return to the Lantana Golf Club for the second time in three seasons, after the event was canceled in 2020 due to the ongoing COVID-19 pandemic.
In just her second season in Coral Gables, Fla., Frydlova placed 25th at the event in 2019, while Backman was just a couple strokes behind just three months into her collegiate career.
Looking back on the event two seasons ago, both Frydlova and Backman gave some insight on how they are looking to attack the two-day event beginning on Sunday.
"I remember it being a course good for scoring, but like every course you have to show some respect," Frydlova said. "Every round can be different due to the conditions. My goal is just to remember that and stay patient and pace myself the right way to shoot low both individually and as a team. The goal is to win and it feels good to know that we certainly have what it takes."
Meanwhile, after making her 2021 debut just two-weeks ago at the Briar's Creek Invitational, Backman is thrilled to compete alongside her teammates once more in The Lone Star State.
"Getting back to competing was great, it was so fun to get back in action. I'm trying to keep that feeling going, enjoy it on the course and give all that I have," Miami's two-time individual champion said. "I honestly do not remember much from the course, so I am going into it with the same setup as any other course. I feel like some holes give you more opportunities to go for it and some you need to be smart on. Just keeping the ball in play and hitting a lot of greens will do its work. My goal for the tournament is to play even golf with no big mistakes. Do the best I can, in short."
In Johns Island, S.C., the Hurricanes rebounded from fierce weather conditions through the opening two rounds, to rocket up the team and individual leaderboards in the final round of competition.
As a team, Miami shot 16-under-par in the third round, just one stroke behind the lowest score in program history, while Byrne matched a program record with a round total of eight-under-par.
Carding an impressive 67 (-5) in the final round, Frydlova explained how she hopes the last day in Johns Island will be the boost the team and herself needed as they prepare for postseason competition.
"I think the last day in South Carolina was great and much needed for the team as well as myself. We knew we can shoot really low but this just gave us more confidence for the second and most important part of our spring semester," the Prague native said before explaining areas of her game she has been working on all spring. "I always work on my short game; you can never overdo that. At this point in our golf careers it's the most important area where the score is made. As long as my putter works and I keep my head clear, everything should go well."
Miami's lone upperclassmen making the trip, Frydlova is looking to build off her impressive career, where she is averaging 73.21 over the course of 84 career rounds at UM.
Continuing to learn each week, Guseva has swiftly found her rhythm as she is set to make her fifth career start after only joining the program in January.
Beginning her career with a tied-for-19th-place finish at the UCF Challenge, the Moscow native garnered a top-15 finish at the Moon Golf Invitational, before collecting back-to-back top-10 scores.
At the Briar's Creek Invitational Guseva finished three-under par and placed third among the 93 individuals, her best placement as a collegian.
"It feels really great to be standing at the top of the individual leaderboards," Guseva said following her third-place finish in South Carolina. "Every time I go into a tournament; I am thinking about getting a win. So, I think we are a great team and are able to do this. I think I am in pretty good form right now and I am really happy to have such great opportunities to practice on the amazing Biltmore [Hotel and] Golf Course. I am training really hard, which definitely allows me to be at the top of the individual leaderboards. I think we have a great opportunity to win our next tournament and I am really looking forward to the big ones – conference, regionals and nationals. I just want to make everyone proud of us."
Currently ranked No. 25 on the golfstat.com, she leads the team with a 71.50 stroke average through 12 rounds of competition, good for the second lowest average in program history.
"Yes, I do think I have found my rhythm. I have been training really hard and the coaches have really helped us with that. The most important thing is to always do the little things right and always be patient. The big things will follow," Guseva said. "I just want to thank my team for being with me, helping me and supporting me. Usually, it is pretty hard to be a freshman because you don't know many things about the new campus or team. But I have found my rhythm and I have to thank my team and coaches for that."