March 9 | 2 p.m. | ACCN
Greensboro Coliseum | Greensboro, N.C.
[13] Miami (8-16, 4-15 ACC) vs. [12] Pittsburgh (10-11, 6-10 ACC)

CORAL GABLES, Fla. – "Hope springs enteral" is an old adage about opening day in Major League Baseball.
That same sentiment applies to the start of conference tournament competition in college basketball, as nearly every team in the country has a chance to wipe its slate clean and focus on a new goal.
Each program has the chance to pursue a league title and a spot in the NCAA Tournament, or even just a positive feeling at the end of the year, no matter how it fared previously.
"Your regular season record doesn't impact what your chances are," University of Miami head men's basketball coach Jim Larrañaga said. "What impacts your chances is how well you're playing at that moment. I've seen teams that finished very low in the conference standings have a great run in the conference tournament."
The Hurricanes head into the 2021 ACC Tournament as the No. 13 seed, but have played good basketball down the stretch, despite having only six available scholarship players due to five season-ending injuries.
Last Saturday, Miami fell by just eight, 66-58, at Clemson, which earned the fifth seed in the tournament. Monday, the Hurricanes trailed by only six with three minutes left at then-No. 21/20 Virginia, before dropping a 62-51 decision to the eventual ACC champions.
Then, to cap the regular season, Miami snapped a six-game skid by defeating Boston College, 80-76, on Friday night at the Watsco Center.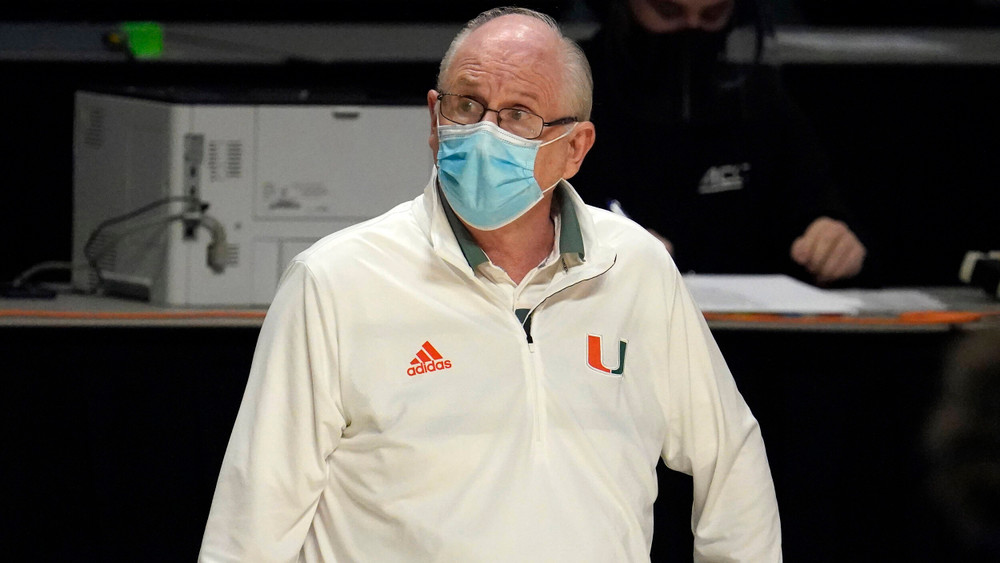 "I think the win will really produce a very positive attitude. When you're winning, there is relief," Larrañaga shared. "Losing, there is so much disappointment and it's a real challenge emotionally to get yourself back up after a loss. After a win, you're relieved you won, but then you're also excited like, 'Hey, maybe we'll go on a roll.'"
A pair of redshirt seniors led the way for Miami (8-16, 4-15 ACC) in its hard-fought victory over Boston College.
Guard Kameron McGusty turned in arguably his best game as a Hurricane, totaling a season-high 27 points on 9-of-12 shooting, adding six rebounds, five assists and two steals. Center Nysier Brooks registered a career-best 21 points, including 16 in the first half, on an 8-of-11 clip from the floor on Senior Night.
In addition, sophomore forward Anthony Walker compiled 17 points, one off his career high, and seven boards. His play, paired with that of the senior duo, helped produce a 26-point swing from Miami's Jan. 12 setback, 84-62, on the road against the Eagles.
"At Boston College, we didn't make any shots and they made every shot. We gave up 18 threes. Friday, at halftime, they were 2-for-11. So, it makes a huge difference," Larrañaga said. "The same player can look great when he's making shots and look terrible when he's missing shots. The same is true of your offense. When the ball is going through the hoop, your team plays with a lot more energy and confidence than when you're missing those same shots. We missed several wide-open threes, but we didn't get down in the dumps.
"We kept our heads up and kept playing away and were able to keep scoring points," Larrañaga continued. "The way we did that is a guy like Nysier Brooks had a career high and a guy like Kam McGusty had [one point shy of] a career high. So, when you score 80 and when guys are putting the ball in the basket, you feel like, 'Hey, we're in there, we're playing well. Let's stay upbeat and compete.'
The Hurricanes will not quite need a 26-point turnaround in their ACC Tournament opener, but will need a big one to come away with a victory.
Miami is set to face Pittsburgh, the No. 12 seed, Tuesday at 2 p.m. at the Greensboro Coliseum in Greensboro, N.C. The teams have not met since their first league contest of the season, when the Panthers registered a 70-55 road decision Dec. 16, 2020.
With nearly 12 full weeks in between games and a number of roster changes on both sides since that first meeting, though, Larrañaga is not putting much stock into that meeting.
"I think Pitt, who defeated us early in the year, had a very different team than they do now late in the year," the 2013 Associated Press Coach of the Year said. "So, it's almost like the first time we're going to play them because their second- and third-leading scorers are gone. They have new starters. We have a bunch of injured players, so we've got kind of a different team. And so this will be the first matchup between Miami and Pitt in 2021. The game in 2020 really doesn't impact much."
That mid-December matchup was just the fifth game of the season for the Hurricanes and the sixth for the Panthers.
Two of the eight Hurricanes who appeared in that game will not do so this time. Two Pittsburgh starters and one key reserve from the first matchup also will not take the court in Greensboro.
In addition, that was the first game would-be sit-out transfers were allowed to play, with Miami senior guard Elijah Olaniyi and Pittsburgh senior guard Nike Sibande getting word of their eligibility only about an hour before tip-off.
"They're very similar to us in a sense that their number of outstanding players has been reduced and now the responsibility falls on fewer shoulders," Larrañaga remarked. "The only good part about that is the [remaining] guys know they're going to play, they know they're going to start, they know they're going to play a ton of minutes, they know they're going to get a ton of shots. They don't really have to worry about, 'Hey, if I miss a couple of shots, I'm coming out and someone else is coming in for me.' So, there is a certain amount of confidence that goes with that freedom."
One constant between the Panthers then and now is the presence of arguably the best player in the ACC, sophomore forward Justin Champagnie.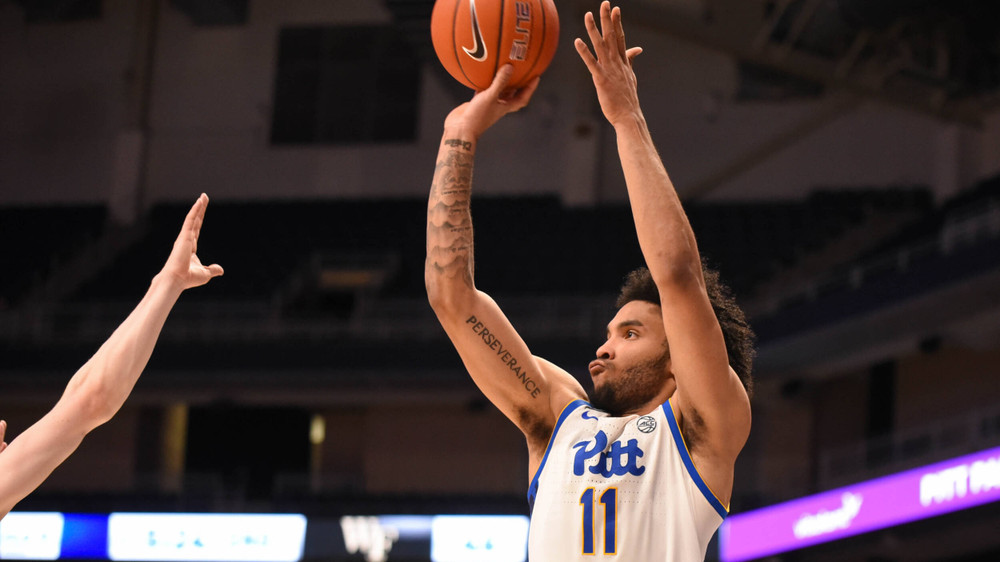 The Brooklyn, N.Y., native leads the league in rebounding at 11.1 board per game and places second in scoring at 18.4 points per game. The only Power Five player in the country averaging a double-double, Champagnie is a prime focus in any scouting report, on both the offense and defense.
"Justin Champagnie is certainly one of the premier athletes at both ends of the court in our conference—defensively, rebounding, scoring in around the basket, making threes," Larrañaga said. "The way you have to defend a guy like that is you've got to play with relentless energy because if not, he will just outwork you. He'll outrun you for fast-break layups. He'll outrun you off the offensive boards. He'll be very, very confident in shooting threes. So, we need to be sure whoever is guarding him does a terrific job."
The Hurricanes are 23-20 all-time against Pittsburgh, including 1-2 on a neutral court and 7-3 under Larrañaga. The two sides have never met in the ACC Tournament, but all three of those neutral-site meetings came in BIG EAST Tournament competition.
The Panthers head to Greensboro at 10-11 (6-10 ACC) on the season after dropping six of their last seven games following a 9-5 start.
None of those numbers, however, will matter at all when the two teams take the floor in the ACC Tournament's opening game.
"You go into a tournament where every team has the same record, 0-0," Larrañaga said. "You just got to hope that you play your best on the night that you play or the afternoon that you play."
The ACC Coach of the Year in both 2013 and 2016, Larrañaga has guided Miami to a 9-8 record in the conference tournament during his tenure as its head coach. In seven of nine seasons, the Hurricanes have won at least one game, reaching the quarterfinals six times.
His ledger includes a tournament crown in 2013 at the Greensboro Coliseum, where Miami is 9-6 all-time in ACC Tournament action.  That year, the top-seeded Hurricanes won all three of their games by double digits, en route to sweeping the league titles and making the NCAA Sweet 16.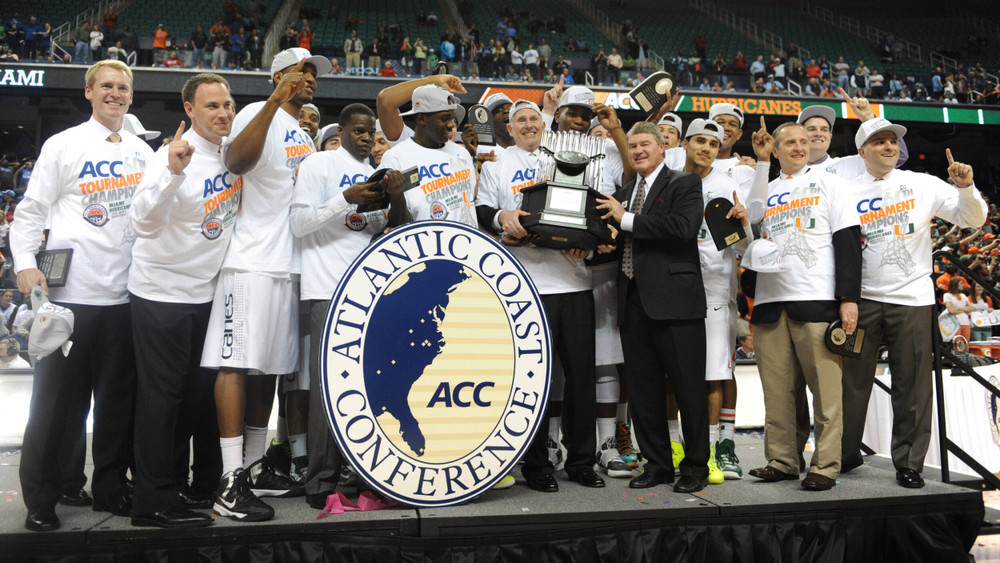 Although that is certainly a sweet memory in a five-decade coaching career filled with them, it is not something Larrañaga will be thinking about when he takes this team back to storied arena.
"I think that was true the following season and for a couple of years," he said of reminiscing when inside the Greensboro Coliseum. "But right now, we're just more focused on this team and all the adversity it has faced and how we can help these guys to try to make this tournament memorable in a positive way. The only way to do that is to win your first game."
Miami's ACC Tournament opener will be televised live on ACC Network HERE, with Dave O'Brien and Cory Alexander on the call. Joe Zagacki and Danny Rabinowitz will have the radio broadcast on 560 The Joe WQAM HERE. Live stats can be found HERE.
The winner of Tuesday's contest moves on to the second round of the ACC Tournament and squares off with fifth-seeded Clemson. That game is scheduled for Wednesday at 2:30 p.m. at the Greensboro Coliseum, live on ACC Network.
To keep up with the University of Miami men's basketball team on social media, follow @CanesHoops on Twitter, Instagram and Facebook.
The 2020-21 Miami Hurricanes men's basketball season is presented by First National Bank.