It's Tournament Time for The Canes
CORAL GABLES, Fla. – It's tournament time in Greensboro, N.C.
The Miami women's basketball team heads into the Atlantic Coast Conference Tournament as the 10-seed, riding a three-game win streak, the second longest active win streak in the conference.
"I think we've been playing some great basketball," head coach Katie Meier said "We picked up three wins recently and got ourselves to eight ACC wins. I'm really happy for my team. We've gotten some huge performances and made shots in big moments."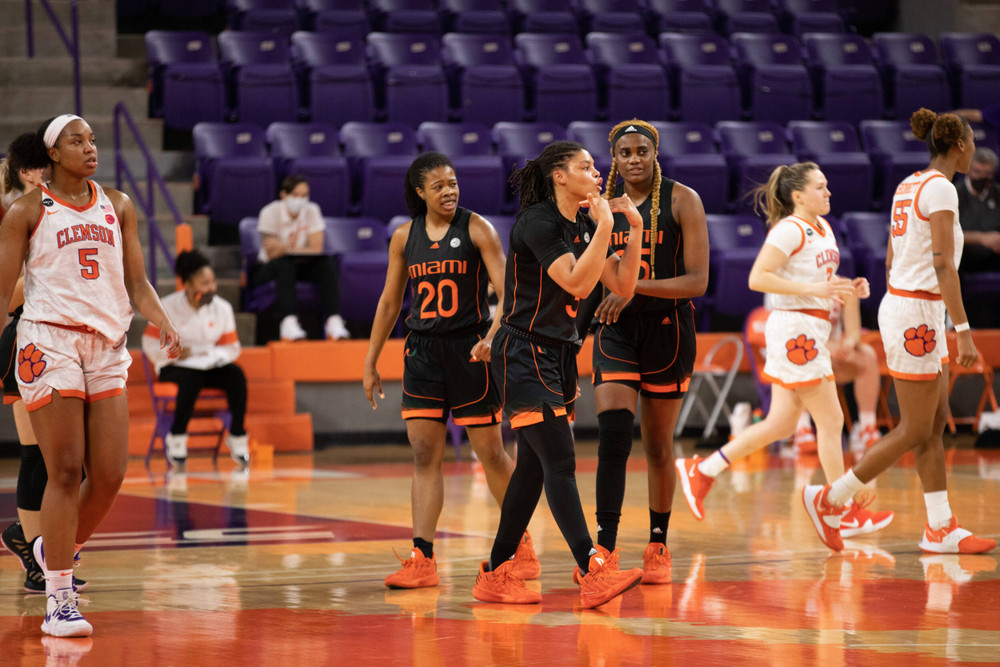 The Canes will put their win streak on the line against the Virginia Tech Hokies in the second round of the ACC Tournament. Having faced a 20-point setback against Virginia Tech earlier this season, Miami knows that it will need to give its all to advance to the quarterfinals.
"We need to be ready for the hard and celebrate it," Meier said. "Our energy must be high and we have to keep digging our way through and find a way."
Miami has played fast and made shots over its last three games, shooting 47.3 percent from the field in that span. A trio of Canes, Destiny Harden, Endia Banks and Kelsey Marshall, are averaging double-figures, paced by Harden who is pouring in 18.7 points per game. Banks leads the Canes in rebounding in the last three games, hauling in 7.3 boards per contest.
"We've found our groove and have been playing together," junior Karla Erjavec said. "I think we are going to have a lot of fun in the tournament and we are just looking forward to getting better and seeing how far we can get."
With the goal of staying alive in the postseason in mind, the Canes have worked to correct their mistakes from their game against Virginia Tech earlier this season.
"We have to be smart and know who their shooters and scorers are," Erjavec said. "We have to run and play fast and make our shots."
The Canes have squared off with the Hokies once before in the ACC Tournament, besting Virginia Tech 45-39 in the first round of the tournament in 2013. Then-senior and current staff member Morgan Stroman recorded eight points, 13 rebounds and three assists in the Miami victory.
Overall, Miami holds a 9-16 record in the ACC Tournament, a mark the Canes look to improve on Thursday.
"We have a heck of a conference tournament coming up and it's a huge opportunity for us, especially since we're streaking," Meier said.
The Canes and the Hokies face off at 6 p.m. on Thursday, with the game airing on regional sports networks. Fans can also listen to the game on WVUM 90.5.