March 5 | 6 p.m. | ACCN
Watsco Center | Coral Gables, Fla.
Miami (7-16, 3-15 ACC) vs. Boston College (4-14, 2-10 ACC)
CORAL GABLES, Fla. – Despite its shorthanded roster, the University of Miami men's basketball team turned in a quality performance Saturday against the reigning national champions.
The Hurricanes trailed by six with under three minutes left at John Paul Jones Arena in Charlottesville, Va., before eventually dropping a 62-51 decision to No. 21/20 Virginia.
Miami had just six scholarship players available, while walk-on senior guard Willie Herenton also played a key role as a reserve, just as he has done many times throughout the 2020-21 season for the shorthanded Hurricanes.
"What I noticed is our defense. They're a great offensive team. They've got a lot of guys that can shoot the ball," Herenton said of Miami's play at Virginia. "I think, in the first half, we defended them well. The second half, they kind of broke loose a little bit. I feel like guys kind of got tired and we kind of gave up some easy ones at the end. I think overall, we had a good game plan. Dudes were playing hard … and we did what Coach L wanted us to do and I think we put ourselves in a great position to win, but that's a good team. They, obviously, adjusted and they came out with the win, but it wasn't easy for them."
Redshirt senior guard Kameron McGusty paced Miami (7-16, 3-15 ACC) with 14 points, while senior guard Elijah Olaniyi notched 12 and sophomore guard Isaiah Wong had 10. In addition, sophomore forward Anthony Walker tallied eight points and 10 rebounds.
Herenton played six-plus minutes for the Hurricanes, his seventh time eclipsing that mark during the 2020-21 campaign. Six of those seven have come in Miami's last nine contest, a stretch during which he is averaging 12.3 minutes per games.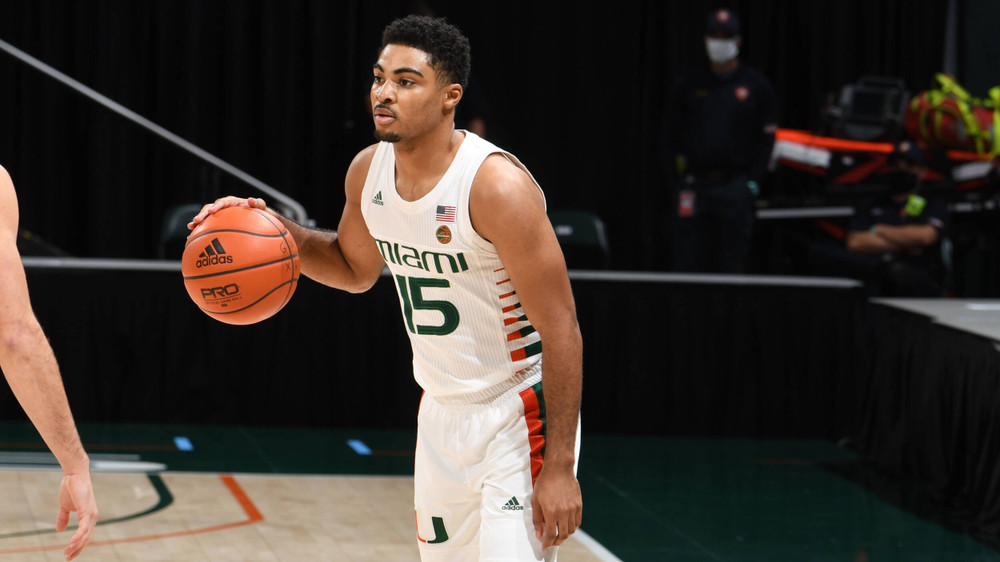 The one occurrence prior to that came Jan. 12, when the Hurricanes dropped an 84-62 decision to Boston College at Silvio E. Conte Forum in Chestnut Hill, Mass.
The Eagles are up next on Miami's schedule, with the teams set to meet Friday at 6 p.m. at the Watsco Center. It will serve as the regular season finale for both sides, with each coming in having more information about the other this time around.
"We know what they do and we're on our home court now," Herenton said. "I think it's going to say a lot about our team, going out and playing with a lot of energy and not letting that same thing happen that happened last time. I think it's going to be a totally different game this time and I think we're going to learn from the first game."
A significant issue for the Hurricanes in their prior outing against Boston College was the Eagles' 3-point shooting. They allowed 18 made 3-pointers, their highest mark ever conceded in ACC play, on 35 attempts.
Although one of the prime sharpshooters who hurt Miami the first time around is now out with an injury, the Eagles still have a bevy of other players who can make their mark from long range.
"They have a lot of shooters. I think just being aware of that [is important]," Herenton said. "I know Rich Kelly got a lot of looks early and that kind of got him going for the rest of the game. But since he's not playing, those other guys can play just as well. It's not letting dudes get hot and confidence early, and kind of setting the tone from the start. I think that's going to be a big key."
Sophomore guard Jay Heath, at 15.4 points per game, is the leading scorer for the Eagles, who enter at 4-14 (2-10 ACC) on the year. They were picked No. 14 in the ACC preseason poll after going 13-19 (7-13) in 2019-20.
Miami is 25-27 all-time against Boston College, good for its most wins against any out-of-state Division I program, including 14-11 at home and 12-3 under 10th-year head coach Jim Larrañaga.
While the Hurricanes dropped their first meeting with Boston College, a positive omen for Friday is the team's success on Senior Day under Larrañaga. Miami is 8-1 in such games with five such wins in a row.
Prior to the contest against the Eagles, the Hurricanes will recognize eight players—Herenton, Nysier Brooks, Deng Gak, Chris Lykes, Kameron McGusty, Rodney Miller Jr., Elijah Olaniyi and Sam Waardenburg—and one manager, Eric Winn.
"I think it's going to be fun. Obviously, there are not as many fans as usual," Herenton shared. "We've had an up and down season, but … we've built a relationship over the years. The last time we'll be on the [Watsco Center] court together, we should just go out there and have fun and just make more memories, and hopefully we'll get the win."
The journey to this night has been different for Herenton than for any one of his fellow seniors. He began his days with the Miami basketball program as a manager in 2017-18 before walking on in advance of the 2018-19 campaign.
Due the Hurricanes' injury luck—or lack thereof—throughout the past few seasons, Herenton has been thrust into a role much larger than that of many walk-ons at the Power Five level.  This year alone, Herenton has logged all four occurrences of a non-scholarship Miami walk-on registering 11-plus minutes in a game since the program joined the ACC in 2004-05.
The Lincolnshire, Ill., native is aware that not many people in his position have had the chance to play so much and he is savoring his chance, even if the circumstances creating the situation have been far from ideal.
"I'm just really cherishing the experience playing against the top guys in the country," Herenton said. "Coming in, I never really thought that I would be in this [type of position], but now I just … kind of take it as a blessing and just try to take advantage of the opportunity. Now, I'm in the gym after practice, before practicing, putting up shots and preparing to play high minutes, which is never something I've really done in my four years here."
A significant positive for Herenton, who has felt himself develop as a player over the course of the past three years, has been the support of the Miami coaching staff.
He harkens back to a meeting he had with Larrañaga, when the two-time ACC Coach of the Year commended him for his work in practice and told him to "keep it up." Beyond that, the staff awarding him a scholarship in both 2018-19 and 2019-20 were significant for his self-assurance.
"They're always talking to me about being ready to play. Every time they talk to me like that, it just builds my confidence," Herenton said. "It's good to know that a coach believes in you. I feel like that's the best thing you can have, when a coach believes in you."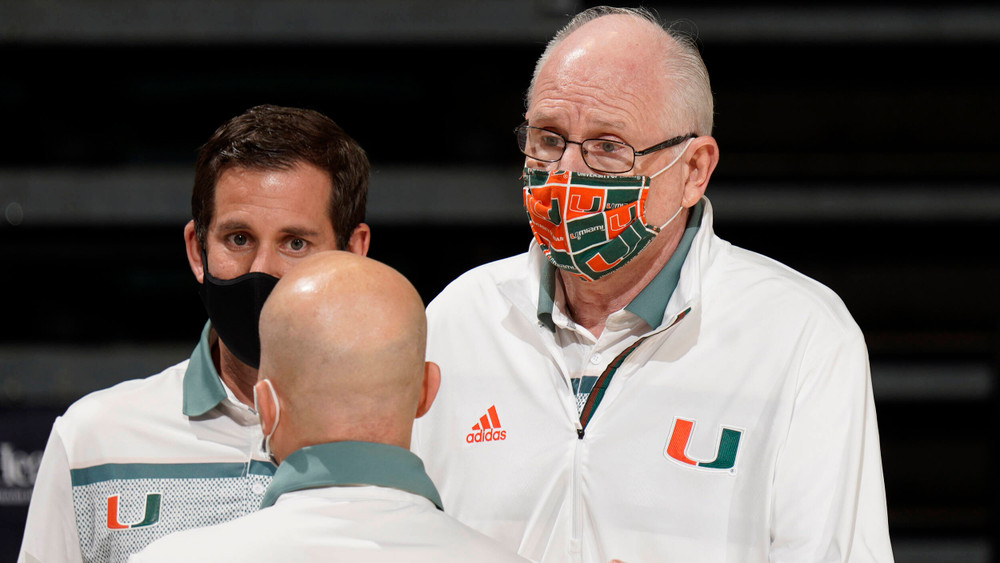 Friday, Herenton will have a chance to share a special night with those he loves, commemorating a career unlike that of nearly any other in program history.
"I've grown just as a man on and off the court and [I have made] memories," Herenton shared of his time at The U. "Now, senior night, [I am looking forward to] being able to celebrate that and to have my family there and to cherish those moments."
Miami's outing against the Eagles will be televised live on ACC Network HERE, with Jay Alter and Malcolm Huckaby on the call. Joe Zagacki and Danny Rabinowitz will have the radio broadcast on 560 The Joe WQAM HERE, while action can also be heard on WVUM 90.5 FM HERE and in Spanish on WMYM 990 AM HERE. Live stats for the contest can be found HERE.
After wrapping up the regular season, Miami will head to Greensboro, N.C., for the ACC Tournament. The Hurricanes open play Tuesday at the Greensboro Coliseum at a to-be-determined time against a to-be-determined opponent.
To keep up with the University of Miami men's basketball team on social media, follow @CanesHoops on Twitter, Instagram and Facebook.
The 2020-21 Miami Hurricanes men's basketball season is presented by First National Bank.