CORAL GABLES, Fla. –  Fresh off collecting its first point of the year, the University of Miami soccer team enters Sunday's road test at Florida Atlantic focused on continuing to improve each day.
In the first match of the spring, the Hurricanes split a 1-1 affair with Florida Gulf Coast in Fort Myers, Fla. In the double overtime draw, redshirt freshman Jackie Koerwitz collected her second career goal, while sophomore goalkeeper Melissa Dagenais corralled a career-high 10 saves.
"Winning that point was definitely the uplift we have needed," Dagenais said. "I think we all saw what we are capable of doing that night and now it's all about bringing that energy and commitment tomorrow and for the rest of the season."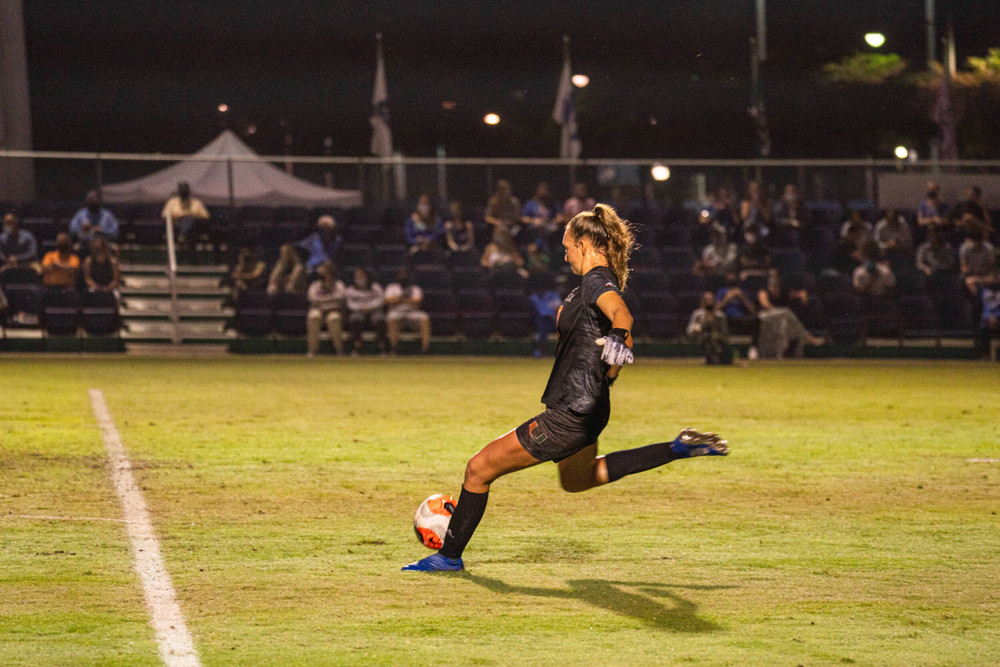 Along with Dagenais and Koerwitz, the underclassmen stepped up in a major way throughout the contest, as all 13 players to take the pitch sporting orange and green in the 110-minute double overtime were freshmen and sophomores.
It is this constant improvement on a day-to-day basis and the commitment from each of the players that excites head coach Sarah Barnes and her staff the most, as the Hurricanes embark on the four match spring slate in preparation toward the 2021 fall season.
"We are really focused this spring on creating what we call championship habits. Habits that shift the program in the direction we need to go, to be competitive in the ACC," Barnes said. "The spring, for us, really is an opportunity to improve on those specific aspects and translate them into a game.
"You can look at our first game against FGCU and how we only played freshmen and sophomores during the game. And in that tie, the positive outcomes I thought we saw from that was that after just two and a half weeks of training, we are already starting to see some of those shifts," Barnes continued. "So, I think the spring is just about us engraving those habits into everything we do. Whether it is a match or training session, every day focusing on those habits, so that once the fall arrives, we will have an opportunity to have more success."
On Sunday, the Hurricanes once again have an opportunity to apply this championship mindset, as they are set to take on the Owls at 6 p.m. in Boca Raton, Fla.
"I believe everyone is ready to attack this game and we are all very eager to earn the three points," Dagenais said. "Since the beginning of the spring season we have been committed to mentally focus on our goals and I think we are finally starting to see some results. We know we can win, now we just have to prove it. We are ready.
"I also think that seeing this improvement is a big motivator for everyone," Dagenais added. "This past week we've been working on quickly transitioning offensively and defensively, and I believe that if we are able to excel at this against FAU, it will lead us to victory."
For Dagenais specifically, prior to the contest with the Eagles the sophomore had appeared in just six matches, tabbing 301 minutes in net and collecting 11 saves. Making the most of her third career start on Feb. 17, the Saint-Hubert, Quebec, Canada, native nearly matched her career total, with 10 saves in the contest.
The double-digit affair was the most by a UM goalkeeper since Phallon Tullis-Joyce had corralled 14 on Oct. 25, 2018, taking place on her senior night, a 1-0 overtime victory over Florida State.
"It felt very rewarding seeing all the work I have put in on and off the field translate to last Wednesday's game," Dagenais said. "It definitely gave me a boost of confidence and motivation to perform at our upcoming games.
"One big aspect that I have been working on is box management; being more aggressive and coming out to claim balls," Dagenais added. "This past week we've simply been fine tuning the small details, which in the end are what will continue to help me elevate my game that much more."
Sunday's match can be streamed HERE through a purchased daily subscription, while live stats will be made accessible HERE.