Feb. 27 | 2 p.m. | RSN
Littlejohn Coliseum | Clemson, S.C.
Miami (7-14, 3-13 ACC) at Clemson (14-5, 8-5 ACC)

CORAL GABLES, Fla. – Effort can oftentimes be difficult to measure, as there is no quantifiable statistic for it.
When you have been coaching for 50 years like Jim Larrañaga has, though, you learn ways to see just how hard your team is playing.
Larrañaga, the 10th-year head coach of the University of Miami men's basketball team, liked the effort he saw from his squad in Wednesday night's game against No. 11/9 Florida State. Despite an 88-71 setback, the shorthanded Hurricanes competed from start to finish at the Watsco Center.
"One of the very simple ways you can judge effort is how fast a guy is running the floor and how exhausted he is at timeouts," Larrañaga shared. "You could tell our guys were spent, that they needed to come out, they needed a sub, they needed someone to give them a rest. The problem is we just don't have enough players. We only have one scholarship player on the bench."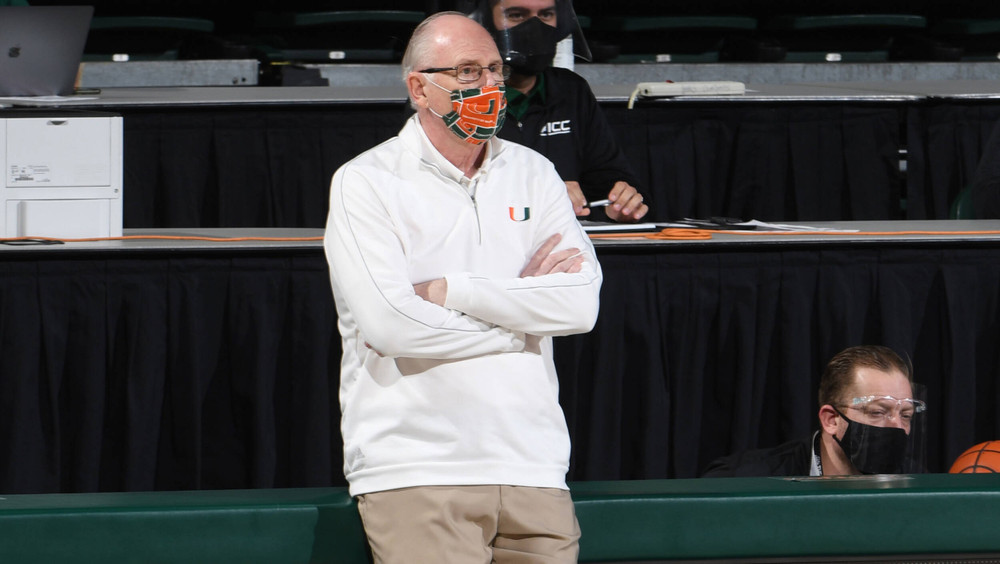 Sophomore forward Anthony Walker scored in double figures for the seventh time in his past eight outings, notching 12 points and a team-best seven rebounds. Redshirt senior guard Kameron McGusty also scored 12 points, adding a co-season-high four assists to pace the Hurricanes, and senior guard Elijah Olaniyi scored 11 points.
Sophomore guard Isaiah Wong, in particular, dazzled against the Seminoles, totaling 29 points, one shy of his career high.
The Piscataway, N.J., native, who missed the second half of Miami's prior game due to a right ankle injury, shot 9-of-16 from the field, 4-of-5 on 3-pointers and 7-of-8 at the line. At one point in the second half, he knocked down three consecutive long-range shots.
"Well, first of all, it's so impressive to me that Isaiah Wong, playing with a sprained ankle that he has sprained twice this year, still bounces back and gives a great effort every night," Larrañaga said. "He was very aggressive from start to finish. He had a great first half even though our team did not. He was the only guy that was able to score against that Florida State pressure. He was able to get to the foul line and make some free throws. He was able to free himself for jump-shots. He also plays very hard at the defensive end of the floor."
Wong is averaging 17.3 per game this season, good for an increase of 9.6 over his 7.7 tally a season ago. That is the largest increase in the ACC this season and ranks fifth-best among Power Five players, including third among those who did not transfer in the offseason.
Each of the last four players to lead the conference in scoring improvement won ACC Most Improved Player: North Carolina's Garrison Brooks in 2019-20, Louisville's Jordan Nwora in 2018-19, North Carolina's Luke Maye in 2017-18 and Wake Forest's John Collins in 2016-17.
To Larrañaga, Wong is deserving of continuing that streak, as well as garnering additional postseason hardware.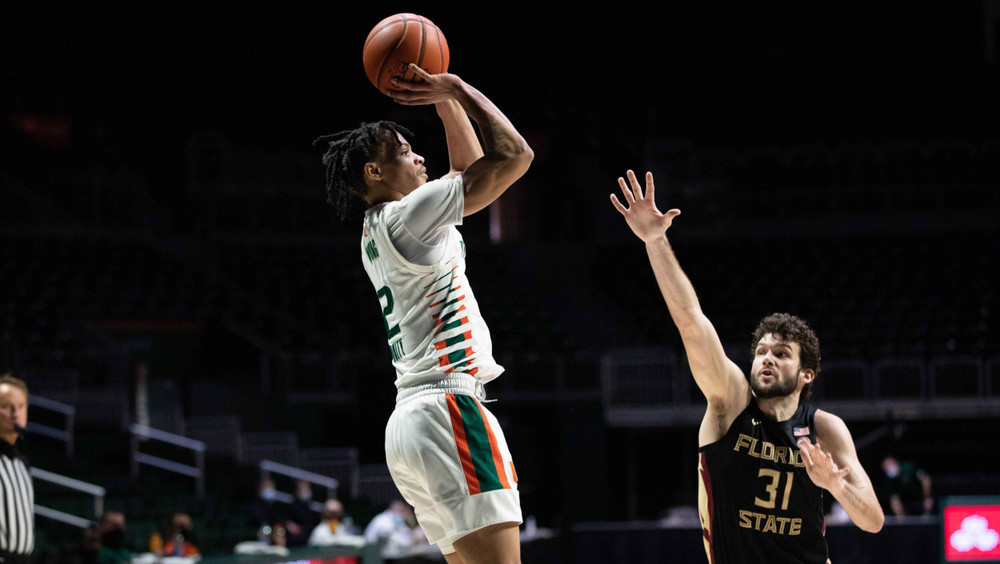 "In Isaiah's case, I believe he's the most improved player in the league. I believe he should be all-conference," Larrañaga commented. "I'm excited about the improvement that he's made from freshman year to sophomore year."
Evidence of Wong's growth is that he actually posted five scoreless outings during his freshman campaign, one of which came against Clemson, the next opponent on the docket for Miami.
The Hurricanes play the Tigers Saturday at 2 p.m. at Littlejohn Coliseum in Clemson, S.C. It will be the second matchup between the two sides this season.
In the first, Miami rallied back from an early 12-point deficit to take the lead and held a four-point advantage with under 70 seconds remaining. Clemson, however, scored the final five points and left the Watsco Center with a 66-65 triumph on Jan. 2.
"The thing that made Clemson so difficult for us the first time around was a guy like Aamir Simms, who can play inside and outside," Larrañaga said. "He's a hard guy for us to guard on the perimeter because he shoots threes so well. He's also a hard guy for us to guard inside because he's got a lot of skill in around the basket.
"They play a lot of guys, they're very deep. We've got to really prepare ourselves for a much more grind-it-out game," Larrañaga continued. "They're not like Florida State in terms of just playing fast, getting up and down the floor. Florida State is leading the league in scoring. Clemson is more of a team that grinds you down. They rotate players, they're a good man-to-man defensive team."
Simms, a senior forward, posted one of the finest outings of his stellar career in that game, registering 25 points on 10-of-14 shooting. He made both his 3-point attempts, grabbed seven rebounds and dished our four assists.
On the season, the Palmyra, Va., native is leading the Tigers in points (13.3), rebounds (6.2) and assists (2.6) per game.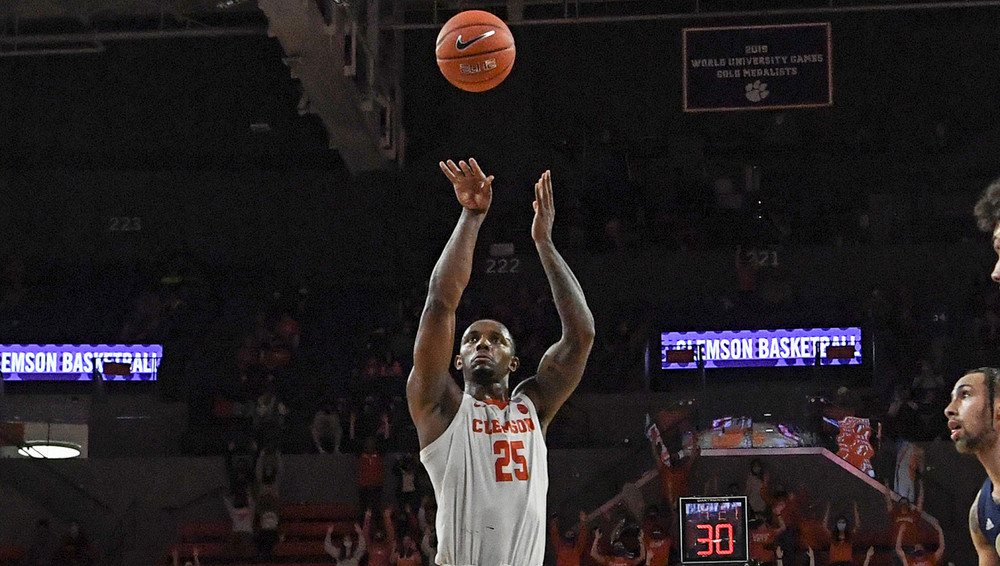 While it will be difficult for the Hurricanes to handle Simms, Larrañaga does have a sense of what his team would need to do Saturday afternoon to find success against the Tigers.
"It would have to be a much slower paced game than last night," the two-time ACC Coach of the Year said. "It would have to be a game where the winning team scores in the 50s, not in the 70s or 80s. We'd have to defend and rebound as well as we did against Virginia Tech a few games ago.
"Clemson is a team that tries to grind it out and we have to grind it out now," Larrañaga added. "So, hopefully it's a really close, low-scoring game."
The Tigers were picked No. 10 in the ACC preseason poll after going 16-15 (11-9) last year, but head into the weekend at 14-5 (8-5) after winning four straight games. They are receiving votes in both major polls.
Each of the last four affairs between the two teams has been decided by five points or fewer, with two determined by a single point and another going to overtime. Overall, Miami is 13-16 against Clemson, including 3-8 on the road and 7-5 in Larrañaga's tenure.
This will also be the 23rd all-time meeting between Larrañaga and 11th-year Clemson head coach Brad Brownell, as the two squared off 10 times as fellow CAA coaches at George Mason and UNC Wilmington, respectively. Larrañaga holds a 13-9 edge through 22 meetings.
"The style of play, the personnel, the matchups and the long history," Larrañaga said of why the past few meetings have been so close. "Both coaches know each other very well. The challenge for us now is to do it on the road. We haven't been good on the road this year."
The Hurricanes' outing versus the Tigers will be televised live on RSN and FOX Sports GO, with Evan Lepler and Brian Oliver on the call. A full affiliate will be available HERE and it can also be seen on WatchESPN, subject to blackout, HERE.
Joe Zagacki and Danny Rabinowitz will have the radio broadcast on 560 The Joe WQAM HERE. Live stats for the contest can be found HERE.
After playing Clemson, Miami will fly directly to Charlottesville, Va., where it takes on No. 15/14 Virginia Monday at 6 p.m., with action set to be broadcast live on ACC Network from John Paul Jones Arena.
To keep up with the University of Miami men's basketball team on social media, follow @CanesHoops on Twitter, Instagram and Facebook.
The 2020-21 Miami Hurricanes men's basketball season is presented by First National Bank.