Feb. 24 | 8:30 p.m. | ACCN
Watsco Center | Coral Gables, Fla.
Miami (7-13, 3-12 ACC) vs. No. 11/9 Florida State (13-3, 9-2 ACC)

CORAL GABLES, Fla. – In his first three seasons with the University of Miami men's basketball team, Deng Gak appeared in just 15 games.
His lack of playing time, however, was through no fault of his own.
As a freshman in 2017-18, Gak was unable to play due to transcript issues dating back years earlier, during the time he went to high school in Australia. The following season, he played in the first eight games before suffering a season-ending left knee injury.
After working his way back to health, Gak saw action in the first seven games of the 2019-20 campaign before a season-ending right knee injury ended his year.
"You can't even put it into words how frustrating [those seasons were]. Especially for me because my first year, I had to redshirt. I was academically ineligible," Gak shared. "So, it was a third year I couldn't play, the second time I got hurt. It was, obviously, unbelievably frustrating, but it kind of rechecks your love for the game. Like, if you love it, you'll stay with it. That's what I realized as I got hurt."
With his love for the sport reaffirmed, Gak again went through a rigorous rehab process to get back in shape. This season, it has all paid off.
The redshirt junior forward has appeared in 18 games—three greater than his prior career total—and missed only one due to his knees. While his statistics may not jump off the page, Gak is shooting 48.8 percent from the floor and it is clear he impacts the action during his time on the court.
Although Miami (7-13, 3-12 ACC) has not turned in the type of season he hoped for, it has been a "very rewarding" campaign for Gak on a personal level.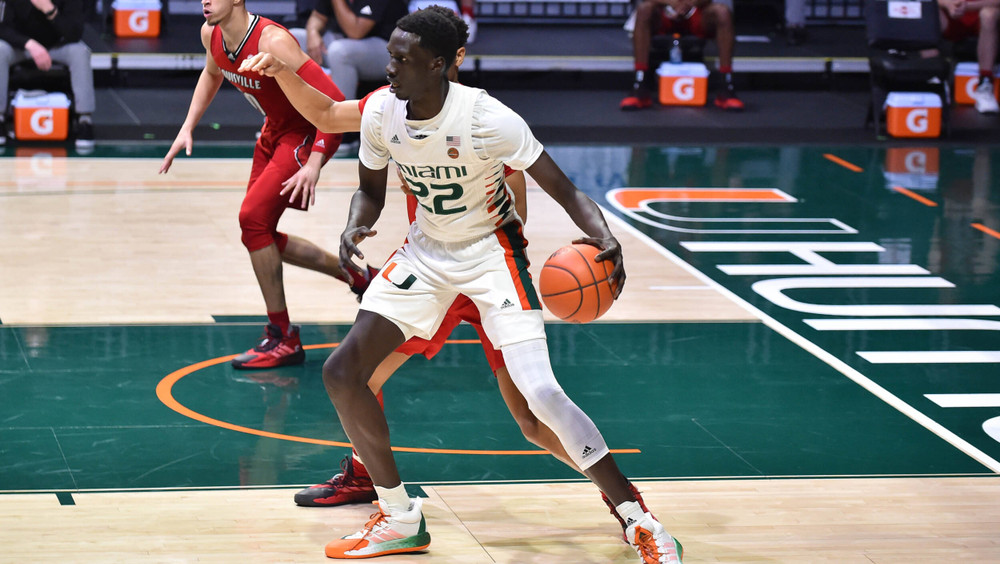 "Dealing with so many injuries, just playing has been satisfying for me, just staying on the court," Gak said. "Building my role up—I always felt like I could've done this from my first year. So, I expected it from myself, but I'm still happy that I'm achieving it now."
Thrice this season, Gak has played 25-plus minutes in a game. That includes Saturday afternoon when he played 27 minutes, the second-most of his career, against Georgia Tech.
The 6-foot-11, 220-pounder pulled down a season-high six rebounds in the outing, but his solid individual play came in an 87-60 setback in which the Hurricanes opened the day with only six available scholarship players and finished it with just five.
While no one in the Miami locker room was pleased with the performance versus the Yellow Jackets, everyone knows they must move on from it. Tenth-year head coach Jim Larrañaga has tried to instruct his players on how to do just that.
"We actually didn't play badly in the second half," Gak said. "Coach L really wants us to focus on the good things we did well and just wants us to build off of that instead of just lingering on a loss. [Dwelling on a defeat is] something I don't think we've done at all this year."
Although it can be difficult to find positives in a tough loss like that, there are a few that can be found for the Hurricanes. In fact, despite playing the entire second half without sophomore guard Isaiah Wong, the ACC's then-fourth-leading scorer, Miami outscored the Yellow Jackets by three points.
There were several reasons for that success compared to the first half, during which Georgia Tech built a 48-18 advantage.
"We had eight turnovers in the first eight minutes of the game and then we had seven turnovers for the rest of the game. So, that was the first thing," Gak shared. "We didn't let them dictate what we were doing. I think in the first half, they came out with a lot of energy and got us out of our offense, but in the second half, we really buckled down and didn't let them get us out of our offense. We got the ball where we wanted to, which was to [Nysier Brooks]. That was our game plan, but we started it too late."
Brooks, a redshirt senior center, finished with 12 points and went 8-of-10 from the line, setting a new career high in both makes and attempts.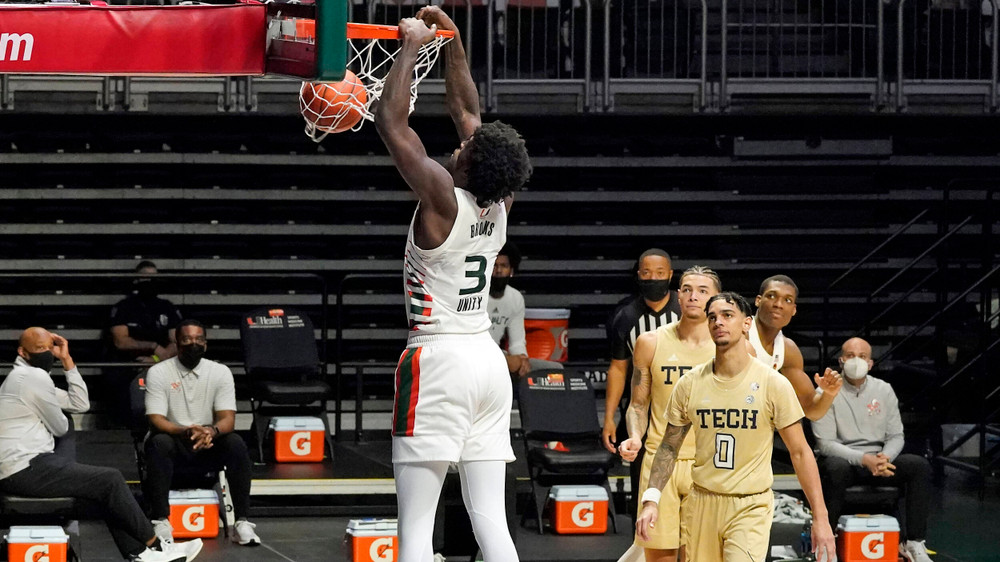 Senior guard Elijah Olaniyi led Miami with 18 points on 6-of-9 shooting, while sophomore forward Anthony Walker added 16 points, tied for the second-most of his career.
The next test for Gak, Brooks, Olaniyi, Walker and the rest of the Hurricanes is Wednesday night at the Watsco Center against No. 11/9 Florida State, the highest-ranked opponent they have faced this season. Miami previously played the Seminoles and dropped an 81-59 decision Jan. 27.
"We have to manage our energy during the game. We're down a lot of players right now. Florida State, I don't know how many players they have, but it's definitely more players than we do," Gak remarked. "The thing I remember the most from last game was they really pressed us and forced us to run around and move around all game because they knew we were shorthanded. We have to kind of do what we did in the second half of the Georgia Tech game and not let them dictate us. We have to play our game, whether it be slow, if we need to, or speed it up when we can."
Florida State has 19 players on its roster while Miami, including two walk-ons, had just eight individuals appear in Saturday's game. The difference in numbers is vast.
However, Gak has seen members of the shorthanded Hurricanes, who have had nine different players combine to miss 78 games because of injury this year, step up throughout the season. That has not always resulted in wins, but it has been clear Miami will compete, regardless of how stacked the deck against it is.
"That underdog mentality, I think everyone kind of likes playing with that. It's like you have nothing to lose. So, everyone steps up," Gak said. "We know what position we're in, but we also know what we're capable of. It's not like we're not supposed to be here. We're all very confident in ourselves, too. I think … the Louisville game [is a good example]. We've been fighting all season. [There has] been a lot of ups and downs. So many people have been coming in and out of our rotation, our practices are tough to even have."
One player who stepped into a key role the last time Miami faced the Seminoles is senior guard Willie Herenton, a walk-on senior guard.
In that outing, he played 17 minutes, then the most by a non-scholarship Hurricane since the program joined the ACC in 2004-05. The number stood until Saturday, when Herenton eclipsed it by playing 20 minutes against the Yellow Jackets.
While his increased role may be in large part due to Miami's lack of bodies, Herenton has found a way to contribute when he gets on the hardwood. That has been enjoyable for Gak to see.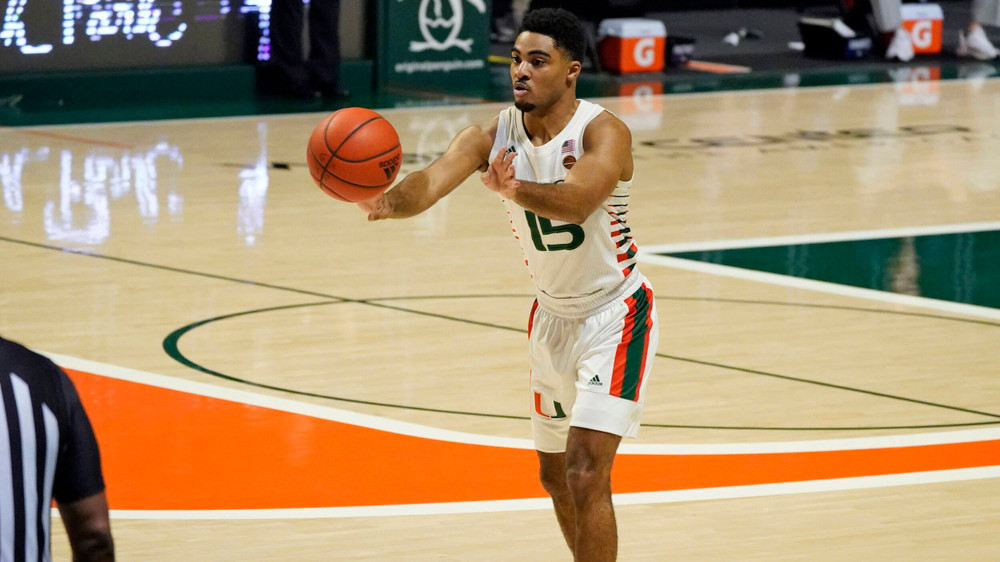 "He competes defensively, which is why I think Coach L has that confidence in him," Gak said. "Willie has gotten a lot more confident this year, too. He's been getting more confident from game to game. That's good to see because I came in with Willie, so we've been cool. It's good to see him get to this point."
The Seminoles head into Wednesday night's game with a 13-3 (9-2 ACC) record after winning eight of their past nine games. Florida State, currently atop the ACC standings, won the league last year with a 26-5 (16-6) record. It was picked third in the ACC preseason poll.
MJ Walker is the leading scorer for head coach Leonard Hamilton, a UM Sports Hall of Fame member who guided the Miami program to a 144-147 record from 1990-2000. A senior guard from Riverdale, Ga., Walker is averaging 13.1 points per game this season.
Florida State own a 50-36 edge in the all-time series with the Hurricanes and is the most common foe in Miami program history. The Hurricanes are 28-15 at home against the Seminoles and 8-12 in Larrañaga's 10-year tenure.
The in-state clash will be televised live on ACC Network HERE, with Mike Monaco and Dan Bonner on the call. Joe Zagacki and Danny Rabinowitz will have the radio broadcast on 560 The Joe WQAM HERE, while action can also be heard on WVUM 90.5 FM HERE and in Spanish on WMYM 990 AM HERE. Live stats for the contest can be found HERE.
Following its outing against the Seminoles, Miami hits the road for two away games in a span of three days. The first comes Saturday in Clemson, S.C., where the Hurricanes play at 2 p.m. against Clemson at Littlejohn Coliseum, with action to be televised live on RSN.
To keep up with the University of Miami men's basketball team on social media, follow @CanesHoops on Twitter, Instagram and Facebook.
The 2020-21 Miami Hurricanes men's basketball season is presented by First National Bank.