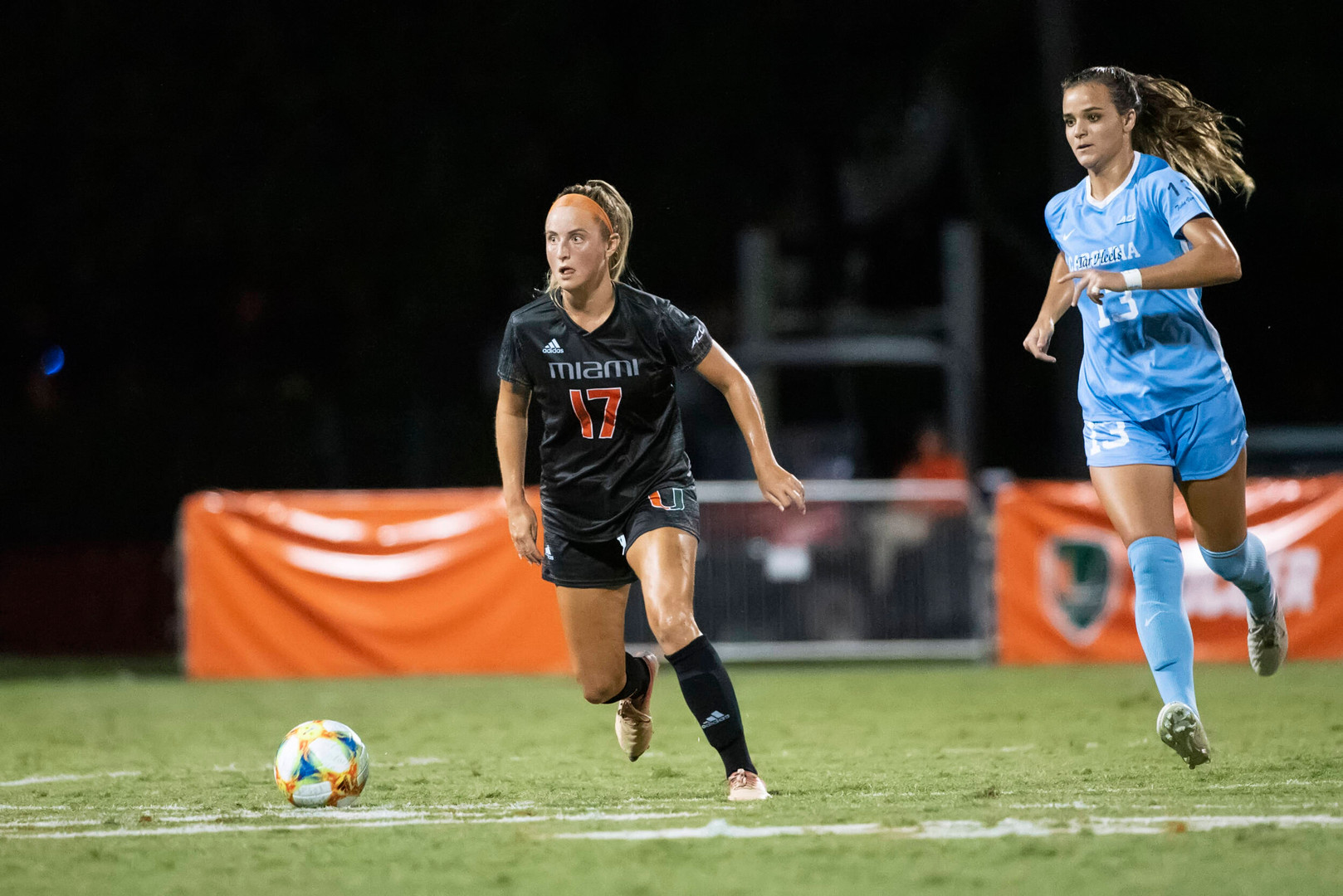 CORAL GABLES, Fla. – Like every season since the program's inauguration in 1998, the University of Miami soccer team wrapped up its fall campaign in November.
However, like most things over the past 365 days, the season was unlike any other and the return from winter break has a little bit different meaning.
Instead of having limited spring training hours and one or two exhibition matches to begin preparation for the next fall season, the Hurricanes are once again set to play meaningful soccer in 2021.
After playing a limited fall slate only against Atlantic Coast Conference foes, Miami is set to face a quartet of non-conference in-state rivals over the next three months, beginning Wednesday night at FGCU, that will count toward the 2020-21 campaign.
Despite not accumulating the results anyone on the team had imagined heading into the year, the young UM squad learned from the grueling nine-match conference slate and have continued to grow as a unit.
"We've focused on improving several areas from the fall season, so tonight's game is an opportunity to evaluate our progress," Miami head coach Sarah Barnes said. "As we've discussed all year, every game in the 2020-21 season is about our young team gaining experience, growing and being grateful every day for the opportunity to play a game we love."
Now, with the spring campaign right around the corner, the Canes are looking to put their hard work to the test on Wednesday.
"What I am looking forward to most about tomorrow's game, the spring as a whole, is as a team, the opportunity to show off the amount of work we have put in by ourselves over the winter break, as well as over the past month since returning to campus," redshirt freshman midfielder Jackie Koerwitz said. "Everyone has been super focused and locked into the game plan that the coaches are preparing for us and are locked in to every drill during training. I am just really excited to get after it.
"Obviously, we are going to play with a chip on our shoulder," Koerwitz added. "With the record we had last year, everyone wants to prove that we are a lot better than that. Which we are. I believe it, my teammates believe it, the coaches believe it. We just want to get after it and have a good time. Sometimes we forget how much we love soccer, how much fun it is and the reason for why we play. We have each been playing this sport for so long and there is no need to stress. I am just ready to compete and just can't wait to get back out there with my teammates. It is going to be awesome."
Sharing her classmate's excitement, Maria Jakobsdottir reunited with her teammates in January after missing the fall campaign and is ready to once again take the field alongside her teammates.
"I'm most looking forward to seeing where we are at after having more time to practice together," Jakobsdottir said. "This will only be our first game of the spring, but with the late start, we have had more time to train and prepare for this one. So, I'm very excited and I feel like we're all ready to perform well tomorrow."
"This spring I am looking to continue to improve as an attacker and be more aggressive in the final third," Jakobsdottir added. "As a team, we know we are much better than what the results showed in the fall and over the past couple months have been training hard, growing as a team and are eager to compete again."
Part of Miami's youth, Jakobsdottir and Koerwitz are a pair of Miami's 17 underclassman on the 23 player roster, with Michelle Giamportone being the lone senior taking the pitch in the spring. However, despite the average age, the experience gained and valuable minutes played by each of the returners has the team excited for the future.
One of Miami's underclassmen hoping to once again make an impact, the last time Koerwitz stepped foot in a competitive match she tallied her first career-goal while facing the nation's fifth-ranked team, Duke.
On the play, Giamportone made a run down the left sideline and sent a cross toward the head of the 6-foot-1 midfielder, which the Sacramento, Calif., native buried past the Blue Devils' goalkeeper early in the second half.
"Scoring my first career goal was awesome," Koerwitz said. "It was an amazing feeling to have, especially with the environment we were in, playing Duke in the last game of the season. I wanted to end on a good note and leave everything out there.
"I was trying to get from box-to-box and it paid off. Plus, scoring a header goal is always a cool and fun way to score," Koerwitz continued. "This spring, one area of my game I am really trying to focus on is my attacking ability. I have been working a lot on my striking the last few weeks and, obviously, I am going to continue working on that this spring, along with other areas of my game. But, specifically on the attack, I am working on getting a lot of power and accuracy behind my shots. Also, I have been working with the coaches and learning things like; When is the right moment for me to shoot? Do I have to take a quick shot? Do I have time? Ultimately, I am just excited to continue to build my confidence and score more goals."
Koerwitz and her teammates first opportunity to accomplish these feats will be Wednesday at 7 p.m., when the Hurricanes travel to Fort Myers, Fla., to take on the FGCU Eagles.
Live video for the match will be made available HERE, while live stats will be accessible HERE.