Feb. 14 | 6 p.m. | ACCN
Purcell Pavilion | Notre Dame, Ind.
Miami (7-11, 3-10 ACC) at Notre Dame (8-10, 5-7 ACC)

CORAL GABLES, Fla. – Elijah Olaniyi joined the University of Miami men's basketball team last summer with the expectation he would be sitting out the 2020-21 campaign.
Then, on Dec. 16, the NCAA announced a blanket waiver for transfers serving a year in residence. An hour later, he started and played 37 minutes in the Hurricanes' ACC opener against Pittsburgh.
Through his first six outings with Miami, the former Stony Brook star averaged 8.3 points and 2.3 rebounds per game, while shooting 36.4 percent from the floor and 16.7 percent from deep.
Over his last six appearances, Olaniyi is averaging 13.8 points and 6.2 boards per contest, while posting clips of 53.4 percent from the field and 33.3 percent on 3-pointers. In his last two games, a win over Duke and overtime setback against No. 16 Virginia Tech, Olaniyi scored 40 total points, as he continued his progression even more.
"To be honest, it's just understanding my role on this team and understanding how I could adjust my game and fit my game to this system," Olaniyi said of his recent improvement. "Being thrust into playing this year, I definitely didn't feel like I had chemistry with the guys at first and I feel like that's another big thing for me. Guys are starting to understand where I want the ball or where I could excel on the court if they give me the ball in certain positions."
It is certainly reasonable Olaniyi needed some time to get used to playing with his new teammates. In fact, for three-plus months leading up to his debut against the Panthers, Olaniyi was a member of Miami's scout team in practice, competing against the Hurricane regulars.
Thus, once eligible, Olaniyi switched into a completely different role and instead of helping prepare his teammates for games, he had to get used to playing with them. It is clear, several weeks later, that he is on the same wavelength as them now.
In addition, it is also evident Olaniyi has been able to adjust his mindset from being a scout-teamer to being not only an eligible player, but a regular starter.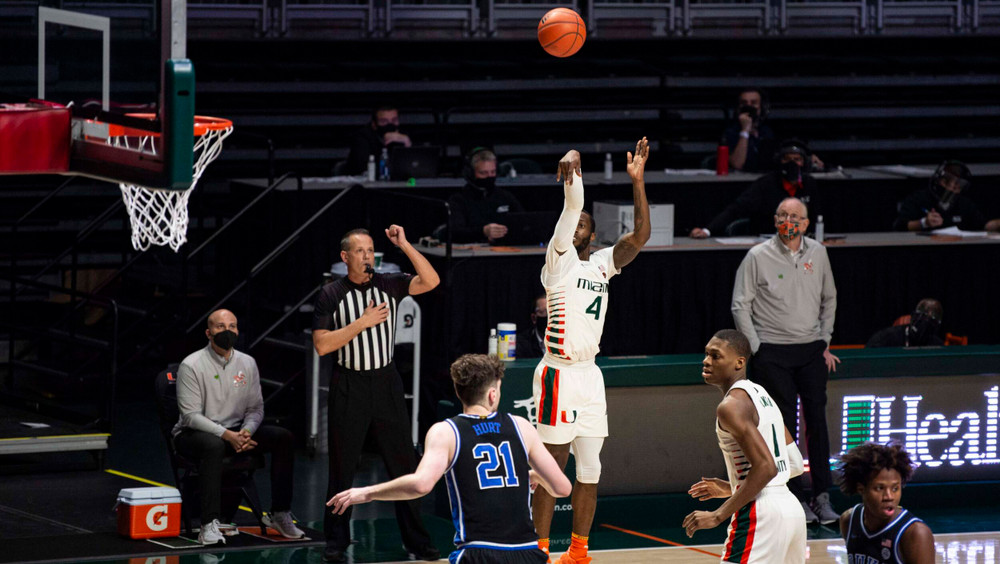 "It's really just coming in every day with a professional approach because if I came in and I was emotional about the situation and was upset, then I wouldn't be able to showcase what I'm able to do on the court. I wouldn't be able to help my team win games," Olaniyi explained. "So, I just approach this as almost like a year where I'm just going to come in and do what needs to be done. I've said it before, [I try to be] a team's Swiss Army Knife, whether that be scoring, whether that be playing defense, whether that be being the most mature guy and making sure guys understand the importance or severity of a moment. Whatever the team needs, that's how I've approached it, just trying to be that guy for them."
Olaniyi earned First Team All-America East accolades last season after averaging 18.0 points and 6.5 rebounds per game for the Seawolves. However, the ACC has presented a distinct step up in competition for the Newark, N.J., native.
Nonetheless, Olaniyi has scored in double figures in eight of the 11 league games he has played, including tallying 21 against the Blue Devils and 19 versus the Hokies after missing the prior two contests due to a left shoulder injury.
"Every time I step on the court, I just try to have fun," Olaniyi said. "When I'm really out on the court and I feel like I'm having fun, that's when I play my best basketball, no matter who's in front of me. So, playing ACC teams has definitely been fun."
Olaniyi was looking forward to continuing the fun Monday night on ESPN against North Carolina at the Dean E. Smith Center in Chapel Hill, N.C. He described it as the type of game a "basketball player dreams of playing" in.
However, about two hours prior to tip-off, the contest was postponed after a meeting of personnel from both schools, who mutually concluded the game could not move forward. Due to the postponement, Miami now has a full week without a game, a rare occurrence during the league slate.
"We were finding a rhythm with the win versus Duke and the close game versus V-Tech. Not playing for a week is definitely going to impact us on the court a little bit, not having a game for so long," Olaniyi said. "But [the postponement is] definitely in the past. We have some older guys on the team that understand what it takes to win a game on the road. So, I feel like we'll be fine."
As a college basketball veteran with 103 games under his belt, the second-most of any Hurricane, Olaniyi knows what it takes to remain prepared during a long layoff.
"I've said it before, [I try to be] a team's Swiss Army Knife, whether that be scoring, whether that be playing defense, whether that be being the most mature guy and making sure guys understand the importance or severity of a moment. Whatever the team needs, that's how I've approached it, just trying to be that guy for them."
To the 6-foot-5, 205-pounder, the element that is particularly vital is not the physical component, but rather about a mindset.
"The most important thing is to stay mentally ready," he shared. "It's easy to not have games and mentally check out or think it's sort of a break in the middle of the season when it's really not. [You need to] just make sure you stay on top of your stuff mentally, like watching film and talking to the coaches about the game plan for the next game, even though it's so far away."
Now, the Hurricanes' next game is no longer that far away, as the team returns to the hardwood Sunday night against Notre Dame. Miami is set to play the Fighting Irish at 6 p.m. at Purcell Pavilion in Notre Dame, Ind.
This will be the second meeting between the two sides in 2020-21, as the Hurricanes dropped a 73-59 decision at the Watsco Center Jan. 24.
"I remember we let them shoot too many threes last time. That's something that's still vivid in my head," Olaniyi recalled. "…Definitely our transition defense and bringing that intensity that we didn't have at home [are things we need] on the road when we play them on Sunday."
One of the positives for the Hurricanes in that setback was the play of redshirt senior guard Kameron McGusty, who scored a season-high 20 points on 8-of-15 shooting.
It was McGusty's second game back after missing seven of the prior eight affairs with a right hamstring injury. From that point on, the Katy, Texas, native is averaging 14.8 points per game on 44.6 percent shooting, including a 50.0 percent clip from beyond the arc.
"I live with Kam. So, I know he was coming back from the hamstring and that was the game where he was like, 'Okay, this isn't bothering me anymore,'" Olaniyi shared. "I feel like he's gotten to a point where he's healthy and he feels a lot more comfortable."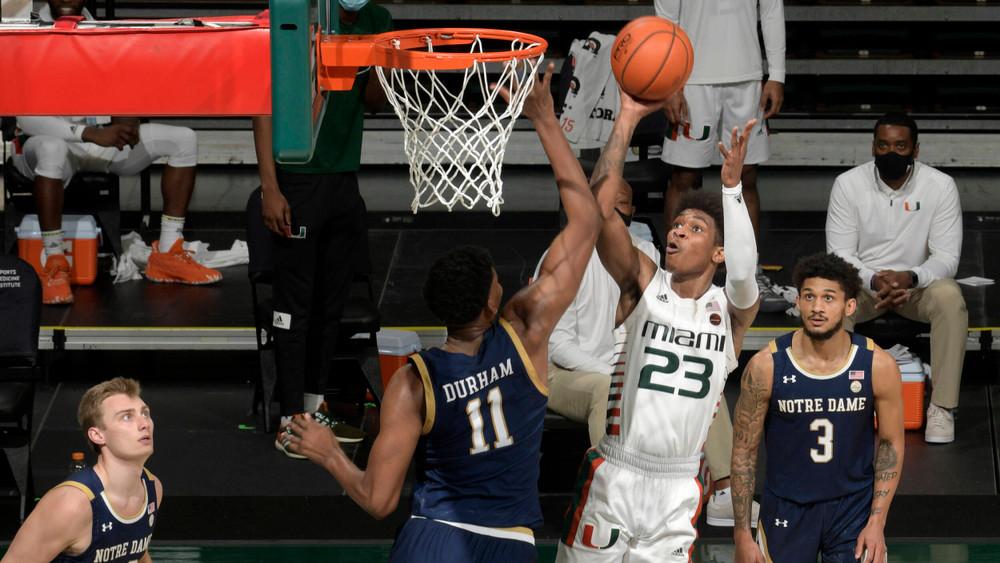 The Fighting Irish head into Sunday's matchup at 8-10 (5-7 ACC) on the season, but have won five of their past seven games, including the victory over Miami.
Junior forward Nate Laszewski is Notre Dame's leader in both points and rebounds per game, as he is averaging 15.6 and 7.2, respectively. The Fighting Irish were picked No. 12 in the ACC preseason poll after posting a 20-12 (10-10) ledger last year.
"The thing about playing teams more than once in a season is that at that point plays sort of go out the window because everybody scouts everybody. It ties into guarding your man and keeping the ball in front of you and just downright playing basketball," Olaniyi said. "So, depending on who you are, it could be negative or it could be a positive. But, for me, I definitely see it as a positive because, especially this being my first year in the conference, it's like, 'Okay, I have some familiarity with the team.' Now, the second time around, I definitely feel a lot more comfortable knowing what I'm going up against."
The Hurricanes own a 12-13 all-time ledger against the Fighting Irish, including a 5-6 record on the road and a 5-5 ledger under 10th-year head coach Jim Larrañaga. Prior to their current two-game skid in the series, the Hurricanes were 4-1 in the previous five meetings from Feb. 3, 2016, to Feb. 9, 2019.
Sunday's action will be televised live on ACC Network HERE, with Wes Durham and Paul Biancardi on the call. Joe Zagacki and Danny Rabinowitz will have the radio broadcast on 560 The Joe WQAM HERE, while live stats for the contest can be found HERE.
Following its game at Notre Dame, Miami returns home for back-to-back outings at the Watsco Center, the first of which is Feb. 20 at noon against Georgia Tech, live on RSN.
To keep up with the University of Miami men's basketball team on social media, follow @CanesHoops on Twitter, Instagram and Facebook.
The 2020-21 Miami Hurricanes men's basketball season is presented by First National Bank.