Jan. 9 | 12 p.m. | RSN
PNC Arena | Raleigh, N.C.
Miami (4-5, 0-4 ACC) at NC State (6-2, 2-1 ACC)
CORAL GABLES, Fla. – To say the University of Miami men's basketball team has been unlucky this season would be like saying January weather is nicer in South Florida than Alaska.
Of 357 teams at the Division I level, the Hurricanes rank No. 342 in the KenPom luck rating, the lowest mark of any Power Five team. That does not even directly factor in the team's astounding bevy of injuries to key players.
Miami's four returning senior starters—Chris Lykes, Kameron McGusty, Rodney Miller Jr., and Sam Waardenburg—and top-ranked recruit, Earl Timberlake, have combined to be available start to finish in just 12 of a possible 45 outings.
The Hurricanes have lost their last three games—two against current top-20 foes and one against a six-time NCAA champion program—by a combined five points. Just how unlucky is that feat? Well, Miami is the second team in ACC history, per the Elias Sports Bureau, to drop three consecutive games by just five or fewer total points.
Nonetheless, positivity remains inside the Watsco Center, as the Hurricanes continues to press on in the face of such a series of unfortunate events.
"I think we've had a very resilient group, especially being younger," Miami associate head coach Chris Caputo said. "A lot of times, I think, guys that are newer to college basketball and younger, because they don't have quite as much perspective and not as much experience, they only know success for the most part. You never quite know exactly how they're going to handle these situations, but I think they've done a remarkably good job in terms of keeping their focus, their effort, their energy and their togetherness."
Optimism certainly remains for the Hurricanes that they can get this season headed in the direction it would almost certainly be going anyway with better luck, either with injuries or bounces of the ball.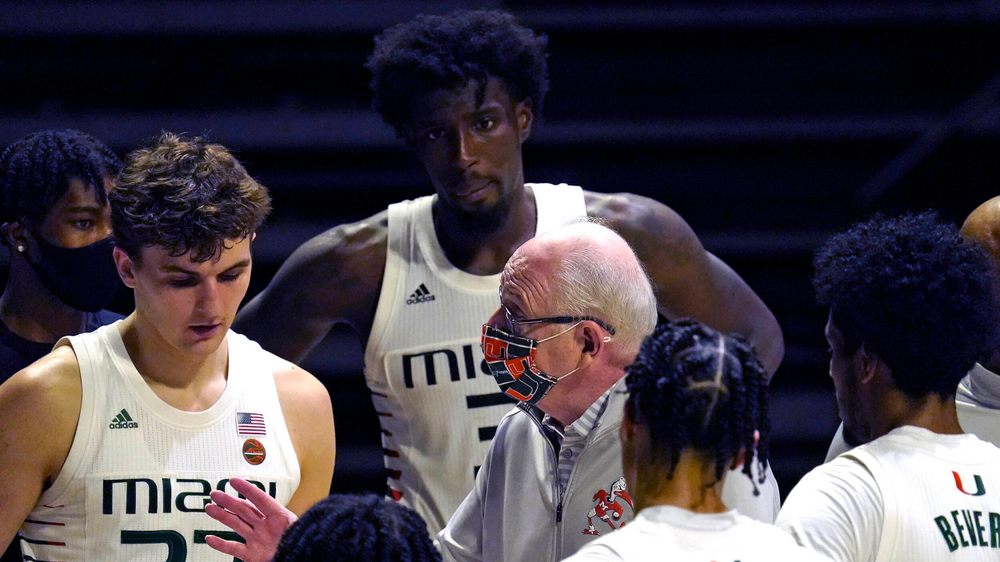 Miami (4-5, 0-4 ACC) also has good reason to believe it can indeed make that happen. The lone prior ACC team to suffer the same three-game heartbreak the Hurricanes have, 1989-90 Georgia Tech, went on to reach the Final Four.
"Very much so, yeah, I do," Caputo said of whether he sees belief among the players a turnaround is possible. "I think they know we're playing incredibly shorthanded and that we have the opportunity to get a little bit more experience, get a little bit more healthy each day. When we get to the point when we're—knock on wood—fully healthy, [we will be even better]. Obviously, we're not going to get Sam or Rodney back, but other than that, I think everyone has a real belief that we're a very competitive team in our league."
One thing Miami will need to solve as it looks to start racking up wins is better handling late-game situations. Luck certainly plays a part in continuous close losses—just check that KenPom rating—but there are ways teams can improve their chances of picking up close victories.
For the Hurricanes, some of the issues have stemmed from having players in unfamiliar situations with so many talented veterans unavailable due to injury.
"Taking care of the ball is something we've got to do a better job of. A lot of times that's prevalent with younger teams, younger guards. That's a piece to the puzzle late in games," Caputo shared. "Obviously, the experience of playing together in those situations is just not there. We haven't really been [in these spots] as a group. The older guys have, but the younger guys haven't really been hardened by any experience. So, it really is the first time.
"It's the first time maybe Earl has to take the ball out of bounds or Matt [Cross] has to come catch the pass against the press or Harlond [Beverly] is on the free-throw line in a critical moment," Caputo continued. "All those things are pretty new. And so, while our sophomores got some experience last year, certainly having a guy like Chris Lykes, Rodney Miller, Sam Waardenburg or Kameron McGusty who played in the NCAA Tournament and been in critical situations over the past five years [would be beneficial]. That's how you sort of prepare for those things; we just haven't been there yet."
The most recent narrow setback for Miami, which capped the three-game streak of close defeats, came Tuesday night against North Carolina. The Hurricanes led by 10 in the second half before dropping a 67-65 decision at the Watsco Center.
Timberlake led Miami with 12 points, while senior guard Elijah Olaniyi had 11 and redshirt senior center Nysier Brooks logged 10 before fouling out with 5:35 left.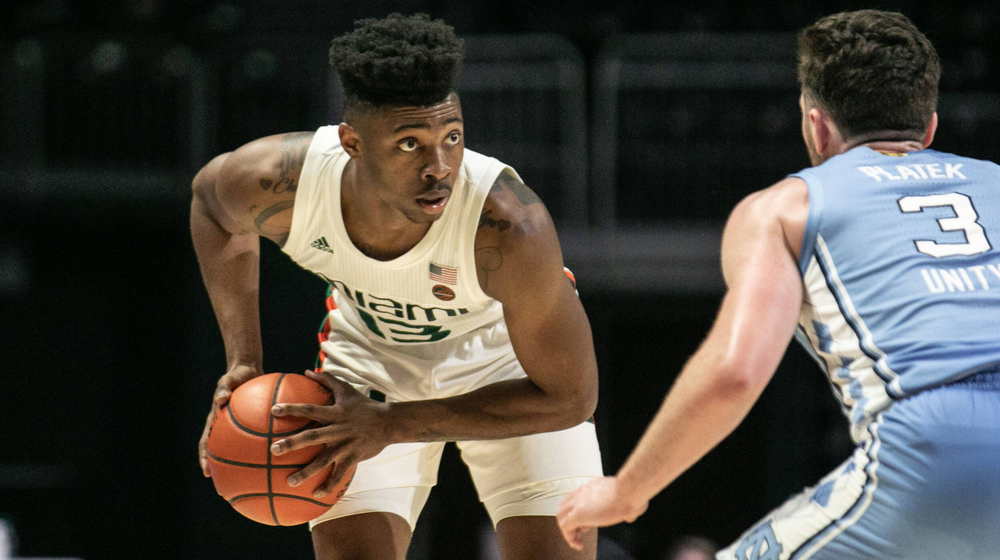 A consensus top-40 prospect, Timberlake added five rebounds, five assists, five steals and two blocks in his first collegiate start. He became the first ACC player to log at least that total in each category while also scoring at least seven points since Florida State's Chris Singleton did so on Nov. 14, 2010, at UNC Greensboro.
"He's multi-faceted in terms of his abilities, obviously, and all the different things he can do," Caputo said of Timberlake. "He plays with great force. He plays with passion. He cares about winning. He wants to affect the game in any way he can in a positive manner. We talk about playing the whole game—both sides of the ball—and he's certainly that."
The next chance Timberlake and Miami will have to get back on track is Saturday at noon, when the Hurricanes square off with NC State at PNC Arena in Raleigh, N.C.
The Wolfpack is undefeated at home on the year and enters the game at 6-2 (2-1 ACC) after suffering a narrow 74-70 overtime setback Tuesday at No. 18/19 Clemson.
"I think they've got a very good blend of older, experienced guys and also some guys who are very young and talented," Caputo said. "I think that they are, obviously, one of the [better] pressure defensive teams in the country. So, they do force some turnovers and put you in some very, very tough positions. And then, on the other hand, they are a lethal offense, both in transition and then with a balance of scoring inside and out. I really like their team and I think that they, certainly on their home floor, will present a lot of difficulties."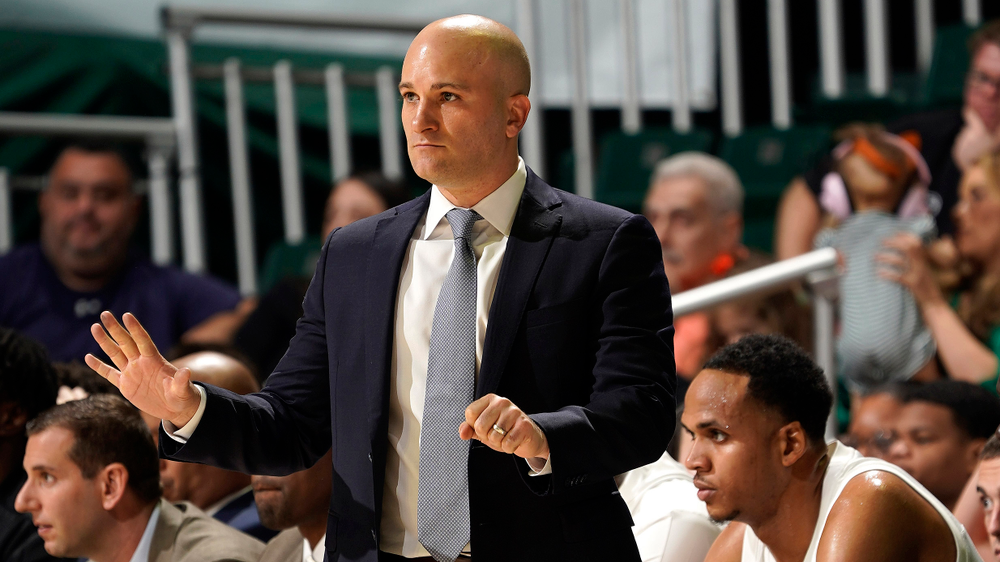 Miami owns an 11-15 record in its series with the Wolfpack, including a 4-8 mark on the road and a 7-9 ledger under 10th-year head coach Jim Larrañaga. NC State won the most recent meeting when it tallied an 83-72 road triumph on Feb. 5, 2020.
Redshirt senior guard Devon Daniels is NC State's leader in points (16.5) and rebounds (5.4) per game on the young season. His team was picked eighth in the ACC preseason poll after posting a 20-12 (10-10) ledger in 2019-20.
The matchup between the Hurricanes and Wolfpack will be televised live on RSN—that is FOX Sports Sun locally—and FOX Sports GO, with Tom Werme and Mike Gminski on the call. A full affiliate is available HERE and it can also be seen on WatchESPN, subject to blackout, HERE.
Joe Zagacki and Danny Rabinowitz will have the radio broadcast on 560 The Joe WQAM HERE. Live stats for the contest can be found HERE.
After playing NC State, Miami will head to Silvio O. Conte Forum in Chestnut Hill, Mass., for its second consecutive road game, Tuesday night at 7 p.m. against Boston College, live on RSN.
To keep up with the University of Miami men's basketball team on social media, follow @CanesHoops on Twitter, Instagram and Facebook.
The 2020-21 Miami Hurricanes men's basketball season is presented by First National Bank.