Dec. 29 | 6 p.m. | ACCN
Cassell Coliseum | Blacksburg, Va.
Miami (4-2, 0-1 ACC) at No. 24/RV Virginia Tech (7-1, 1-0 ACC)

CORAL GABLES, Fla. – For a team dealing with myriad injuries, nine days without a game is a welcome change of pace.
Five members of the University of Miami men's basketball team have missed at least one contest this season due to injury, while several others have played through pain.
"Right now, we're just beat up," Miami head coach Jim Larrañaga said. "…We're shorthanded and it's hard to prepare when you don't have enough guys to really practice correctly."
After the holiday respite, though, the Hurricanes are hoping to have more healthy bodies heading into the ACC gauntlet, but it remains to be seen exactly who will take the court Tuesday when Miami faces No. 24/RV Virginia Tech.
One Miami (4-2, 0-1 ACC) player who has already returned to the hardwood is freshman guard Earl Timberlake, a consensus top-40 recruit who missed the first five games of the year with a right ankle injury.
The Washington, D.C., native made his collegiate debut Dec. 19 against Jacksonville, finishing with 12 points, five rebounds, two assists and one steal in 26 minutes of action, helping the Hurricanes to a 73-64 victory at the Watsco Center.
"Earl is a guy who can be a major contributor at both ends of the court," Larrañaga said. "He plays multiple positions. He is very good at attacking the defense. He's very good at defending multiple positions and he can rebound."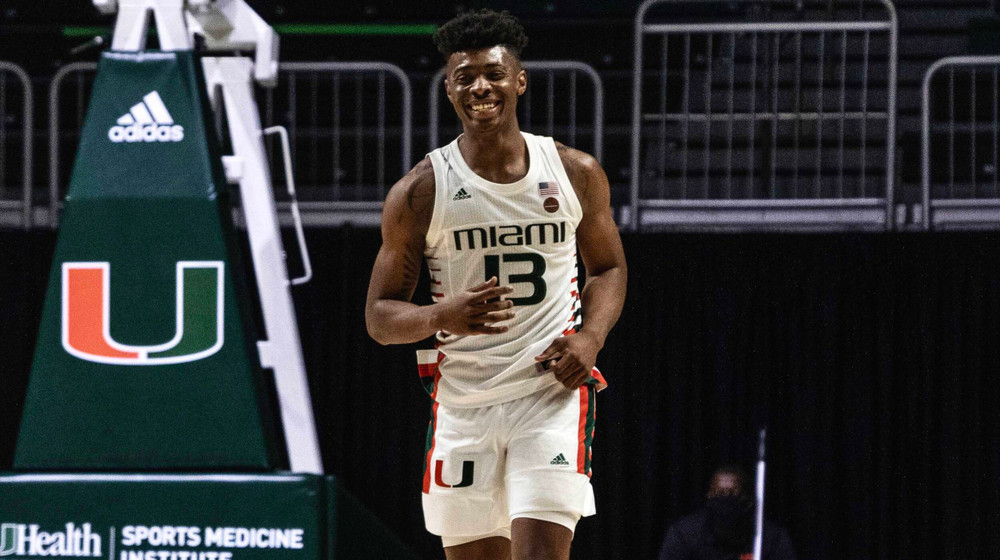 Timberlake, who went 3-of-5 from the floor and 5-of-6 at the line, was one of three Hurricanes in the double figures for Miami against the Dolphins.
Sophomore guard Isaiah Wong, the ACC's second-leading scorer, tallied 25 points and nine rebounds in the win. Sophomore forward Anthony Walker notched his second consecutive double-double by posting a career-high 18 points and career-high-tying 12 rebounds, aiding Miami to a plus-23 margin on the glass.
Up next for Miami, though, is a different type of game than its last one. Rather than a non-conference outing at home, it is an away contest against a league foe.
Despite hitting the road for the first time in 2020-21, the Hurricanes will not change much about how they get ready for their next game, which is set for 6 p.m. at Cassell Coliseum in Blacksburg, Va.
"We've always approached every game exactly the same way, whether we're at home or away. We don't put much credence into that [being] different. You need to be prepared," Larrañaga said. "…Right now, there are no fans or very few fans in the arenas, so that shouldn't be a factor. The most important thing is to put together a really good game plan and be able to execute it. The players have to know the game plan, understand the game plan and execute the game plan as well as possible, whether you're at home or away."
For Miami, this matchup with Virginia Tech is the first of 19 straight contests against conference opponents. That equals the mark set just last year for the longest consecutive streak of league games in program history.
Now in his 10th year coaching in arguably the best conference in the country, Larrañaga knows what it takes to win in the ACC.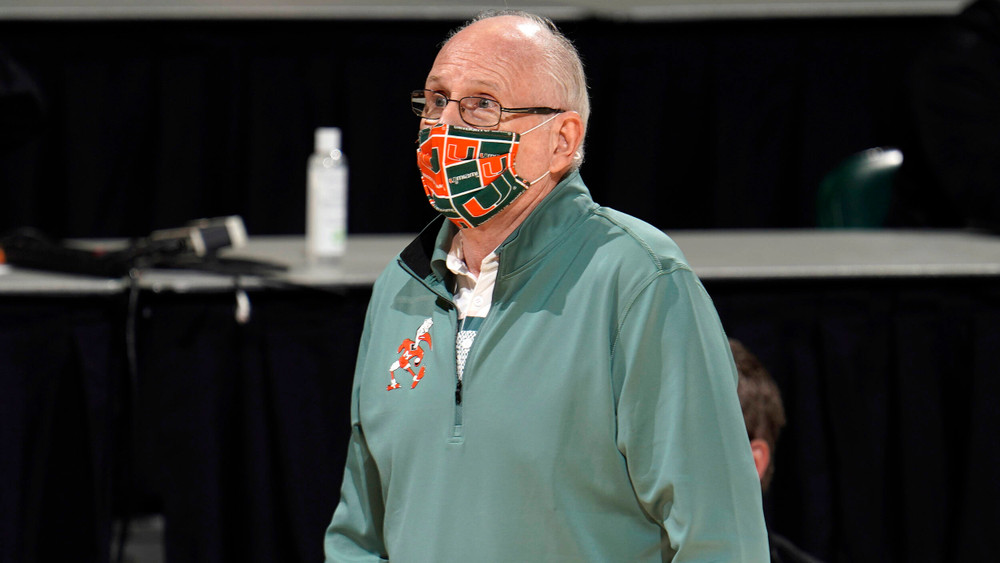 "Well, the first thing you need is talent at almost every position. You have to have a point guard, you have to have bigs, you have to have shooters," the two-time ACC Coach of the Year said. "Secondly, you need experience. That comes in several different forms. It can be someone who has played a ton of minutes or it can be someone who's transferred in who's got experience from another school.
"…You need talent, you need experience, you need good game preparation and you need some intelligence of how to use your talent," Larrañaga added.
One of the most memorable wins of Larrañaga's tenure coaching in the ACC actually came last season at Cassell Coliseum against the Hokies.
Miami registered a 102-95 triple-overtime triumph on Feb. 19, 2020, battling back from a late deficit in regulation and each of the first two extra sessions. The Hurricanes went 29-of-32 (90.6 percent) at the line after making their first 25 attempts, plus set a program record in ACC play with 55 rebounds.
It was the first triple-overtime game in program history and the first by any teams in ACC competition since Dec. 20, 2003. It was also, Larrañaga says, the first in his entire coaching career, which dates back to 1971.
"We played very, very well for a long time and got a substantial lead, double figures. And then Virginia Tech played really well, came back and took the lead late. We were behind by seven points with just a few minutes to go," Larrañaga recalled. "Our guys responded very well at both ends of the court. We were able to stick together and grind it out in each of the overtimes. Several of our players had career highs. Isaiah Wong had 27 points, a career high. Keith Stone had 18 rebounds, a career high.
"In a game like that, you need people to step up and every one of our guys did," Larrañaga continued. "Kam McGusty made a game-tying three-point play … a drive, got fouled and still made the shot to put the game into overtime. Chris Lykes made a driving left-hand layup to keep us ahead in the third overtime. There were just a lot of great plays."
That meeting was the 41st all-time between Miami and Virginia Tech, with the Hurricanes holding a 24-17 edge. Miami, which owns an 8-9 mark on the road versus the Hokies, is 14-7 in the series during Larrañaga's tenure, including 11-5 in the last 16 meetings.
As for this iteration of Virginia Tech, Larrañaga knows his team has a lot to contend with when it takes the court Tuesday night.
"They're a very well-disciplined, very experienced team," he said. "They have their starting point guard back, who's a veteran. They've got their two wings back from last year. Their leading scorer and five-man is a returner who [sat out last year and has] been given a lot of responsibility as a starter now and is living up to all that responsibility. He's having a very good year."
That talented big man is redshirt junior forward Keve Aluma, who is averaging team bests in points (14.8) and rebounds (6.8) per game for the Hokies, who enter at 7-1 (1-0).
Virginia Tech, the first ranked foe Miami has faced this year, was picked No. 11 in the ACC preseason poll after going 16-16 (7-13) during the 2019-20 campaign.
The Hurricanes' final contest of 2020 will be televised live on ACC Network HERE, with Jay Alter and Paul Biancardi on the call. Danny Rabinowitz will have the radio broadcast on WKIS-HD2 99.9 FM HERE. Live stats for the contest can be found HERE.
Following Miami's outing at Virginia Tech is a Jan. 2 matchup with Clemson at the Watsco Center to open the 2021 slate, with action set to be televised on RSN, beginning at 2 p.m.
To keep up with the University of Miami men's basketball team on social media, follow @CanesHoops on Twitter, Instagram and Facebook.
The 2020-21 Miami Hurricanes men's basketball season is presented by First National Bank.