On to the Next Opportunity
Dec. 19 | 3:30 p.m. | RSN
Watsco Center | Coral Gables, Fla.
Miami (3-2, 0-1 ACC) vs. Jacksonville (6-2, 0-0 ASUN)

CORAL GABLES, Fla. – Bruised and battered, the University of Miami men's basketball team is not only missing numerous key players due to injury, but also coming off consecutive defeats.
The Hurricanes played with just six scholarship players for most of their 66-62 setback against FGCU last Saturday and then with only seven for their 70-55 loss against Pittsburgh Wednesday night.
While the last several days have been difficult for Miami (3-2, 0-1 ACC), it is important the team finds a way to remain upbeat.
"We've just got to keep our spirit. We've got to battle. [We have to] figure out game by game—really, day by day—what we can do at practice to prepare," Miami assistant coach Adam Fisher said. "But our focus is, how do we put ourselves in a great position Saturday to play 40 minutes and play Miami basketball? I think nobody feels sorry for us; we can't feel sorry us. We're happy to be able to even play. A lot of teams haven't been able to play games at all. So, for us, we've got to seize the moment and just keep everybody positive and kind of reinforce the positive things that we've seen and not harp on some of the negatives."
To Fisher, even with all four returning starters and a top-40 recruit injured, there are indeed still positives.
Some of those were on display against the Panthers in a game Miami led by one in the second half before a 19-2 Pittsburgh run.
"I think we've seen each guy's ability to rebound. Harlond Beverly averaging over seven rebounds a game at his position is great," Fisher shared. "We've seen Isaiah Wong be able to score the ball more efficiently; I think he was 6-of-10 the other night. That's the stuff we've got to harp on. Anthony Walker [had a] double-double, showing that he can go get 10 rebounds. Nysier Brooks had a double-double two games ago. So, I think, showing the guys their positive stuff and telling them, 'Hey, we know you can do this' and just keeping everyone together [is pivotal]."
Wong indeed shot 6-of-10, including posting a 3-of-5 mark from deep, to finish with a season-high 21 points against the Panthers. Walker's double-double featured 12 points and a career-high 10 rebounds.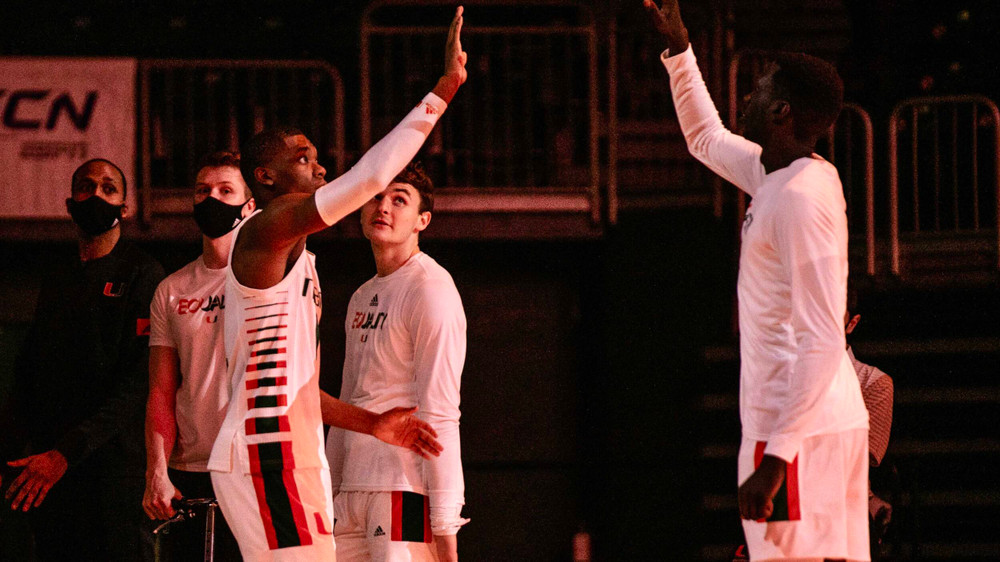 For Walker, it was the first start of his career, but he was not the only player getting his first opening nod as a Hurricane.
Senior guard Elijah Olaniyi started and played 37 minutes for Miami in a game he was ruled eligible for just an hour before tip-off when the NCAA issued a blanket waiver for all four-year transfers serving a year of residence. To a Miami team missing so many talented players, his addition could not have come at a better time.
"I think he brings a great sense of leadership; he's played college basketball for three years. He really has a great ability to rebound and share the ball," Fisher said. "I think the number one thing you saw last night was his ability to defend at a high level. It's his first game. No exhibitions for him, no scrimmages, hasn't played probably since March and he had an ankle injury then.
"So, for us, I think it's all about getting him comfortable, getting him playing with our guys. And that will come," Fisher continued. "The shooting will come, we know he can make threes. But I loved his ability to get to the rim; I want to see him finish those. But his defense was really, really good last night. Again, focus on the positives for him."
The first time Olaniyi will head into a game knowing well in advance he is cleared to play is Saturday afternoon. The Hurricanes are set to host Jacksonville at 3:30 p.m. at the Watsco Center to conclude non-conference competition.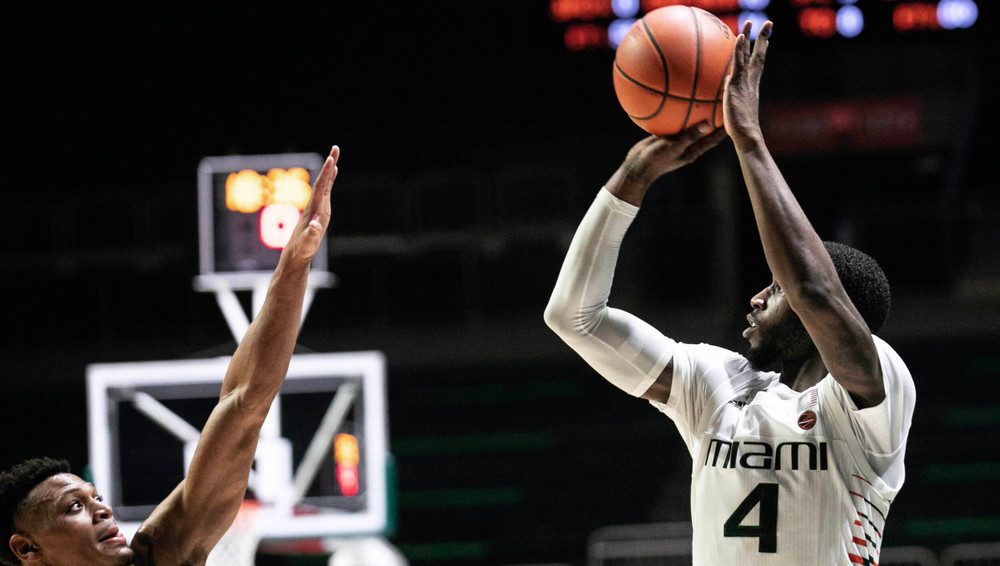 Even coming off two losses and with a lengthy layoff preceding Miami's next game, the team's coaching staff is not putting any more emphasis on this contest than it would on any other.
"I think it's just the most important because it's the next game on the schedule. It's another opportunity. Like I said, a lot of teams aren't having that opportunity to play or games get canceled," Fisher explained. "So, for us, it's that opportunity to play and I think our guys know that. So, there's not more pressure because of the 10-day layoff, it's not who we're playing. It could be anybody. It's, 'Hey, this is our next opportunity to get better.' That's why it's a big game, because it's that next game for us."
The Hurricanes are 26-7 all-time versus Jacksonville, but just four of those meetings—all wins—have come since the program rebirth in 1985-86.
Miami is 15-2 all-time at home against the Dolphins and won the teams' lone matchup of 10th-year head coach Jim Larrañaga's tenure, a 73-57 triumph in Coral Gables on Nov. 16, 2012.
As much as the Miami coaches not going out of their way to not put extra pressure on this game, they also are not overlooking the Dolphins and feel confident their players will not do so either.
"We didn't overlook Gulf Coast, we didn't overlook Stetson, we didn't overlook Purdue. I think, for us, it is, we've got to play Miami basketball for 40 minutes or however long it takes and, I think, figure it out with the guys and the bodies that we have," Fisher said. "So, I don't think we overlook anyone. The preparation is the exact same for this game as it was for Purdue. It's the exact same as it would be for Duke and Louisville. Nothing changes with Coach L and that's what makes him so great. Everything is so routine. So, we don't get too high, we don't get too low, we kind of stay stoic.
The Dolphins have already played eight games this year, one of the higher totals in the country, and own a 6-2 record. Those eight outings came in a span of 19 days and then they had five days without a contest before the game at Miami.
Junior forward Dontarius James is Jacksonville's leading scorer thus far, averaging 17.5 points per game. He and his team were picked seventh in the Atlantic Sun preseason poll after posting a 14-18 (7-9) mark last year.
"We've got to limit him. He's a really good player," Fisher said. "They've got guys that can make threes, they've got guys that can drive the ball. They've got three guys, I think, with 30 attempts from the foul line already. So, we've got to defend without fouling, especially since we're limited. They're really well coached … They've been in some tight games. We know they can score. I think they're averaging 75 points a game, right around there. So, we've just got to defend and try to limit them and just keep getting better."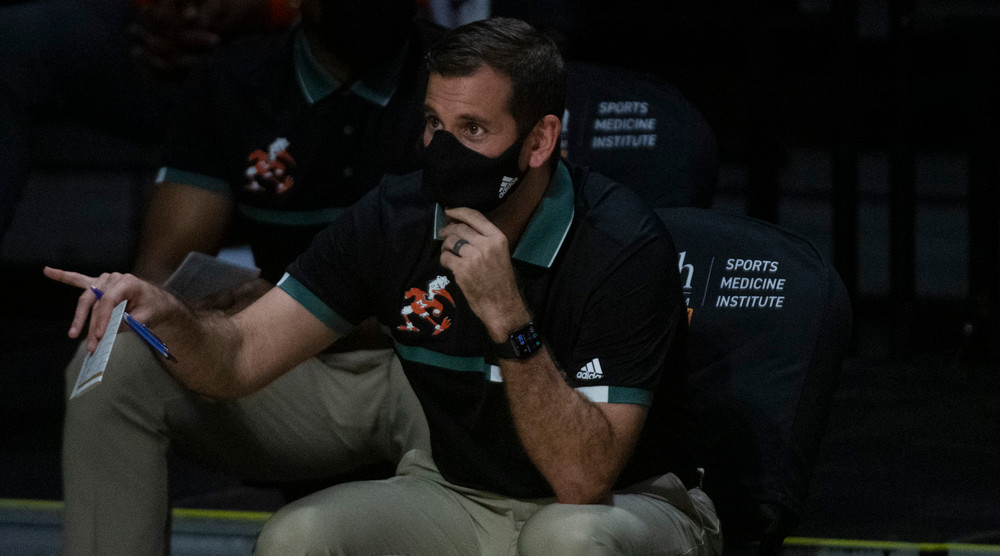 The meeting between Miami and Jacksonville will be televised live on RSN—that is FOX Sports Sun locally—and FOX Sports GO, with Bob Rathbun and Grant Long on the call. A full affiliate is available HERE and it can also be seen on WatchESPN, subject to blackout, HERE.
Joe Zagacki and Danny Rabinowitz will have the radio broadcast on 560 The Joe WQAM HERE, while action can also be heard on WVUM 90.5 FM HERE. Live stats for the contest can be found HERE.
After playing Jacksonville, Miami has 10 days before its next contest, a Dec. 29 outing at Virginia Tech at Cassell Coliseum in Blacksburg, Va., set for 6 p.m. on ACC Network to begin the Hurricanes' road slate.
To keep up with the University of Miami men's basketball team on social media, follow @CanesHoops on Twitter, Instagram and Facebook.
The 2020-21 Miami Hurricanes men's basketball season is presented by First National Bank.