Dec. 16 | 6 p.m. | ACCN
Watsco Center | Coral Gables, Fla.
Miami (3-1, 0-0 ACC) vs. Pittsburgh (4-1, 0-0 ACC)

CORAL GABLES, Fla. – For any team in any sport, health is of the utmost importance. To the University of Miami men's basketball team, it is also quite scarce.
Of the Hurricanes' 12 scholarship players, just six of them were available for the final 30-plus minutes of Saturday's 66-62 setback against FGCU at the Watsco Center.
"Right now, my main concern is about the health of our team," Miami head coach Jim Larrañaga said. "…We have a lot of guys that are not available to practice or play."
Miami (3-1) entered Saturday without a trio of injured players in senior guard Chris Lykes (left ankle), freshman guard Earl Timberlake (right ankle) and redshirt senior forward Sam Waardenburg (left foot).
It was the second straight missed game for Lykes, a Preseason First Team All-ACC honoree, and the fourth for Timberlake, a consensus top-40 recruit who has yet to play this year. Waardenburg, the Hurricanes' leading returning rebounder and shot-blocker, is out for the season after getting hurt in late October.
Miami lost redshirt senior guard Kameron McGusty, a near 1,000-point career scorer, under five minutes into the contest due to a right hamstring injury. Just a few minutes later, redshirt senior center Rodney Miller Jr., who started 28 games last year, went out with a left groin injury.
Meanwhile, senior guard Elijah Olaniyi was unavailable to compete, as he is sitting out in accordance with NCAA transfer rules.
Of the six remaining scholarship players Miami did have left against the Eagles, two starters competed through other ailments. Sophomore guard Harlond Beverly has sciatica and freshman forward Matt Cross has a right arm injury.
That left redshirt senior center Nysier Brooks, redshirt junior forward Deng Gak, sophomore forward Anthony Walker and sophomore guard Isaiah Wong. Even of those four, Gak is consistently limited in practice after suffering knee injuries each of the last two years, while Walker missed four weeks of preseason practice due to right knee injury.
"When you only have four scholarship players left, you can't really practice. Maybe do some skill work, but certainly can't practice," Larrañaga said. "You can't work on your defense or your offense and you can't work on your shooting, which clearly missing Chris and Kam and Matt makes a huge difference in because those are our top 3-point shooters."
The 3-point shooting, paired with the bevy of injuries, proved pivotal for the Hurricanes against the Eagles. Miami went 3-of-19 (15.8 percent) from deep and FGCU finished 13-of-30 (43.3 percent), good for its most long-range makes ever against a Power Five foe.
Two of Miami's made triples came from Wong, who finished with 20 points, in the final minute. Brooks totaled a 13-point, career-high 15-rebound double-double, while Walker added 12 points in the defeat.
With the statuses of the injured players to be determined, the Hurricanes will once again be counting on those same players, as well as walk-on Willie Herenton, a senior guard who played two minutes against FGCU.
The Hurricanes, though, might get one welcome addition before their next game, a matchup with Pittsburgh Wednesday at 6 p.m. at the Watsco Center to begin ACC play. According to multiple reports, the NCAA is expected to clear all sit-out transfers for immediate eligibility sometime Wednesday.
"We are hoping—keeping our fingers crossed—that Elijah will be able to play because that would give us not only a healthy body," Larrañaga said, "but a very good player to step in and try to help fill the void left by Kam McGusty's injury."
The Panthers head into the ACC-opening affair at 4-1 on the year, winning four in a row after dropping their season opener.
Sophomore forward Justin Champagnie leads the team in points (19.4) and rebounds (13.0) per game. The Brooklyn, N.Y., native is the reigning ACC Player of the Week after logging 20-plus in both categories in each of his last two games.
"Their major strength is three players who are really dynamic offensively: Xavier Johnson, Justin Champagnie and Au'Diese Toney. That's their big three and the other guys that they play really know their role well and stay within it," Larrañaga shared. "So, it allows Xavier Johnson to really control the game with his ball-handling and scoring ability. And he gets the ball to Toney and Champagnie in such a way that those guys get a chance to play at their best. When the three of them are playing as well as they are right now, they've got enough support from the other five or six guys that they play to win a lot of ballgames."
Miami is 23-19 all-time against Pittsburgh, including 14-7 at home and 7-2 under Larrañaga. Although the Hurricanes dropped their last game versus the Panthers—a 62-57 road setback on Feb. 2, 2020—they are 7-1 in the last eight meetings, with four straight home wins.
As Miami, which owns a 6-10 mark in ACC openers, looks to continue its trend of recent success against the Panthers, it will have to do so under through unique circumstances due to its limited number of available bodies.
"We will be meeting with our team, watching video and trying to prepare mentally more than physically. Because even if we wanted to prepare physically, there's not enough guys to do it," Larrañaga said. "…The preparation is going to be more walking through our opponent with the guys who are healthy, working on skills, such as shooting and ball-handling, and maybe some dummy offense. But we can't compete; there is no competition in practice right now."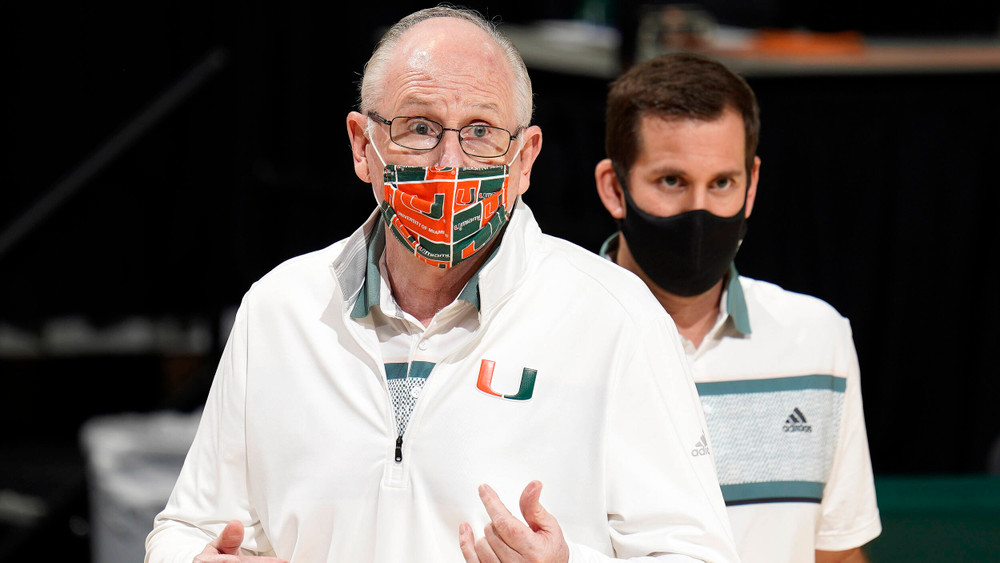 Wednesday's matchup will be televised live on ACC Network HERE, with Anish Shroff and Paul Biancardi on the call. Joe Zagacki and Danny Rabinowitz will have the radio broadcast on 560 The Joe WQAM HERE, while action can also be heard on WVUM 90.5 FM HERE and in Spanish on WMYM 990 AM HERE. Live stats for the contest can be found HERE.
After facing the Panthers, Miami resumes play Dec. 19 at 3:30 p.m., live on RSN from the Watsco Center, against Jacksonville to conclude its non-conference slate.
To keep up with the University of Miami men's basketball team on social media, follow @CanesHoops on Twitter, Instagram and Facebook.
The 2020-21 Miami Hurricanes men's basketball season is presented by First National Bank.