Locked in and Ready to Go
Dec. 12 | 12 p.m. | RSN
Watsco Center | Coral Gables, Fla.
Miami (3-0, 0-0 ACC) vs. FGCU (2-1, 0-0 ASUN)

CORAL GABLES, Fla. – Tuesday night's game at the Watsco Center was a tale of two halves.
The University of Miami men's basketball team trailed Purdue, 32-14, at the break before rallying for a thrilling 58-54 victory in the ACC/Big Ten Challenge. It was the largest halftime deficit the Hurricane have overcome since the program rebirth in 1985.
"It's a confidence booster. It goes to show if we play hard for 40, the sky's the limit for us, honestly," guard Kameron McGusty said. "That's how I feel. At the same time, it was also good that we had that adversity in the first half and we had it the third game into the season. I'd rather run into that now, as opposed to having to fight back from 20 when we're playing a critical ACC game."
McGusty was a vital cog in the comeback, as the redshirt senior led all scorers with 18 points, 15 of which came in the second half.
The Katy, Texas, native closed the game particularly strong, notching seven of Miami's final eight points over the last 100 seconds of the contest. Five of those seven came from the free-throw line and two of them clinched the win with three ticks to go.
McGusty, who spent the first two years of his career at Oklahoma, felt prepared for the moment for two reasons.
"Experience and trust. I've been in that situation to where we're up by two or up by one and I'm at the free-throw line and I miss a free throw and they come down and hit a three," McGusty shared. "That happened to me my freshman year when we played at Texas. So, every time I go to the free-throw line with under a minute left, I always think of that scenario and just learn from my experience.
"And also just the trust that the players and coaches have with me. Whenever I went to the free-throw line, I felt the energy," he continued. "I felt my teammates were relaxed and comfortable. They were fine with me being at the free-throw line and they were confident with me shooting those free throws."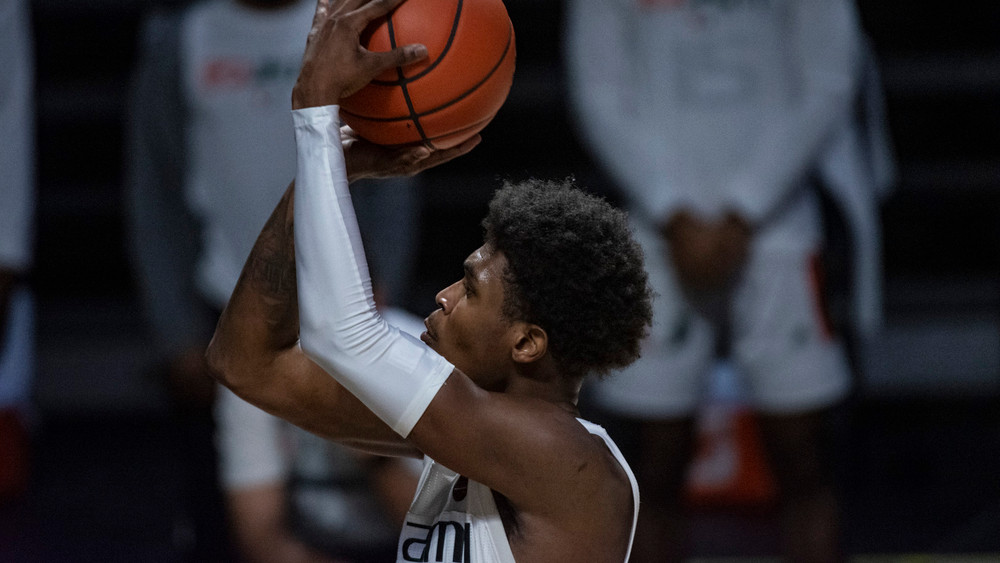 The only other Hurricane to score in double figures was sophomore guard Isaiah Wong, who totaled 11 points in the victory. Miami struggled to move the ball in the first half, but improved in that area in the second frame, leading to the offensive surge.
However, it was on the other side of the ball—the defensive end—where the Hurricanes won the game against Purdue. They played strong defense for nearly the entire game, limiting Purdue to its lowest point total against a non-Big Ten team since Nov. 29, 2013.
Saturday, when Miami hosts FGCU at noon, it will have its first chance to display it can continue to showcase that strong defense for 40 minutes, while also sharing the ball throughout.
"I feel like we're going to carry that on throughout the whole season and that's just going to be our identity," McGusty said. "[We will be] a team that moves the ball really well and gets all their teammates involved, and a team that's together on defense and plays super hard."
Miami is 84-7 since the program rebirth against in-state non-Power Five teams, including 16-2 under Larrañaga. One of those losses, though, came against FGCU.
The Hurricanes are 3-1 all-time versus the Eagles, including 1-1 in Larrañaga's tenure, but dropped a 63-51 road decision on Nov. 13, 2012, in the teams' most recent meeting. That proved to be a matchup of eventual Sweet 16 teams.
Miami prides itself on not overlooking any foe, but the recent loss to the Eagles might add just a bit more focus as the Hurricanes play their third Atlantic Sun opponent in a span of four games.
"We're definitely going to be locked in, we're definitely going to be ready to go," McGusty said. "We don't take any team lightly, whether it's Purdue, Florida Gulf Coast or Pitt, like we have coming up next week. So, every team, we're just looking to come out there, play our best, defend well, rebound the ball well and move the ball and share it with each other."
FGCU is 2-1 on the season and has not played since a 91-74 victory Dec. 5 against Florida National, giving the Eagles six days to recover between outings. Senior guard Jalen Warren is the team's leading scorer through three outings, averaging 14.0 points per game.
The Eagles went 10-22 (7-9) last year and were picked fifth in the Atlantic Sun preseason poll. The Hurricanes know, though, they need to do the opposite Saturday of what they did Tuesday when they fell behind the Boilermakers, 15-1, to open the game.
"These types of teams aren't the types of teams you want to let hang around because the more you let them hang around, the more confident they get and you never know what will happen," McGusty said. "You don't want to put the game up in the air. We want to come in there, set the tone early and let them know, 'Hey, this is the Watsco. This is our house. This is our home and we're protecting it and we're going to play hard for 40 minutes.'"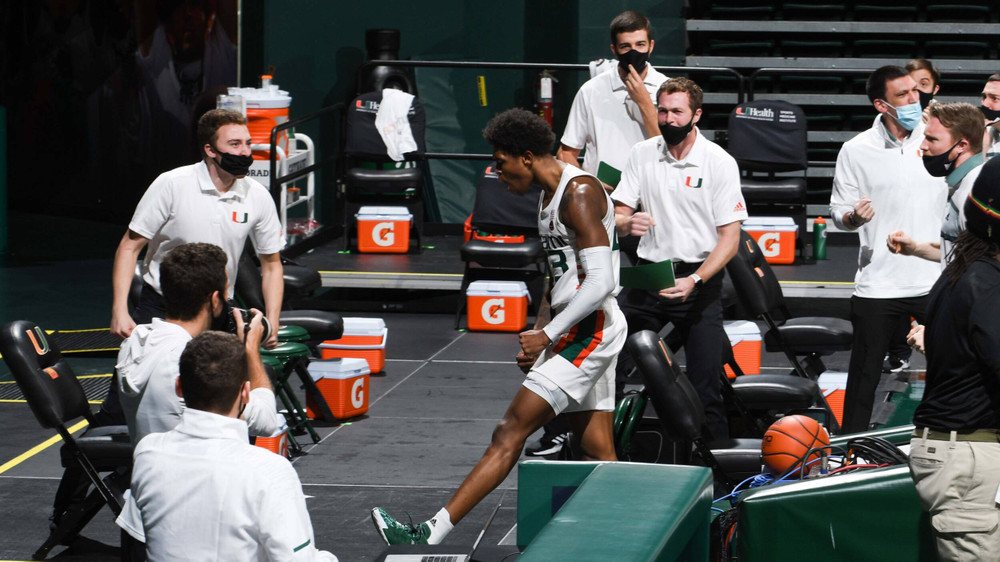 The contest between Miami and FGCU will be televised live on RSN—that channel is still to be determined locally—and FOX Sports GO, with Tom Werme and Grant Long on the call. A full affiliate is available HERE and it can also be seen on WatchESPN, subject to blackout, HERE. Danny Rabinowitz will have the radio broadcast on 70 The Ticket WAXY HERE, while action can also be heard on WVUM 90.5 FM HERE. Live stats for the game will be available HERE.
After playing FGCU, Miami returns to the hardwood Dec. 16 to open its ACC slate at 6 p.m. against Pittsburgh, with action at the Watsco Center set to be televised live on ACC Network.
To keep up with the University of Miami men's basketball team on social media, follow @CanesHoops on Twitter, Instagram and Facebook.
The 2020-21 Miami Hurricanes men's basketball season is presented by First National Bank.