Dec. 8 | 5 p.m. | ESPN2
Watsco Center | Coral Gables, Fla.
Miami (2-0, 0-0 ACC) vs. Purdue (3-1, 0-0 B1G)

CORAL GABLES, Fla. – Two games. Two wins.
The University of Miami men's basketball team is off to a strong start to the 2020-21 season and head coach Jim Larrañaga is particularly pleased with what he has seen from his team in a couple of main areas.
"Well, the first thing is our improved rebounding in the first two games. That's a significant improvement over last year," Larrañaga said. Our guards are the primary reason. All of our guards are making a significant contribution in defensive rebounding. Isaiah Wong is even contributing with some offensive rebounds. So, that's a big step in the right direction.
"We've had 18 assists in both our first two games. So, that's a major plus, as well," he continued. "Now, one of the things that's different is both those teams played zone, which normally means you can get more assists because you shoot more shots off the catch. But hopefully that's a sign of things to come."
Even against a zone defense, it is an impressive feat Miami (2-0) logged 18 assists in consecutive games, something it had not achieved since November 2009.
The Hurricanes were also plus-20 on the glass in their Friday night win over Stetson, their top mark since December 2015.
In that Friday outing, an 82-60 decision at the Watsco Center, senior guard Chris Lykes paced Miami with 20 points to go along with four rebounds and five assists, before exiting with 11:30 left due to a left ankle injury.
Freshman forward Matt Cross and redshirt senior guard Kameron McGusty each totaled 11 points, while Wong served as the secondary scorer behind Lykes with 17 points. He added a game-high 12 rebounds to tie his career best, giving him his second double-double as a Hurricane.
"I think Isaiah's just playing with a lot of confidence at both ends of the court," Larrañaga said of Wong's play through two games. "He's worked very hard. I'm most pleased with his defense and rebounding. Those are areas that we asked him to focus on. He's a high-octane scorer. He can score bunches of points, but we need him also to defend and rebound, and he's doing that."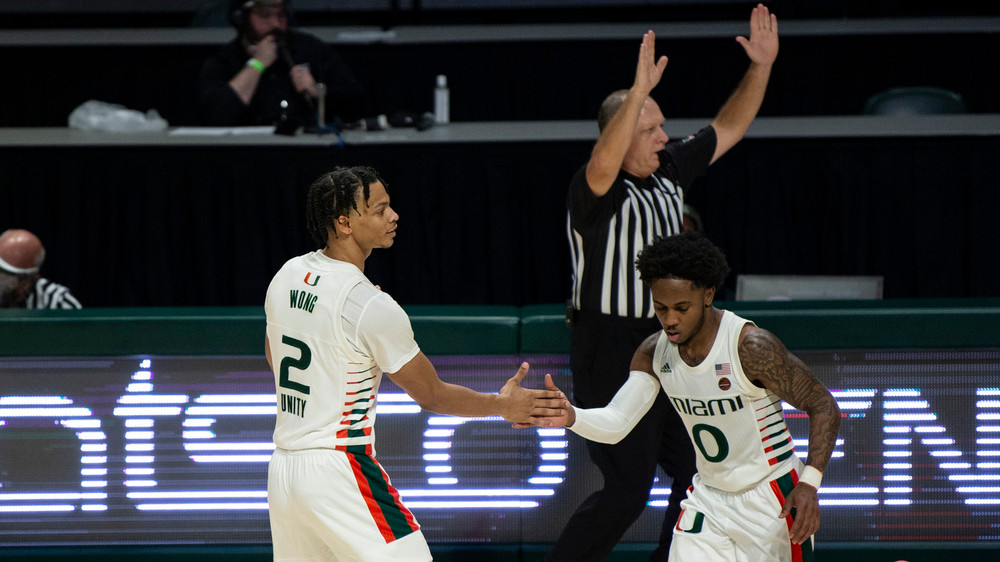 Wong and the Hurricanes will have a tougher task in their upcoming affair. Purdue, a team that has played in each of the past five NCAA Tournaments and reached the Elite Eight in 2019, will come to the Watsco Center for Miami's next game.
The Hurricanes will tip off against the Boilermakers Tuesday at 5 p.m. in the annual ACC/Big Ten Challenge.
Given the caliber of program Matt Painter, in his 16th season as the head coach at his alma mater, has created at Purdue, there is no doubt this game will indeed be a challenge.
"I think Matt has built a culture at Purdue that is very, very consistent with the culture of Indiana basketball, in general," Larrañaga shared. "Tough, hard-nosed, physical, skilled, shooters and a team that that the players know their role and know how to execute the role. They run more plays than any team we might face all season long, but they do it with such proficiency that it's very impressive."
On this Purdue team, which enters at 3-1 on the year, there are two big men who have caught the eye of Larrañaga during his game preparation.
One is a junior forward from Chicago, while the other is a freshman center out of Toronto who has made his presence felt immediately at the college level. However, Larrañaga knows they are not the only players his team needs to pay attention to Tuesday night.
"Purdue has a two-headed monster in Trevion Williams and Zach Edey. They combine for 24 points a game and they're very different with their skill set," Larrañaga said. "Williams is a horse; he's very skilled, he's got an assortment of offensive moves and he must weight like 260. Edey is 7-foot-4, probably weighs close to 300 pounds and can dunk everything around the basket. And that's a problem. Those two guys create a tremendous pressure on your interior and it opens up things for their 3-point shooting.
"I don't believe I've ever coaches against a team that has two guys shooting over 70 percent from the field and another three guys shooting over 42 percent from three," he added. "So, their field goal percentage is very impressive and that's going to put a lot of pressure on our defense, both individual defense and team defense."
It is junior guard Sasha Stefanovic, one of the three players shooting a scorching clip from deep, who leads the Boilermakers in points (14.0) and assists (3.8) per game on the young season.
As it attempts to slow down Purdue's talented inside-outside attack, Miami will be seeking its first victory over the Boilermakers. The Hurricanes are 0-3 in the all-time series, although they have never hosted Purdue in Coral Gables.
Miami last played the Boilermakers on Nov. 29, 2011, in Larrañaga's first season at the helm and in his first appearance in the ACC/Big Ten Challenge. The Hurricanes fell, 76-65, at Mackey Arena in West Lafayette, Ind.
It proved to be a rare setback in the Challenge for Miami, which is 6-2 in the event since then, including 5-1 over the past six years.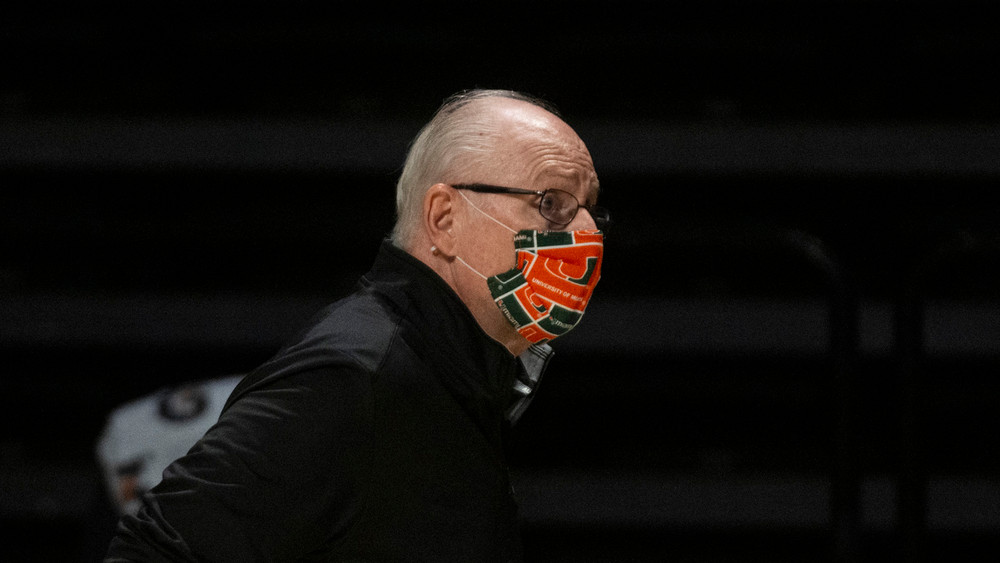 "We've had good players and good teams and we've had good matchups in the ACC/Big Ten Challenge," Larrañaga said. "…The last time we played Purdue, they handled us, at Purdue, and Robbie Hummel … was the star player. And you can look at that team 10 years ago and look at this team today, and there's a ton of similarities. They just play very, very consistent man-to-man defense and run set plays throughout the game, making them very hard to guard."
Hummel, then a senior forward, led all scorers with 17 points in Purdue's victory on the way to a sixth straight 20-win season.
Tuesday's contest will be televised live on ESPN2 HERE, with Kevin Brown and Malcolm Huckaby on the call. Joe Zagacki and Danny Rabinowitz will have the radio broadcast on 560 The Joe WQAM HERE, while action can also be heard on WVUM 90.5 FM HERE. Live stats for the contest can be found HERE.
Following its outing against Purdue, Miami resumes play Saturday at noon against FGCU at the Watsco Center, live on ACC Network Extra.
To keep up with the University of Miami men's basketball team on social media, follow @CanesHoops on Twitter, Instagram and Facebook.
The 2020-21 Miami Hurricanes men's basketball season is presented by First National Bank.