From The U to ESPN - TBG Shines
CORAL GABLES, Fla. – No matter the assignment, there's no doubt she's being her true self every time she's on camera.
She bleeds orange and green, supports her Hurricanes family, and does it with passion, all while wearing the biggest smile on her face.
But what makes her stand out the most is her hair – or lack thereof.
Christine Williamson, also known as "The Bald Girl" on social media, started her career in sports on the Miami volleyball team in 2007.
Today, she's one of ESPN's rising stars, appearing on a number of network's signature programs from Countdown to College GameDay, SportsCenter updates to WNBA halftime segments.
And she credits her experience at Miami with helping her get to where she is now – even if the former outside hitter from Tampa wasn't always a Hurricane fan.
Williamson grew up in a family with Florida State Seminoles and many of her friends were diehard Florida Gators fans. So her path to Coral Gables wasn't clear from the start. But Miami's weather and beautiful campus made an impression during the recruiting process.
"When I went on my official visit – it was my first and my last official visit," Williamson said. "I talked to coaches from the northeast and their sell to me was, 'We just got 12 inches of snow on the ground and we're excited to possibly have you on campus soon,' and that was just not somewhere I wanted to be."
Williamson was sold after her visit. Her future teammates, the campus and the appeal of Miami were all she needed. She was going to be a Hurricane.
She finished her career on the volleyball team with 929 kills and helped the Canes reach the NCAA tournament three times. And her time as an athlete for "The U" ultimately led her in the direction of pursuing a career in sports.
"I saw how the fans responded to athletes on campus, whether it be students or just fans of The U, and the devotion and fandom really made me curious about sports in general," Williamson said. "How people loved the brand or an organization so much, being at Miami definitely helped."
Williamson chose to shave her head during her redshirt sophomore year at Miami and plenty of people around her questioned the decision. It wasn't until she was working at another ACC school – Clemson – that she truly embraced her appearance.
Her inspiration? A future ESPN colleague who had a similar look.
"When I got to Clemson, Scott Van Pelt came on campus and he was doing a segment with two of our football players called "Bald Man on Campus" and I remember racking my brain about how I can get the elephant in the room on camera and talk about it upfront so people weren't constantly asking me why I was bald," Williamson said.
She found success at Clemson working in athletics. Then, after earning her master's degree, came the "real world".  She packed her things and moved across the country to work with the Denver Broncos, not knowing a single person in the area.
With Peyton Manning and Co., Williamson served as a digital media contributor for the 2016 season. The experience – and the cold weather – were worth it in the end because Payton Manning and the Broncos won the Super Bowl that year.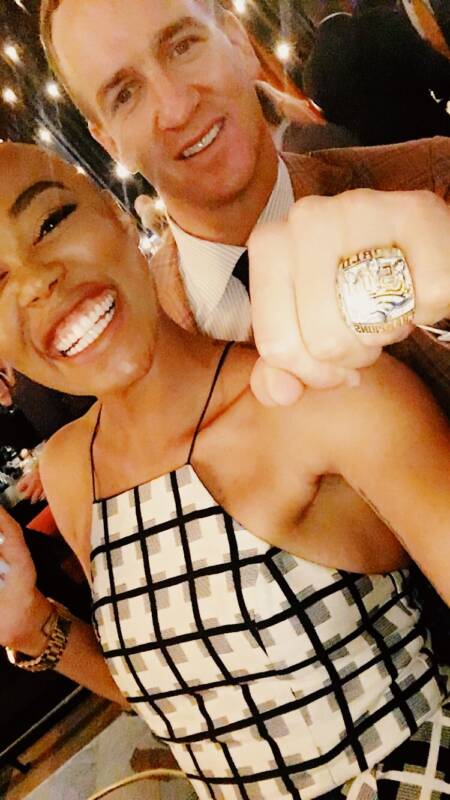 To date, Williamson said experiencing a Broncos Super Bowl win with newfound family and friends is one of the most memorable sporting events she's covered.
"All of the storylines leading up to the event and no one thinking we would make it there was amazing," Williamson said. "All of the media availability that the players had, Snoop Dogg was there interviewing players and it was just like, 'Wow, this is so cool.'"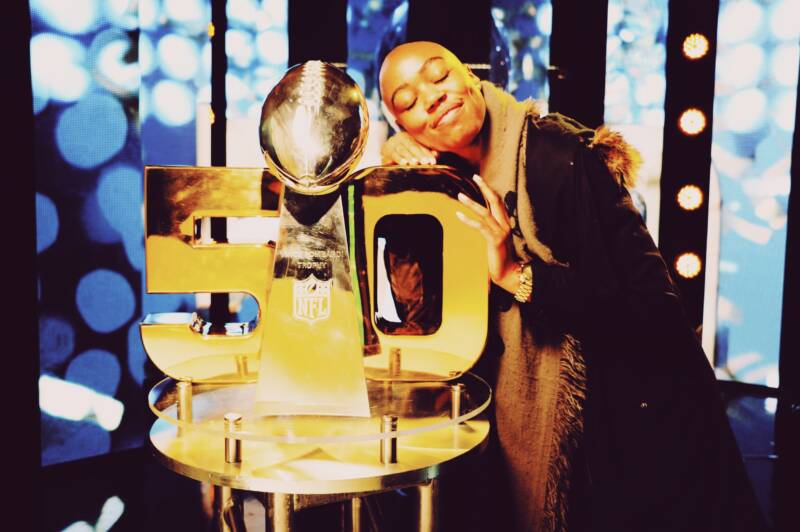 Her experience is unmatched, but it's her character that sets her apart from the rest.
While at Clemson, a director gave her the advice to not let the negativity of others affect her drive for a career. All it took was that one person to give her an opportunity and the rest would fall into place.
Safe to say it did.
After her stint with the Broncos, Williamson made her way to Texas to work as a Big 12 Network correspondent and then the Big 12 Network reporter and host, where she worked Big 12 Basketball Media Day, the Big 12 Football Championship and more.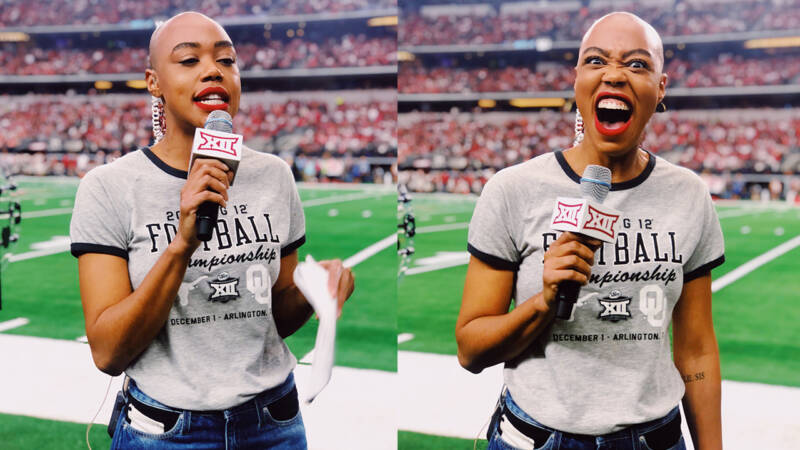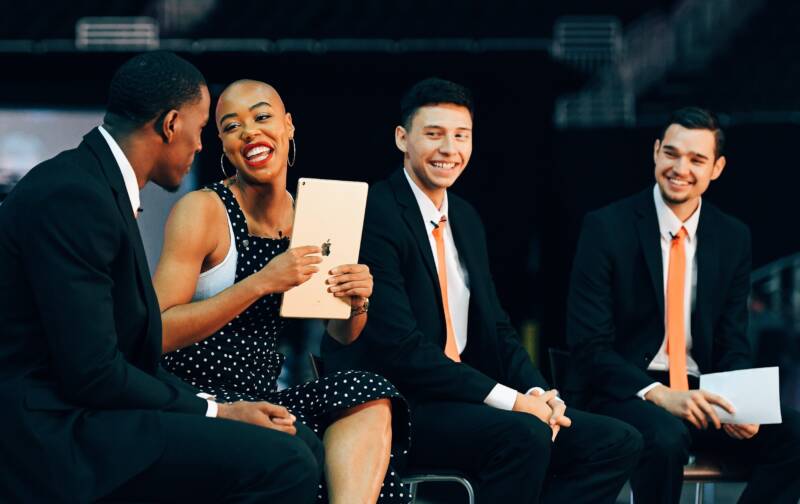 Along the way, it's her distinctive style, her tattoos and unwavering attitude of being herself that attracts her to eager, young sports reporters. Williamson is encouraged by the way she's been able to help others accept that they might look different and that it's okay to stand out.
"Part of my job is reacting to crazy things and you can't pretend that you're anybody else other than yourself because that's going to get snuffed out real quick. I learned early that I can only offer me instead of trying to emulate or copy what somebody else is doing and I think that's kind of what's unique about me. You won't catch me as the cookie-cutter broadcaster."

Christine WIlliamson
Now, along with her appearances on Countdown to GameDay and SportsCenter, Williamson is a regular on several other ESPN shows, including The Wrap Up and Rankings Reaction. The goal on her broadcasts, Williamson said, is to be make sure she and her fellow hosts are their authentic selves.
That she believes, separates them from all other sports shows on television or online.
Next on her bucket list for interviews is Drake.
"I want to interview him so bad, I've literally DMd him trying to see if he would answer me and then I delete it like a week later because he never answers," she laughed.
The interviews and finding ways to connect with athletes are what drive her.
One of her most memorable interviews was during her time with the Broncos, getting a running back not known for his interviews to open up and talk to her.
"My boss told me he never wanted to do interviews or gave good answers, but I remember thinking I was going to get this guy to talk to me and everything will be fine," Williamson said.  "We were literally talking for 30 minutes and then he had another meeting, but asked if we could finish the interview later."
Creating moments like those are what Williamson enjoys most about her job. Conversational stories or helping athletes open up and tell their story is what stands out the most in her eyes.
While at ESPN, Williamson has been able to put her hands into countless opportunities. She's worked with digital shows, social shows and radio.
Learning as much as possible while at ESPN is her short-term goal. Her mind is stirring, while creating countless ideas for the future, but two things are for sure – she's always going to be genuine and she's always going to be rooting for her Hurricanes.