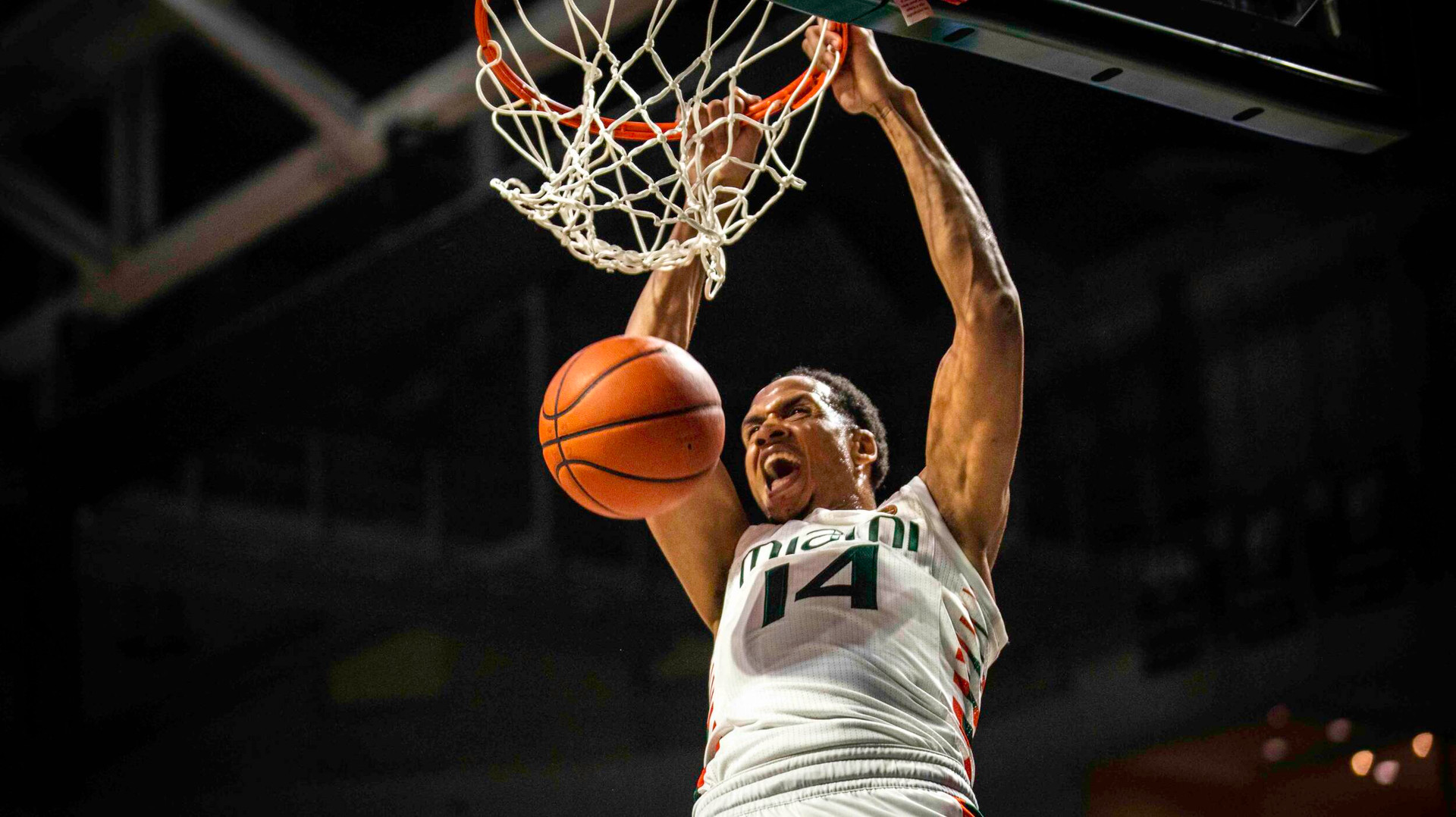 CORAL GABLES, Fla. – Through his first two seasons with the University of Miami men's basketball team, Rodney Miller Jr., was a little-used backup.
The 7-foot center, despite his imposing physical presence, totaled just 32 points and 16 rebounds in 30 appearances for the Hurricanes.
"That was a big learning experience for me, really just to figure out what I could do to perform and be a valuable asset to the team. And it came [down] to being patient with myself and the coaching staff being patient with me, as well, and working on myself to get better," Miller said. "Really, having the mindset to get better every single day. That really pushed me to excel and work my butt off. It was a challenge, it was a struggle, but with the faith that the coaching staff and I had in myself, [as well as that from] my parents and family, I was able to just put my head down and work. I feel like that's what you really need to do if you really want something bad enough."
Miller wanted so much to get better that he did something quite rare in his sport; he took a mid-career redshirt.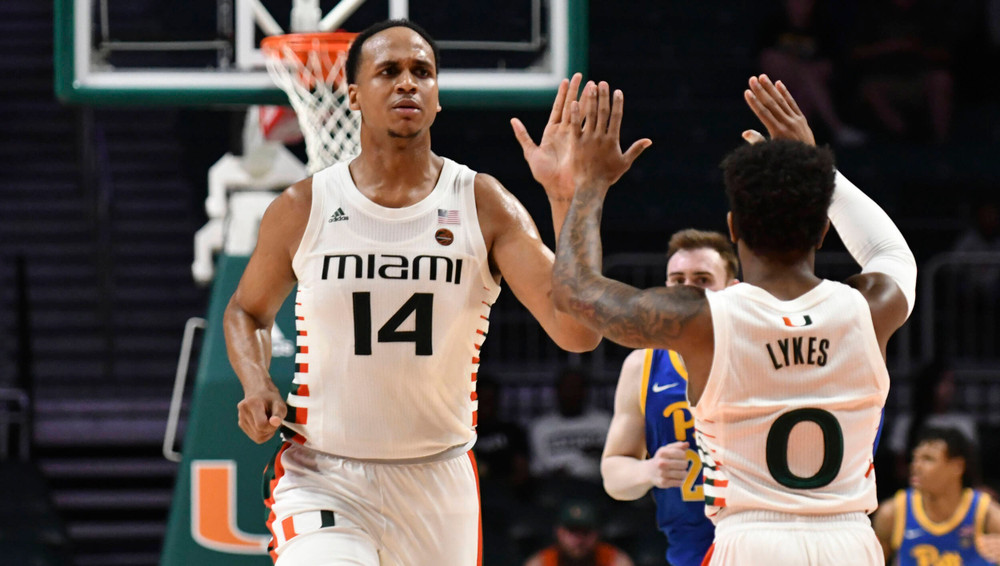 Unlike football, redshirts in college basketball are not overly common and most are due to injury or transfer. Many players who do take elective redshirts do so at the start of their career, not in the middle.
After conversations with the coaching staff, Miller, however, willingly redshirted during the 2018-19 campaign. He understood that, even if the move was not one frequently done by others, it would be beneficial for him.
That was all that mattered.
"That was a huge decision in my life. One thing for me that I was sure about was my own conviction. Once I made the decision, I was going to stick with it. The decision I made, at the time, was solely based on … the best interests of the team and myself," Miller shared. "…I was making the decision to redshirt just based off knowing my body, to figure myself out. I knew that year would help me become the player I'm coming into now. So, I think it was important for me to take that year off."
Soon after Miller and the coaching staff made the choice for him to redshirt, the team's roster began to shrink for a variety of reasons, injury and otherwise.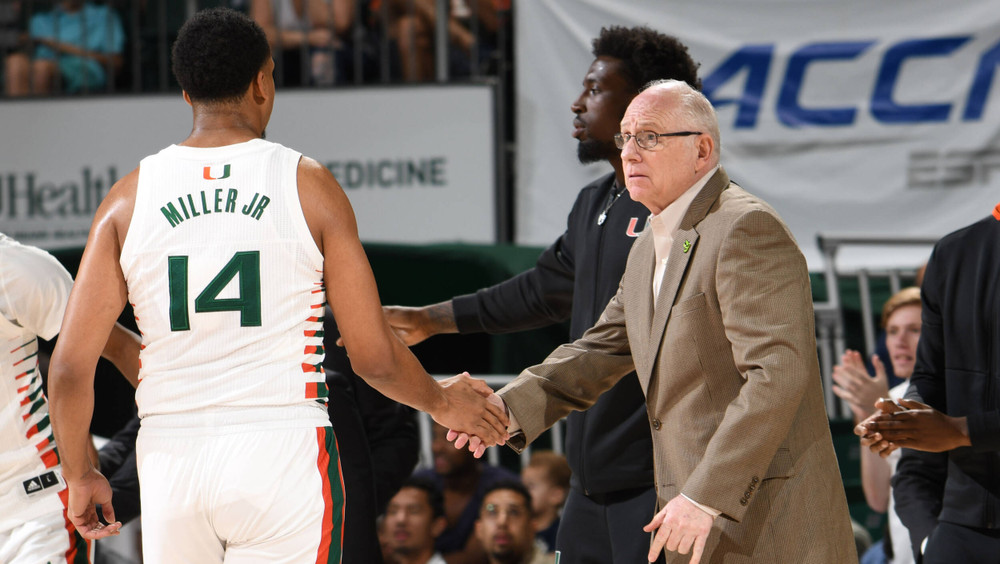 The Hurricanes played nearly the entire season with just seven healthy scholarship players, as their three-year NCAA Tournament streak came to an end.
Nonetheless, even with numbers dwindling, everyone in the program remained steadfast in the initial call for Miller to sit out as a redshirt. That included by Miller and head coach Jim Larrañanga.
"He was working so hard to get his weight down and to really improve his conditioning," Larrañaga said. "We didn't feel like he could do both, actually play in the games and keep himself in the kind of shape [he needed to be in]. That may sound contradictory, but it's not easy to lose 30 pounds and so that was really the focus: his diet, his conditioning. We kept it that way and it worked out very well because when Ebuka [Izundu] and Dewan [Hernandez] were gone, Rodney moved into the starting lineup and was very impactful last year."
It did indeed pay off, as Miller returned to action in 2019-20 and made his presence felt throughout the season. He averaged 7.2 points and 5.5 rebounds per game, appearing in 30 of 31 contests with 28 starts.
To get to that point, though, Miller had to put in a great deal of effort off the court. He totally reworked his diet, committing to eating three portioned, clean meals per day and not snacking at night. He also cut back on carbohydrates and sugars, as well as increased his water intake.
Beyond that, Miller, self-described as "not a morning person," began to wake up around 6 a.m. each day. He would run sprints, hop on the treadmill or just start moving around to be active and get his metabolism going.
It took a consistent commitment each and every day for Miller to get in the physical shape necessary for him to play the way he did when he returned to the hardwood.
"It's effort. It's a challenge. A lot of people don't know, it's an everyday thing," Miller said. "I have a great support system around me that supports me every day and during that redshirt year I needed it most and it was there. I had the whole coaching staff meeting with me every day and working with me every day, just consistently. Even when you don't see the numbers changing at that moment, [it is beneficial] just having them there supporting you, letting you know that [things] will change and everything you're doing is for the better."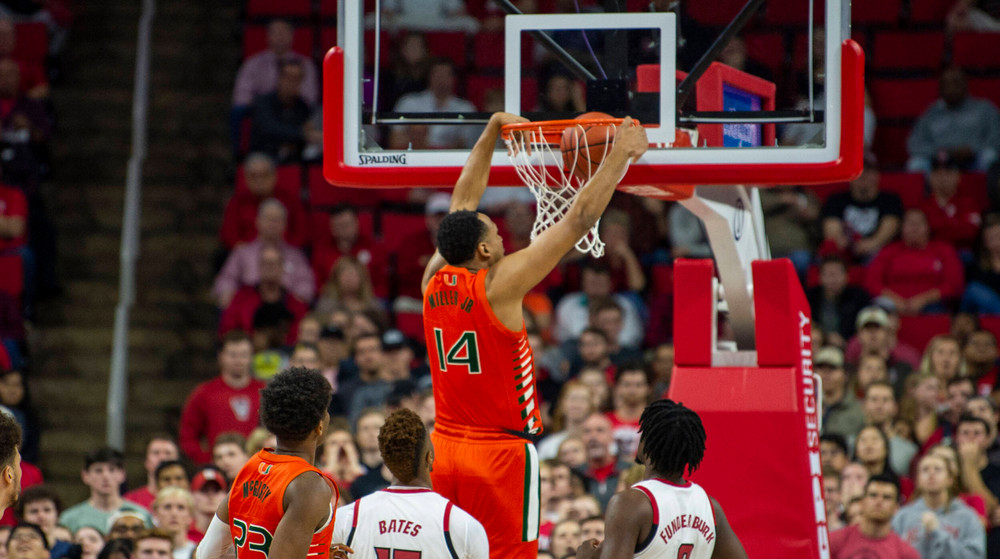 After previously playing Miller for 109 total minutes in his career, Larrañaga started the skilled big man opening night against fifth-ranked Louisville last year. He retained his starting spot nearly all year, scored in double figures 10 times and finished top-20 in the ACC in both offensive rebounds and total rebounds per game.
In addition, Miller posted a 56.9 percent clip from the field in league play, good for the fifth-best single-season ACC-only mark in program history. He also picked up All-ACC Academic Team distinction for his performance both on and off the court.
To Larrañaga, seeing Miller's performance on the court validated all the effort put in by both the player himself and those around him.
"I feel like my assistant coaches are terrific at helping players identify the areas of their game that need to be improved and my assistant coaches worked with Rodney in every aspect of his game," Larrañaga shared. "As far as the weightlifting, the conditioning, the weight loss—our strength & conditioning coach did a great job there. His skill development—working on his free throw, working on [his play with] his back to the basket—Adam Fisher really devoted a lot of time to Rodney. You got to give Rodney a lot of credit because, quite frankly, it's exhausting. You ask anyone how difficult it is to lose 30 pounds, that's difficult enough. And then [you need to] get yourself in great shape and work on your skills and become the kind of player that can compete at the highest level. Rodney has done that."
The experience was, of course, rewarding for Miller, as well, after all the time he spent getting himself in a position to be able to perform at that level.
It also was not a surprise to Miller, as the Laurelton, N.Y., native felt he had the ability to make an impact all along.
"Honestly, last season was just a glimpse of what I already knew I was capable of and what I had in me. It was just showing all the belief and everything that everybody has put into me," Miller said. "It really was a confidence booster, honestly. It was a payoff to see the coaches believing in me, seeing that they put their faith in me and they see their investment out there on the court.
"…It felt like my time, my moment to show the Canes fans who I am. It kind of felt like it was freshman year and this was my first time showing everybody what I can do. Honestly, that's really what it felt like," Miller continued. "I just had fun with it and I tried not to overthink it because I tend to do that. And I just went out there and had fun … That was my goal, to have fun and enjoy myself and show these people what I can do. And that's what I did."
The next step for Miller, who is days away from beginning his redshirt senior campaign, is to continue his progression on the hardwood. Larrañaga would like to see his pupil improve as a defender and a rebounder, an expectation Miller is quite aware of.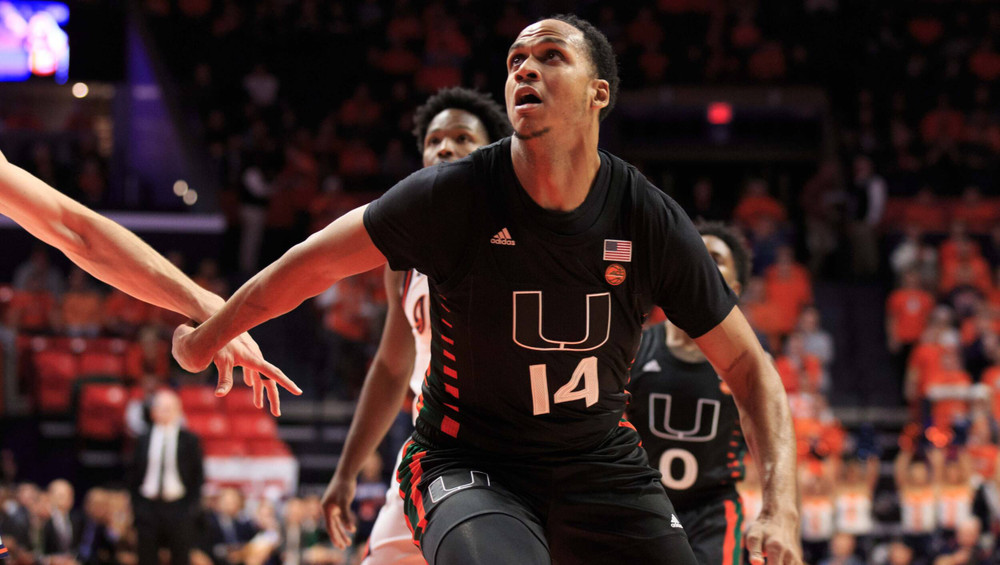 Miami also has more depth in the low post this year and Larrañaga feels that will help Miller excel because, like many big men, he can produce better in shorter bursts than longer ones.
In addition, Miller also will be counted upon to help his team more in ways that do not show up in a box score. He is now only the lone healthy player who was a part of Miami's NCAA Tournament teams in both 2017 and 2018, but also has considerable experience of different kinds he can lean on.
"Rodney has always considered himself a leader and he's really progressed into that role in our program. Our players—his teammates—listen to him," Larrañaga said. "He is the voice of reason and logic. He's someone that's very bright and articulate and can send very simple messages to his teammates. And some of those messages will be from his own past experience as a player, whether it be as a starter or as a sub. He knows that these last two seasons have not been what we've wanted them to be, but he also knows we have far more experience and more talent than we've had in any of the two previous seasons."
Miller indeed enjoys having a leadership role and cites former teammates such as Kamari Murphy and Davon Reed as people who have shown him how to lead. He wants to help the younger players on this team just as Murphy and Reed did for him early on in his career.
Part of Miller's directive in the locker room will be to simply heed the message from Larrañaga. If the Hurricanes do that, Miller sees this talented Hurricane team getting where it wants to be.
"This season, I feel like we got all the pieces and I know our attitudes are great coming in. I feel like this team can be at the top of the ACC. Coach L knows how to get us there," Miller said. "We just got to buy in, go out and do it. I feel like we're going to really shock a lot of people this year and really show them what we're capable of."