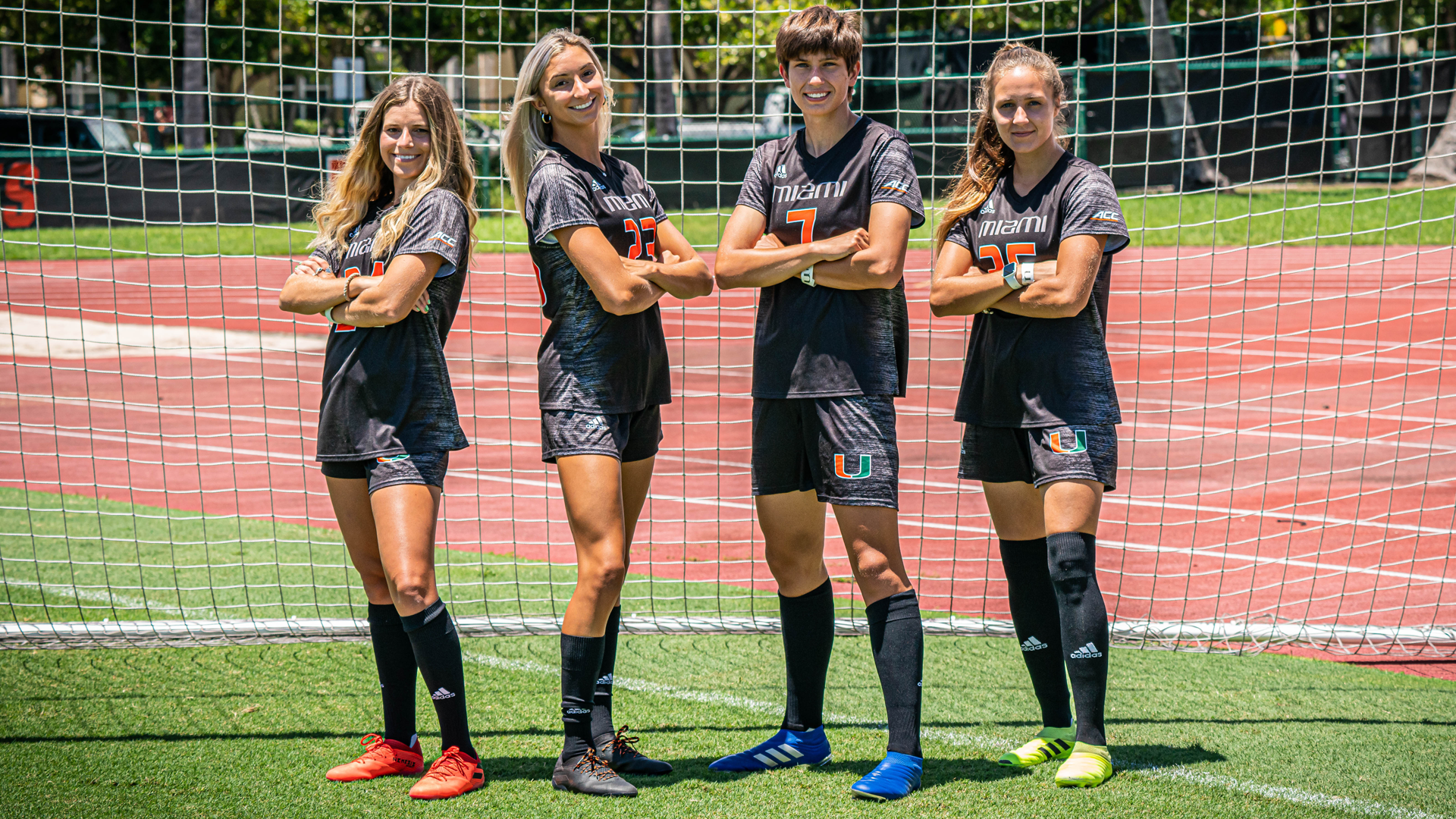 CORAL GABLES, Fla. – A year truly defined as unprecedented, the University of Miami soccer team has persevered through a season unlike any other and has continued to grow as a unit.
With uncertainties surrounding a spring season, what is certain is that four seniors have blossomed over their time spent in Coral Gables.
A group showcasing their leadership both on and off the pitch, redshirt senior Lexi Castellano-Mugica and seniors Morgan Asmussen, Tia Dupont and Michelle Giamportone have dedicated countless hours to The U.
"We appreciate the effort and energy this senior class has poured into our program," Miami head coach Sarah Barnes said. "They've battled injuries, a very difficult season and year, dealing with the pandemic. Regardless, they have continued to work hard and compete. I'm grateful to our administration and president that they had the opportunity to have a senior season, especially for Morgan and Lexi, who will play in their last collegiate game on Sunday."
Set to make her final appearance sporting Orange and Green at Cobb Stadium, Castellano-Mugica overcame a grueling procedure on her right leg just over 18 months ago.
Developing more and more as a leader over her five years as a Hurricane, the Boca Raton, Fla., native is appreciative of her time at Miami.
"As a player, I know I have developed a new mindset and I have grown into a more physical player," Castellano-Mugica said. "I am thankful for the University of Miami, the old and new coaching staffs, and I am looking forward to the next step in my career.
"For the underclassmen and upperclassman under me, I hope you never take a moment for granted because time flies," Castellano-Mugica added. "Regardless of the circumstance, remain confident in yourself and your abilities because no one should ever affect your confidence. Adversity builds you and tests you, maybe not to succeed in that moment, but in the future and better opportunities that come your way."
Following Sunday's season finale against fifth-ranked Duke at 3:30 p.m., the defender is set to earn her master's in exercise physiology strength and condition in December, while continuing to train and take care of her body with ambitions to play professionally.
"To my senior teammates, it's been a hell of a ride and even though we weren't always the same class, it was awesome to be able to share this past semester with you guys as seniors," Castellano-Mugica said. "Coming away from tomorrow, I hope the younger players see that trust, communication and respect are major factors in a strong relationship between not only the players but also whoever your coach may be.
"This year the players on this team had all three of those and that is a huge reason as to why we have all stuck together and continued to push each other because we all believed in each other," she continued. "It will be my last game as a Hurricane and I am very fortunate for the years I had here and I'm looking forward to playing for the U one last time."
Playing alongside the redshirt-senior for four years and dealing with her own personal injuries and setbacks, Asmussen is thankful for the time spent with Castellano-Mugica.
"Lexi and I have gone through a lot together," Asmussen said. "We've both had our fair share of knee injuries and surgeries. Lexi's last injury was something that most players would have looked at and immediately hung up the cleats, but I don't think Lexi ever even considered that.
"Lexi grinds like no other and is one of the hardest working players. She's served many roles on our team and took every challenge thrown at her with poise," Asmussen continued. "She's gone through a lot these past five years and she's been great through it all. She motivated me when I had surgery and we had to rehab, and I hope I was able to do the same. Going through that stuff is never fun but having someone to go through it with definitely helps."
Together, Asmussen and Castellano-Mugica are prepared to make one final hurrah on Sunday for the Hurricanes.
"Morgan," Castellano-Mugica said with a smile. "Morgan busted her butt to become the player she has. I commend her for dedicating everything she has to this team. As someone who is older, I definitely look up to her for digging deep and truly overcoming adversity and proving herself. As a player, she has come into her senior year and killed it. Defending, tackling and making plays in the defensive third, she has definitely grown as a player.  As an individual, she's also leads this team with her respect and trust."
A defender on the pitch and a future defender of America, Asmussen works tirelessly every day balancing a taxing work load consisting of training for both an NCAA Division I program and The Reserve Officer Training Corps (ROTC) program, while pursuing a triple major in marine science, meteorology and criminology.
Ultimately, composure is key for Asmussen when stabilizing her line of duty and assignments, and the support she receives from her peers, advisors and family is something that helps her stay the course.
"For the younger kids, be the hardest worker out there," Asmussen said. "I always tried to pride myself on the idea that at the end of the day no one would out work me. Whether it was going in for extra film, extra touches or extra rehab, you have to do the work to ensure you're the most competitive player. This was definitely a big part of my growth throughout my four years."
It is this mentality of taking responsibility for her soccer career that she explained was a huge factor in how she attacked her growth.
"I've seen almost every part of college soccer; from being on the bench, to being injured and then earning a starting spot this season," Asmussen said. "By being in all those positions, it's helped me become a leader and appreciate the struggles of the sport. When things get tough, I saved the Mia Hamm quote in my phone's notes that said, 'Somewhere behind the athlete you've become and the hours of practice and the coaches who have pushed you is a little girl who fell in love with the game and never looked back… play for her.' I encourage the younger players to do this and find a quote or an inspiration to fall back on when things aren't going your way because if you're truly passionate about this sport, it'll be worth it. There are going to be a lot of challenges in college sports as any athlete faces so do the work and stay disciplined through it all.
"And to my seniors, we've been through it all," Asmussen continued. "I'd say we've been through more challenges and adversity than most groups and we've faced it head on. I can truly say I wouldn't have wanted to do it with anyone else."
Set to return to UM for a fifth year in order to fulfill her triple major, she will take the next 18 months to continue to train with ROTC and pursue a career as a Weather Officer. She will also be working with the UM shark tagging team to conduct research, something she said has been a dream of hers since her first visit to campus.
"I've seen a great amount of growth out of Morgan throughout our four years," Dupont said. "I was always impressed with her work ethic and her ability to manage the many things she's involved in, but I think this year in particular she gained a new sense of confidence on the field that has made her even more valuable. She is a great leader on the team, and even though she has battled through multiple injuries, just her resilience alone is incredible. I can't believe this is my last time I will ever step out on Cobb Stadium with her."
Making several key strides in her game over the past four years, Dupont is uncertain if Sunday will be her last match as a Hurricane but either way she hopes to leave everything out on the pitch against the Blue Devils.
"I'm hoping that as a team we can come out and play together and perform the way I know we can," Dupont said. "I'm hoping we can take all of the hardship we've been through and finish the season on a strong note. For the underclassmen, I hope that I've instilled that hard work and relentlessness is needed in order to play in this conference and that playing the best competition in the nation is not always easy but at times can be the most rewarding feeling. But also, at the end of the day the bonds and love you form for your team is the most important thing."
A 5-foot-8 forward from Sicklerville, N.J., every season she has added new elements to her game as she continued to work into a leader both on and off the pitch.
Pacing the Hurricanes with 13 points as a junior (four goals and five assists), Dupont capped the year earning All-ACC Academic Team honors. Off the pitch, she has played vital role on the executive board for Miami's Student-Athlete Advisory Committee (SAAC).
"I have definitely grown as a player over my four years," Dupont said. "I think I came in pretty timid and not really knowing my place on the team but now as a senior I can say that I have developed into someone who is pretty confident in my ability and that I know my role on and off the field as a member of this team. As an individual I have been able to grow with the help of many people in the athletic department and student development, and I'm confident that I have developed many skills that will help me in the real world."
"Tia has grown a lot as both a player and an individual [since she joined the team my sophomore season]," Castellano-Mugica said. "She took on the role of being a teammate, to being a captain with ease and taking on all of those responsibilities. She has also improved so much as a player over the past four years, becoming a great winger and attacker for us."
Anchoring the central midfielder position for the Hurricanes, Giamportone has continued to make strides in her level of play each season since arriving to campus during the summer of 2017.
A native of Hyde Park, N.Y., she has accounted for five goals and four assists out of the defensive midfield, while off the pitch pursuing a degree in mechanical engineering.
"Miche has grown not only as a player, but also as an individual," Castellano-Mugica said. "She has been through adversity and grown into an amazing player. As a person, Miche and I weren't necessarily friends when she first joined the team, but now she is someone that I trust to talk to and open up to. She has definitely grown into being more vocal, team oriented and overall a great teammate."
It has been an unforgettable four years for these quartet of seniors playing alongside one another and they know the future is bright.
"To my fellow seniors, it's been a LONG ride but I'm grateful I had you all on my side these past four years," Dupont said. "I'll miss playing with you all but I know you'll do great things. I'll always be here for you all."