Bringing Experience: Johanna Barth
CORAL GABLES, Fla. – A fresh start in a new uniform.
After gaining experience from her first two collegiate seasons as a Wisconsin Badger, Johanna Barth is eager to kick start the 2020 season as a member of the University of Miami soccer team.
Despite being a new name on the roster, the 5-foot-5 midfielder brings leadership to the pitch and has taken the past month to really get to know her UM teammates.
With the Hurricanes ready to open the year on Saturday against Clemson, Barth is looking to make an immediate impact while also being a positive role model for the underclassmen.
"Since arriving, my goal has definitely been to come in and get to know the team and to use the experiences that I got from Wisconsin to work toward becoming a leader," Barth said. "So, my biggest goal is just being an impact on this team in all of the positive ways that I can, both on and off the field and so far, the team has been super welcoming. It has been super fun to get to know the team and I think the scrimmages have been a great way for us to kind of build our relationships on the field. I think there is a great vibe with the team and everyone is excited. It has been a long journey and I am really looking forward to finally getting to play on Saturday."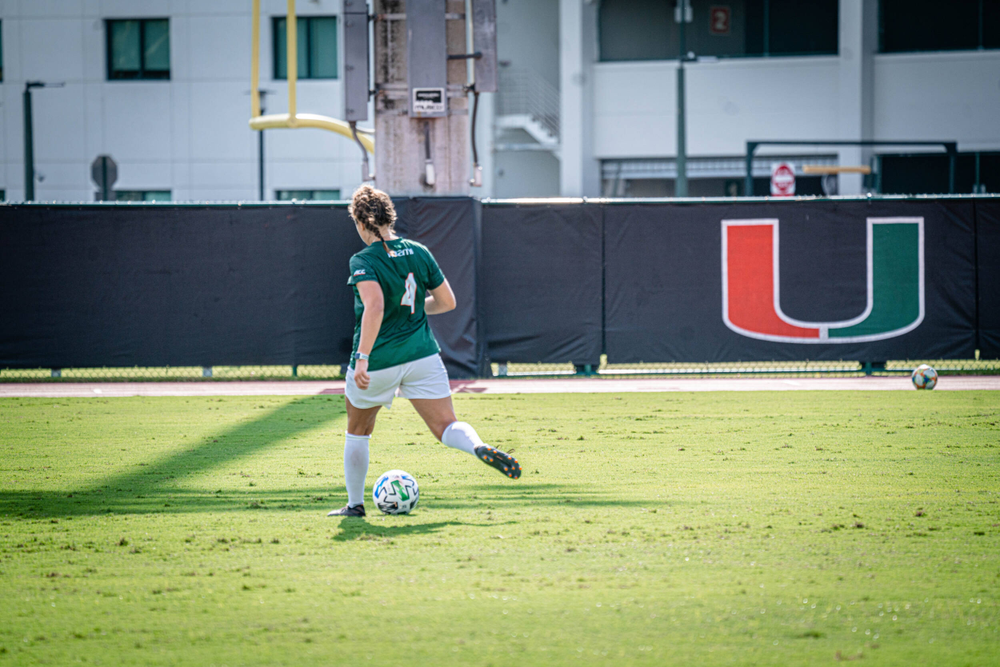 Prior to arriving on the campus in Coral Gables, Barth entered the transfer portal following her sophomore campaign in Madison, Wis. Making another run at the recruitment trail, the native of Rydebäck, Sweden, felt much more acquainted to the process the second time around.
With a couple schools in the running, a late inquiry by the Miami coaching staff immediately caught Barth's attention.
"Once Miami contacted me, it felt almost full-circle because the Miami campus was actually the first college campus in America that I ever visited, while I was on a family vacation a few years ago," Barth said with a smile. "So, as soon as they entered the conversation, I was immediately intrigued and felt like the size of the school was exactly what I was looking for, along with being part of a great conference with competitive teams.
"My conversations with the coaching staff quickly made me even more interested," Barth continued. "It wasn't just the name, University of Miami, that was intriguing to me, but following our conversations and learning about the team's style of play, I was hooked."
Unable to visit the campus prior to enrolling due to the ongoing COVID-19 pandemic, Barth knew there would be a slight gamble relying on Zoom calls to make her choice, but after a month training with the Hurricanes she could not be happier with her decision.
"There was obviously a worry of would the conversations carry over to the pitch. But I definitely feel like it has been true to my expectations and honestly even exceeded them after meeting the team," Barth said. "Also, the coaches have been extremely approachable and helpful with the whole process and I have been able to communicate with them about anything. So, it has been great."
Prior to joining the Badgers for the 2018 fall season, she grew up in a small Sweden town with her parents and older brother, Noah.
Born into a musically gifted family, the two siblings were the first to get into the sport of soccer, but after a few years Noah turned to the driving range instead.
Now a senior golfer for Tiffin University in Ohio, he was the first of the Barth family to make the move to the United States to play collegiately and is someone Barth has looked up to.
"Just a year removed from making the move himself, he then helped me with the whole process, as well and even came to visit me at Wisconsin," Barth said. "He graduates after this year, so I hope to be able to go to Tiffin and see where he has been for the past four years. It has been pretty cool having a brother going through the same student-athlete experience."
Along with her brother, Barth remains in close contact with her parents and has appreciated all of their support over the years.
"I have learned a lot from them and they have always been supportive. Even through the whole transfer journey it has been a no judgement relationship," Barth said. "They just want me to be happy and want me to find somewhere that I can develop as a person, even more so than I do as a soccer player. For them it is important that I find a place, where I just feel at home as a person. So, I adore my parents and talk to them every day because I value their opinions a lot."
Along with her family, Barth also grew to quickly love the game of soccer from a young age. Joining a community program with her friends, she would play with both the boys and girls every weekend.
As interest in the sport began to grow in her town, Barth and her friends were able to form an all-girls team to compete.
"It was a super close group, both the parents and the kids, so we had a lot of fun. And then it just spiraled from there. The high school experience is a little different in Sweden, as I enrolled in a school called Malmo Sports Gymnasium and was able to practice during the day. That was a big step in my soccer career," Barth said. "So, for me, just being able to play with my friends for as long as I did, was a big reason for where I found the love for it. And later on, I realized I wasn't just doing it for fun, but also because I also really wanted to grow as a soccer player."
Prior to her move to the U.S., she played as a member of the renowned FC Rosengård A-Team. She won the Mediterranean Cup in 2014, competed in the 2016 and 2017 International Tournament Scania Women's Cup in France and played in a friendly against Chelsea.
Barth has been to many prestigious camps including the Swedish U-20 National Development Camp. She was also a member of the 2016 Swedish Championship team with the provincial rep, the 2016-17 Swedish champions team in the Swedish Cup and the silver medalist team in the 2016-17 Damallsvenskan.
Overall, she made two appearances in the Swedish top league, Damallsvenskan, and earned two caps with the Swedish under-19 national team against Russia and Finland.
Fast-forwarding back to the present, Barth and her teammates are ready to open the 2020 season on Saturday before welcoming Louisville to Cobb Stadium on Thursday, Sept. 17 at 7 p.m. in the ACC opener.
"I am just excited to see what this team can do. I feel like there is an excitement in the locker room. With a buildup that has been longer than usual, I just feel like there is even more excitement and enthusiasm to go out there and compete," Barth said. "And for me especially, putting on the jersey for my first match as a Hurricane is going to be amazing. Representing a new school is super exciting especially with this good vibe that we have. There definitely is a growing enthusiasm to just get out there and play with this new group of girls, who I really enjoy being with."