Rose a Budding Tennis Titan
CORAL GABLES, Fla. – Megan Bradley departed the University of Miami in 2005 as one of the finest women's tennis players in school history.
Beyond that, she is considered by Paige Yaroshuk-Tews—now in her 24th year at The U and 20th season as head coach—to be the most important of all the Hurricane greats.
"I've said it so many times that she really put our program on the map," Yaroshuk-Tews said. "I don't know if we would've ever taken that [leap forward]. It was going to have to take a [special] person like that to do it and it happened to be Megan in our case."
In the final campaign of her illustrious three-year career at Miami—following a season at UCLA—she turned in a record-setting 44-2 singles campaign that earned her 2004-05 ITA National Player of the Year recognition.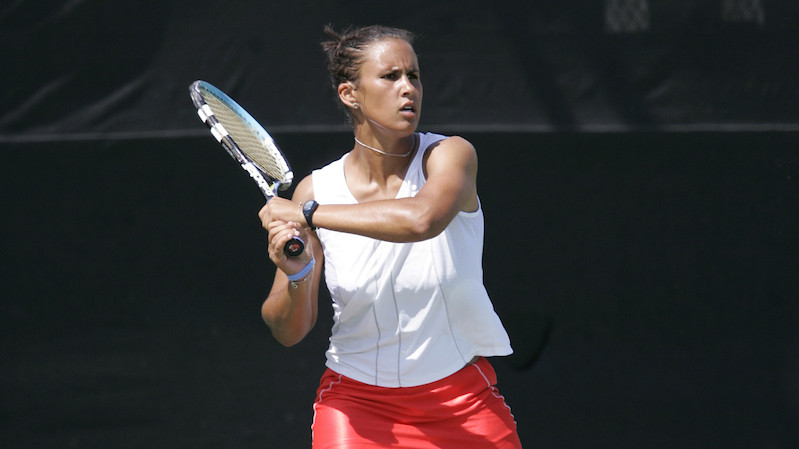 Following graduation, Bradley—who now goes by her married name, Megan Rose—began competing professionally.
Rose spent two years on the WTA Tour, peaking at No. 313 in singles and No. 221 in doubles. She also reached the second round of the 2005 US Open doubles tournament, matching a feat she achieved in 2001, when she also took part in the singles draw.
After retiring from competitive action in 2007, Rose went to USF for graduate school with no definitive plans of continuing in the tennis world after completing her studies.
"I honest-to-God thought that I wanted to get out of tennis. That's the irony of the last 10 years of my life—more than that, I guess," Rose shared. "I thought that I would get done playing [and move on]. I went back to school to get my master's degree in journalism and I really thought that I was just going to be a journalist and maybe be part of tennis on the journalist side, but definitely not [as a coach]."
Soon after graduation, though, Rose indeed began to coach. With the economy in a downturn and online journalism jobs difficult to come by, Rose chatted with her old coach, Yaroshuk-Tews about her next step.
"I knew I didn't want to be an anchor for a nightly news show. I was just talking to Paige and she was like, 'Well, why don't you come down, just help me out for the semester?'" Rose recalled. "And so I was like, 'Alright, that's cool.' My husband was in law school, we didn't have kids, so I just moved down to Miami for a couple months. That was great."
Serving as the volunteer assistant coach for the Hurricanes, Rose aided her alma mater to a stellar 26-5 (10-1 ACC) ledger that included the first of five consecutive NCAA Elite Eight berths.
Deeming her unpaid position as, understandably, unsustainable moving forward, Rose began to look for other work.
She found just that at one of the world's premier academic institutions, Princeton University.
On July 23, 2009, Rose officially started as the head coach of the Tigers. In her first year, she led Princeton to a 21-7 record, including a perfect 7-0 mark in Ivy League play to claim the league crown.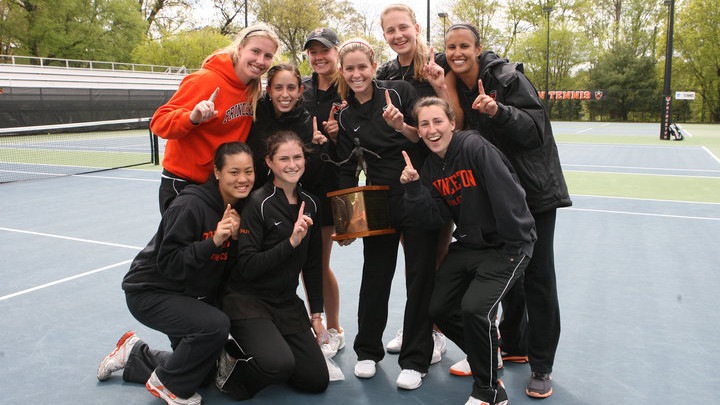 In total, Rose spent three seasons at Princeton, concluding her tenure with a dazzling 17-4 ledger in conference action. She resigned after the 2012 season to move back to Florida.
There, Rose began to pursue yet another path in professional tennis, this one with the WTA. She had connections with the organization after serving as a part-time receptionist and freelancer during her graduate studies at nearby USF.
"I had a conversation with someone there and joined the WTA as a manager of player relations and operations. So, in that role I really split between operations, which was really tournament-facing," Rose said. "So, [that included] working with tournament directors, working on RFPs [requests for proposal] to get new tournaments onto the calendar, working and helping that department with just tournament director resources. Then, the other half of the role was in the player relations department. In that role, I would basically travel to WTA events and I would really be there to serve as the liaison between the players and the tournaments and the organizations."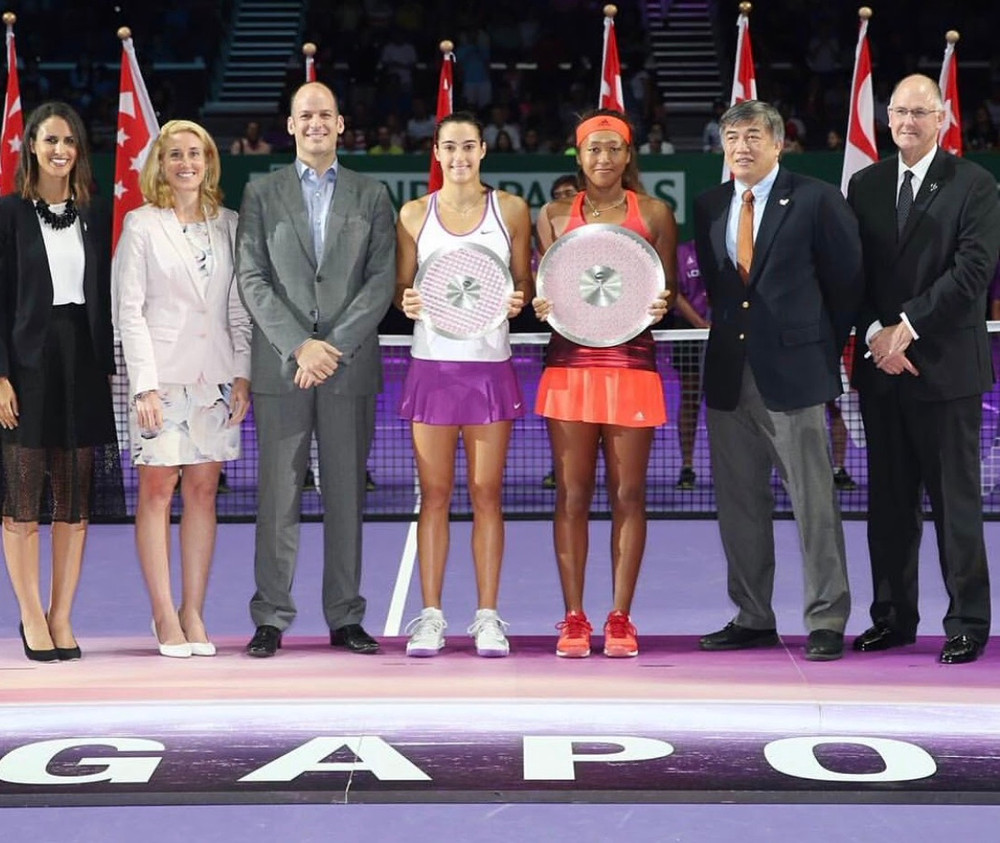 Her years with the WTA prepared Rose to transition to her current position with the USTA, which she started on July 31, 2017.
Just over three years ago, Rose took a job with the governing body of American tennis as the senior director of the Competitive Pathway.
"I'm responsible for the planning and, basically, the strategic vision for the minor-league professional tennis tournaments in the United States," Rose said. "It's called the Pro Circuit and it is, basically, the largest developmental tour for tennis in the world. Anyone who is a professional tennis player that people see on television, with the exception of Venus and Serena [Williams], came through the Pro Circuit at one point in their career. It's part of the ITF World Tennis Tour."
Rose works closely with both the ITF, the governing body of worldwide professional tennis, and with USTA player development department. She helps create the best possible calendar of domestic tournaments, which can range from "anywhere from 100 to 130 of these events across the country" per year.
The tournament director of every single one of those events has Rose available as a vital resource. She aids them in areas such as operations, logistics and—as the USTA major events department's budget chief—prize money subsidy.
Ultimately, her job, which also includes assisting with the US Open, is to make life as easy as possible for the future of American tennis.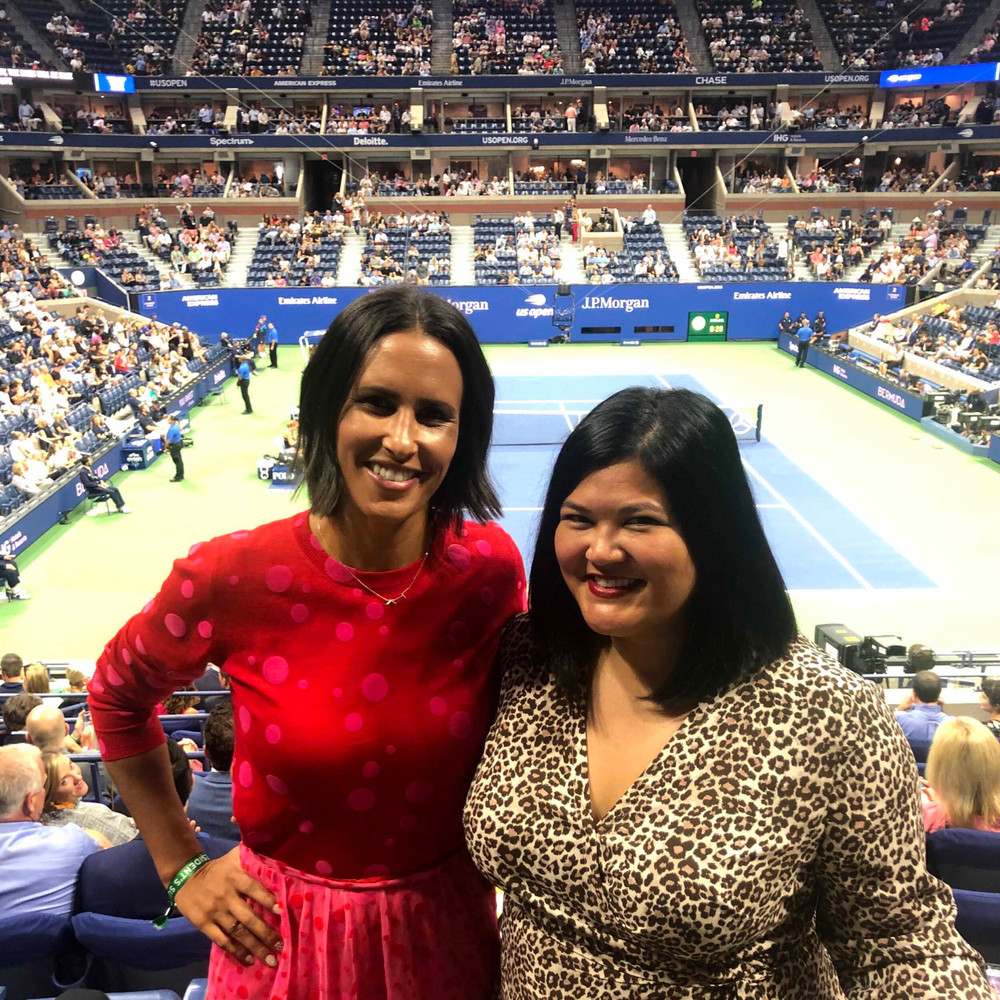 "Honestly, I would say I wake up every day trying to make sure that Americans have the strongest professional Pathway calendar in the United States [more so] than any other country, so that Americans don't have to travel outside of the U.S. to compete," Rose said. "That's really been the driving force of it."
Each of her three years with the USTA has featured a different major project. The first was about the adjustment of that calendar as structural changes were made to the tennis system on an international level.
In Rose's second year, a prime focus was coordinating a new sponsor, Oracle, which generously poured money into the Competitive Pathway program at the behest of the late Mark Hurd, then the company's Co-CEO.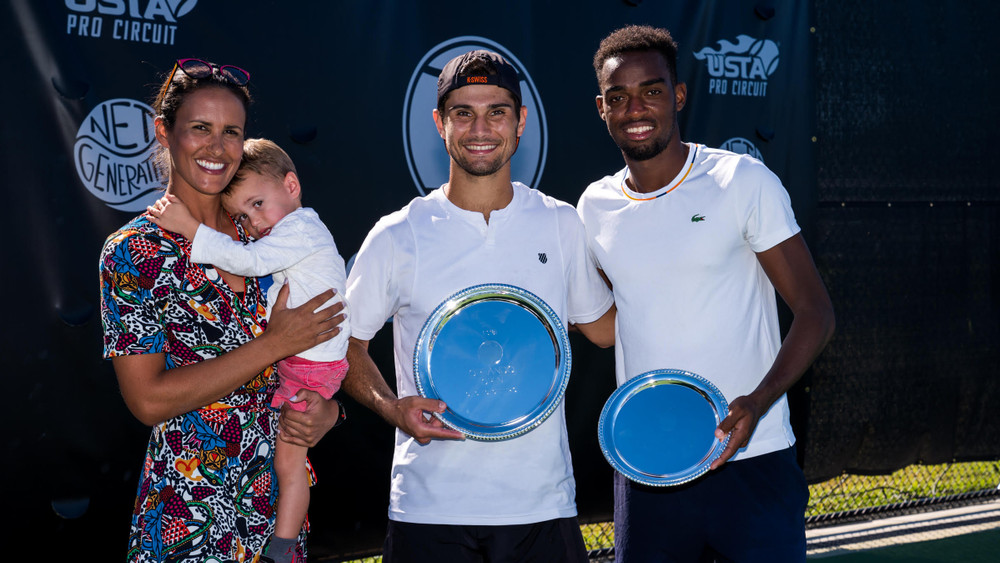 This year, not surprisingly, the main project—as is the case for many companies—has been navigating the COVID-19 pandemic.
However, that is not the only objective for Rose right now, as she also took on another prominent role within the USTA in March. She is now the team leader for USA Tennis for the upcoming Olympic Games in Tokyo.
"I am responsible for all of the planning and operations as it relates to getting American players over to Tokyo and hoping to help them win gold medals," Rose explained. "So, anything from player eligibility, to hotels, to making sure that all the staff has completed all their required paperwork with the USOPC. That's really kind of a primary role that I'm obviously squarely focused on with the postponement of the Games."
When Rose first took over this position, the Olympics were still scheduled for 2020. Right before a scheduled preparation trip to Tokyo in mid-March is when the pandemic heavily hit the United States, canceling the excursion.
"Honestly, I would say I wake up every day trying to make sure that Americans have the strongest professional Pathway calendar in the United States [more so] than any other country, so that Americans don't have to travel outside of the U.S. to compete. That's really been the driving force of it."
The event itself was postponed shortly thereafter and, for Rose, the move from 2020 to 2021 has been bittersweet.
"Definitely a disappointing start to something I was super excited about and really looking forward to going to and being part of," Rose shared. "But, it's kind of been nice because it's given me more time to really get a firm handle on all of the different operational, logistical issues and items that we need to look at heading into next year."
Although Rose never saw herself staying in the tennis world after her playing days, she clearly has done just that and feels fortunate to have done so.
"I've been lucky to continue to progress in my career and have a ton support at the USTA. That's been incredibly appreciated and I value that very much," Rose said. ". . . [I have] been able to directly contribute to things that helped me get to where I am now. I played Pro Circuit. A lot of the supervisors that I work with now were supervisors when I played. So, being able to really help give back and to provide opportunities to have the same opportunities that I had coming up—it's been really nice."
While she is not dead-set on remaining in the tennis realm for the remainder of her professional career, Rose does have goals and aspirations within that area she hopes to achieve.
As a person who is "fiercely supportive of women's sport and women achieving equality," one of those dreams is to eventually run the WTA. However, Rose feels she has other ways she can make a difference and pursue her passion, as well.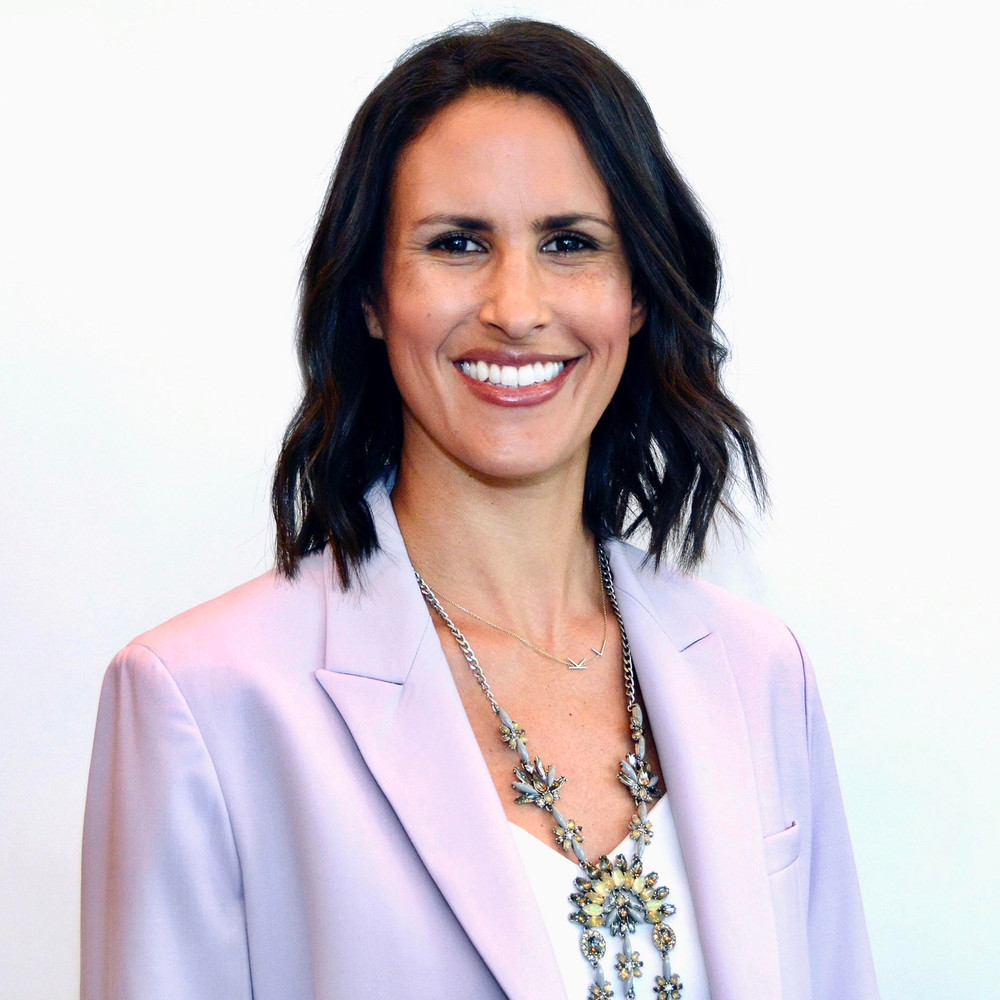 "I do think there are a lot of organizations within tennis that do need women's leadership. So, it might not necessarily be in the WTA, but for me, I think it's continuing to help grow the game and help spur change with tennis being such a fiercely traditional sport," Rose said. "I think there's always room that we can shake it up a little bit and try to see how we can make an impact on people's lives and also, I think, help particularly women athletes get the type of attention that I think that they deserve.
"So, for now, it's just continuing to just work hard and gain respect of my colleagues and people in the industry and just know that doors will continue to open where they're supposed to and just being ready to take a step through that door."
Despite her lack of interest in working in tennis during her playing days, Rose displayed traits those around her knew would help her succeed if she did indeed decide to do so. Those qualities also suggest she can indeed achieve her goals moving forward.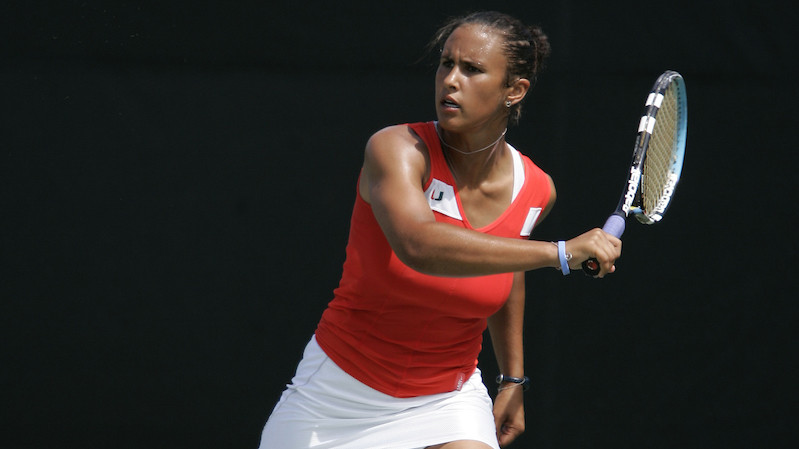 To Yaroshuk-Tews, Rose's accomplishments in the field come as no surprise and she sees a bright future for her star pupil regardless of what she ends up doing next.
"I think of all the kids that I've ever coached, Megan was the strongest leader we ever had at our school," Yaroshuk-Tews said. "Megan's just not afraid to speak her mind. She knows how to do it with a lot of poise and she always has, even when I knew her in high school."
Although Yaroshuk-Tews thinks Rose possessed many of her innate skills before coming to Miami, the former feels her time in Coral Gables did still aid her journey to this point.
In fact, Rose, a 2016 UM Sports Hall of Fame inductee, said "it would be harder" to come up with areas her time with Yaroshuk-Tews at Miami did not help her than to simply list the ways it did.
"I think learning how to bounce back from adversity, learning that it's not just about you and that it's really about the team. The value of being able to work hard and push through when things get tough," Rose listed as some of the takeaways from her career at The U. "Everything, I think, that [Paige did a good] job of instilling in us and that we all held each other accountable for on that team I think has done nothing but benefit me as I go into my career."
Where that career takes her next remains to be seen, but given all Rose has already accomplished on and off the court, there is no doubt the future is bright.