A Slice of Normalcy: VB Back in the Gym
CORAL GABLES, Fla. – 2020 has been anything but normal.
The same can be said for Miami volleyball's schedule, which was trimmed significantly due to the COVID-19 pandemic.
But more than anything, associate head coach Kasey Crider is savoring every moment of normalcy after returning to the gym with a young Hurricane squad.
"We're in a constant state of adapting, a constant state of adjusting," Crider said. "It's been really nice to be back in the gym because with everything else changing, practicing and playing volleyball is our constant. That hasn't changed."
For sophomore setter Savannah Vach, who was named to the ACC All-Freshman Team in 2019, the progress feels almost surprising – but refreshing.
"We've been out of the gym so long, but we have all seemed to step up our game so much, which is interesting to think because we haven't really practiced together since March," Vach said.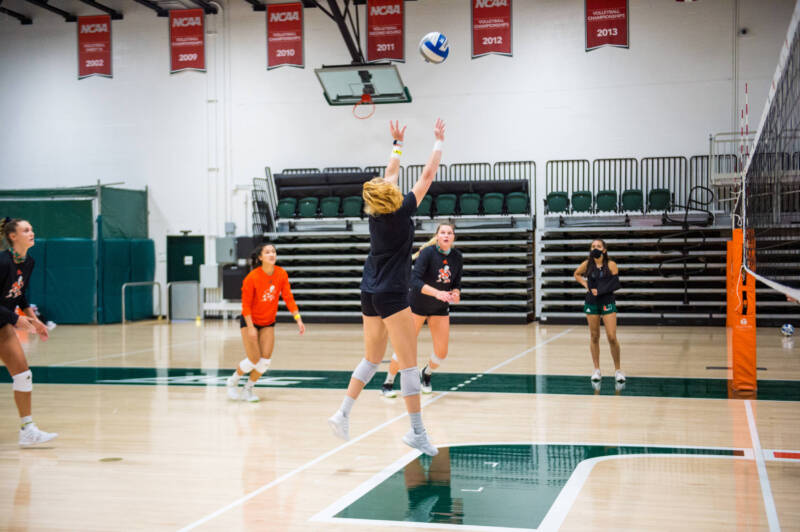 Vach, a player Crider from whom has high hopes, has shown huge progress over the summer after recording 1,028 assists as a freshman. She trained at home in Oviedo, Fla., during quarantine with former club teammates to keep the rust off for whenever she was allowed to return to campus.
"We were in the gym three times a week once they were open again, just practicing as much as we could," Vach said. "I lifted heavy just to make sure I kept my strength and I followed the conditioning plan [assistant strength and conditioning coach] Caitlin [Smith] sent us and I got a lot faster. I think that has transferred to my game."
After a standout opening collegiate season, Crider thinks Vach has the chance to be one of the greatest to play for Miami if her work ethic continues to accelerate her development.
"She has elevated her game for somebody who had that successful of a freshman season," Crider said. "She's putting herself in an outside position to be one of the best to ever do it at our school in any position. Right now, she's behind where Olga [Strantzali] was as a sophomore, where Savannah Leaf was as a sophomore, where Lane Carrico was as a sophomore, but she is now in that conversation. A little bit is going to depend on how does this season. She has a lot of work to do and a lot of winning to do, which is probably the better way to put it, to earn the right to put her name in that conversation. She's within shouting distance of it."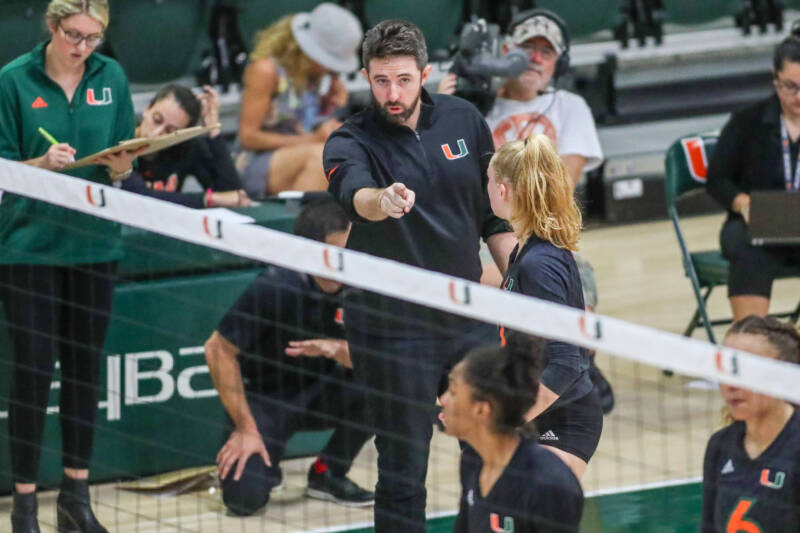 Despite the unknowns, clear progress has been made and players and staff are excited and ready for the season to begin.
The Hurricanes are slated for 10 ACC conference matches beginning in October spanning through late November. Miami will open up conference play with two home matches against Wake Forest on Oct. 2 and Oct. 4. The Canes will face Georgia Tech twice on the road (10/14 and 11/13), host FSU (10/18), return to the road for back-to-back matches at Clemson (10/30, 11/1), return to Wake Forest (11/15) and host Clemson (11/25) and Georgia Tech (11/27) to end the season.
With two weeks of practice under their belts, Miami has used its time over plenty of Zoom calls and film sessions to maintain close connections and team culture through quarantine.
"Our culture is in as good of a place as it's ever been, the training has certainly seen a big jump and is higher than we've seen over the past few seasons and the perspective we're sharing as a program is really inspiring considering the uncertainty of the circumstances," said head coach Jose "Keno" Gandara said.
The level of competition has grown tremendously in practice. The Cans have been plagued by in the past two seasons, which affected practices. So far this summer, Miami has had strong roster depth and the intensity level has picked up.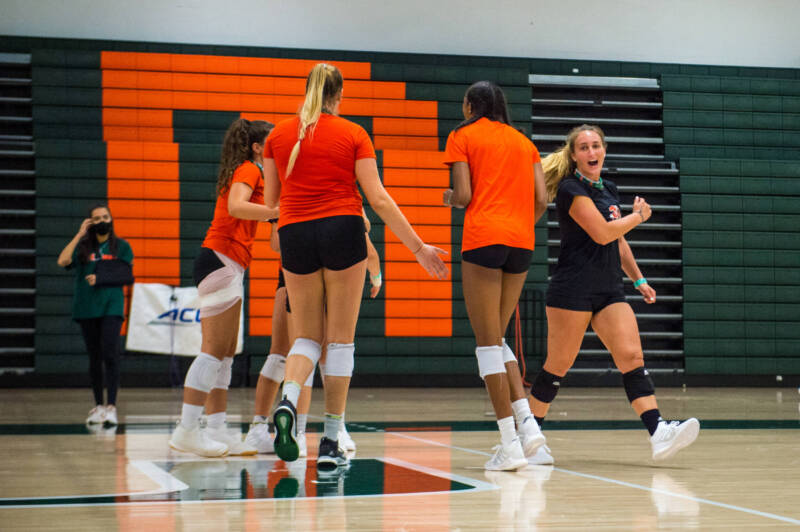 After battling injuries throughout a challenging 10-16 season, Crider sees nothing but improvement in the future of the Canes. Along with Vach, the trio of Janet Kalaniuvalu, Priscilla Hernandez and Angela Grieve is making early leaps of improvement in Crider's eyes.
Kalaniuvalu, known for her jump serve and strength on offense, improved her vertical from 9'9 to 10'1 – a feat that Crider states as a ridiculous jump no matter what age in just five months.
"She has made huge strides as a blocker and learning some stuff about hitting on the left and hitting on the right," Crider said. "She's been a revelation really and will probably end up carrying a heavy load for us, even heavier than last year would be my guess."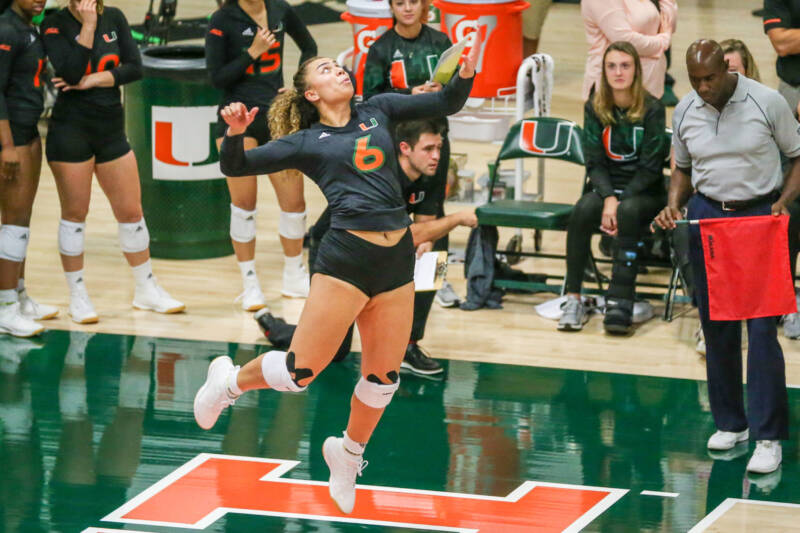 Grieve, a redshirt freshman, missed out on the season last year with a foot injury, but you would never know it by the tenacity she's brought to the court this preseason.
"She has an edge to her that we haven't had in a long time. Maybe Haley Templeton had a little bit of an edge, but Angie has an edge and that was really surprising, I didn't know that about her," Crider said. "She'll get feisty, she'll get after people, get after the person with the whistle making the bad calls. It's refreshing to have that and be able to bark at somebody and have them bark back is something we haven't had a lot of."
Not only will she be heard on the court, but Grieve's volleyball IQ is one that Crider believes has helped her become a great passer and defender.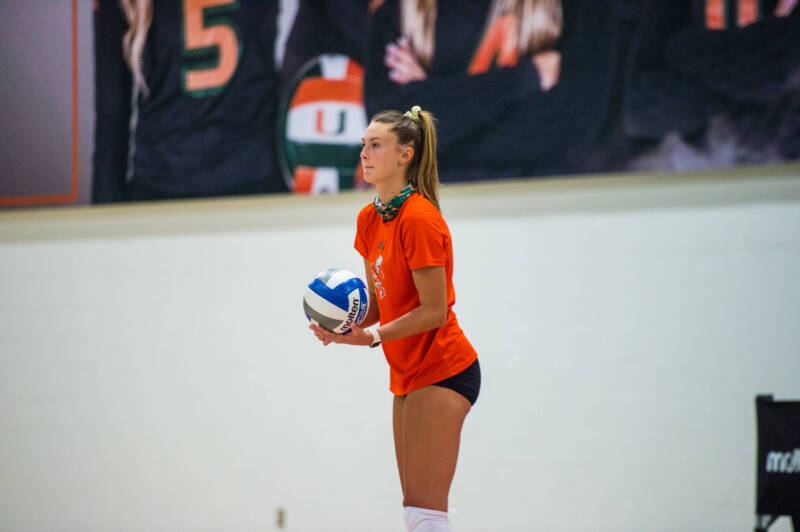 Hernandez is another strong passer for the Canes. Known for being the team's hype-woman, the junior has made her presence known on the court by her direction to her teammates both during and after plays and her passing skills.
After three seasons, Hernandez hopes to be one of the best passers in the conference and thinks the Canes can make a real run for the conference  title this season – an idea Vach also believes in.
"With this season's schedule being set up a bit differently, I think we have good chance of being in the top, if not the top team in the ACC," Vach said.
With key players returning such as Vach and two-time All-ACC pick Elizaveta Lukianova and the addition of five talented freshmen, the Canes are in good shape for the upcoming season.
Freshmen have played big roles for the Hurricanes in the previous two seasons and Crider expects Lauren Tarnoff, a middle blocker from California, to compete for a starting position early.
"Lauren is a little more poised than you'd expect a traditional middle freshman to be," Crider said. "Usually, if everything's not lined up right, they want to whack it out of bounds and she's capable of keeping it in play. She's got a pretty good knack at the net as a blocker and the gap for her as a freshman might be a little smaller than it would traditionally be for a typical freshman, but it's still a jump."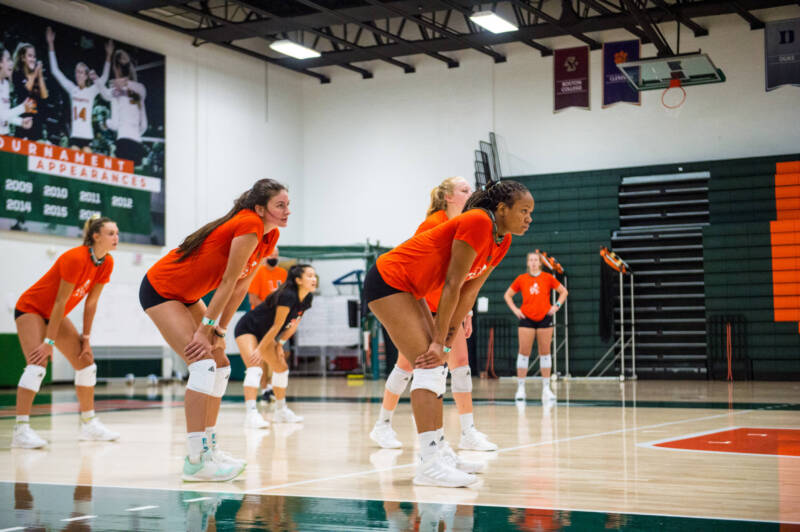 Noelle Piatas, Michlina Rola, Grace Thayer and Daphne Mall have also flashed their skills early on in practice. Each have their own specialties, but Crider is excited to see how well they adapt and improve over the next few weeks.
Although COVID-19 has impacted the squad's normal process, the resiliency of the team and the effort hasn't been lacking in the gym. With all the changes and uncertainty, one familiar face has been making the transition of the young freshman a little easier.
Cameron Dobbs will finish her final season with the Canes as a student assistant coach. After taking a medical redshirt a year ago, Dobbs has been a positive outlet for many of the Canes and has helped the overall environment in the gym.
"She's played a huge early role with the young middles and her positive energy is always something we need in the gym," Crider said.