Championship Attitude with Young & Throws
Earning a spot at the NCAA Track and Field National Championships is a goal for every collegiate track athlete and coach.
Cory Young was in the stands for his first NCAA championship meet not even a year old. He hasn't stopped making appearances since.
Young watched his father, Dennis, win the NCAA Division II Discus Throw in 1981 with Indiana Central, now University of Indianapolis. Young followed in his father's footsteps and attended Indianapolis earning his degree in computer information systems and competing for the Greyhounds on the track and field team.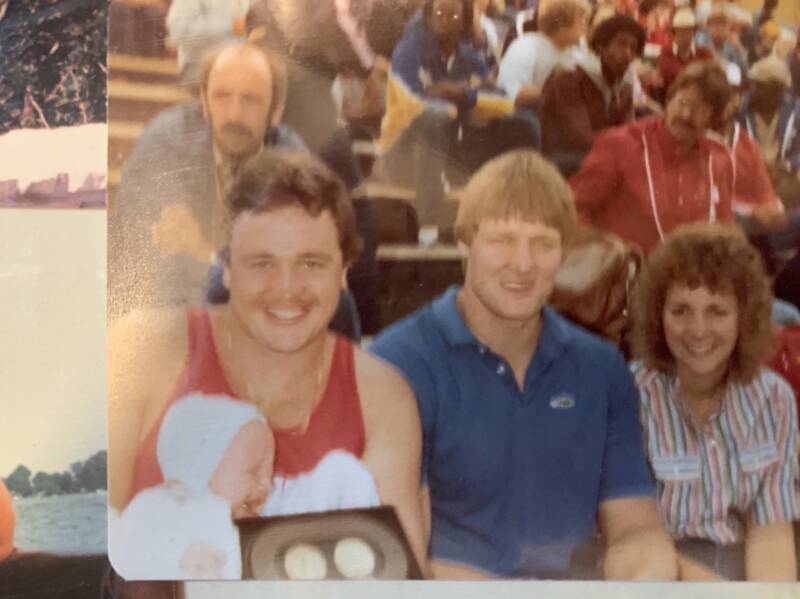 But it's not the legacy that Dennis is most proud of – it's Young's family and career success.
"Cory is a good husband and a good father and that makes you as proud as anything," the elder Young said. "It's a dream to coach at the highest level and Cory has progressed through smaller schools to now and I can't say how proud I am of him and what he is. He found something he loves and enjoys it."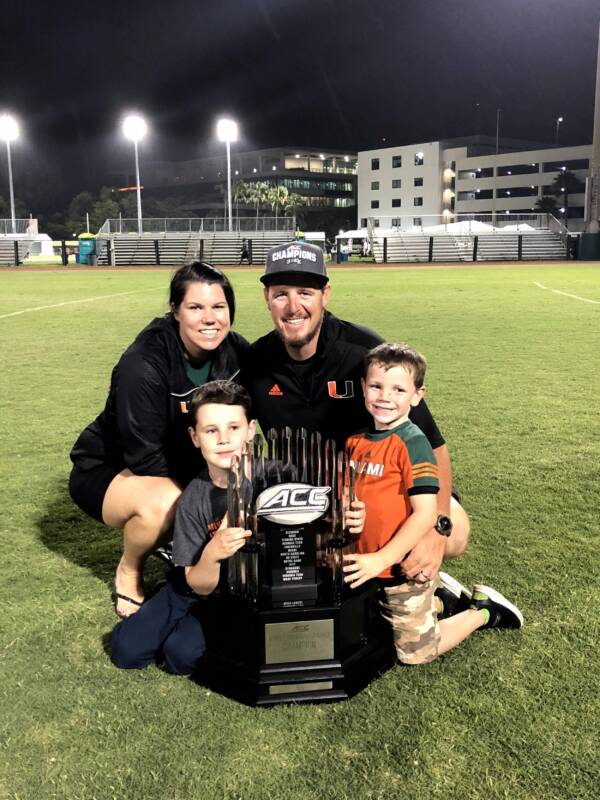 Dennis helped Young with his start in the sport and from there, Young's career was off and running.
Young competed in the 2005 NCAA National Championships meet and finished ninth in the hammer throw. It was there, at his meet, that he was approached by a former coach to work at Western State College.
"I've been around the sport forever," Young said. "I think in that aspect [growing up watching my dad], made it unique in a way. I've always had that knack and coaching has always been in my blood. My dad was a natural coach and it just seemed like one of those things what would happen. I was always the one trying to help out people. [When I was training] I was always communicating with my teammates, looking out for them if my coach was with someone else at the time."
At the time, Young wasn't sold on coaching as a career. He had an opportunity to work with Gill Athletics, a track and field equipment company, but ultimately decided to take the job in Gunnison, Colo., to work at the small Division II school as the throws coach.
After one season with WSC, Grand Valley State sparked an interest in the young coach. GVS, the 'kings of the castle' of Division II -as Young described them- saw immediate success with Young and the throws squad.
The women's side finished in the top five at both the NCAA Indoor and Outdoor National Championships in his first season. It was in his fifth season with the Lakers that the team had swept the cross country, indoor and outdoor national team titles and Young coached his first-ever national champion, Lauren Buresh.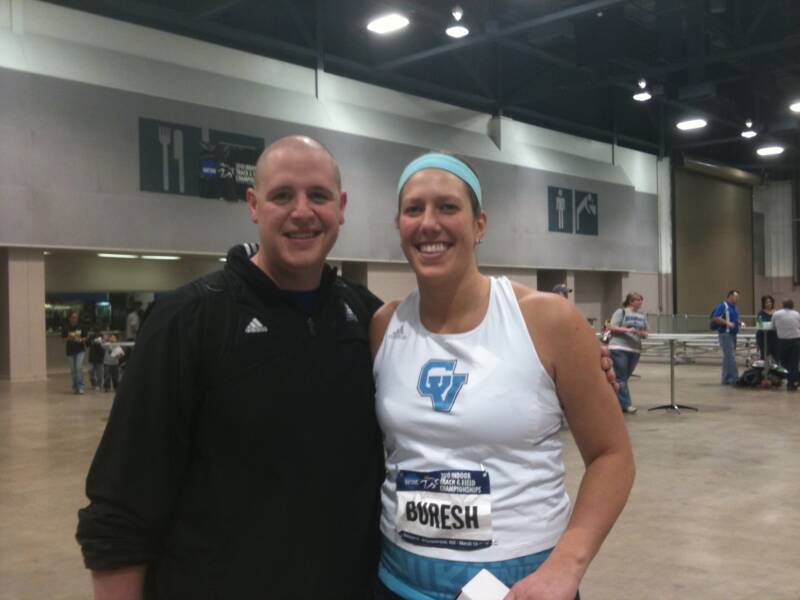 Winning that first indoor title continues to be one of the highlights of coach Young's career.
"I think winning that first team title was one of the biggest moments in my career to date," Young said.
With success comes change. Calls started rolling in, and interest in Young was rising.
The University of Kentucky was the next stop on the list, for the 2011-12 season. It was his first Division I track and field program, and unsurprisingly, his success continued. In his lone season with the Wildcats, Young coached the only two All-Americans for the team and guided the SEC discus champion and school-record javelin thrower.
A head coaching change altered Young's path in Lexington, Ky. Young was interviewing for other jobs, his wife Beth was pregnant with their second son Parker and Young decided to move back to Indianapolis with his oldest son, Deklan.
Then Miami called.
And what a call it was.
"I got a call from Coach [Amy] Deem from the Olympic games when she was in London," Young said. "It was surreal and it was just one of those things that one, for her to call from the Olympic Games and now the more I know Coach Deem, that's just her. To think you have all this stuff going on and putting two and two together and being at the Olympic Games… it was pretty sweet to have that interaction with somebody when they were over there."
Deem vividly remembers the midnight call she made to Young in her townhouse at the Olympic Village. She instantly knew that Young would be a great fit at Miami and for her coaching staff.
Eight years later, Young and his throws squad are continuing to reach unprecedented heights.
"He leads his group with passion and knowledge," director of track and field/cross country Deem said. "He is a tremendous teacher and is determined to bring out the best in all the athletes he coaches. He is a steady force not only for our athletes, but for the staff as well."
His initial core group of three throwers– Isaiah Simmons, Leah Johnson and Amber Monroe – to begin his career as a Cane are still in the record books. Johnson was an NCAA All-American and Simmons boasts Miami's program record in both indoor and outdoor shot put. From there, the likes of Gian Piero Ragonesi (discus throw record holder) and Kevin Arreaga, current student-athlete and weight throw record holder, have continued to show the benefits of Young's leadership.
On the women's side, Debbie Ajagbe had a breakout year in 2020, claiming two ACC Indoor Championships titles (shot put and weight throw), earning the ACC Indoor Championships MVP and being named the ACC Women's Indoor Performer of the Year.
"If I had to pick my favorite track meet or whatever, this indoor conference meet was by far the most competitive, the most exciting competition I've ever seen," Young said.
For Young, it's the athlete's work ethics that he credits success, not his coaching.
"My initial group laid the ground work for the groups to follow," Young said. "It all goes back to the beginning. Each year, those kids did well and they worked their butts off. They worked as hard as they possibly could day in and day out. I think that's why it's been like that from the beginning. We've created a culture of being at NCAA meets or an All-American as throwers. It's that mindset that gets passed on from one group to the next."
Through his years of success, both in Division II and now Division I, two things remained consistent: high expectations for himself and his ability to relate to his athletes.
"I want to be successful from the beginning. I don't think it matters if you're a NAIA, DII, DIII, or a Power 5 DI coach," Young said. "Your goal is to help those kids, one, and then two, you want them to be successful at the best level they can be. I don't think that changes at any level."
Having the experience of being an NCAA athlete and working the ropes from the beginning has allowed Young to relate to his athletes on closer level. One of the earliest things he learned – not everyone can be coached the same.
"I look for work ethic and that hasn't changed at the level I'm at," Young said. "It's what we have now. You can go up and down the list of our throwers, they all have it. That's what will always be the same no matter what until the say I stop coaching is to instill in those kids  that it's about work ethic."
The future is bright for the Canes' throws squad with Young in charge. Ajagbe and Arreaga earned spots at the 2020 NCAA Track and Field Indoor Championships and were named All-Americans. The pair will return for the 2021 season, teaming with redshirt senior Zakiya Rashid and Hannah-Sophia Hall on the women's side. Arreaga will be joined by Jeff Williams on the men's side.
Nine of his Miami athletes – Ajagbe, Arreaga, Johnson, Monroe, Tiffany Okieme, Precious Ogunleye, Ragonesi, Rashid and Simmons – have made it to the NCAA Division I Track and Field National Championships.
His next goal? To coach a Miami National Champion.
"The potential is very high on both teams and I know our kids have high expectations as well and they are working hard," Young said.