Family Competition and Support: Gabriela Rusek
CORAL GABLES, Fla. – A multi-sport athlete growing up, one always reigned supreme for Gabriela Rusek.
The youngest of three, competition was never scarce in the Rusek household. In turn, neither were the array of sport options.
Always trying to keep up and learn from her older brothers, she grew up watching her oldest, Matthew, wrestle and run cross country and track at the high school level. Meanwhile, her other brother, Nick, played soccer at the club and high school varsity level, before making the decision to hang up his cleats and pursue a diving career at Tennessee.
"My siblings and I are all very athletic so growing up I played so many sports from basketball, diving, swimming, lacrosse and gymnastics. But, soccer had always been my number one sport," Rusek said.
Along with her strong relationship with her brothers, Rusek also is appreciative of her parents' support through the years.
"My parents are very hard-working and supportive people," Rusek said. "I've learned to never give up no matter how difficult and hard the situation may be. They also taught me that working hard will always pay off if you stay consistent."
First hitting the pitch at the age of four, the 5-foot-6 midfielder/forward from Warwick, N.Y., later became a four-year varsity starter for Warwick Valley High School and a two-time NPL Champ with Quickstrike FC.
A versatile player, her experience at numerous of positions is something that stuck out to head coach Sarah Barnes during the recruiting process.
"We anticipate Gabi's versatile experience in a variety of positions will help her make an impact at Miami," Barnes said. "She likes a challenging environment, loves to play and is the type of player who puts the team's needs first. Gabi sets high standards and that will help her to deal with the challenges of the college game, while continuing to improve as a student, athlete and soccer player."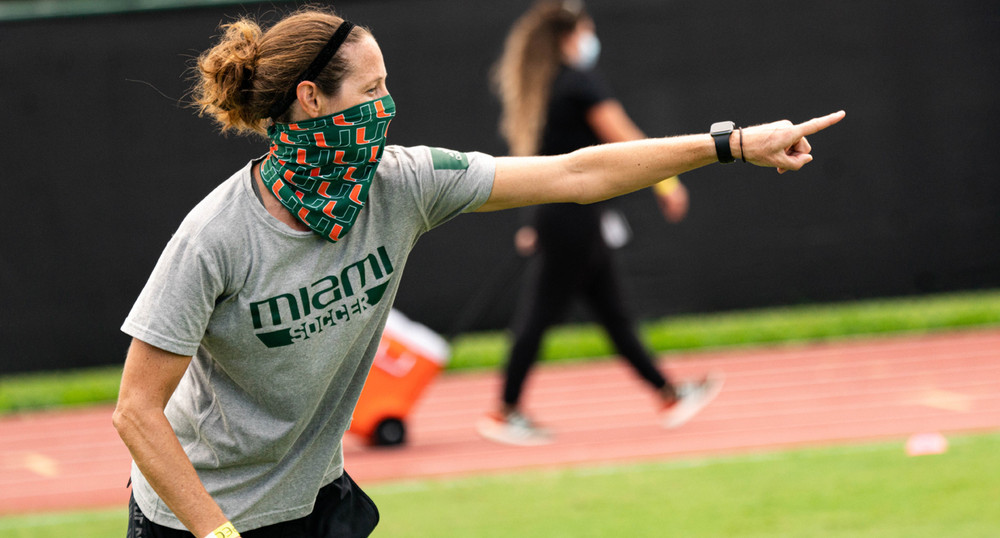 For Rusek, she is happy to help the team anyway possible, but when asked about her favorite position she has played over the years, two were quick to come to mind.
"My favorite position to play is either center forward or outside back. Outside back you get to do both defending and attacking and that position is a very vital role on a soccer team. Center forward is also my favorite because not only am I in the lead scoring position, but I can also set my teammates up as well," Rusek said. "My style of play is very calm and simple. Some of my strengths are being able to see the entire field. One thing I am looking to work on [this summer] are 1v1 situations with the keeper."
Now nearly a month into her first year at Miami and just days away from starting classes, Rusek looked back on her recruitment to UM and shared why she decided to commit to The U.
"It was definitely a stressful time trying to get recognized by coaches and making sure I played well at every game, but the entire [Miami] coaching staff was very nice and helpful with any questions that I had," Rusek said.  "I ultimately fell in love with the campus and the atmosphere that was created by being a part of The University of Miami. I had a couple other schools I was considering, but once I visited Miami, I knew that it was the school I wanted to attend."
Officially a member of The U and enrolled in the business school, Rusek is excited for the season to begin.
"My goals heading into my first season is to make a positive impact on the team in any way possible. I hope to bring positive energy and be a player that my teammates can count on," Rusek said. "Overall, I hope to become the best soccer player and person that I can be and grow and learn from any experiences that come my way."