Barnes Adds Two to 2020 Recruiting Class
CORAL GABLES, Fla. – University of Miami head soccer coach Sarah Barnes announced Friday the addition of two players to the team's 2020 recruiting class.
After signing nine on national signing day, the Hurricanes have now inked Wisconsin transfer Johanna Barth and German standout Ena Taslidza.
"We are excited for Johanna and Ena to join the Hurricane family," Barnes said. "Their experience and competitiveness will help our program continue to grow."
A 5-foot-5-inch midfielder from Rydeback, Sweden, Barth joins the Hurricanes after two season with the Badgers.
"I am most excited about getting the opportunity to play with a new group of talented girls in a conference that is very competitive and challenging," Barth said. "I am very excited to join The U and I cannot wait for the season to start."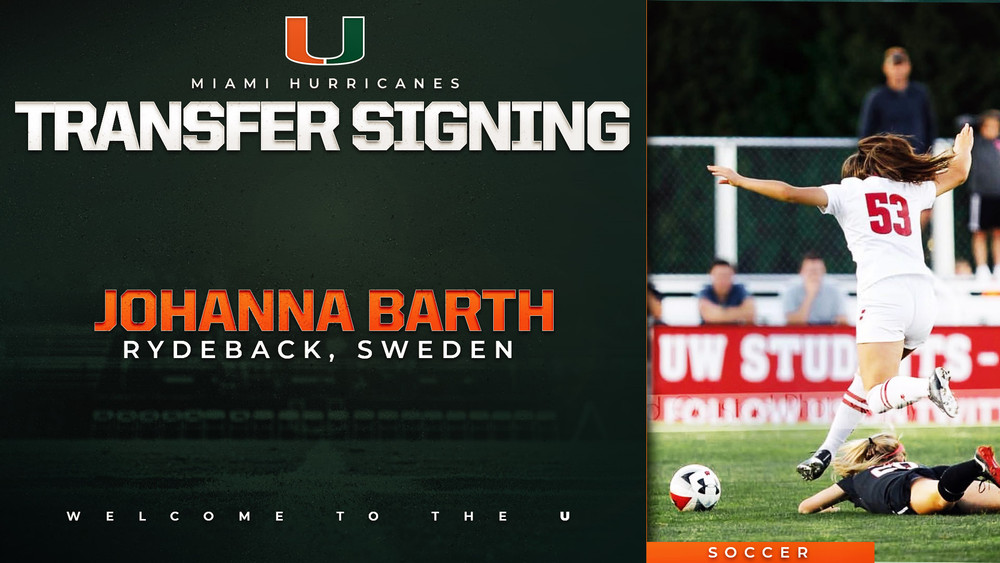 Prior to her time at Wisconsin, she played as a member of the renowned FC Rosengård A-Team. She won the Mediterranean Cup in 2014, competed in the 2016 and 2017 International Tournament Scania Women's Cup in France and played in a friendly against Chelsea.
Barth has been to many prestigious camps including the Swedish U-20 National Development Camp. She was also a member of the 2016 Swedish Championship team with the provincial rep, the 2016-17 Swedish champions team in the Swedish Cup and the silver medalist team in the 2016-17 Damallsvenskan.
Overall, she made two appearances in the Swedish top league, Damallsvenskan, and earned two caps with the Swedish under-19 national team against Russia and Finland.
Taslidza comes to Miami from Darmstadt, Germany, where she competed in the Second Bundesliga division for FFC Frankfurt.
A 5-foot-7-inch forward, Taslidza earned the top goal scorer award in Germany with 87 tallies in 2016. Competing in the Hessenauswahl league, her team won back-to-back German championships in 2018 and 2019.
"I am very excited because it's a big step in my career to play in the USA. Everything is so different to Germany and I know I will learn a lot from my teammates and coaches," Taslidza said. "I decided to join the Hurricanes because [the coaches] put a lot of work into the development of their players. I know I will not only develop as a person, but also as a player [at Miami], and that's the most important thing for me. It will be a great experience and I can't wait to score some goals for my new team."
Barth and Taslidza join Mia Atrio, Michaela Baker, Annie Blair, Delaney Brown, Hannah Dawbarn, Julia Edwards, Katerina Molina, Garbiela Rusek and Cailey Wesolowsky in Miami's 2020 recruiting class.