Flaquer's Journey for Success Continues at The U
"All of life is peaks and valleys. Don't let the peaks get too high and the valleys too low."

John Wooden
I'd been dying to ask him this, since I stumbled upon it during my research for our interview. If his father is Pedro Grajales, a two-time Olympian in '64 and '68 and national hero in track and field for Colombia, why was he raised in Samson, Alabama?
"Oh man … well how much time do we got?"
One glance at his resume and glimpse into his life story, I realized that Diego Flaquer, the men's sprints coach for the University of Miami, had a long winding path to where he is now. Because of his vast experience in track and field, I assumed he was a middle-aged man. I walked into his office and saw a 37 year old who looked 10 years younger than that. "Yeah, I don't look it … I get that a lot," Flaquer chuckles.
Flaquer is the son of Pedro Grajales, a two-time Olympian in the 400m and a former coach for the Colombian national team. Diego Flaquer was originally Diego Grajales, before he changed his name to his adoptive family's surname for immigration purposes. He moved to Samson, Alabama in 1995, a year after his biological mother passed away. He was only 11 years old. His aunt in Miami helped orchestrate the whole immigration process. His father has always told him, "If you're going to swim, you have to jump in."
When I looked around the room, it was hard to miss the All-American plaques of his former athletes, the black and white pictures of his father competing in the Olympics; however, what caught my eye was a book on his desk simply titled WOODEN, filled with quotes from the legendary UCLA men's college basketball coach John Wooden. Wooden's resolve for tough times and genuine care for his players as people really resonates with Flaquer. He also gravitated towards Wooden because he fell in love with basketball when he moved to the United States and thought he would be the next Michael Jordan.
"It's the little details that are vital. Little things make big things happen." – John Wooden
The biggest misconception of his job is that he simply tells kids to run fast and turn left. There is a huge mental aspect to track and field that is grossly underrated. He prepares his athletes for balancing the focus, the adrenaline, and the pressure that comes with competing in any track meet.
Raheem Chambers, a senior sprinter at Miami from Jamaica, is one of those athletes that shares Flaquer's focus.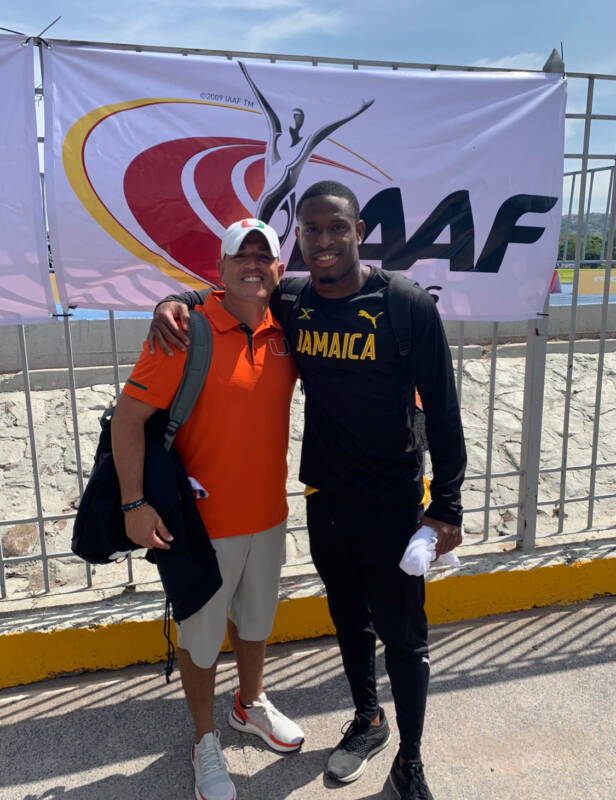 "Coach Diego and I have an amazing relationship … We see eye to eye, we are both hungry for success and we both respect each other." Raheem sees Flaquer as more than a coach and more as a father figure because he really has Raheem's best interests at heart on and off the track.
"When we went to the ACC Championships last year, we weren't predicted to win a medal. The night before Coach Diego gave us a pep talk and we eventually placed third." That was the happiest Raheem had ever seen Coach Flaquer and his favorite moment at the university so far.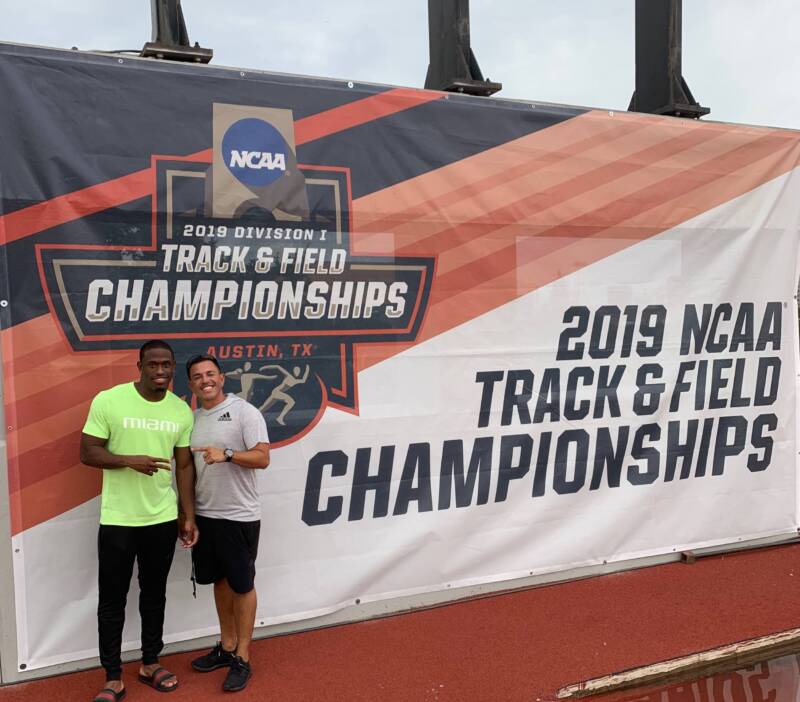 Flaquer's relationship with McKinly Brown, a senior long distance sprinter and hurdler, has evolved quite a bit over the last three and a half years. Even when things got rough for McKinly and injuries would occur, Flaquer never gave up on him. "Coach Diego's motto 'Faith, Patience, Focus' is something that I can relate to anything in life."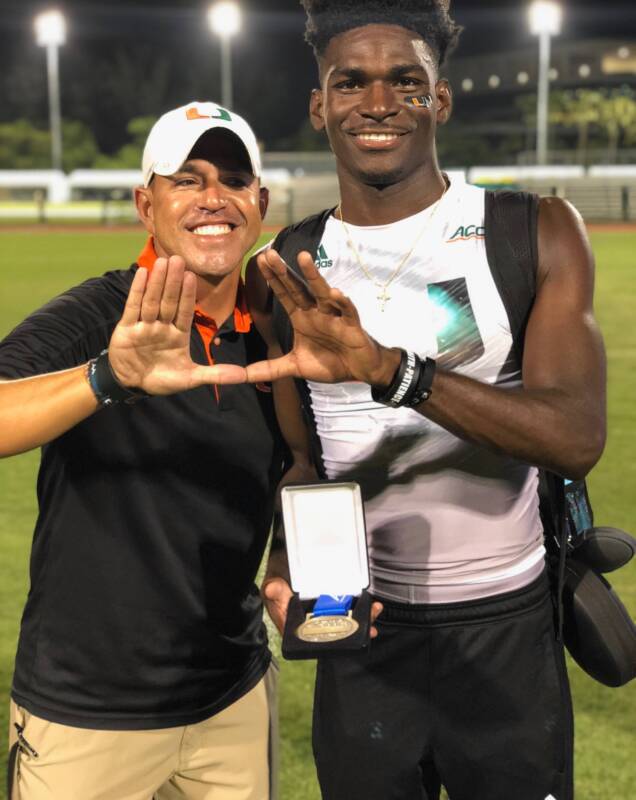 Flaquer has coached three NCAA runner-ups, two in the 60m and one in the 100m. He has also coached three athletes under 6.60 seconds in the 60m, five under 10.1 seconds in the 100m and five under 20.50 in the 200m. That is an impressive track record for a coach his age. Flaquer would love to coach an Olympic finalist or medalist at some point in his career. He's had an Olympic runner before in Marcus Rowland, a first team All-American at Auburn that ran in the relay pool in the 2012 London Games.
After four years at Auburn, Flaquer moved on to Oklahoma State in 2014 where he coached another famous All-American – Tyreek Hill. In spring 2014, during Hill's redshirt freshman year, he won the Big XII Conference indoor title for the 200m with only a month of training. Two weeks later, Hill was sporting a partially strained quad and there was a 50/50 chance that Hill would be fine and compete in the Indoor Nationals or he could pull the muscle. The last thing Flaquer wanted was to give an injured Hill back to Oklahoma State football coach Mike Gundy. Flaquer left the decision up to "Joker", Hill's affectionate nickname; he ran and finished second in the semifinal and fourth in the final. Flaquer still maintains a relationship with the Kansas City Chiefs star wide receiver and Super Bowl Champion.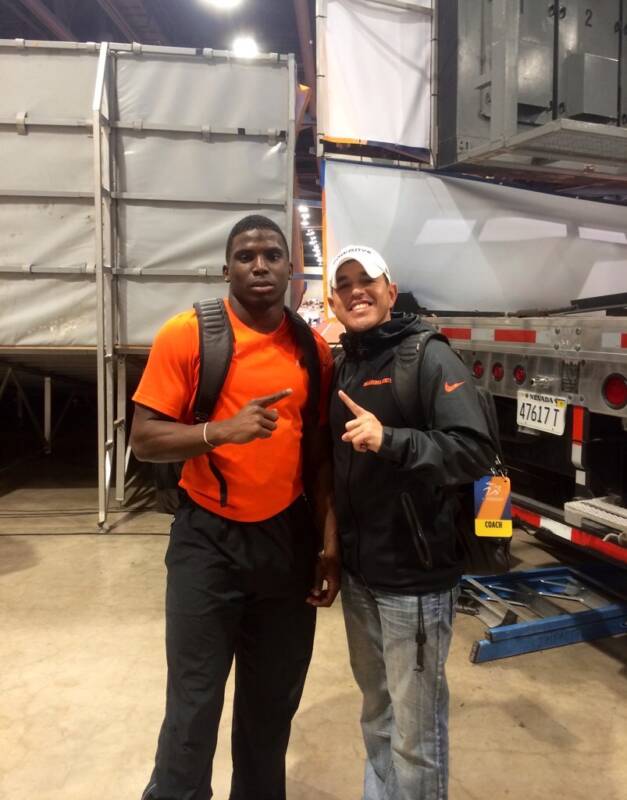 "Ability may get you to the top, but it takes character to keep you there." – John Wooden
It is fair to say that Flaquer has had an unusual journey. If there is one thing he has learned so far, it's how unexpected life can be. Relationships and resilience were both key.
For Flaquer, life has been good for a while now. He's in his dream spot – closer than ever to his native Colombia while still coaching for a Division I men's track and field program that has a storied past and promising future. He could do without Miami's high rent prices, but the city gives him a sense of home. He's living in a multicultural Latin community for the first time since his childhood.
Nonetheless, Flaquer understands that the sports industry is a results-oriented business. Getting results takes relationships and resilience – two things life has taught him very well. Flaquer knows how hard it was to get to this level and how much harder it is to stay there. As long as he keeps bringing in results, he keeps living the dream.
Right now, his job is all about The U, but when he is off the clock it's all about Titus, his green-eyed blue brindle French bulldog that's only eight months old. He will have his family, his mentors, his former athletes, and Titus by his side for whatever life throws at him next.
"Things turn out best for the people who make the best of the way things turn out." – John Wooden