Ouendeno Embracing NASCAR Opportunity
Dalanda Ouendeno had already made two trips to the Charlotte Motor Speedway as part of NASCAR's Drive for Diversity program.
Her third was an experience unlike any other.
On that memorable May afternoon, Ouendeno was no longer a spectator in the stands excitedly watching the track below buzz with activity.
After months of intense training and enduring an unexpected pause to her fledgling career, Ouendeno donned her very own fire suit and finally, walked onto the track to work her first race as a pit crew member for NASCAR Gander RV & Outdoors Truck Series driver T.J. Bell.
It was, as she imagined it might be, a surreal moment.
"The last time I was at the Charlotte Motor Speedway before my race, I had no idea the next time I'd be there that I'd race there. So I was like, 'Wow,'" laughed Ouendeno, a former defender for the Hurricanes women's soccer team. "But by the time the race started, I was not nervous anymore. I had practiced for it. There was no reason to be nervous.
"Everything just changed, having the fire suit on. I felt proud. I thought, 'I can't wait to do this and really be official.' Once I got to finally do it, it was great. I was excited."
There was plenty of reason for that excitement.
That day, not only did Ouendeno take the next big steps of her career, but she made history, too, becoming the first foreign-born woman of color to serve on a pit crew after working through NASCAR's Drive for Diversity Program.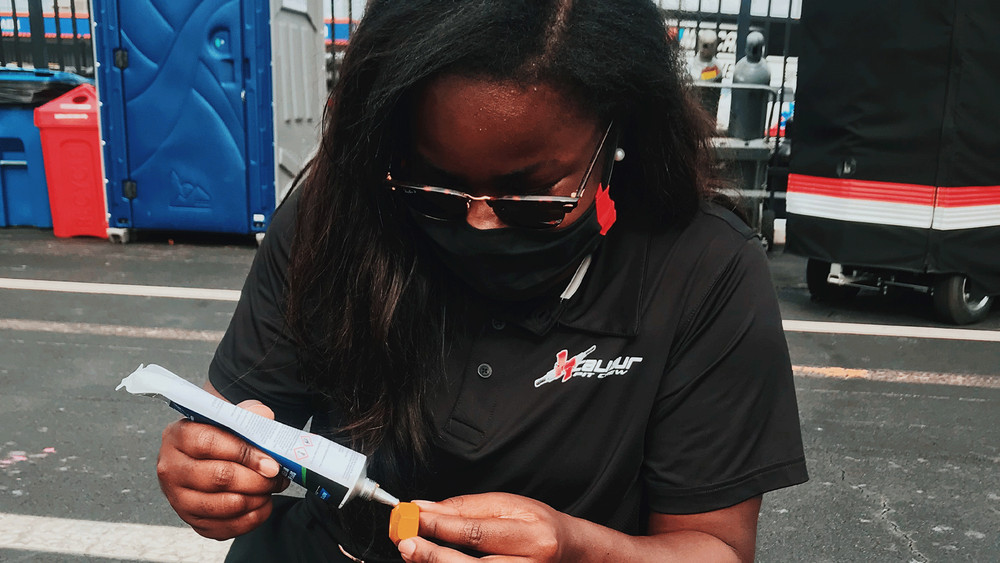 Given that she had no idea what NASCAR was while growing up in France and playing soccer in her hometown of Paris, the significance of that isn't lost on Ouendeno or those who helped her find her way onto the track.
"She is definitely the profile of someone we want to bring into the sport," said Dawn Harris, NASCAR's managing director of diversity and inclusion. "She didn't necessarily grow up around it, particularly in Europe and she didn't really have an understanding of it. But, she comes from an athletic background and having that kind of athletic mentality helps in both the training protocols and at the competition level. All of those things have been great assets as she transitioned into the Drive for Diversity program."
So, how exactly did a French soccer player find herself dodging smoke and flames while changing a scalding hot tire on a NASCAR truck? Ouendeno can't help but chuckle when she recounts how she had no idea what she was doing when she walked into a Drive for Diversity recruiting event at UM's Carol Soffer Indoor Practice Facility last year.
It was weeks before graduation and Ouendeno wasn't sure what she'd do after getting her degree. She knew she could return home and play professional soccer in Europe, but she wasn't 100 percent sure that was what she wanted.
That on-campus NASCAR tryout opened her eyes to a most unexpected opportunity.
"I said, 'Let me check it out' and at the combine, I had to do pushups and they wanted to see your foot speed, so I did that and was like, 'Let's see what happens,'" Ouendeno said. "I guess I was interested because it was athletic. It was sports, but it was different from soccer; the opportunity to try something new. They showed us some pictures from races and it seemed pretty cool. That made me want to do it, too."
Her performance that day impressed the NASCAR recruiters who were at the event including Phil Horton, the director of athletic performance for Rev Racing and the pit crew coach for the Drive for Diversity Crew Member Development Program
Before long, Ouendeno had an invitation to attend a training combine in Charlotte. There, too, she showed an ability to handle not only the physical challenges of working on a pit crew, but the focus and concentration needed to excel on the track.
"She's an athlete, a true athlete. … To reach the level that she did, a Division I soccer player at the University of Miami, that helped her a lot," Horton said. "She may not have known what she was doing when she got there, but she knew how to carry herself. She knew how to position herself to learn and she absorbed things like a sponge. Her transition was not as hard as it is for a lot of individuals. … Her college experience really helped her in the long run."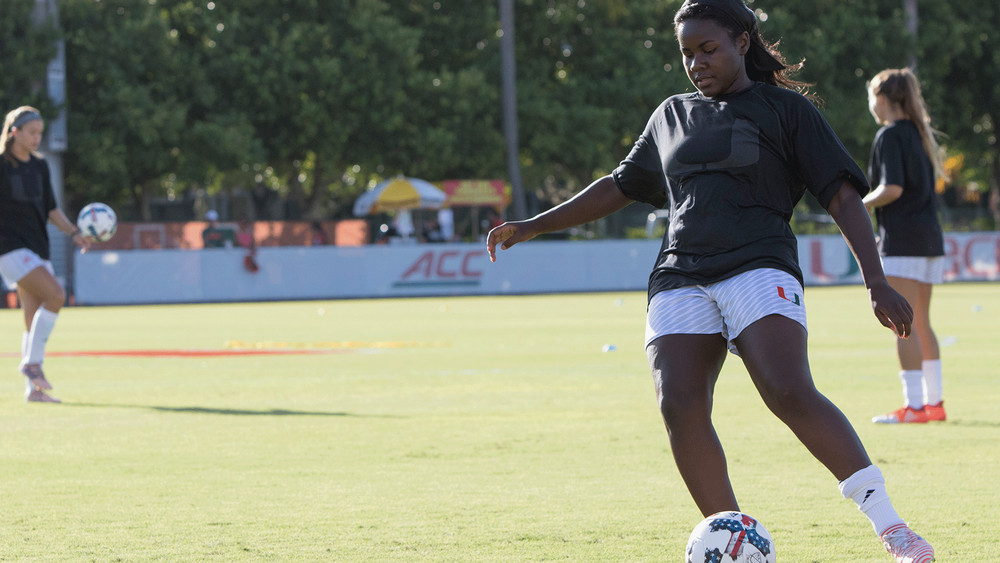 After performing well at both her tryout and at the national combine, Ouendeno was accepted into the Drive for Diversity program. She moved to Charlotte and forged through a process Horton described as "a six-month period where we have to cram about five years of knowledge in them." She was set to make her debut earlier this year when NASCAR races – like sports everywhere – were halted by the COVID-19 pandemic.
Suddenly, Ouendeno found herself on her own in a relatively new city, wondering when she'd be able to test all her newfound knowledge and work her first race.
It was a setback neither she nor Horton could have expected.
"I think the most important thing for me during that time was to stay in shape, to keep working out and being as safe as possible," Ouendeno said. "The toughest thing was being away from my family. Being away from my family and [being] without the NASCAR races … that had kind of given purpose to the weeks and the months I'd been practicing. When it stopped I was like, 'What am I doing with my day now?' I tried to fill my days with workouts, but I had to stay mentally strong. I was calling my family every day. I wanted to make sure they were alright and they wanted to make sure I was alright, too. They were super nervous for me, being in a foreign country with a pandemic."
Added Horton, "She was set to do her first race in Pensacola the same day that everything shut down in the United States. … It was definitely a disappointment and it slowed down her progress. We had her come in and practice solo at the facility to try and stay fresh. … She tried to stay pretty much up on everything. Then we threw her into the lion's den. It wasn't your traditional start, but she handled it well."
"We're so proud every time we see Dalanda working in NASCAR. ... She has taken an amazing opportunity to do something she never considered and excel."

Hurricanes soccer coach Sarah Barnes
Once NASCAR resumed racing, the opportunity for Ouendeno to get on the track returned and in May, she finally got her chance. After serving on Bell's crew in the North Carolina Education Lottery 200, she had the chance to return to South Florida and worked a race at Homestead.
It was, for both Ouendeno and her former teammates, a reason to celebrate – even if they couldn't be reunited in person because of the pandemic.
"The weather, the humidity, a lot of people don't like it, but when I got there, it just reminded me of college," Ouendeno said. "The palm trees, the water. I texted everybody that I was getting a race at Miami."
Added Hurricanes soccer coach Sarah Barnes, "We're so proud every time we see Dalanda working in NASCAR. The team keeps track of her and sends reminders that we can watch Dalanda [and her races] on TV. She has taken an amazing opportunity to do something she never considered and excel. The NCAA environment prepares our athletes, like Dalanda, to be great employees. They've learned to be flexible and adapt. They know what hard work looks like if you want to be great at what you do and they're team players."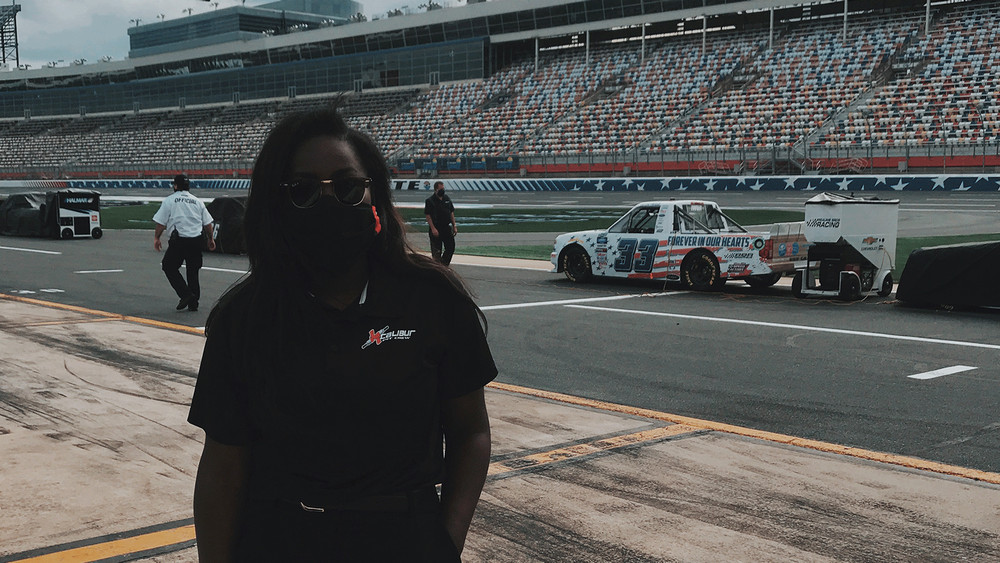 With her first races now under her belt, Ouendeno has started thinking about her future in her newfound sport. Working her way from the Truck series to the Cup series may take time, but, she's ready to put in the work to get there.
And, Ouendeno couldn't be more proud of how NASCAR has embraced her and how it has tried to welcome more drivers, pit crew members and fans from increasingly diverse backgrounds.
"It's really good to see what they've done," Ouendeno said. "It's been really cool and I think it's better for the sport. To me, it's made me feel more welcome. Seeing the support [for NASCAR driver Bubba Wallace] was really emotional. I was so proud of NASCAR. I'm from another country and I was not familiar with NASCAR, but seeing the people I got to know, who've been working in NASCAR for a long time be supportive of him, I was glad to see it. It was a big step for NASCAR and I'm glad it happened."