This Week in Hurricanes History: Miami Claims 2018 ACC Outdoor Title
No one was going to come to our track and take that title away from us.

Michelle Atherley
Setbacks happen. Top performances will not come about at every meet.
The women of the Miami track and field team had one of those meets at the 2018 ACC Indoor Championships. In what the UM Hall of Famer describes as one of the most brutal meets she has coached, Miami Director of track and field/cross country Amy Deem saw the disappointment in her team's eyes after their performances.
What happened three months later was a different story.
The fire was lit and their goal was set. The Hurricanes were hosting the ACC Outdoor Championships for the first time since 2009, when in-state rival Florida State took the title. Miami was determined that wouldn't be the case this time around.
"The end of that indoor season set the tone for outdoor," Deem said. "We approached that meet with a sense of pride in defending our home turf and I think the coaching staff, as a whole, instilled in our team that we were going to compete to the best of our abilities."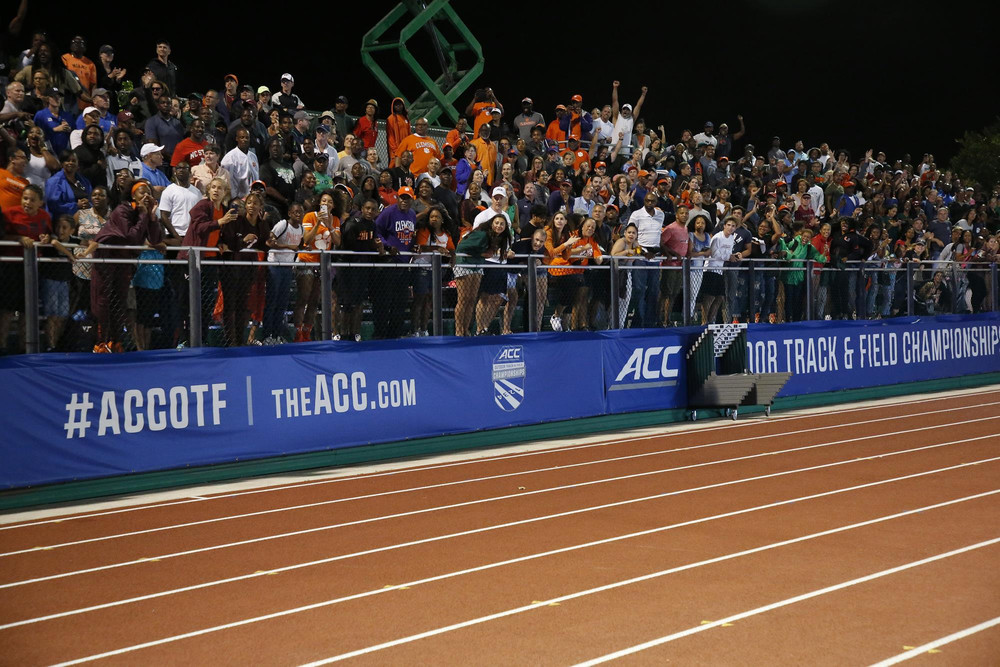 The atmosphere was set. It was graduation weekend and the stands were packed with friends, family, alumni, faculty and fellow UM student-athletes supporting Deem's Hurricanes.
There was a sense of comfort for the Canes on that first day of competition, knowing their home track and that the fans were there to support them. Michelle Atherley began day one of competition leading the heptathlon after four events with 3,633 points. Posting personal-bests in the 100m hurdles, shot put and the 200m dash, the junior took that momentum into the individual high jump event.
On Atherley's final attempt at 1.74m, the North Port, Fla., native cleared the bar to win her first individual gold medal at an ACC Championships meet.
"That was one of my favorite memories of that meet," Atherely said. "It was just such a shock for me because it was such a stacked field. I had made so many adjustments in my approach to adjust to how my body was feeling and when I cleared that bar, it was just like 'Oh my gosh, I really did that.' Typically, I'm a pretty serious competitor, so to have that kind of come out of me was really cool. I wish someone caught my reaction because I was truly shocked."
But Atherley wasn't the only Cane to score for Miami in the event. Celine Thompson claimed a place on the podium for the first time in her career, earning a silver medal after finishing second to her teammate, Atherley. Not knowing what place she was in after Atherley's jump, Thompson was just as surprised as Atherley to find out she had won the silver medal.
Those two really set the tone of the weekend. The high jump really fell into place for us and Celine stepped up big for the team with her performance.

Amy Deem
It would only get better from there.
Atherley wasted no time claiming her second gold medal of the weekend. The eventual 2018 ACC Outdoor Championships Field MVP won the heptathlon with a score of 5,793 points and added another 10 points to Miami's team total. Field events kept rolling for the Canes as then-freshman Debbie Ajagbe scored six of her nine total points of the day in her third-place performance in the shot put. Zakiya Rashid also added one point to the team's total with her eighth-place finish in the event.
Miami entered Championship Saturday sitting in third place with 38 points.
As is often the case at a conference championship meet, every point mattered. And the 2018 ACC Championships came down to the final event: the 4x400m relay.
The 4x100m relay team combined of Kristina Knott, Alfreda Steele, Symone Mason and Tiara McMinn ran a season-best time of 43.48 seconds to win the gold medal and set the tone for Miami on the track.
Mason and the Canes never slowed down, with the true freshman winning the 2018 ACC Outdoor Championships Women's Track MVP after an incredible showing in her first outdoor conference meet.
A Miami native, Mason went on to win the 400m dash with the second-fastest time in Miami history, 51.53 seconds.
Mason kept her adrenaline from the 4×100 and continued to roll. Just 80 minutes later, she claimed her second individual gold medal in the 200m dash final with her time of 23.01 seconds. Knott added another point for the Canes in the 200m dash with her eighth-place finish at 23.65 seconds.
It was special to see [Symone] run like that. She went out there and surprised everyone. She just shut people up with the way she ran and for her to earn that MVP title, and Michelle, was awesome. We just took over that day!

Samantha Gonzalez
Then it was Gonzalez's turn.
After graduating that weekend with her family in the stands to watch her race for the first time in months, the Texas native shook off all her usual nerves and delivered in her first-ever conference final event.
Gonzalez claimed the fourth gold medal of the day, winning the 400m hurdles with a then-personal-best time of 56.77 seconds that ranked fifth in the NCAA that season. Anna Runia added five more points with her fourth place finish in the 400 hurdles and the Canes continued to climb in the team standings.
"To finally achieve what I knew and what my coaches knew I was capable of was incredible," Gonzalez said. "So much went into that moment, I just felt like I was on top of the world. It was probably the highlight of my college career."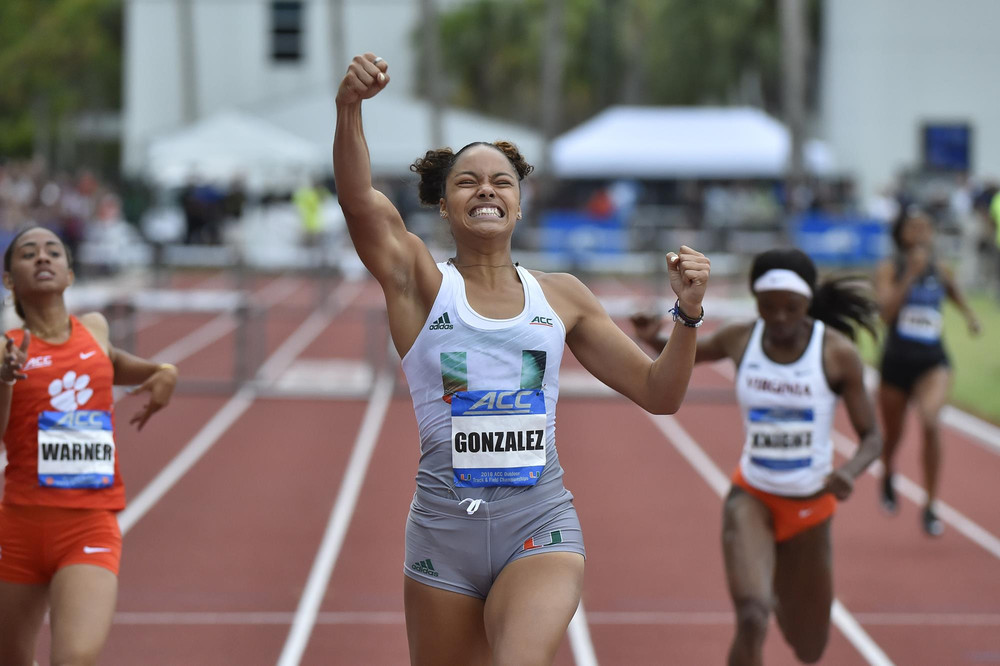 McMinn and Atherley totaled 10 points in the 100m hurdles after the then-freshman McMinn boasted a personal-best time of 13.10 seconds in the event for the bronze medal.
"Deem hyped us up before that day," McMinn said. "She really had us ready to go."
McMinn wasn't the only one who felt Deem's belief in the team prior to that last day of competition. Atherley said Deem made her whole team feel confident with her belief in them and really instilled in them that they were ready to protect their home track.
With senior Niara Hill taking bronze in the triple jump and both Rashid and Ajagbe scoring in the discus, Miami added 13 more points to its team tally and the Canes were right where they needed to be going into the 4×400.
Mason, Runia, Atherley and Gonzalez went on to claim the final gold of the weekend to secure Miami's third conference title in three years and prove that what happened three months earlier wasn't up to Miami's standard.
"That was an intense race. We went back-and-forth the whole time and all I remember was, I was tired," Gonzalez said. "My teammates set it up perfectly for me though, and I was just happy to be able to come home and finish it off. We did that. We won."
As for Deem, she didn't believe it when Director of Athletics Blake James congratulated her on the track for winning another title
I still thought the discus was going on, so I didn't think we had won it yet. I still, to this day, remember not thinking it was true.

Amy Deem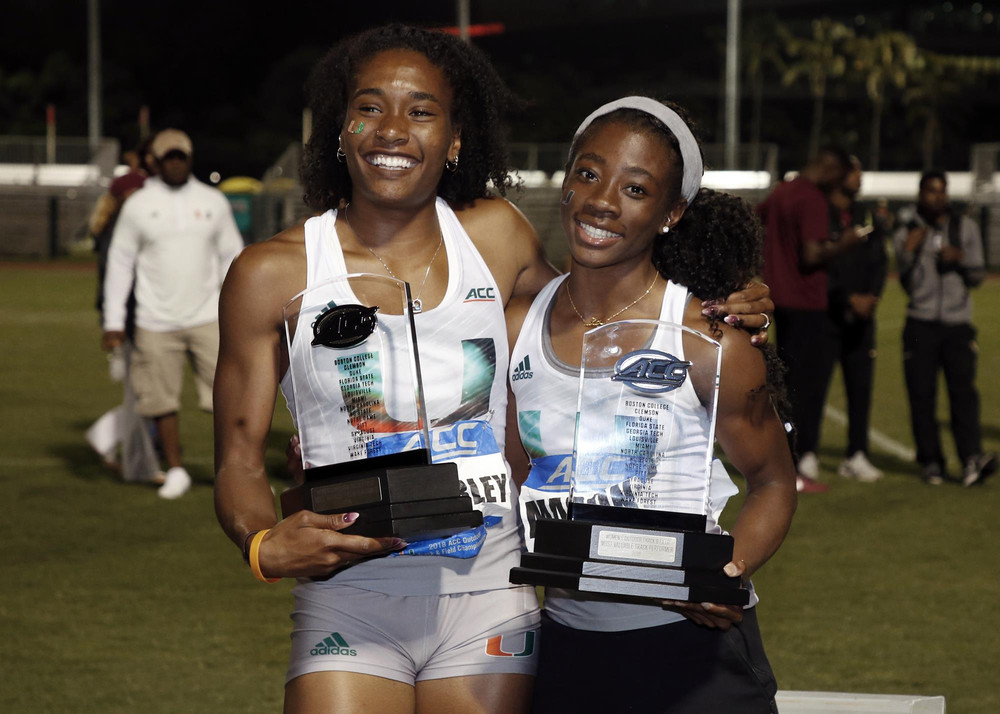 Eleven athletes combined to score Miami's 117 points to edge out Virginia Tech's 111. Mason and Atherley, who swept the MVP awards, led Miami in scoring for a combined 51.5 points, each competing in four events. Ajagbe introduced herself to the ACC, scoring 11 points as a true freshman in the throws.
Deem is the architect of the Miami track and field. Prior to her being named head coach in June 1990, the Hurricanes had never had an athlete record an NCAA qualifying mark. Since then, Deem had guided student-athletes to over 200 All-America honors and 17 individual national championships and produced nine Olympians.
Her Hurricanes have also won 16 conference titles, including eight since joining the ACC in 2005. Miami won four ACC titles over four seasons from 2016-2019, three indoor and one outdoor. But the 2018 outdoor title is a little more special than the rest.
"Three things, in no specific order, I will always remember about that win. One, that team came together and it was an all-out team performance. Two, it's always special being at home because it's a once in a career type of event to host conference and to win it. Three, we performed so poorly that indoor championships and to have that entire team bounce back and perform with the confidence and enthusiasm they showed was something very special to me."
The 2018 title was the first outdoor title in 12 seasons. Miami has claimed eight ACC titles, three outdoor and five indoor — all under Deem.