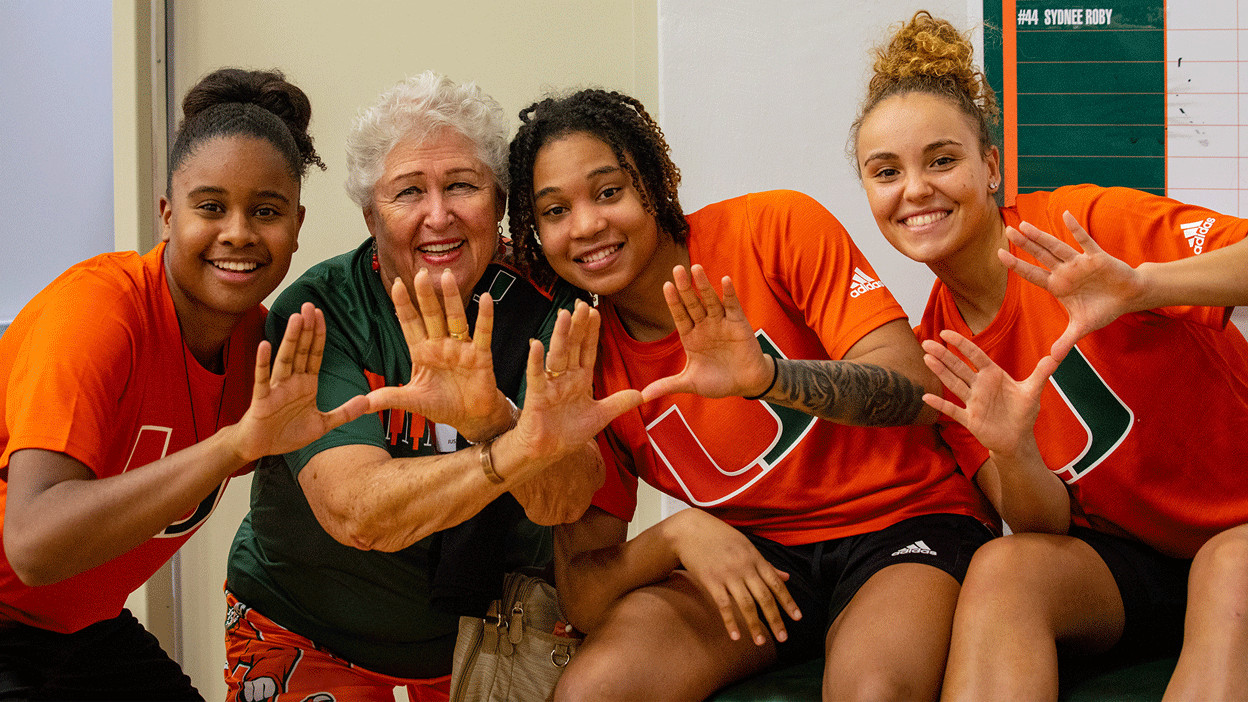 By Christy Cabrera Chirinos
HurricaneSports.com
CORAL GABLES, Fla. – She's been inducted into three different Halls of Fame, including the one at Miami, where she now coaches and at Duke, her alma mater.
She's been honored as the Associated Press Coach of the Year, the USA Basketball Coach of the Year, has led the Hurricanes to 10 straight postseason berths and in 2013, led Team USA to a gold medal at the FIBA U19 World Championships.
Still, it was the moment she learned Hurricanes fan BJ Abolt had given her program a special gift that left Miami women's basketball coach Katie Meier most humbled.
That gift? An endowed scholarship in Meier's name that will create countless opportunities for future generations of Hurricanes players.
"It is the highest honor in my entire athletic journey and it wasn't because I scored a basket or set a record or whatever," Meier said. "It was a person saying, 'I believe in your mission and everything you've done your whole life. … It's the biggest way you can say, 'Hey, Meier, I see what you're doing and I support you.' It was incredible."
For Abolt, a longtime member of the Golden Canes Society, committing to the scholarship gift and honoring Meier in the process felt like a natural move, given her connection to both the coach and the Hurricanes' program.
For years, Abolt and longtime friend Willie Mae Lamar, have been fixtures at Miami women's basketball games, even though that's meant logging some significant miles on the drives from their home in LaBelle to Coral Gables.
When the Hurricanes hit the road, Abolt is there too, her motor home taking her to more than a few different basketball venues across the Atlantic Coast Conference, as well as the ACC Tournament every year.
An Indiana native who "grew up with a basketball," Abolt's passion for the Hurricanes has grown over the course of several decades. It was her brother and his wife, a pair of Miami alums, who helped foster that passion, urging Abolt to join them in South Florida shortly after her brother's college graduation.
Abolt heeded their suggestion, moved to Miami and attended her first Hurricanes football game in 1963. She was hooked almost instantly.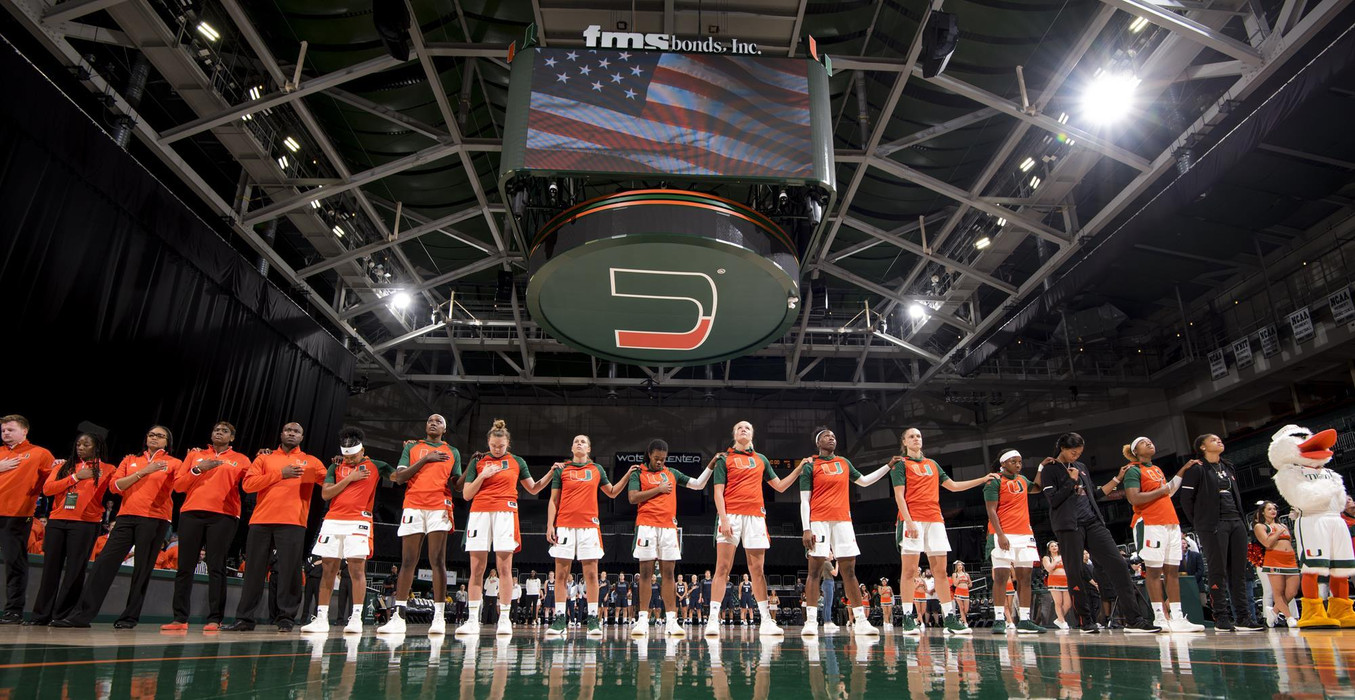 "I think it was the spirit," Abolt said. "The city's kind of magical and UM's magical. The more I got to know the people, I saw the passion and I liked it. Back then, you were either a Cane or you weren't a Cane and that was it. I'd go places and I'd always find myself defending UM when people would call it 'Suntan U.' I was at parties and I'd find myself spouting out statistics about scholastic achievements. Even though I wasn't a UM graduate, I still felt that passion."
As she built her own business in South Florida, Abolt continued attending as many Hurricanes football games as she could. She became more involved with the Miami program, joining the Hurricane Club and even being selected to serve on the club's onetime leadership committee.
But it was in 2005 – when Meier took over as coach – that Abolt felt a renewed connection to the Miami program.
"Being from Indiana, in my heart, I've always been a basketball fan. They had no sports for girls, but I played with the boys. It was always a joke. People would ask me, 'What team do you play for?' and I'd say 'The Backyard Boys,'" Abolt recalled. "Everybody would ask 'Who are the Backyard Boys' and I'd say, 'In the backyard, with the boys.' It was kind of ironic because Katie gave a speech and she said she started by playing with the boys. I sat there going, 'That was exactly how I started.' They had nothing for girls. … Once I met Coach Meier, it was all over."
The coach, and a steady stream of her players, feel the same appreciation for Abolt, who can often be found sitting behind the Miami bench and greeting the Hurricanes as they come off the floor after wins and losses.
"BJ's just in it with us. Fans are always a part of the experience and they're part of the journey," Meier said. "But when you're a player and you show up at Miami, you're going to meet BJ one of the very first days you're here. …
"I remember the first day we met. She introduced herself with so much confidence, like, 'I'm a woman of impact and I'm going to impact this program and you're going to be successful and I'm going to be a part of it. That really resonated with me, her presence. She's very strong and win or lose, you're going to walk past BJ to get into that locker room. When our players walk through the hallways, she's standing there and if they didn't play hard, she'll say, 'You need to play harder next time.' When they play well, she's like, 'We're proud of you.' She's very fair about it and she gives her assessment because this means a lot to her. She's very invested."