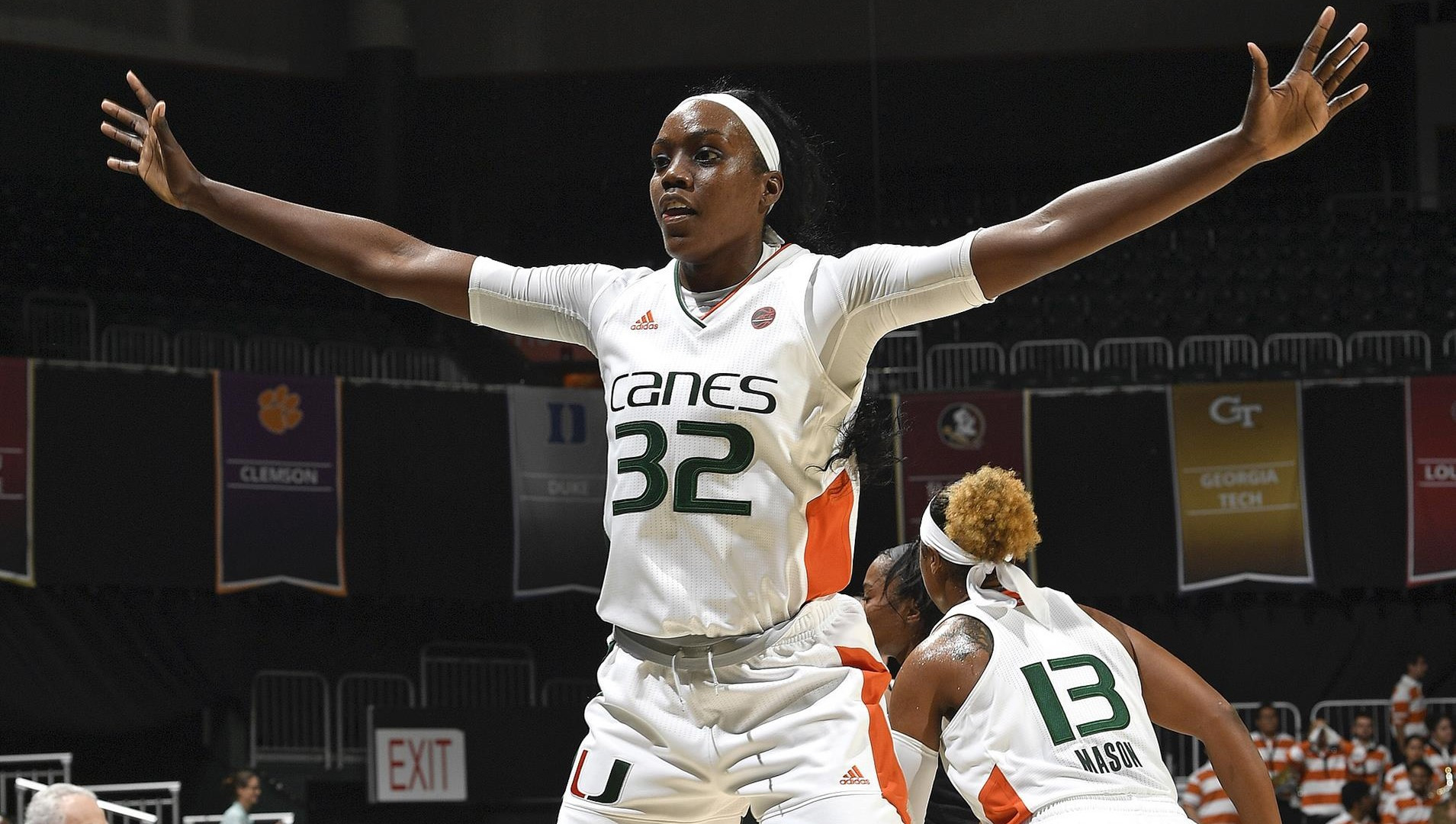 Dec. 2, 2018 | 1 p.m.
Watsco Center | Coral Gables, Fla.
No. 21/20 Miami (6-2) vs. Colorado (6-0)
Roster | Coaches | Schedule | Stats | Media Guide | Game Notes
Attending a Game at the Watsco Center
Buy Tickets | Directions
CORAL GABLES, Fla. – The University of Miami women's basketball team will open a three-game homestand Sunday afternoon at the Watsco Center.
No. 21/20 Miami (6-2) is set to face Colorado at 1 p.m. for its sixth consecutive matchup with an opponent from a major conference (Power Five/BIG EAST/AAC).
The action will be televised on ACC Network Extra HERE, as well as carried live on WVUM 90.5 FM HERE. Live stats for the game can be found available HERE.
In conjunction with adidas and Parley for the Oceans, the Hurricanes will wear uniforms featuring repurposed and upcycled materials. A check for $31,515.56 will be presented to Roni Avissar, the dean of UM's Rosenstiel School of Marine and Atmospheric Science, from money raised from the Miami football Parley jersey auction. Rosenstiel School faculty, staff and students will also be celebrated throughout the game.
Additionally, as is the case at all home games, team posters and schedule cards will be available at the marketing table by the main entrance. The first 125 students in attendance will receive a Miami shirt. It is also Silent Night, meaning students will decorate the student section and stay quiet until Miami scores its 10th point, when there will then be a big celebration.
Miami and Colorado are meeting for the second year in a row after never previously facing one another. Last season, the Buffaloes registered a narrow 67-61 home victory on Nov. 18, 2017.
The Hurricanes are coming off a 74-63 defeat at Purdue Thursday night in the ACC/Big Ten Challenge despite the dominant play of Emese Hof. The senior forward/center notched a season-high 25 points and 14 rebounds for Miami, also setting new career bests in made field goals (11) and minutes played (36).
Colorado heads into the weekend at a perfect 6-0 on the season and already sports an ACC victory over North Carolina. The Buffaloes are led in scoring by senior guard Kennedy Leonard, a senior guard and reigning First Team All-Pac-12 pick, at 17.7 points per game. Colorado, picked ninth in the Pac-12 preseason poll, finished 15-16 (5-13 P12) in 2017-18.
The Hurricanes have six days off following their matchup with Colorado and then resume action Dec. 9 when they host New Orleans at 1 p.m.
To keep up with the University of Miami women's basketball team on social media, follow @CanesWBB on Twitter, Instagram and Facebook.