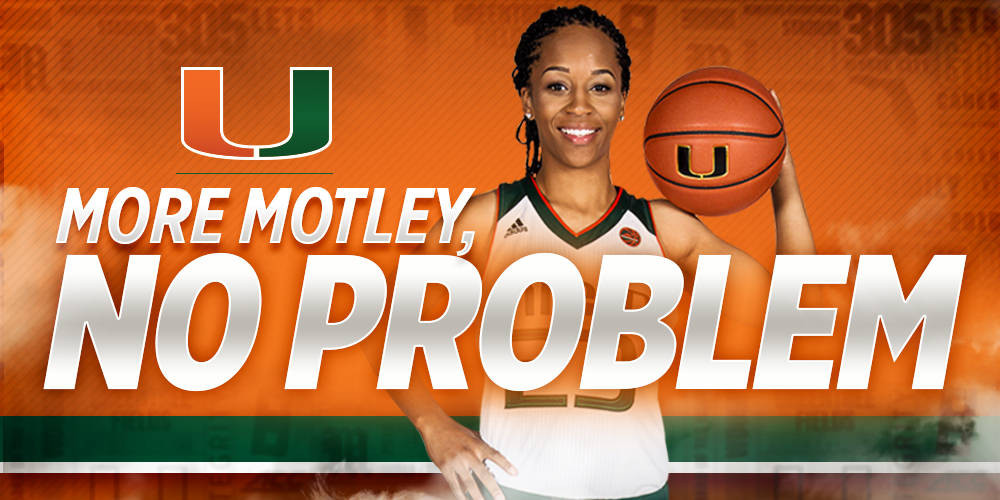 By Amy Taintor
CORAL GABLES, Fla. – Imagine that it is 6 a.m., on a Saturday, the sun is down, your roommates are still sleeping and your alarm is beeping telling you it is time to start your day. You have two choices; you can hit the snooze button that so viciously taunts you, or you could get up and begin the grind.
For Adrienne Motley, a senior guard on the University of Miami women's basketball team, deciding to get up is the easiest part of her day.  Every day is a new opportunity to do what she loves: play basketball. 
While the world sleeps, she has already had a workout and put up shots before practice. She is constantly one step ahead of her competitors and that is why she is unstoppable.
Four years ago, the Newport News, Va., native arrived in Miami as one of the top recruits in her class.
The 17-year old rookie fell in love with the game while growing up watching her dad referee. She was just five years old when she started playing.  The world of opportunity inspired Motley to strive for greatness with the potential to earn a college scholarship.
Motley made the adjustment from high school to collegiate athletics look effortless all while earning All-ACC Academic Team and ACC All-Freshman Team honors.
Although she needed to adjust to the speed of play at the start, she remembers that time management was the hardest change for her during her freshman year.
"I wasn't used to getting home at 2 a.m., from games, waking up for an 8 a.m., class and then having a test that day and just balancing that," Motley said. "I think after my first semester I made academic honor roll and knew I could do it."
Motley has had tremendous success on the court since the start of her Hurricane career. She led the team in scoring in each of her first three seasons, winning MVP each year. Motley is also 778 points past the 1,000-point barrier, which she passed during her junior season, and she has made numerous All-ACC teams for academics and athletics.  
Miami head coach Katie Meier has valued Motley's consistency as a player and as a person throughout her four years at Miami.
"When you spend four years with someone when they're age 18-22 it's just an emotional time, it's a critical time," Meier said. "She's a good-hearted, well–behaved, wonderful citizen and it shows on the court."
However, despite all of her incredible accomplishments, it is her passion for life and ability to spread joy that makes her invaluable to this program and Meier.
"She is very bright and always looking for a way to make someone feel good and interject joy every day," Meier said. "She is very confident that she can make your day a little bit brighter."
Motley is known by her friends, family and fellow students to carry a positive energy everywhere she goes. However, when it is time to lace up and put on her uniform, she also puts on something else, too; her game face.
"She has a face that she gives during the game. You can't rattle her. It is a focused time for her," Meier said.
It is electrifying to watch as this 5-foot-9-inch guard turns from the locker room prankster to Superwoman in a matter of seconds. The switch is instant and once she is locked in, there is nothing that will stop her from scoring double digits.
Motley has been a key player for Meier since she arrived on campus. During her freshman year, she averaged 11.1 points per game and garnered one ACC Rookie of the Week honor.  
Motley started all 33 games and scored double digits in 29 of them, finishing fifth in the ACC in scoring at 16.9 points per game. Her career-high 32 points helped Miami defeat fourth-ranked Notre Dame and her 30 points, the most by a Hurricane in the NCAA Tournament, led the team past fifth-seeded Washington.
As a junior, Motley was named a WBCA Coaches All-America Team Honorable Mention and a First Team All-ACC selection. She averaged 15.7 points per game, good for sixth-best in the conference.
This season, Motley has continued her climb up the Hurricane career leaderboards now ranking in the top 12 all-time at Miami in eight categories, including sixth in scoring and second in starts.
But like all great players, she has had some bad games, too. Motley has a strong mentality and sense of self that gives her the confidence to play through even the worst of games.
"Sometimes I'll whisper to myself, 'Be a killer be a killer' and that doesn't necessarily mean score or put the ball in the bucket, but if I'm being a killer then my teammates are open, too," Motley said. "[Assistant coach Octavia] Blue tells me all the time that I can't let my last shot affect my next shot.  So if I miss my last shot I can't let that affect the shot I'm about to take now."
Not only does Motley achieve in the classroom and on the court, but she also raises the standards for leadership. Meier named her co-captain at the beginning of her junior season and has not looked back.
"The girls have a tremendous amount of respect for her, they don't want to disappoint her," Meier said.  "I don't think anyone on the team would ever want to let Mot down. She works hard for everyone."
She is a student of the game and her combination of athleticism, critical thinking and quiet leadership is why she has had so much success. 
"I'm the type to lead by example. I'm not very vocal," Motley said. "I was a captain in high school, but leadership is bigger here in college. When I came to college I had to think the game more. You have to read defenders, you have to read how you're going to set up a cut and you have to watch more film."
As the end of her collegiate career creeps closer, Motley reflects back on why she has been such a success.
"As you get older you realize you just have to get up at 6 a.m., get shots up before practice and before class because I don't like missing in a game. It's just something I have to invest in," Motley said. "If I don't do it then someone else is doing it."
One would think that with a bright future like Motley, that she would be swollen-headed. However, Motley knows that once she reaches a new level of greatness, there will always be more levels to go; she is never finished.
She attributes her humbleness to having as many failures as she has had success. She appreciates moments as they come and is able to handle anything that is thrown in her direction.
Despite all of her athletic accolades that she has earned throughout her four years, she wants to be remembered for something different.
"That every time they saw me I'd have a smile on my face, that I was always laughing and joking. I like to joke a lot. I'm a really goofy person, but on the court I'm very serious," Motley said.  "I hope that no matter when they saw me, I had a good vibe around me."
In a world that is so easy to get lost in the highs and lows, Motley constantly grounds herself. She is a woman of true character, passion for life and love of the game.
"Not a lot of people get the opportunity to play for the University of Miami and play in the ACC," Motley said. "So it has just been a blessing."
She has carried the "U" proudly on her chest since 2013, and although her senior season is nearing a close, Adrienne Motley will always be a Hurricane.