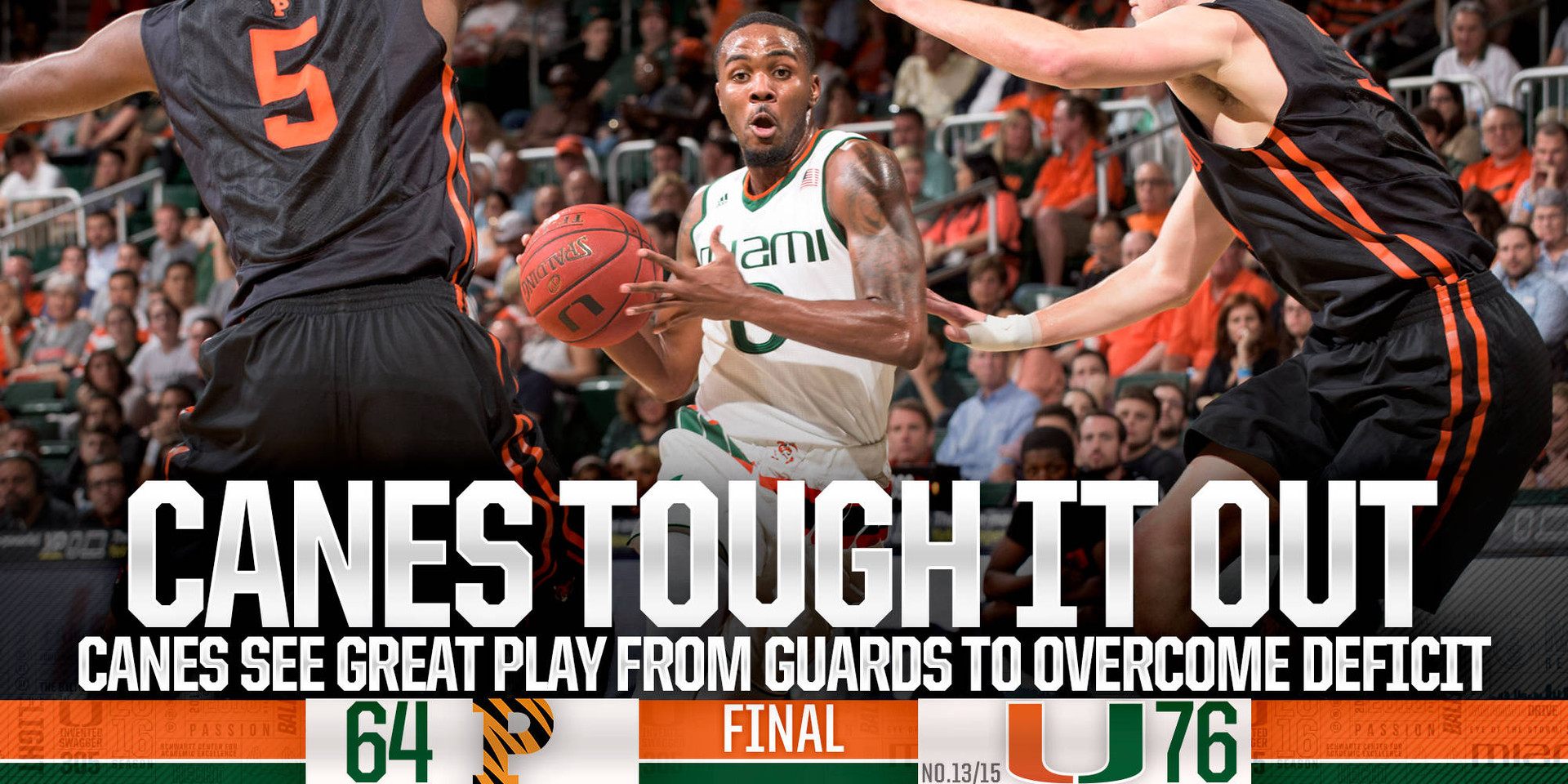 No. 13/15 Miami7664Princeton
SCORE BY HALF
Team
1
2
F
MIAMI
27
49
76
PRINCETON
30
34
64
TEAM STATS
 
FGs
30-55
23-59
3FGs
5-15
2-6
Free Throws
11-14
12-17
Rebounds
37
27
Blocks
7
3
Steals

2

8
Assists
11
5
Turnovers
11
8
INDIVIDUAL LEADERS
 
POINTS
 
 
REBOUNDS 
 
Rodriguez
14
 
Reed
9
Bell
17
 
Weisz
6
 
ASSISTS
 
 
BLOCKS 
 
Roriguez
5
 
Murphy Jekiri
2
Weisz
2
 
Miller
2
 
3FG
 
 
STEALS
 
Cruz Uceda
2-2
 
Rodriguez Reed
1
Bell
3-5
 
Caruso
3
CORAL GABLES, Fla. —  Angel Rodriguez scored 14 points and No. 13 Miami withstood an upset bid, beating Princeton 76-64 on Tuesday night.
Davon Reed finished with 13 points and Ja'Quan Newton scored all of his 13 in the second half for the Hurricanes (11-1).
Rodriguez's two free throws and 3-pointer during a 1-minute stretch late in the second half put the Hurricanes ahead for good. Rodriguez's conversion from behind the arc with 5:02 left gave Miami a 62-58 lead.
Amir Bell scored 17 points and Devin Cannady added 13 points for the Tigers (7-4).
Ivan Cruz Uceda scored five points during a 10-0 run midway through the second half that helped the Hurricanes erase a six-point deficit. Cruz Uceda's corner 3-pointer with 8:02 remaining capped the run and put Miami ahead 57-53.
Princeton responded with five straight points for its last lead, 58-57.
The Tigers built a three-point lead at halftime then outscored Miami 9-6 in the first 4:19 of the second half. Bell's layup and 3-pointer helped the Tigers extend their lead to 39-33.
Princeton closed the first half on an 11-1 run. Bell's 3-pointer from the top of the key with .04 seconds left put the Tigers up 30-27.
Despite shooting 39 percent from the field in the first half, Princeton scored 13 points off seven Miami turnovers.
The schools met for the first time in 67 years, when they split two games in 1947-48.
Miami 76, Princeton 64 – Postgame Notes
– Miami trailed 30-27 at the half, only the second game this season the Canes have been behind at the break. Against Northeastern, UM's only loss, the Canes trailed 35-30.
– With two buckets from long range, Ivan Cruz Uceda has tallied at least one made 3-pointer in 10 games for Miami.
– Angel Rodriguez drained two shots from three against the Tigers, and has now knocked down a 3-pointer in every game but one (at La Salle).
– Rodriguez recorded 14 points and five assists against Princeton. He has scored in double-digits in nine games, and notched four-or-more assists in eight outings.
– Kamari Murphy swatted two Princeton shots and has at least one block in seven-straight games.
– Murphy also pulled down five rebounds and has grabbed at least five rebounds in the past seven outings.
– Davon Reed tallied nine boards against Princeton and has grabbed at least three rebounds in every game but vs. Charleston.
– With one handout against the Tigers, James Palmer has an assist in five-straight games.
– Senior Sheldon McClellan scored just two points in the first half, but ended with six points vs. Princeton.  McClellan's previous low was three points in the first half against Butler, then finished the game with eight points.
– Starters for Miami: Angel Rodriguez, Sheldon McClellan, Davon Reed, Kamari Murphy and Tonye Jekiri. With the win, the Canes improve to 5-0 when those five players start the game.
-Head coach Jim Larrañaga has a 572-384 overall record in his 32nd season as a head coach. He is 102-50 in his fifth season at the University of Miami, with a 41-29 mark in ACC play.
 -Miami is 2-1 in the all-time series against Princeton, which dates back to the 1948-49 season. The Canes played the Tigers in back-to-back games in Miami, winning the first game 37-35 on Dec. 28, 1948. Miami lost the second matchup with Princeton in double overtime, 62-55, on Dec. 29.
Miami in Non-Conference Games Under Coach L
Season                 All        Home    Away     Neutral                PPG       Opp. PPG            FG%       3FG%
2011-12                9-4          7-1          1-3          1-0                       73.6        68.0                    44.6        39.0
2012-13                9-3          6-0          3-1          0-2                       69.4        60.1                    45.4        34.4
2013-14                9-4          5-2          3-1          1-1                       65.3        59.4                    43.1        33.0
2014-15                10-3       5-2          2-0          3-1                        69.8        59.7                    45.2        37.8
2015-16                11-1       6-1          2-0          3-0                        85.2        66.4                    51.0        41.1
-In Miami's 11 victories, the Canes have led all but 23 minutes and 33 seconds combined. The Canes trailed 12:00 vs. Princeton, 4:59 vs. UTRGV, 3:59 at Nebraska, 1:21 vs. Louisiana, 0:39 vs. Charleston, 0:22 vs. Mississippi State and 0:13 vs. Florida.
-Miami is 10-0 this season in games decided by 11-or-more points, and Coach L is 60-17 all-time at Miami in games decided  by more than 10 points.
-Ja'Quan Newton has scored double-digit points in 10 games after only scoring 10+ in four games as a rookie.
 -Reed has hit three-or-more free throws in every game but two (vs. Utah and Florida).
-Sheldon McClellan has a steal in every game but two (vs. Princeton and vs. Charlotte).
-Tonye Jekiri has at least one assist in every outing but three (vs. Princeton, vs. Charlotte and at La Salle).