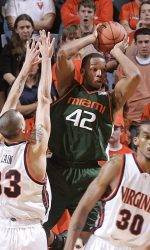 Jan. 24, 2006
CHARLOTTESVILLE, Va. (AP) — Sean Singletary scored 29 points and took control when teammate J.R. Reynolds went down with a frightening injury in the second half Tuesday night, leading Virginia to its third consecutive victory, 71-51 over Miami.
Singletary scored 20 of his points after Reynolds hit the floor hard on a driving basket with 15:43 to play. Reynolds' basket gave the Cavaliers a 38-33 lead, and Singletary and the Cavaliers kept it going, opening a 49-38 lead with 9:32 remaining.
Virginia (10-6, 4-2 Atlantic Coast Conference) saw it cut to six with just under seven minutes to go, but Adrian Joseph and Mamadi Diane hit consecutive 3-pointers to rebuild it to 12 with 5:44 left and the Hurricanes (11-8, 3-3) never challenged again.
Reynolds, whose condition was unknown, and Laurynas Mikalauskas each added 12 points for the Cavaliers and Joseph had 11. Mikalauskas also grabbed eight rebounds.
Anthony Harris led Miami with 13 points and Guillermo Diaz and Robert Hite added 10 each, but Diaz (2-14) and Hite (3-13) finished a combined 5-for-27 from the field.
Virginia led 36-33 when Reynolds drove to the basket, made the shot but then fell hard to the floor, appearing to hit his elbow and then head on the hardwood.
After laying on the court for several minutes holding his head, he was helped to the bench and then the locker room. He returned to the bench with just under 8 minutes left, but sat on the bench with a towel draped over his head the rest of the game.
With Singletary in control, they hardly needed their second-leading scorer and best defender. Miami finished 19-for-60 from the field, 6-for-27 from 3-point territory.
The Hurricanes hit 6 of their first 12 and led 19-14 midway through the half. Then they went cold, missing 19 of their next 21 tries as Virginia put together an 18-5 run ending on Raymond Hicks' putback for Miami that pulled them to 32-26 at the break.
Miami finished just 9-for-33 in the half, 27 percent.