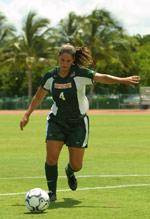 Sept. 25, 2002
CORAL GABLES, Fla.-Allison McWhinney (Danvers, Mass.) scored two goals en route to a 5-1 victory over cross town rival Florida International Wednesday night at University Park.
The Hurricanes extend their winning streak to four and improve the overall record to 7-3-0.
FIU remains winless dropping to 0-8-1 on the season.
Miami evens the all-time record to 3-3 with the win over the Panthers.
UM dominated the match outshooting FIU 30 to six on the night.
McWhinney opened up scoring for Miami with a goal 10 minutes into the match on a pass from Michelle Provenzano (Davie, Fla.).
The Hurricanes extended the lead to 2-0 as BIG EAST Rookie of the Week Lindsey Yach (Carrollton, Texas) scored her eighth goal of the season at the 42nd minute mark.
Britney Butcher (Bothell, Wash.) assisted Yach's game-winning goal.
Miami led 2-0 at halftime; taking 14 total shots in the first half.
UM came out on fire the second half dominating offensively. Butcher scored 13 minutes into the second half on a cross from Gitana Gotay (Sandy, Utah).
Andrea Radice (Hialeah, Fla.) put Miami on top 4-0 with a goal in the 75th minute on a perfect pass from Ashley West (Allen, Texas).
McWhinney rounded out the Hurricanes scoring frenzy in the 78th minute on a short pass from Radice.
Miami was on its way to a shutout over the Panthers when Rossana Lopez connected on a pass from Nicola Bell with less than six minutes left in the match.
The Hurricanes took a record-breaking high 13 corner kicks compared to only one for the Panthers.
Rachel Elsby (Boca Raton, Fla.) played 90 minutes in goal making two saves and allowing one goal.
Miami returns to BIG EAST action traveling to face Syracuse Sunday at 1 p.m.