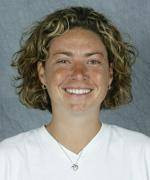 Sept. 11, 2002
CORAL GABLES, Fla.-The Miami women's soccer team falls to visiting Florida State, 2-1, Wednesday night as the Seminoles hand the Hurricanes their second straight loss of the 2002 season.
Miami drops to 3-2-0 on the season while the Seminoles improve to 2-1-2.
This marks the third consecutive victory over Miami for FSU and gives the Seminoles the 3-2 nod in the all-time series.
Both teams were scoreless at halftime. FSU shot the ball eight times and Miami five in the first 45 minutes of play.
UM goalkeeper Rachel Elsby (Boca Raton, Fla.) made two saves in the first half. FSU goalie Kerry York also made two saves in the first half.
The Seminoles ended the scoring drought in the first seven minutes of the second half as Leah Gallegos scored an unassisted goal to put FSU on top 1-0.
Less than four minutes later in the 56th minute of the match FSU increased their lead to 2-0 as Amber Tollefson passed the ball to Summer Corum for the goal.
The FSU goalkeeper took out Allison McWhinney (Danvers, Mass.) in the 88th minute of the match to set up the penalty kick for the Hurricanes.
Freshman Lindsey Yach (Carrollton, Texas) took the PK for Miami and scored a goal in the bottom left corner of the net.
The Hurricanes continued to fight back taking a total of 18 shots in the second half but were unable to connect on a second goal before time expired.
FSU took a total of five shots in the second half.
York made a total of 11 saves for the Seminoles allowing only one goal in 90 minutes of action.
Elsby made four saves and allowed two goals in 90 minutes of action.
Miami finished the match taking seven corner kicks, while FSU took four.
The Hurricanes return to action facing UNC-Charlotte Friday at 7 p.m. in the Miami Invitational.