University of Miami Athletics
Tanja Kylliainen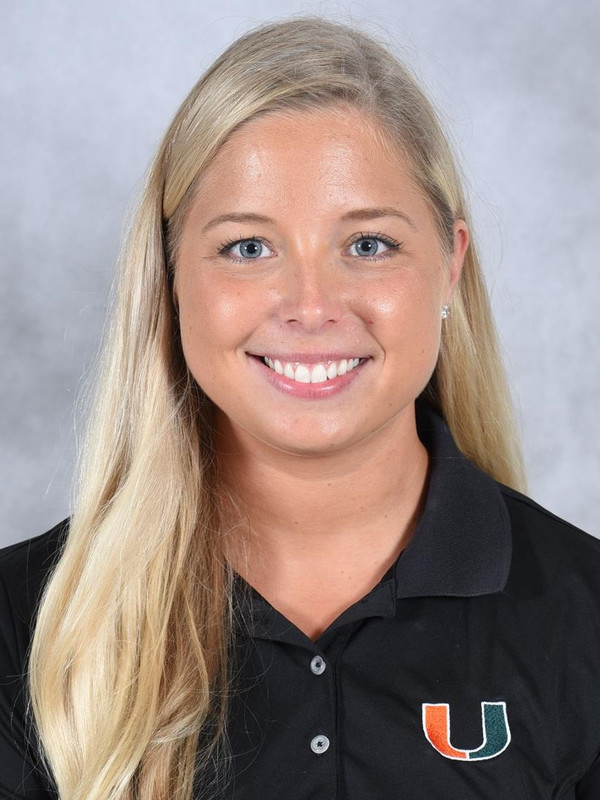 Tanja Kylliainen, a seven-time NCAA All-American and 2016 Olympian, is entering her third season as the Miami Hurricanes' assistant swimming coach in 2020-21.
Kylliainen was appointed to the post by head swimming coach Andy Kershaw on July 5, 2018.
"I cannot wait to share the pool deck and the office with Tanja," Kershaw said upon her hiring. "From the beginning of the process, her energy was contagious, and it is obvious that she is determined to do everything she can to help the people she works with succeed.  I witnessed her grit and determination when she was a swimmer, and I can't wait to add that to our group.
"Tanja adds another elite mindset to Hurricanes swimming and diving program, and we are excited for her to share her experiences with us."
Kylliainen, who graduated from the University of Louisville in 2015, represented Finland at the 2016 Rio Olympics, competing in the 200 IM and the 400 IM, where she finished 25th in both events. A Baltimore native, Kylliainen holds five Finnish national records and delivered a dominant career during her time competing for the Cardinals.
"I am incredibly humbled and excited to step into this role at the University of Miami," Kylliainen said upon her hiring. "The U is in an excellent position to rise in the ACC and NCAA, and I am thrilled to help our swimmers reach that next level in our sport."
The 2015 ACC Championships Swimmer of the Meet, Kylliainen ended her collegiate career by capturing the 200 IM, 400 IM and 200 Fly at the conference championships. She went on to finish in the top 8 in each of those events at NCAA Championships to earn All-America recognition. She also demonstrated her versatility in the pool, helping four Louisville relay teams reach the finals that year.
"She knows what it takes to reach the Olympic level, to succeed at NCAA Championships and to be the best at ACC Championships, and more importantly she has shown that she knows how to relate that knowledge to other collegiate swimmers," Kershaw said.
She was named the University of Louisville Female Student-Athlete of the Year in three of her four years.
"As a former ACC swimmer, I understand the level of commitment both in the classroom and in the pool," Kylliainen said. "I am excited to help our swimmers become leaders during their time as a student-athlete, and beyond in their communities and professional fields. Thank you to everyone who has made this dream a reality."
Kylliainen has served as an assistant coach at Finnish swimming club Helsingfors Simsallskap since August 2017, and was also a member of the Cardinal Aquatics staff in Louisville from June 2015 – August 2016.
"Going into the search, I felt like our program could benefit from an assistant coach that possessed these crucial coaching traits: ability to connect with student-athletes, ability to motivate the student-athletes, ability to express passion while coaching, and the ability to help people achieve things they never thought they could," Kershaw said. "These are the traits that Tanja proved to have above everything else, and it was obvious she was the perfect fit for the Hurricanes."
Kylliainen graduated with her Bachelor of Arts in communications with minors in sociology and Spanish in 2015. She is scheduled to finish her MBA program from Helsinki School of Business in September 2018.
"In addition to her attributes at the pool, Tanja will also be a great role model for our student-athletes," Kershaw said. "She was a tremendous student herself and cares deeply for the academic success and personal advancement of those she works with.  Having earned a major and two minors while swimming, she knows the demands of balancing time in the classroom and at the pool.  It will also be great to have someone with her business knowledge helping us away from the pool, both in recruiting and administrative work."