University of Miami Athletics
Lamont Franklin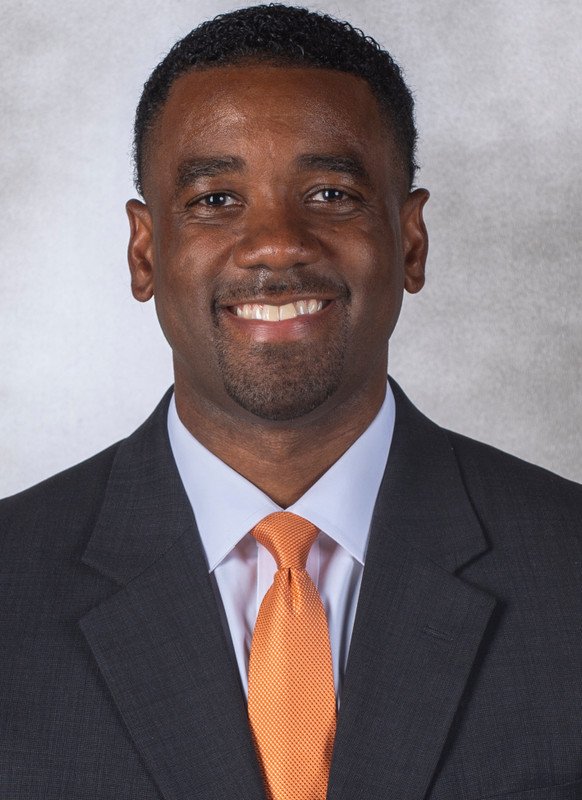 The 2020-21 season is Lamont Franklin's fourth as Miami's director of men's basketball operations after joining the staff in April 2017.
A basketball veteran with over 20 years of experience, Franklin wears many hats, assisting head coach Jim Larrañaga with various aspects of the Miami program. His responsibilities include managing the budget, speaking engagements, community service, team travel, oversight of both support staff and equipment, as well as assisting with on-campus recruiting. Franklin also serves as the staff liaison to numerous areas within the athletics department, including academics, communications, compliance, facilities, marketing and ticketing.
Three Hurricanes have been selected in the NBA Draft since Franklin joined the Hurricanes, including Lonnie Walker IV, who was the No. 18 pick in 2018 draft. During his first year on staff, Miami went 22-10, tied for third in ACC at 11-7 and equaled a program record by reaching the NCAA Tournament for the third consecutive season.
After completing his playing days as a three-year starter at point guard for UNC Wilmington, Franklin's coaching career received a quick jumpstart when he joined the staff at his alma mater as an assistant coach just three months after graduation in 1997. In that season, Franklin helped UNCW to its first 20-win campaign, first postseason appearance and second consecutive regular season league title. Following one year on the sidelines in Wilmington, Franklin then moved on to Howard University for two seasons.
Following his stint at Howard, Franklin joined the staff at Mount St. Mary's University, working alongside legendary coach Jim "Bow-Tie" Phelan, before moving on to Florida A&M University. After arriving on campus at FAMU, he played a key role in landing a strong recruiting class anchored by Terrance Woods, who went on to lead the NCAA in 3-point shooting for two consecutive seasons.  At the conclusion of his first season at FAMU, Franklin was promoted to associate head coach and then assisted in the Rattlers' first winning season in 10 years. In the summer of 2003, he returned to his home state of Maryland and joined the staff at Towson University. Following his time with the Tigers, Franklin moved on to the College of Charleston where he served at assistant coach.
Franklin spent the next three seasons as the head boys' basketball coach at Cedar Park Christian School in Seattle. In his final season at the helm, he led the Eagles to the highest state tournament finish in school history. In two out of three seasons the Eagles qualified for the WIAA state tournament in Yakima, Wash., with Franklin receiving Coach of the Year honors in his final two seasons.
From 2009-11, Franklin served as the first-ever head basketball coach at Johnson & Wales University, Charlotte. He played an integral role in helping to lay the foundation for the entire athletic department at the university as it made the transition to intercollegiate athletics competition.
Franklin arrived in Miami in the spring of 2017 after making his return to coaching in 2015. Prior to his return, he worked in corporate America as a sales solutions specialist for Microsoft Corporation in Charlotte from 2011-14.
A 1997 graduate of UNCW with a degree in information systems, Franklin also received an MBA in sports marketing & management from UNC Charlotte in 2010. At UNCW, he was a four-year letter winner and was team co-captain his last two seasons. Franklin was an All-CAA Defensive Team selection in his senior year and was named the team's most outstanding defender in his final two seasons. Additionally, he is not the only Coach Franklin in the family, as his two older brothers are on the sidelines as well. His oldest brother is the head coach at The Potomac School in McLean, Va., and with the New World AAU organization, while the other is an assistant coach at The Landon School in Bethesda, Md.
He is married to Lisa Franklin. They have three children, Cameron, Kennedy and Braedon.