University of Miami Athletics
Jason Martin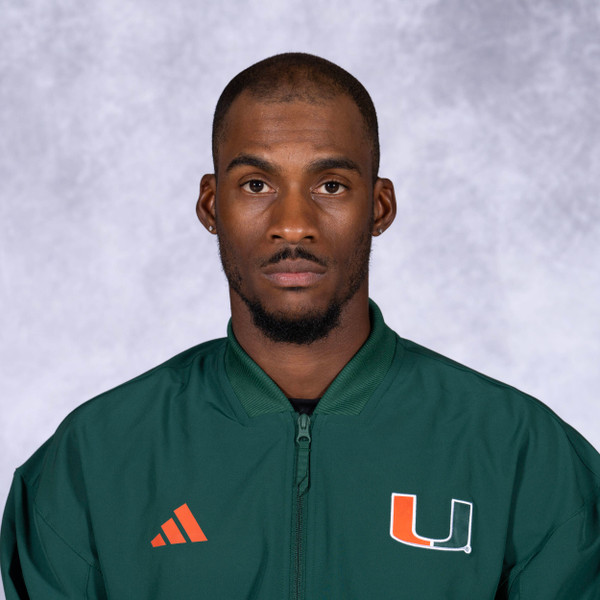 Jason Martin is entering his second season with Miami as an assistant coach for the track and field program.
Martin joined the Hurricanes after spending two seasons as an assistant coach at Barton College primarily working with jumpers. Under his direction, Martin aided the Cougar men's outdoor team to its ninth NJCAA National Championship and Barton's 58th NJCAA National Title. While at Barton, Martin produced two National Field Athletes of the Year, including a Central Region Women's Outdoor Track Athlete of the Year and three individual national championships. Martin led the Cougar men to a third straight runner-up indoor finish and a 4th place finish on the women's side.
Prior to his three seasons at Barton, Martin spent one year as the assistant track and cross-country coach at Highland Community College. At Highland, Martin assisted with Sprints and Jumps. During the 2019 season, he coached 10 All-Americans, 17 National Qualifiers, and set two school records.
In 2022, Martin also coached one season at the University of Akron, specializing in the jumps group.  Martin assisted the women's team to two conference team titles, including one conference-recording triple jump of 13.53m, three school records, 13 All-MAC conference performers, six conference championships, and five all-time program history marks.
He spent two years at the University of Missouri-Kansas City.  At his alma mater of UMKC, Martin oversaw the sprinters and jumpers. During the 2017 season at UMKC, the men's and women's outdoor won conference titles, 18 athletes were all-conference, set four school records, and had a pair of NCAA Division I Regional qualifiers. During the 2018 season at UMKC, Martin coached 13 all-conference athletes, including setting a school record and a duo of regional qualifying performances.
Martin began his coaching career back at Coffeyville. While at Coffeyville coaching the jumps, he had one NJCAA national champion (women's long jump), six All-Americans and 27 national qualifiers, along with 23 all-region athletes and five school records.
As an athlete, Martin began his collegiate career at Coffeyville Community College competing in the KJCCC, before competing in sprints and jumps at the Division I level at the UMKC. During his 2013-14 indoor season, Martin picked up all-conference honors in the 60m, 200m and triple jump. Martin also had all-conference honors during the 2013-2014 outdoor season in both the triple jump and 4x100m relay. In his final season of eligibility, Martin claimed all-conference honors in the triple jump in both the indoor and outdoor seasons. He also earned conference honors in the 4x100m relay in his final outdoor season. Martin earned both a bachelor's in history (2015) and master's in sports administration (2018) from UMKC.