Your Gameday Experience is Going to Be — Wait For It — Legends-dary!
How would you like to enjoy the exclusivity of a suite without paying the price of a suite? With Legends Suites, you'll savor over the all-inclusive premium food such as our mouthwatering brisket baked to perfection and unwind with all-inclusive beverages like a cool glass of Chardonnay all brought to you by your dedicated suite attendant. The open-air viewing experience will allow the sounds of gameday to permeate the room while you relax in your theater-style plush seat surrounded by fellow Canes fans in this one-of-a-kind shared suite setting.

Enjoy the exclusive, all-inclusive benefits of a suite with a smaller group for $2,500 per seat, a significant discount compared to a luxury suite!
Take a Virtual Tour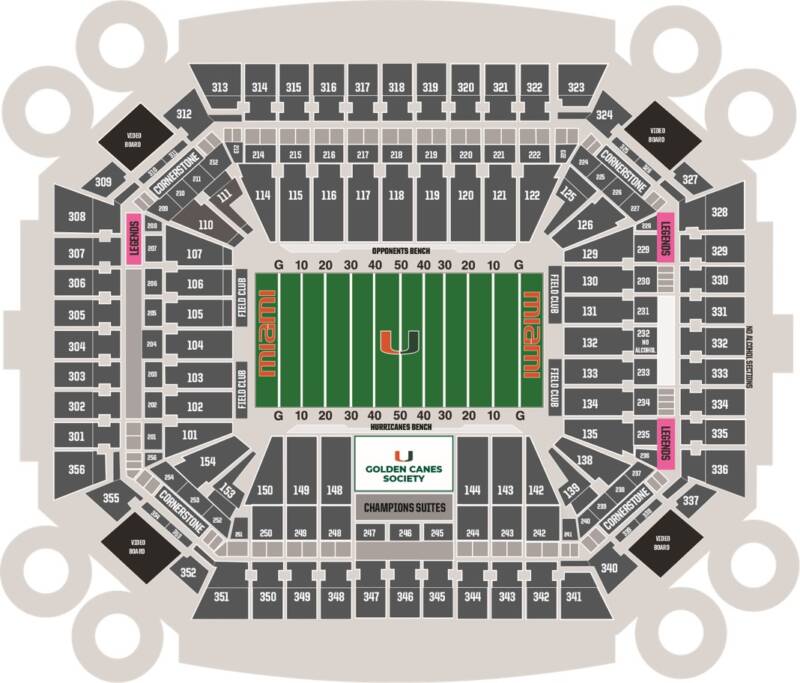 Feel what Saturdays will be like this fall in the Cornerstone Mezzanine Legends Suite!
Take a sneak peek at what a gameday would be like in the Endzone Legends Suites!
What Your Seating Experience Includes
As a season ticket holder, you will also enjoy:
An exclusive opportunity to purchase tickets to neutral site and away games
Complimentary VIP parking at Hard Rock Stadium
A dedicated Client Experience Specialist to assist you with all your gameday needs
An invitation to unfurl the flag on field during the National Anthem
Online Account Manager that allows you to manage and repurpose your tickets
Convenient, interest-free, year-round payment options
How Can We Help?
Fill out the form below and one of our sales representatives will reach back to you shortly. Or you can contact us at 1-800-GO-CANES. 
Want to Explore Other Options?