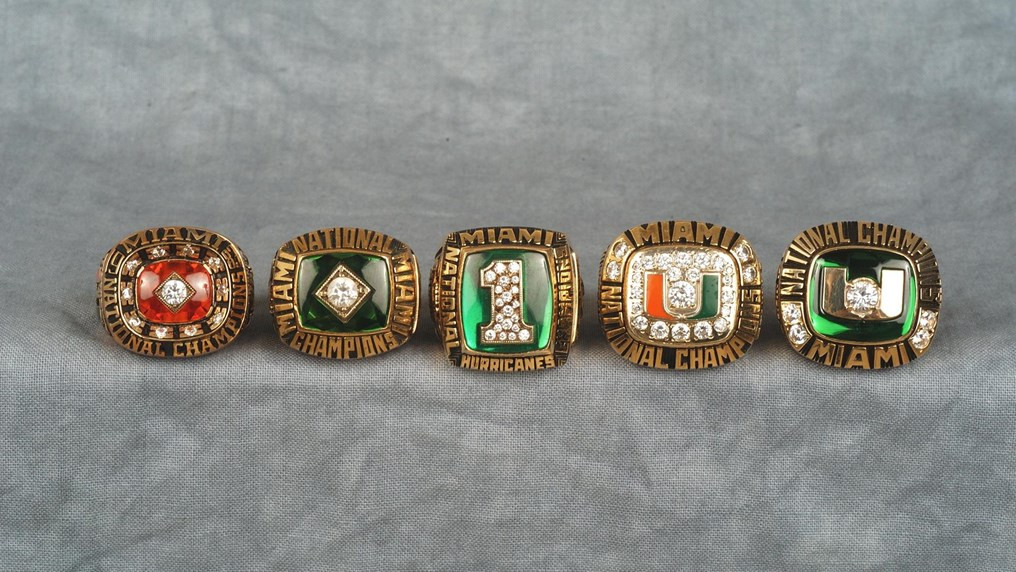 The National Champions
Football (5 Championships) 1983, 1987, 1989, 1991, 2001
The University of Miami has captured 21 national team championships and numerous individual national titles.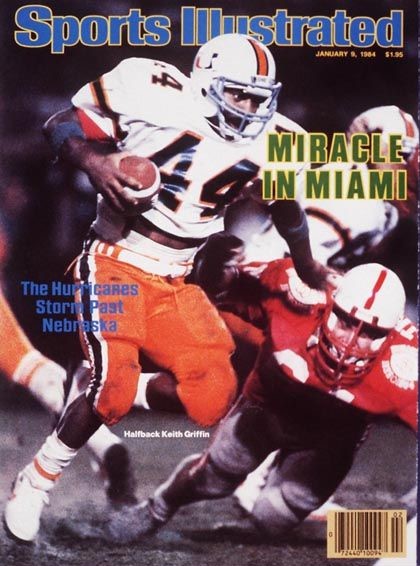 The Miracle in Miami –  The 1983 National Championship
Less than a decade removed from a period of uncertainty in which there was open talk of dropping the football program, the University of Miami Hurricanes stunned the college football world by defeating the top-ranked Nebraska Cornhuskers, 31-30, in the 1984 Orange Bowl Classic on January 1, 1984.
The victory was monumental — for UM football and for college football in general. It was monumental not only because the Cornhuskers were widely considered to be among the most powerful teams in college football history, but it also heralded the dawn of a new dynasty in the sport from a program that had been all but dead just a few short years earlier. That victory — combined with losses by second-ranked Texas in the Cotton Bowl and Illinois in the Rose Bowl — vaulted the Hurricanes into the top spot in the final national rankings.
This was the first national title team without a single player making an All-America first team voted by AP, UPI, the Football Writers Association or the College Football Coaches Association.
One of the keys was a melting pot offensive line — a Canadian (center Ian Sinclair), a Cuban-American (guard Juan Comendeiro), an African-American (guard Alvin Ward), an Italian-American (tackle Paul Bertucelli) and an Irish-American (tackle Dave Heffernan).
Miami was only the second national title team to gain more passing yards than rushing yards.
"It's a tribute to a lot of gutty players and a real team effort," head coach Howard Schnellenberger said. "We've got a lot of overachievers on our team — or else there has been a poor job of selection done by the All-American selectors."
Dominance From Start to Finish – The 1987 National Championship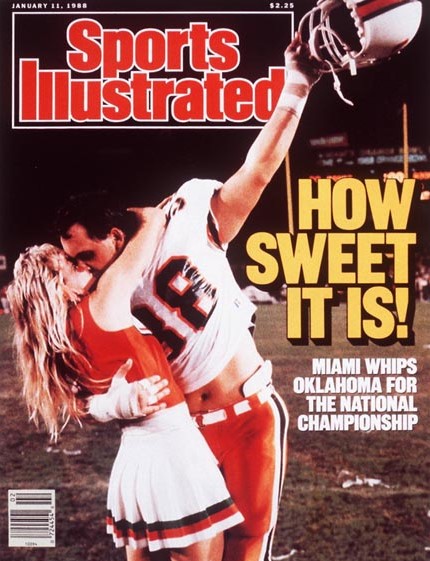 The Hurricanes were supposed to be rebuilding. Reloading was more accurate. This Miami team was supposed be the lull before the storm of 1988 and 1989. After all, the Hurricanes had lost five starters on offense from a team that had come within a whisper of a national title in 1985 and a 1986 squad that was considered among the best ever, only to lose its title shot in the Fiesta Bowl.
But this team was more offensively balanced than the previous season's juggernaut and, with nine starters returning to an underrated defense, the Hurricanes were a more well-rounded team altogether. Ranked 10th in the preseason Associated Press rankings, this team quickly showed it would be better than advertised.
Miami ripped rival Florida in the season opener, then embarrassed Arkansas on the Razorbacks' home field. The season's third game was a classic. Being dominated by fourth-ranked Florida State, 19-3, late in the third quarter, Miami launched one of its greatest comebacks. The Hurricanes scored three lightning-quick touchdowns: a 49-yard bomb from Steve Walsh to Melvin Bratton, a 26-yarder from Walsh to Michael Irvin (plus a two-point conversion to tie it at 19), then a 73-yard strike from Walsh to Irvin for the lead with 2:22 remaining. Miami would have to stop an FSU two-pointer to hold for a 26-25 victory.
There seemed to be no stopping these Hurricanes after that. Miami rolled through the remainder of the regular season, ripping 10th-ranked Notre Dame (24-0) and surviving a scare from eighth-ranked South Carolina (20-16) to set up a matchup with top-ranked Oklahoma in the Orange Bowl Classic on New Year's Day.
The Hurricanes bottled up OU's wishbone attack, holding the Sooners to just 179 yards on the ground (OU came in averaging 428.8). Elation for Miami was frustration for OU — the Sooners
only three losses over the last three seasons had come to the Hurricanes.
"We played our way to this championship. We have the best record versus anybody in the country . . . We beat Oklahoma three in a row, Florida State and Notre Dame three in a row, Florida a couple . . . What is sweetest is that we did it as a team. We lost starters and had other guys come in and played magnificently."
– Jimmy Johnson, head coach 
Two Ericksons and a Tenacious 'D' – The 1989 National Championship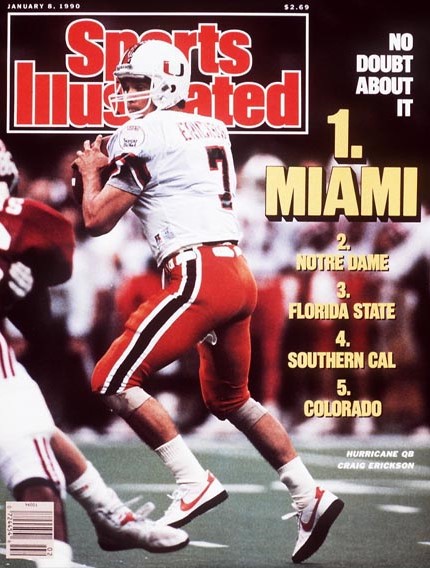 By the time head coach Dennis Erickson arrived in Coral Gables to take over the UM football program prior to the 1989 season, Miami football had established itself as the "Team of the '80s". With a new coaching staff in place, Miami switched to a one-back offense, but the Hurricanes remained in their trademark 4-3 defense and had the talent on both sides of the ball to maintain their level of excellence. Twelve starters returned, but the loss of quarterback Steve Walsh, running back Cleveland Gary, linebacker Randy Shannon and cornerback Bubba McDowell would be felt. Nonetheless, the Hurricanes reloaded and ran off six victories to start the season.
Quarterback Craig Erickson was lost for three games in the middle of the season — including a 24-10 loss at Florida State — before returning and leading the Hurricanes on an impressive stretch run.
Miami's defense didn't allow a touchdown for one 10-quarter stretch during the regular season, held six opponents without a touchdown and allowed just 9.3 points per game. Miami rebounded from the FSU loss to whip their remaining opponents by an average margin of 18 points, including a 27-10 trouncing of defending national champion and top-ranked Notre Dame (27-10), ending the Irish's 23-game win streak (the seventh season in a row in which UM had defeated a No. 1-ranked team). That victory clinched a Sugar Bowl berth against seventh-ranked Alabama. Miami dispatched Alabama by a deceptively close 33-25 score in New Orleans and moved into the top spot of the rankings when Notre Dame knocked off top-ranked Colorado in the Orange Bowl, giving the Hurricanes their third national title in seven seasons.
Gino, The Ruthless Posse and Wide Right I – The 1991 National Championship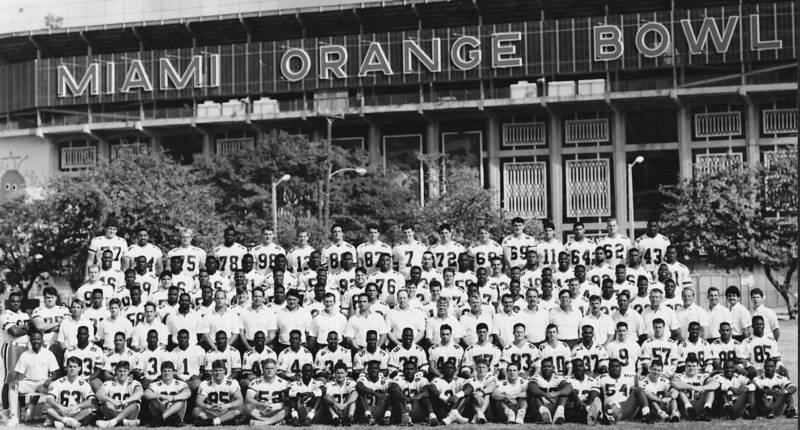 A combustible offense, a rock-solid defense and the nation's best special teams — by 1991 all these traits had become synonymous with Miami football and this team represented the zenith of its era. Quarterback Gino Torretta, a group of skill players nicknamed "The Ruthless Posse," and a linebacker corps that ranks among the greatest ever assembled, led these Hurricanes.
Miami started the season by ripping Arkansas on the road and dominating a Houston offense that had terrorized opponents for four seasons up to that game. Their first stiff challenge came against Penn State on October 12 and the Hurricanes, behind staunch defense and big plays by Horace Copeland (80-yard scoring catch) and Kevin Williams (91-yard punt return for a TD) held off the Nittany Lions.
Two challenges in November punctuated the season. First was the annual grudge match in Tallahassee against Florida State. In what became known as "Wide Right I" the Hurricanes erased a 16-7 deficit in the final period on a 45-yard field goal by Carlos Huerta and a one-yard run by Larry Jones with 3:01 left to take a 17-16 lead. FSU marched down for a potential game-winning field goal in the closing seconds, but Gerry Thomas' 34-yard attempt was wide right.
Miami escaped another close call a week later, slipping by Boston College on the road. The Hurricanes defense held off a late BC drive in the final seconds to preserve the 19-14 victory. A blowout of San Diego State clinched an Orange Bowl berth.
With their fourth national title in their sights, the Hurricanes stymied the Huskers' offense as few had, limiting the Nebraska ground game to just 82 rushing yards and throwing a shutout of the Big Eight Conference champions.
The victory gave Miami the national title in the Associated Press rankings. The Hurricanes shared overall national honors with Rose Bowl champ Washington, which nudged ahead in the coaches' poll.
"To win one national championship is amazing. For guys to win their second in three years, that hasn't been accomplished by many. That's what makes this championship special. And it came in a situation where we had not been picked to be that good. Some people said we'd be No. 3 in the state of Florida."
 — Dennis Erickson, Miami head coach
Character, Class, Poise = CHAMPIONSHIP – The 2001 National Championship
The Hurricanes' fifth national championship may have been the program's most rewarding. A veteran senior class that had endured the shame of a losing season in 1997 and had rebuilt the program — inside and out — led this team. Miami returned to the top in 2001 by showing character, class and poise.
How good was this team? Many argue it may have been the greatest college football team ever assembled. This team beat opponents by the largest average margin in UM history (33.2 points per game), produced the biggest two-game whippings of any pair of ranked teams in history by defeating Syracuse and Washington by a combined 124-7, set a new UM record for scoring and featured a defense that scored eight touchdowns and led the nation in pass defense, scoring defense and turnover margin.
Throw in a kicking game that featured one of the nation's finest punters and a placekicker that led the nation in field goals and it's hard to argue against the 2001 edition. An astounding seven Hurricanes were named to at least one All-America team's first unit. Six players were finalists for national awards, led by Outland Trophy winner Bryant McKinnie at offensive tackle and Maxwell Award winning quarterback Ken Dorsey.
The 2001 Hurricanes started with a stunning rout of Penn State on the road before the largest crowd (109,313) ever to see a Miami game. They ended Florida State's 54-game unbeaten streak in Tallahassee with a resounding 49-27 whipping.
The stars were numerous. On offense: quarterback Ken Dorsey, tailback Clinton Portis (1,200 yards rushing), tight end Jeremy Shockey, an offensive line that allowed an incredibly low two sacks by the starting unit, a receivers corps led by Andre Johnson, a defensive line in which nine players could play without losing a step led by William Joseph, a linebacker corps that developed into a force and a secondary that was the nation's best, led by safety Edward Reed and cornerbacks Mike Rumph and Phillip Buchanon.
The power of this team was evident for all to see in its Rose Bowl rout of Nebraska for the national title. Miami roared to a 34-0 halftime lead, erasing any doubts about what team was college football's best in 2001.
Baseball (4)
1982, 1985, 1999, 2001
Polo (4)
1947, 1948, 1949, 1950
Women's Swimming & Diving (2)
1975, 1976
Men's Crew (1)
1988
| MIAMI NATIONAL CHAMPIONSHIPS (TEAM) | | | |
| --- | --- | --- | --- |
| YEAR | SPORT | HEAD COACH | MORE INFO |
| 1947 | Polo | George Oliver | |
| 1948 | Polo | George Oliver | |
| 1949 | Polo | George Oliver | |
| 1950 | Polo | George Oliver | |
| 1970 | Women's Golf | Dr. William Heusen | |
| 1972 | Women's Golf | Dr. William Heusen | |
| 1975 | Women's Swimming & Diving | Bill Diaz | |
| 1976 | Women's Swimming & Diving | Bill Diaz | |
| 1977 | Women's Golf | Norm Parsons | |
| 1978 | Women's Golf | Norm Parsons | |
| 1982 | Baseball | Ron Fraser | |
| 1983 | Football | Howard Schnellenberger | 1983 Football National Champions |
| 1984 | Women's Golf | Lela Cannon | |
| 1985 | Baseball | Ron Fraser | |
| 1987 | Football | Jimmy Johnson | 1987 Football National Champions |
| 1988 | Men's Crew | | |
| 1989 | Football | Dennis Erickson | 1989 Football National Champions |
| 1991 | Football | Dennis Erickson | 1991 Football National Champions |
| 1999 | Baseball | Jim Morris | |
| 2001 | Baseball | Jim Morris | |
| 2001 | Football | Larry Coker | 2001 Football National Champions |
| MIAMI NATIONAL CHAMPIONSHIPS (INDIVIDUAL) | | | |
| --- | --- | --- | --- |
| YEAR | SPORT | ATHLETE(S) | EVENT |
| 1943 | Men's Tennis | Francisco Segura | Singles |
| 1944 | Men's Tennis | Francisco Segura | Singles |
| 1945 | Men's Tennis | Francisco Segura | Singles |
| 1945 | Men's Tennis | Francisco Segura | Doubles |
| | | Thomas Burke | |
| 1947 | Boxing | Art Seay | Heavyweight |
| 1949 | Boxing | Carl Bernardo | 175-pound |
| 1952 | Boxing | Archie Slaten | IRA |
| 1959 | Women's Golf | Judy Eller | |
| 1965 | Women's Golf | Roberta Albers | |
| 1970 | Women's Golf | Pat Cramer | Doubles |
| | | Luis Garcia | |
| 1972 | Women's Golf | Ann Laughlin | |
| 1973 | Men's Swimming | David Wilkie | 200-yard breaststroke |
| 1974 | Men's Swimming | David Wilkie | 100-yard breaststroke |
| 1974 | Women's Swimming | Sharon Berg | 200-yard breaststroke |
| 1974 | Women's Swimming | Sharon Berg | 400-yard freestyle |
| 1975 | Women's Swimming | J.B. Buchanan | 50-yard breaststroke |
| 1975 | Women's Swimming | J.B. Buchanan | 100-yard breaststroke |
| 1975 | Women's Swimming | Dawn Frady | 200-yard freestyle |
| 1975 | Women's Swimming | Dawn Frady | 400-yard freestyle |
| 1975 | Women's Swimming | Pat Hines | 200-yard medley relay |
| | | J.B. Buchanan | |
| | | Jodi Yambor | |
| | | Denise Wrist | |
| 1976 | Men's Swimming | David Wilkie | 200-yard breaststroke |
| 1976 | Women's Swimming | Robin Branman | 200-yard IM |
| 1976 | Women's Swimming | Pat Hines | 200-yard medley relay |
| | | J.B. Buchanan | |
| | | Robin Branman | |
| | | Jodi Yambor | |
| 1977 | Women's Golf | Cathy Morse | |
| 1977 | Women's Swimming | Bonnie Glasgow | 500-yard freestyle |
| 1977 | Women's Swimming | Janet Freudenstein | 200-yard medley relay |
| | | J.B. Buchanan | |
| | | Robin Branman | |
| | | Jodi Yambor | |
| 1977 | Women's Tennis | Jodi Appelbaum | Doubles |
| | | Terry Salganik | |
| 1979 | Men's Diving | Greg Louganis | 1-meter |
| 1980 | Men's Diving | Greg Louganis | 1-meter |
| 1980 | Men's Diving | Greg Louganis | 3-meter |
| 1981 | Men's Swimming | Jesse Vassallo | 400-yard IM |
| 1982 | Men's Swimming | Matthew Gribble | 100-yard butterfly |
| 1983 | Women's Golf | Penny Hammel | |
| 1983 | Men's Swimming | Matthew Gribble | 100-yard butterfly |
| 1986 | Women's Tennis | Lise Gregory | Doubles |
| | | Ronni Reis | |
| 1987 | Men's Tennis | Andrew Burrow | Singles |
| 1988 | Men's Crew Varsity 4 | Mark Altschul | IRA |
| | | Ralph Montalvo | |
| | | Fernando Mendoza | |
| | | Ed Montalvo | |
| 1989 | Women's Diving | Wendy Williams | 10-meter |
| 1991 | Men's Diving | Dean Panaro | 1-meter |
| 1992 | Men's Diving | Dean Panaro | 1-meter |
| 1992 | Women's Track & Field | Gillian Russell | Indoor 50-meter hurdles |
| 1993 | Men's Diving | Dean Panaro | 1-meter |
| 1993 | Men's Diving | Dean Panaro | 3-meter |
| 1993 | Women's Track & Field | Gillian Russell | Outdoor 100-meter hurdles |
| 1994 | Men's Diving | Jose Gil | 1-meter |
| 1994 | Women's Track & Field | Gillian Russell | Outdoor 100-meter hurdles |
| 1995 | Men's Diving | Tyce Rouston | Platform |
| 1995 | Women's Track & Field | Gillian Russell | Outdoor 100-meter hurdles |
| 1995 | Women's Track & Field | Gillian Russell | Outdoor 55-meter hurdles |
| 1996 | Men's Diving | Chris Mantilla | 3-meter |
| 1996 | Men's Diving | Bryan Gillooly | Platform |
| 1996 | Men's Track & Field | Davian Clarke | Outdoor 400-meters |
| 1997 | Men's Diving | Rio Ramirez | 1-meter |
| 1997 | Men's Diving | Tyce Rouston | 3-meter |
| 1997 | Men's Diving | Tyce Rouston | Platform |
| 1998 | Men's Diving | Rio Ramirez | 1-meter |
| 1998 | Men's Diving | Bryan Gillooly | 3-meter |
| 1998 | Men's Track & Field | Davian Clarke | Indoor 400-meters |
| 1999 | Men's Diving | Rio Ramirez | 1-meter |
| 1999 | Men's Diving | Rio Ramirez | Platform |
| 1999 | Women's Diving | Jenny Keim | 3-meter |
| 1999 | Women's Track & Field | Yolanda McCray | Outdoor 100-meter hurdles |
| 2000 | Men's Diving | Tyce Rouston | Platform |
| 2000 | Women's Diving | Jenny Keim | Platform |
| 2001 | Women's Diving | Kyle Prandi | Platform |
| 2002 | Men's Diving | Imre Lengyel | Platform |
| 2004 | Women's Track & Field | Lauryn Williams | Outdoor 100-meters |
| 2005 | Women's Track & Field | Kimberli Barrett | Indoor Shot Put |
| 2005 | Women's Track & Field | Kimberli Barrett | Outdoor Shot Put |
| 2006 | Women's Track & Field | Tabia Charles | Outdoor Triple Jump |
| 2007 | Women's Tennis | Audra Cohen | Singles |
| 2008 | Men's Diving | Reuben Ross | 3-meter |
| 2008 | Women's Diving | Brittany Viola | Platform |
| 2008 | Women's Track & Field | Krista Simkins | Indoor 400-meters |
| 2009 | Women's Track & Field | Murielle Ahoure | Indoor 200-meters |
| 2011 | Women's Diving | Brittany Viola | Platform |
| 2011 | Women's Track & Field | T'erea Brown | Outdoor 400-meter hurdles |
| 2015 | Men's Diving | Sam Dorman | 3-meter |
| 2017 | Men's Diving | David Dinsmore | Platform |
| 2017 | Women's Track & Field | Shakima Wimbley | Indoor 400-meters |
| 2019 | Women's Track & Field | Michelle Atherley | Indoor Pentathlon |
| 2019 | Women's Tennis | Estela Perez-Somarriba | Singles |
| 2022 | Women's Diving | Mia Vallée | 1-meter |