University of Miami Athletics
Jim Garren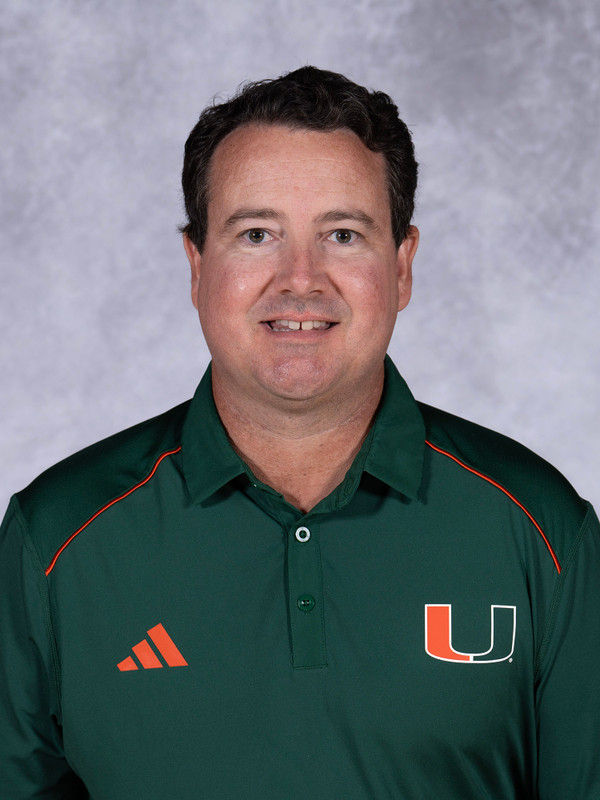 Janice Olivencia announced the addition of assistant coach Jim Garren on June 5, 2023.
A 14-year coaching veteran, Garren joined the Miami staff after serving as the Coastal Carolina head men's golf coach from 2017-22.
Garren made an immediate impact upon arriving at Coastal Carolina, coaching the Chanticleers to the 2018 Sun Belt title and the program's first NCAA Regional appearance since 2013. Three Chanticleers earned All-Sun Belt honors and Garren was named the 2018 Sun Belt Coach of the Year, following one of the most successful seasons in program history.
In his five years at Coastal Carolina, Garren led his teams to five team tournament titles, 15 top-five team finishes and three NCAA Regional apperances (one team, two individual).
Under Garren's tutelage, the Chanticleers had two Sun Belt Newcomers of the Year in Morgan Deneen (2018) and Zack Taylor (2019), a Sun Belt individual tournament champion in Deneen (2018) and eight All-Sun Belt selections.
Prior to his time at Coastal Carolina, Garren spent three seasons as an assistant coach at Oklahoma, helping the Sooners to three-straight NCAA Championship appearances and the 2017 NCAA Division I Men's Golf Championship title. He coached seven Sooners to All-America recognition, including four in his final season in 2016-17.
Garren joined the Oklahoma staff after a one-year stint as the assistant coach at the University of New Mexico. In that one year, Garren helped New Mexico to four tournament wins, including a Mountain West Conference championship and an NCAA Regional appearance. New Mexico's Gavin Green was named a second-team All-American while being the Mountain West Conference Player of the Year and individual champion.
Prior to his time at New Mexico, Garren spent five seasons as the assistant men's golf coach and director of recruiting at Southern Mississippi. During his tenure, the Golden Eagles established five team records and produced four academic All-America scholars after having just two prior to Garren's arrival. The program also shaped two academic all-conference selections, one first-team All-Conference USA selection in Paul Apyan (2010) and one second-team All-CUSA selection in Derek Plucienksi (2011).
Garren began his collegiate golfing career as a member of the Wallace State Junior College team in 2003. While at Wallace State, he helped lead the team to a No. 3 national ranking in NJCAA Division I. Garren then transferred to Kennesaw State, where he earned his degree in sports management in 2008.
The Cartersville, Ga., native was a three-time Georgia High School State Champion at Cartersville High School. He was a two-time qualifier for the Atlanta Open and earned alternate status through qualifying for the 2005 U.S. Open.