University of Miami Athletics
Janice Olivencia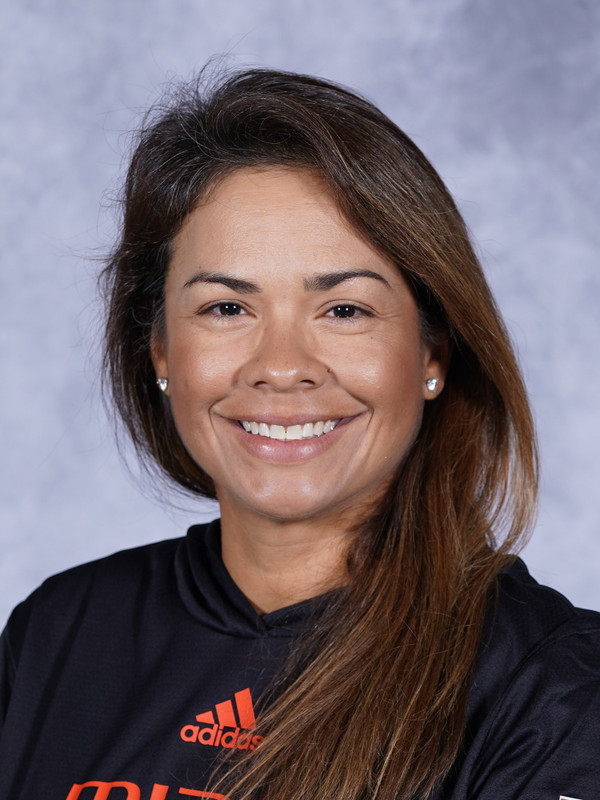 Janice Olivencia was named the University of Miami head women's golf coach on June 13, 2022.
Olivencia (pronounced Oh-lee-vin-see-ya) arrived in Coral Gables after spending the past 10 seasons at the University of Florida, serving as assistant coach from 2012-18 and associate head coach from 2018-22.
"We are excited to welcome Janice to the University of Miami family," Vice President/Director of Athletics Dan Radakovich said. "Janice has had tremendous success as both a player and a coach and she has a clear vision for how we can build on the success of our golf program."
As a player, Olivencia was a two-time All-American at the University of Texas and the 2002 Big 12 Player of the Year. She played professionally on the Ladies European Tour from 2005-08 and the LPGA's Duramed Futures Tour from 2008-10 before securing her first coaching job as an assistant coach at the University of South Florida in 2011.
Florida won 25 tournaments, qualified for nine NCAA Regionals and advanced to the NCAA Championships six times during Olivencia's tenure in Gainesville, finishing in a tie for fifth in 2017, UF's best team finish since 1998. The Gators also won the 2017 Southeastern Conference title. Florida golfers earned 26 All-SEC honors and nine All-America honors over Olivencia's 10 seasons, including Maria Torres, who earned first-team All-American honors in 2017, won the SEC individual championship in 2016 and was named SEC Golfer of the Year in 2016. Olivencia helped Sierra Brooks set the school record for season stroke average (70.33) in 2020 and the top individual round in school history (62) in 2018.
Olivencia launched her coaching career at USF, helping the Bulls win their first Big East championship and advance to NCAA Regionals in 2012. The Bulls' Christina Miller became the first player in school history to win Big East Player of the Year.
Olivencia, a native of Caguas, Puerto Rico, became the first Puerto Rican woman to qualify for the Ladies European Tour. She was also the first Puerto Rican woman to qualify for a major, competing in the 2009 U.S. Open.
During her Texas playing career, Olivencia earned All-America honors in 2002 and 2003, and was a three-time All-Big 12 selection. She won two individual titles, posted 15 top-10 finishes and twice placed in the top 10 at the NCAA Championships. While at Texas, Olivencia also won the 2002 Women's Western Amateur Championship, was a 2002 co-medalist U.S. Open Qualifier, and both a quarterfinalist and semifinalist at the North & South Amateur Championship. She received her bachelor's degree in communications studies from Texas in 2004.
Olivencia was a member of the Puerto Rico National Golf team from 1998-2004, representing her country twice at the World Amateur Championships. In addition, she was a three-time Caribbean Women's Amateur Champion and a two-time Puerto Rico Island Champion.
Janice Olivencia Career Highlights and Notes
Coaching Career
Head Coach, University of Miami, 2022-present
Associate Head Coach, University of Florida, 2018-2022
Assistant Coach, University of Florida, 2012-2018
Assistant Coach, University of South Florida, 2011-12
Playing Career
LPGA Duramed Futures Tour, 2008-10
Ladies European Tour, 2005-08
University of Texas, 2000-04
Puerto Rico National Golf Team, 1998-2004
Playing Honors
Two-time National Golf Coaches Association All-American (2002-03)
Big 12 Player of the Year (2002)
Three-time All-Big 12 selection (2002-04)
Three-time Caribbean Women's Amateur Champion
Won the Women's Western Amateur Championship (2002)
Co-Medalist U.S. Open qualifier (2002)
Education
Bachelor of Science, Communications Studies, University of Texas (2004)

Hometown
Caguas, Puerto Rico