University of Miami Athletics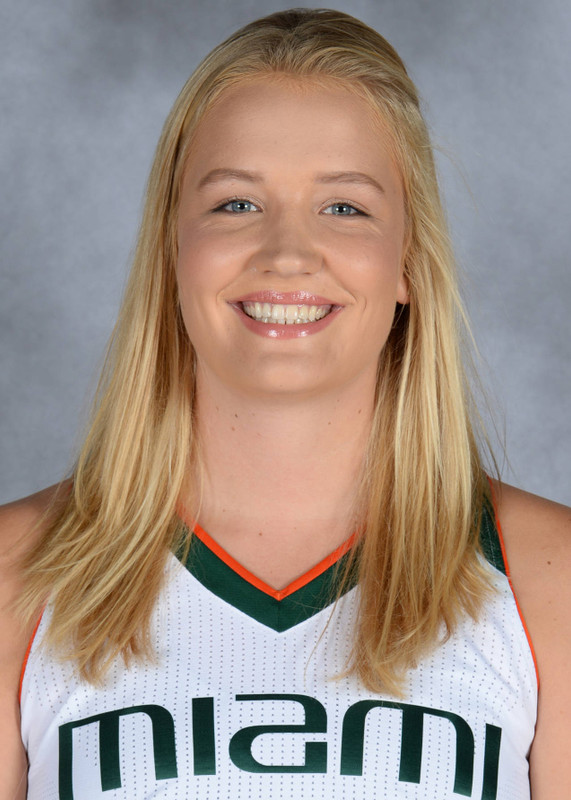 As a Sophomore (2016-17): All-ACC Academic Team
Played in 31 of 33 games, making three starts … Registered double-digit points eight times … Led Miami in blocked shots (31) … Placed third in field goal percentage (min. 1 FGM per game, 51.5), rebounding (4.1)  and defensive rebounding (2.8) … Also ranked fifth on the team in offensive rebounding (1.4) and free throws attempted (45), plus tied for fifth in field goals made (87) … Topped Miami in scoring once, led or co-led the Hurricanes in rebounding seven times and tied for the lead in assists once … Tied for No. 13 in the ACC in blocks per game (1.0) … In ACC play only, shot 53.8 percent, good for the seventh-best mark in the conference … Also tied for No. 13 in ACC-only acion with 1.1 blocks per outing … Logged eight points and five rebounds in the home opener against Charlotte (11/16) … Missed Miami's game at St. John's (11/20) due to her participation in the 2017 FIBA EuroBasket Qualifiers with the Dutch National Team and then did not play in the following game versus Grambling State (11/25) due to injury … Recorded a co-season-high three blocked shots, good for the game lead, against Loyola Chicago (12/6) … Had eight points and six rebounds versus Coppin State (12/19) … Registered 12 points on 5-of-7 shooting to go along with six rebounds and a game-best two blocks against seventh-ranked Florida State (12/29) … Notched eight points and a career-high-tying four assists, matching the team high, at Pittsburgh (1/2) … Posted 11 points and a team-leading six rebounds in a co-season-best 26 minutes versus No. 7/6 Notre Dame (1/8) … Logged a co-season-best 14 points to go along with a team- and season-high seven rebounds against No. 15/16 Virginia Tech (1/11), connecing on a season-high seven field goals … Totaled 10 points on 5-of-7 shooting, plus five rebounds, in a season-high-tying 26 minutes of action at No. 9/8 Louisville (1/15) … Scored in double figures for the fourth straight game with a co-team-best 12 points at RV/No. 24 Syracuse (1/22) in her first start of the year … Started against North Carolina (1/26) and finished with eight points, five rebounds and a game-high two blocked shots … Pulled down a season-best nine rebounds at Wake Forest (2/2) to lead all Hurricanes … Tied for the team lead with five boards at fifth-ranked Florida State (2/6) … Posted a team-high five rebounds and season-best three steals, tied for the game lead, at No. 13/14 Duke (2/19) … Recorded 12 points, six rebounds and a co-game-high two blocks at Virginia Tech (2/23) … Blocked a co-season-high three shots, good for the game lead, and grabbed six boards against Georgia Tech (2/26) … Shot 7-of-11 in the ACC Tournament opener versus Georgia Tech (3/2), tying season bests in field goals made, points (14) and blocked shots (three), leading all players in blocks … Tallied a season-high-tying 14 points against FGCU (3/18) in the opening round of the NCAA Tournament.
As a Freshman (2015-16): All-ACC Academic Team
Played in 33 games, starting 12 of them … Scored in double figures 12 times and tallied a pair of double-doubles … Led the Hurricanes in field goal percentage (54.2), offensive rebounding (2.2) blocked shots (42) … Ranked second on the team in rebounding (5.5), free throws made (50) and free throws attempted (81) … Fourth on Miami in scoring (8.6) and field goals made (117) … Scored the most points (26) and tied for the most rebounds (15) by a Hurricane all season … Recorded the fourth-best single-season field goal percentage in program history, as well as the No. 10 single-season blocks total … Tied the program record with four blocked shots in an NCAA Tournament game … Became the first Hurricane in the Katie Meier era to log 15 rebounds in a game away from home … Ranked fifth in the ACC in field goal percentage … Also finished No. 11 in the ACC in blocked shots (1.3) and tied for No. 12 in conference-only games (1.1) … Ranked second among ACC freshmen in both field goal percentage and blocked shots … Also finished sixth among ACC freshmen in rebounding and No. 12 (min. 10 games played) in scoring …Tied for the third-best field goal percentage at the 2016 ACC Tournament (71.4, 15-of-21) … Made her Miami debut with six points and eight rebounds versus Wright State (11/13) … Recorded eight points, the first three steals of her career and her first multi-block game at Old Dominion (11/17) … Tallied her first double-digit scoring game with 14 points at Loyola Chicago (11/21), shooting 6-of-6 from the floor and 2-of-2 at the line, to go along with seven rebounds … Registered her first double-double with 11 points and a season- and game-high 15 rebounds at Charlotte (11/23) … Against La Salle (11/29), scored 12 points, shot 4-of-4 at the stripe and set season highs in assists (four) and steals (four) … Logged 13 points on 6-of-10 shooting in the win over Illinois (12/2) … Posted 11 points versus UMass Lowell (12/6) … In the first start of her career, against Indiana (12/20), poured in a team-high 26 points and a game-high 14 rebounds for her second-career double-double, while shooting 10-of-13 from the floor and 6-of-7 from the line … Recorded eight points, eight rebounds and a game-high four steals against Pittsburgh (1/7) … Shot 5-of-5 in the victory at North Carolina (1/17) to finish with 10 points … Tallied 12 points at third-ranked Notre Dame (2/14) … Scored 15 points, pulled down a co-team-high seven boards and set season bests in free throws made (nine) and attempted (11) … Registered 11 points in the ACC Tournament against Pittsburgh (3/3) … Scored 15 points on 7-of-10 shooting in a season-best 32 minutes played in the ACC Tournament quarterfinal win versus No. 14/10 Florida State (3/4) … Scored 17 points and tied her season high with four blocks in the NCAA Tournament against South Dakota State (3/19).
High School/Prior to Miami: Graduated from Caland Lyceum … Played for CTO Amsterdam in the Women's First Division in the Netherlands … Listed by ProspectsNation.com as a four-star recruit and the No. 14 international prospect in her class, including fifth among post players … Named to the Women's First Division All-Star Team in 2015 and helped lead the team to the playoff semifinals … Set the CTO Amsterdam career records for rebound and blocks, while ranking second in points and steals, as well as fourth in assists … At the FIBA U19 World Championship in July 2015, ranked in the top five of the tournament in six different categories, finishing second in average efficiency rating (24.4) and free throw percentage (83.3), third in field goal percentage (51.8), fourth in both scoring (16.9) and rebounding (10.0) and fifth in blocks (2.1) … Selected to the All-Star Five at the FIBA U20 European Championship Division A in July 2015 after helping the Netherlands win the bronze medal, the nation's first top-flight medal at the European Championship, regardless of age or gender … Led all players in the tournament in field goal percentage (55.0), tied for third in double-doubles (three), ranked fourth in scoring (14.8) and finished fifth  in both rebounding (7.9) and blocks (1.4) … Finished fifth in blocks (1.1) and sixth in rebounding (7.9) at the FIBA U18 European Championship Division A in July 2014 … Ranked fourth in field goal percentage (43.2), sixth in blocks (1.2) and seventh in offensive rebounds (3.0) at the FIBA U18 European Championship Division A in July 2013 … Averaged a double-double with 13.7 points and 11.7 rebounds in the FIBA U16 European Championship in July 2012 … Also participated in four other FIBA competitions from 2011-15, for a total of nine.
Personal: Full name is Emese Eva Hof … Name is pronounced Uh-MASE-Uh HOFF … Nickname is Mese … Born May 29, 1996 … Parents are Ed Hof and Lia Mourits … Father is an ICT system analyst and mother runs a physiotherapy practice … Has an older sister, Roos, and a younger brother, Rik … Both parents played basketball and sister plays professionally in Europe … Major is undecided … Favorite athlete is Elena Delle Donne of the Chicago Sky … Best sports memory is winning the bronze medal at the 2015 U20 FIBA European Championship Division A … Chose Miami because she felt it would help her grow on and off the court, as well as its academic quality and scenic campus … Committed to Miami over Syracuse and Vanderbilt.
 STATS
YEAR
GP
GS
MIN
AVG
FG
FGA
PCT
3FG
3FGA
3PCT
FT
FTA
PCT
REB
AVG
AST
TO
BLK
STL
PTS
AVG
2015-16
33
12
631
19.1
117
216
.542
0
1
.000
50
81
.617
180
5.5
24
57
42
25
284
8.6
2016-17
31
3
510
16.5
87
169
.515
0
1
.000
27
45
.600
128
4.1
26
41
31
15
201
6.5
CAREER
64
15
1141
17.8
204
385
.530
0
2
.000
77
126
.611
308
4.8
50
98
73
40
485
7.6