University of Miami Athletics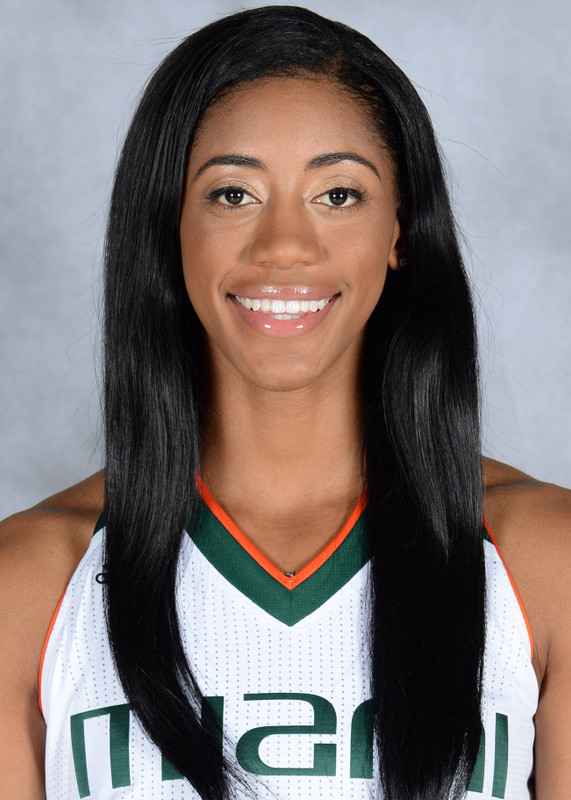 As a Freshman (2014-15): Played in all 33 games … Averaged 1.8 points and grabbed 105 total rebounds, good for 3.2 per game … Ranked third on the team with 15 blocked shots … Made her Miami debut against Oakland (11/14), scoring four points in the game … Had a then-career-best six rebounds in 13 minutes in the win over North Florida (11/21) to tie for the game high … Grabbed five rebounds against Illinois State (11/28) … Her five rebounds in 11 minutes against Jacksonville (12/6) tied for the game high … Set career highs with six points and three made field goals against Florida A&M (12/28), also grabbing five rebounds in the game … Matched career highs with six points, a team-high six rebounds, three made field goals and two steals in the Miami Holiday Tournament championship game against LSU (12/29) … Blocked multiple shots for the first time in her career in the win over Boston College (1/4) … Matched a then-career high with six rebounds in 20 minutes of action at Virginia Tech (1/11) … Set a then-career high with 23 minutes played against Virginia (1/21) and also equaled her then-career best with six rebounds … Blocked two shots at fourth-ranked Louisville (1/25), tying her season best … Recorded multiple assists for the first time in her career against Virginia Tech (2/5) and also equaled her season high with two blocks … Grabbed a team-leading, career-high 10 rebounds at No. 9/8 Florida State (2/8) and also played a career-high 27 minutes in the game.
High School: Graduated from Riverdale Baptist School … Averaged 12 points, 12 rebounds and 2.5 blocks as a senior, and her team was ranked No. 10 by ESPN … Won the Dick's Sporting Goods High School National Tournament at Madison Square Garden as a senior and the National Association of Christian Athletes championship … McDonald's All-American Game nominee and MVP of the 2014 Roundball Classic … Selected to the All-Gazette Second Team as a senior … As a junior at North Point High School, helped the team to a 4A state title and the first undefeated season in school history at 27-0, finishing No. 25 in the ESPN rankings … Started every game of her high school basketball career … Received two varsity letters in cross country and two in track and field … Won the Minds in Motion Scholar Award and the Scholar Athlete Award at North Point … Riverdale Baptist Distinguished Honor Roll as a senior, North Point Highest Honors and Honor Roll the prior three years … Member of the National Honor Society … Three-year WNBA veteran Tianna Hawkins also attended Riverdale Baptist.
Personal: Full name is Khaila Alese Prather … Name is pronounced KAY-Luh PRAY-Thur … Nicknames are "KP" and "KK" … Born June 21, 1996 … Parents are Craig and Susan Prather … Has an older brother, Craig, Jr. … Father is a captain in the U.S. Navy and played basketball at the U.S. Naval Academy, where he was a teammate of eventual NBA Hall of Famer David Robinson on the 1986-87 team that went 30-5 … Career goal is to be a pediatrician … Enjoys writing poetry and reading … Athletic role models are Elena Delle Donne of the Washington Mystics and Candace Parker of the Los Angeles Sparks.
 STATS
YEAR
GP
GS
MIN
AVG
FG
FGA
PCT
3FG
3FGA
3PCT
FT
FTA
PCT
REB
AVG
AST
TO
BLK
STL
PTS
AVG
2014-15
33
0
393
11.9
22
69
.319
0
0
.000
17
36
.472
105
3.2
7
30
15
11
61
1.8
2015-16
33
2
351
10.6
24
67
.358
0
0
.000
14
35
.400
88
2.7
5
40
9
16
62
1.9
2016-17
27
0
220
8.1
12
43
.279
0
0
.000
9
26
.346
67
2.5
1
19
6
11
33
1.2
CAREER
93
2
964
10.4
58
179
.324
0
0
.000
40
97
.412
260
2.8
13
89
30
38
156
1.7