University of Miami Athletics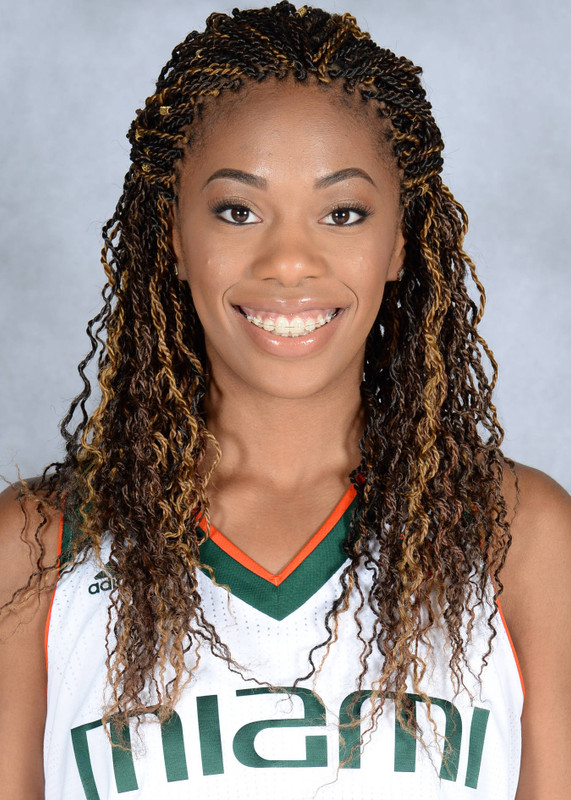 As a Freshman (2014-15): Played in all 33 games, twice scored double figures and finished second on Miami with 18 blocks … Ranked fifth on the team with 121 rebounds on the season and had the most boards of any Hurricane in a single game with 13 in the first round of the NCAA Tournament … Had six points, two rebounds and one block in her Hurricane debut against Oakland (11/14) … Recorded a block in each of the first five games of her career … Set then-career bests in points (nine), rebounds (five), field goals (four) and field goal attempts (six) in the win over Jacksonville (12/6), with her five boards tying for the team lead … Recorded multiple blocks for the first time in her career in Miami's win over Boston College (1/4) … Set a season high with three steals at Virginia Tech (1/11) and also had five rebounds … Set a then-career best with a team-high seven rebounds and also played a season-high 24 minutes at No. 16/14 Duke (1/18) … Set a new career high in rebounds for the second consecutive game, this time grabbing nine to tie for the game's top mark in the win over Virginia (1/21) … Recorded a season-high 13 points and pulled down eight rebounds, including a career-high six on the offensive end, at Pittsburgh (2/1), while also equaling her career best with two blocks … Had seven rebounds in the win over Virginia Tech (2/5), the fourth time in a five-game stretch she had seven-plus boards … Posted eight points and a season-high-tying three steals in the victory at No. 23/22 Syracuse (2/12) … Scored in double figures for the second time in her career with 10 points against No. 17/14 North Carolina (2/22), giving her 100 points as a Hurricane … Led all players with a season-high 13 rebounds in the win over No. 6 seed Washington (3/20) in the first round of the NCAA Tournament, with the 13 boards placing her tied for seventh in program history in NCAA Tournament action, her five offensive rebounds tied for eighth and eight defensive boards tied for sixth … Became the eighth player in program history with a block in multiple NCAA Tournament games when she recorded one in the second round against third-seeded Iowa (3/22).
High School: Graduated from Tucker High School … Averaged 15.0 points, 10.0 rebounds, 6.0 assists and 4.0 steals per game as a senior, leading her team in scoring, rebounding and steals … Ranked as a three-star prospect and top-25 forward recruit by ESPN HoopGurlz … Selected as the 5A Georgia Player of the Year as a senior … Team captain and team MVP as both a junior and senior … Won the first state title in school history as a senior, finishing the season with a 27-4 record … Averaged 16 points and nine rebounds as a junior … Named all-state as a sophomore and junior … Received a varsity letter in basketball all four years of high school … Played on the volleyball team as a junior and senior … Junior class president … Graduated with honors distinction … Member of the beta club … Part of the Cupcake Kids, a volunteer organization … High school prom queen … Notable Tucker alumni in athletics include Dwayne Harris of the New York Giants and former NBA player MarShon Brooks, who now plays in China.
Personal: Full name is Erykah Joyn'e Davenport … First name is pronounced like Erica … Nickname is "E" … Born July 24, 1996 … Mother is Quovadis Davenport … Has an older brother, Erus … Majoring in broadcast journalism … Enjoys singing and taking pictures … Favorite athlete is Érika de Souza of the Atlanta Dream.
 STATS
YEAR
GP
GS
MIN
AVG
FG
FGA
PCT
3FG
3FGA
3PCT
FT
FTA
PCT
REB
AVG
AST
TO
BLK
STL
PTS
AVG
2014-15
33
0
409
12.4
50
114
.439
0
0
.000
16
37
.432
121
3.7
4
48
18
21
116
3.5
2015-16
33
21
591
17.9
83
162
.512
0
1
.000
37
72
.514
172
5.2
14
53
25
31
203
6.2
2016-17
33
30
609
18.5
95
168
.565
0
0
.000
33
60
.550
162
4.9
13
50
23
45
223
6.8
 CAREER
99
 51
1609
 16.3
228
444
.514
0
1
.000
86
169
.521
455
4.6
31
151
66
97
542
5.5