University of Miami Athletics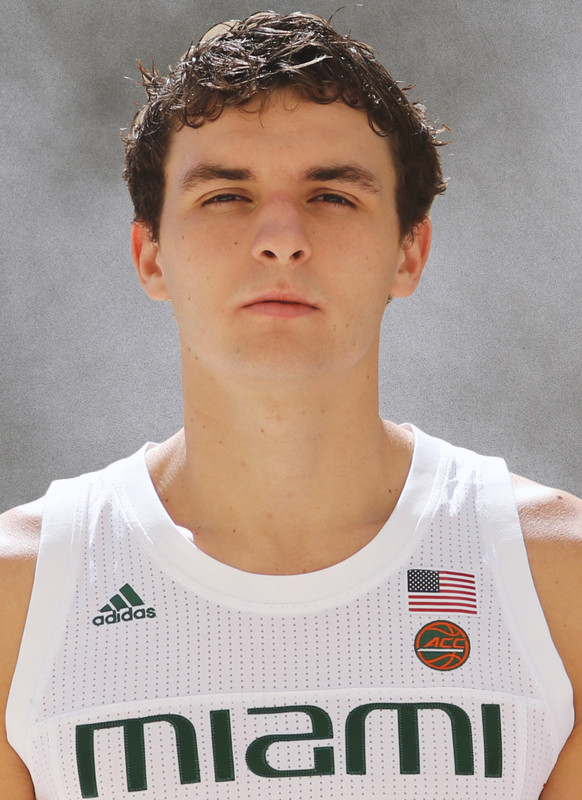 As a Freshman (2020-21): Season did not count towards eligibility due to COVID-19 pandemic … Appeared in the first 14 games, starting nine of them … Averaged 6.9 points, 3.5 rebounds and 1.4 assists per game … Set Miami's ACC-era freshman 3-point percentage record with a 40.0 clip on 20-of-50 shooting … Twice shot 4-of-6 from deep to tie for the fifth-best single-game mark by a Hurricane freshman in the ACC era … Logged the most assists (seven) in a game by a Miami freshman since Chris Lykes on 3/3/18 … Third Miami freshman in the ACC era to start the season opener, including the first in seven years … Scored in double figures four times, pulled down five-plus boards three times and reached five assists once … Paced the Hurricanes in steals and blocks twice each, as well as points and assists once apiece … Notched 10 points on 4-of-5 shooting to go along with seven rebounds and two blocks versus North Florida (11/29) in the opening game … Scored 11 points on 5-of-7 shooting against Stetson (12/4) … Grabbed a season-high eight rebounds against Jacksonville (12/19) … Tallied 16 points, finishing 6-of-8 from the floor and 4-of-6 from deep, at No. 24/RV Virginia Tech (12/29) … Totaled nine points and a career-best seven assists in 31 minutes against Clemson (1/2) … Scored nine points in a career-best 32 minutes in the win at NC State (1/9) … Posted 16 points in the win over No. 16/18 Louisville (1/16), shooting 4-of-6 on 3-pointers and 4-of-4 at the line.
High School: Graduated from Brewster Academy (N.H.) … Consensus four-star, top-100 prospect … Ranked No. 85 nationally by 247Sports and No. 86 by ESPN, including No. 14 among power forwards, as well as No. 99 by Rivals … Finished No. 87 in the 247Sports Composite rankings … Averaged 18.6 points, 10.0 rebounds and 3.0 assists per game as a senior … Aided his team to a 37-3 record, a NEPSAC runner-up finish and a National Prep Championships crown … Named First Team All-NEPSAC Class AAA and a McDonald's All-American Game nominee … Averaged 13.0 points, 8.0 rebounds and 5.0 assists per game as a junior at Woodstock Academy (Mass.), helping his team to a conference title … Attended Cushing Academy (Mass.) as a sophomore … Led St. Mary's (Mass.) to the Division 4 state title game as a freshman after winning the championship as an eighth-grader … Played tight end and defensive end on the football field as a freshman before breaking his right leg … On the Nike EYBL circuit, averaged 23.3 points, 9.5 rebounds, 2.7 assists and 1.6 steals in 31.4 minutes per game for BABC in 2019 … Scored at least 15 points in all 18 outings, notching 20-plus 15 times with a high of 30, and logged 11 double-doubles … Placed sixth in rebounding and seventh in scoring during the EYBL regular season … Joined DeAndre Ayton, Marvin Bagley III, RJ Barrett, Miles Bridges and Michael Porter Jr., on the list of players to finish top-10 in both categories … Graduated from the same high school as Miami teammate Anthony Walker … Among the many NBA players to attend Brewster Academy are Will Barton, Donovan Mitchell, Thomas Robinson and TJ Warren.
Personal: Full name is Matthew Jacob Cross … Born Feb. 21, 2001 … Parents are Jim and Cyndi Cross … Has an older brother, Nick, and an older sister, Jess … Major is undecided … Enjoys outdoor activities such as kayaking and going to the beach … Favorite athlete is Larry Bird … Best sports memory is making the game-winning shot at TD Garden as an eighth-grader to send St. Mary's to the Division 4 state championship … Chose Miami because he felt it was the best fit, it would most advance his game and the staff truly wanted him … Committed to Miami over Butler, Florida, Iowa, Indiana, South Carolina and Texas A&M.