University of Miami Athletics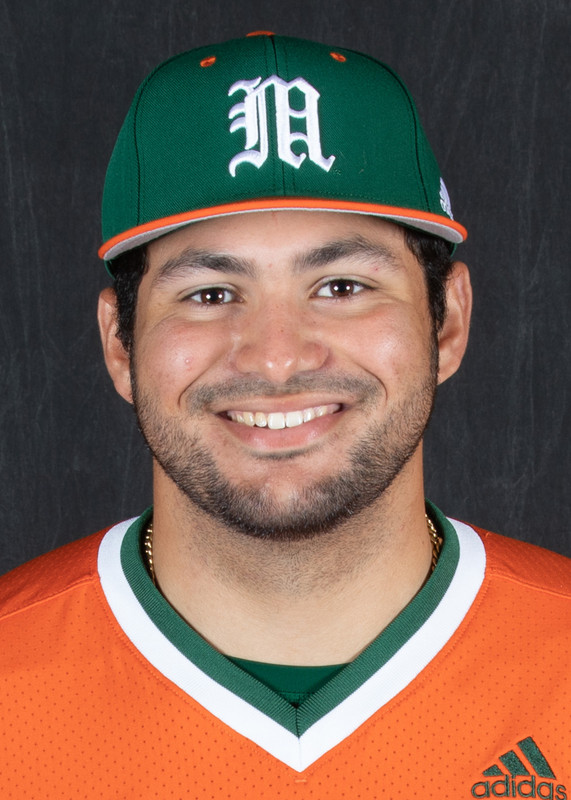 The asterisk next to 2020 and 2021 season bios indicate the NCAA's decision to grant an extra year of eligibility for student-athletes in light of the COVID-19 pandemic; the student-athlete's year of eligibility did not "advance" from 2020 to 2021 due to this NCAA ruling.
2020 COLLEGIATE BASEBALL PRESEASON ALL-AMERICA, THIRD TEAM
*Junior (2020): Started all 16 games at third base in shortened 2020 college baseball season…Had 10 hits, two doubles, three homers, 11 RBI and nine runs scored over 56 at-bats…Hit safely in all three games in season-opening series sweep over Rutgers (Feb. 14-16)…Homered and drove in three runs vs. No. 2 Florida (Feb. 23)…Hit walk-off, two-run homer vs. USF (Feb. 26)…Had a hit and a run scored in sweep-clinching win over Towson (Mar. 1)…Singled and scored a run at FAU (Mar. 4)…Had a run scored and an RBI in sweep-clinching win over Pittsburgh (Mar. 8)…Hit two-run homer at No. 12 UCF (Mar. 11).
2019 ALL-ACC THIRD TEAM
2019 ALL-STARKVILLE REGIONAL
Sophomore (2019): Made 56 starts at third base and appeared in 58 games…Hit .318 with 14 doubles, 13 homers, 39 runs scored and 44 RBI…Slugged .565 – fourth-highest on team – and posted a .396 OBP…121 total bases ranked second on 2019 Canes…Ranked third on team with 18 multi-hit games and fifth with 10 multi-RBI performances…Went 3-for-5 with a double in series-opening win at Florida (Feb. 22)…Hit first homer of season in three-RBI performance at Florida (Feb. 23)…Went 2-for-4 with a homer at FIU (Feb. 27)…Recorded first career multi-homer game on March 3 vs. UMBC…Posted first four-hit game of career vs. Retrievers, going 4-for-4 with three RBI (Mar. 3)…Started six-game hitting streak on March 3 vs. UMBC…Had a hit and RBI in each of the three games vs. Georgia Tech (Mar. 8-10)…Went 3-for-3 with a double and RBI in series opener at UNC (Mar. 15)…Was 3-for-4 with a double in series finale vs. NC State (Mar. 24)…Posted a season-high five RBI after going 3-for-4 with two homers at FAU (Mar. 27)…Opened series at Pitt (Mar. 29) with a 3-for-5 game…Hit a pinch hit solo homer at Pitt on Mar. 30…Was 2-for-4 with a double in series finale at Pitt (Mar. 31)…Went 2-for-4 with an RBI in series opener vs. Florida State (Apr. 5)…Went 2-for-4 with a double and two RBI in Game 1 of a doubleheader at UVA (Apr. 13)…Homered in Game 2 of doubleheader at UVA (Apr. 13)…Went 2-for-4 with two RBI in win over FGCU (Apr. 16)…Hit two doubles and drove in three runs in win at Louisville (Apr. 19)…Belted a three-run homer vs. UCF (May 8)…Went 5-for-5 with two doubles in win at Wake Forest (May 10)…Went 2-for-4 with an RBI in regular season finale vs. Duke (May 18)…Recorded first NCAA postseason hit vs. Central Michigan (May 31)…Drove in two runs in win over Southern (June 1)…Went 2-for-3 with a homer in win over Central Michigan (June 2)…Homered in two-hit game vs. Mississippi State in Starkville Regional final (June 3)…Named to Starkville Regional all-regional team.
True Freshman (2018): Played in 46 games with 34 starts in first season…Batted .234 with six doubles, one triple, three home runs and 19 RBI…Made 12 starts at third base during first half of season before switching across diamond to first base for 22 starts in second half of year…Scored 19 runs…Posted eight multi-hit games and five multi-RBI games…Scored first run of career on Opening Day against Rutgers (Feb. 16)…Collected first two hits of career (2-for-4), including double, in series finale vs. Scarlet Knights (Feb. 18)…Had one RBI, one run and one double in Game 1 of doubleheader against Notre Dame (March 10)…Connected on first home run of career in 2-for-4, two-RBI performance vs. FAU (March 21)…Set career high with three hits (3-for-5) in series opener against Virginia (March 23)…Knocked in two runs in finale against Cavaliers (March 25)…Finished 2-for-4 vs. FAU (April 4)….Hit second home run of season at Florida State (April 28)…Drove in three runs and homered in win over Bethune-Cookman (May 5), jumpstarting six-game hitting streak…Tied career mark with three hits (3-for-4) and drove in two runs against FGCU (May 9)…Had two hits and scored two runs in win at Virginia Tech (May 12)…Tied career mark with three RBI in finale vs. Hokies (May 13)…Had two hits (2-for-4) and scored two runs in ACC Championship opener against Notre Dame (May 22) in Durham, N.C….Finished 1-for-4 in ACC Championship matchup against Clemson (May 24).
High School/Prep: Selected in 37th round of 2017 Major League Baseball First-Year Player Draft by Oakland…Ranked No. 60 by Perfect Game in its top-400 freshman rankings…Four-year letterwinner at Gulliver Prep…Helped lead team to four regional appearances and two district championships…Played with Team USA 14U, 15U and 17U teams and won silver medal…Recognized with All-Dade honors…Finished high school career with .350 average, 13 home runs and 80 RBI…Batted .432 in final season at Gulliver with seven home runs and 28 RBI…Hit .360 junior year with three home runs and 23 RBI…Had .310 average with three homers and 19 RBI sophomore year.
Personal: Parents are Jose and Raiza….Has two sisters, Patricia and Fabiola…Undecided on intended major.