University of Miami Athletics
Zach Cooper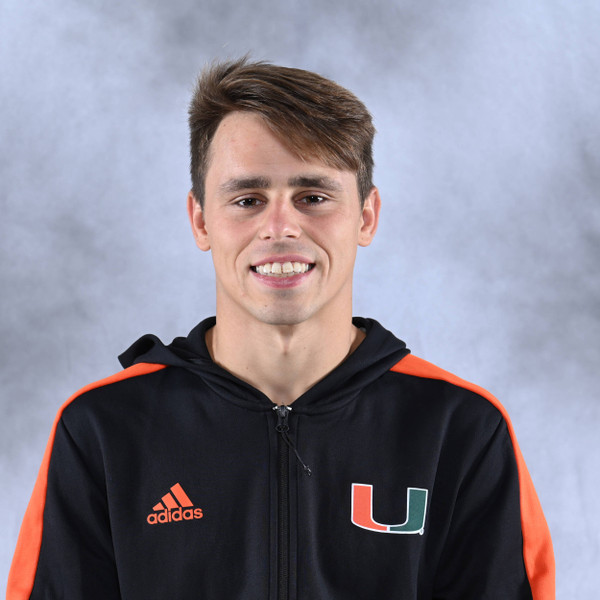 2021 ACC GOLD MEDALIST (platform)
2021 NCAA ALL-AMERICA (platform)
2020 ACC SILVER MEDALIST (platform)
2019 NCAA ALL-AMERICA (platform)
2019 ACC SILVER MEDALIST (platform)
2018 NCAA ALL-AMERICA (platform)
2018 ACC SILVER MEDALIST (platform)
Senior (2020-21): Put together another dominant season for Hurricanes, earning third NCAA All-America honor of career on platform…Began impressive postseason run by capturing first ACC gold medal of career at ACC Swimming & Diving Championships in Greensboro, N.C. (Feb. 17-20)…Took first with score of 421.50, finishing ahead of teammates Max Flory (silver) and Brodie Scapens (bronze) as part of Miami's podium-sweeping group…Cruised to first place in NCAA Zone 'B' qualifiers in Greensboro to earn trip to NCAA Championships, finishing in first place (871.60) by more than 60 points…Had best NCAA performance of career on platform at NCAA Championships event at Greensboro Aquatic Center, finishing third in nation (442.65).
Junior (2019-20): Delivered another standout year, capturing third straight ACC silver medal…Finished with 434.65 on platform at Greensboro Aquatic Center to take second at 2020 ACC Swimming & Diving Championships…Finished second in Zone B qualifying in platform event to earn berth to NCAA Swimming & Diving Championships, eventually cancelled due to COVID-19 pandemic…Scored 790.10 in Zone qualifiers in Athens, Georgia at Gabrielsen Natatorium on University of Georgia campus.
Sophomore (2018-19): Impressed in another standout campaign, capturing NCAA All-America recognition and second conference medal…Finished fourth nationally in platform at 2019 NCAA Men's Swimming & Diving Championships in Austin, Texas…Sored 407.80 for top finish of career and second All-America honor of career…Qualified for NCAA Championships by finishing second at Zone B qualifying in Auburn, Ala., ending event with 822.35 points…Earned second-place finish and second ACC silver medal of career with score of 413.50 at ACC Swimming & Diving Championships in Greensboro, N.C.
True Freshman (2017-18): Delivered sparkling first season that culminated in All-America honors…Finished seventh nationally in men's platform with 386.85 points to earn first All-America recognition of career at 2018 NCAA Swimming & Diving Championships in Minneapolis…Represented Team USA at 2018 FINA World Cup…Captured silver medal in platform at 2018 ACC Swimming & Diving Championships in Greensboro, N.C., finishing only behind teammate David Dinsmore with 429.50 points…Finished eighth in 3-meter springboard (318.60) at ACC Championships…Ended in second in 3-meter (352.55) and third in 1-meter (317.45) in tri-meet with Florida State and Alabama (Jan. 12)… Captured bronze medal in 10-meter synchronized event at 2017 USA Diving Senior Nationals to earn trip to FINA World Cup…Took fourth in 1-meter (342.75 points) at University of Texas Invite (Nov. 16).
Prior to Miami: Was 2016 national champion on 10-meter at AT&T National Championships…Two-time junior national champion on platform…Member of USA national team (2013-2016)…Competed at 2015 Pan American Games as member of Team USA…two-time Junior World Championships Team USA member (2012, 2016)…Competed on USA team at 2009 Junior Pan American Championships.
Personal: Parents are Bradley and Leslee…Has one younger brother, Jacob.